Our
Swedish Log Splitter

Review

There aren't many log splitters out there that are suitable for people of all ages and abilities, which is why the Swedish Log Splitter is just pure genius. Thanks to its innovative design, this log splitter provides a quick and effective way to produce both split logs and kindling, without leaving you with a sore back to deal with once you're done.

B000G8OXPY

7330562000013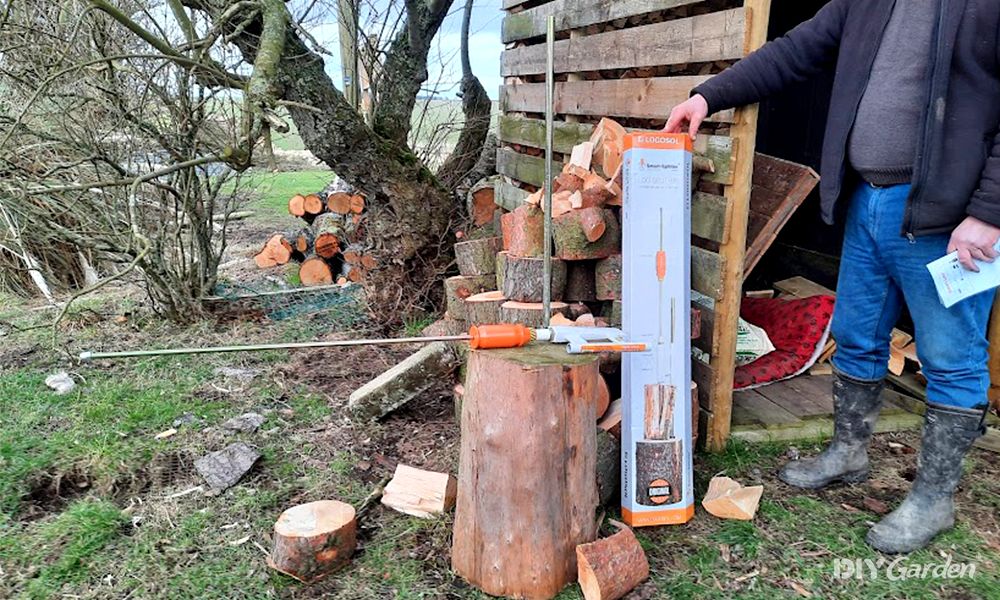 If you can't justify investing in a hydraulic log splitter but are looking for an easy way to split logs without having to swing an axe or a hammer, then it's not surprising that the Swedish Log Splitter has caught your eye. Unlike the other wood splitters that I tested, this one promises to help you to effortlessly produce both split logs and kindling, so I was curious to see if this uniquely-designed device would live up to its multi-tasking claims.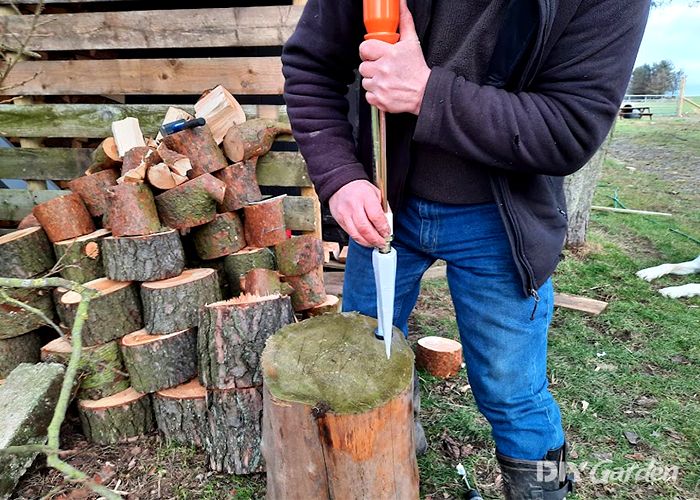 While some of the log splitters that I tested required little to no assembly (the Rolson Wood Grenade Log Splitter is ready to use straight out of the box), this one has moving parts, so you'll need to spend about ten minutes putting it together.
Although you'll probably need to refer to the instructions a few times (thankfully, these are pretty good), assembly is relatively simple. You'll need a base log – the bigger, the better. Then, use the drill bit that comes with the device to drill a 12cm hole into your base rod. The guide rod then attaches into this, with all of the necessary washers provided.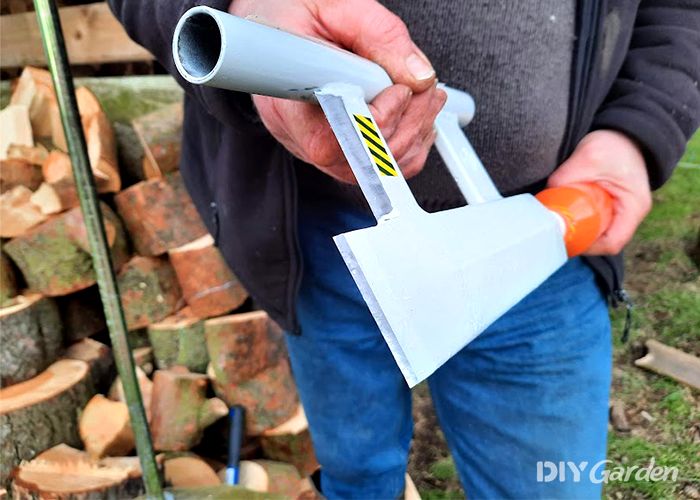 It's easy to see why the Swedish Log Splitter boasts a patented design – it's a great example of innovation.
This log splitter is equipped with two sharp blades – one that cuts the log at its edge and one that cuts in the middle. The force required to push those blades into the log you're splitting comes from a weight that's attached to a long pole. Simply lift the weight, drop it back down, and split your log – or so they say.
Everything is made from a sturdy metal, other than a couple of the washers. So, in addition to looking the part, it also feels high-quality too.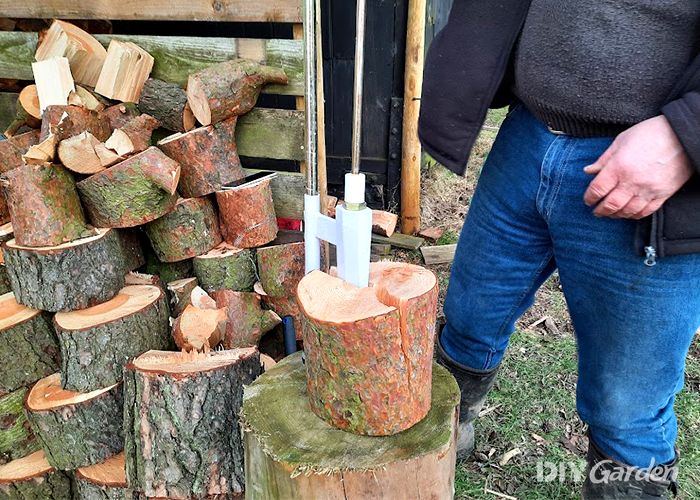 It doesn't take long to get the hang of using this log splitter, and once you do, you'll be able to whizz through your logs in no time.
It performed well on every size of log I used it with – the largest was about 14 inches in diameter. Even if the log you're splitting is too big to cut through the middle, you can always split it from one side instead and work your way through. The only thing that limits you is the size of your base log.
I used this log splitter on both green and dry wood, and it handled it all without any problems. It does seem to work a little faster on dry wood, but it splits wet wood very easily too.
After powering through several logs with this tool, I then used the Swedish Log Splitter to turn some of those split logs into kindling. Again, no issues at all – it split these really quickly and gave me some beautiful pieces of kindling.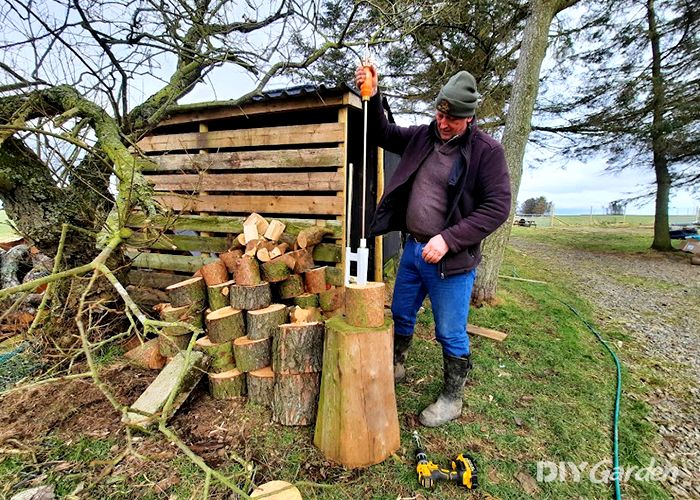 Not only is the Swedish Log Splitter easy and comfortable to use, but it's actually quite fun! When you first start working on a log, you need to lightly drop the weight down to embed the wedge/blade into it. After this, you lift it back up and throw it down – it's recommended that you lift it to the highest point of the pole and throw it back down with both hands to give you maximum splitting pressure.
However, no matter the size or type of log I was splitting, I never needed to put quite that much force into it. Most of the time, I could just lift the weight halfway up the bar and throw it back down one-handed – the heaviness of the weight alone is enough to split even knotty wood.
You do need to repeat the throwing action a few times before you split a log, and it can take quite a while to get through knotty wood, but it's still so much easier than using an axe.
What's even better is that you can adjust the height of the splitter to whatever suits you best, simply by going with a taller or shorter base log. For someone tall like myself, this is a huge advantage and makes the job so much more comfortable.
The only potential issue that I can see is when it comes to storage. It would be a little annoying to have to put everything together each time you want to use it, and then take it all apart again once you're done. Plus, there are quite a few small pieces to this log splitter – it would be very easy to lose one. Sure, you could put everything back into the box, but the box is quite big and that in itself would also be cumbersome to store.
Your other option would be to simply leave it outside. This log splitter is sturdy enough to withstand the elements if you look after it and keep it covered in bad weather, although this could still end up shortening its lifespan somewhat.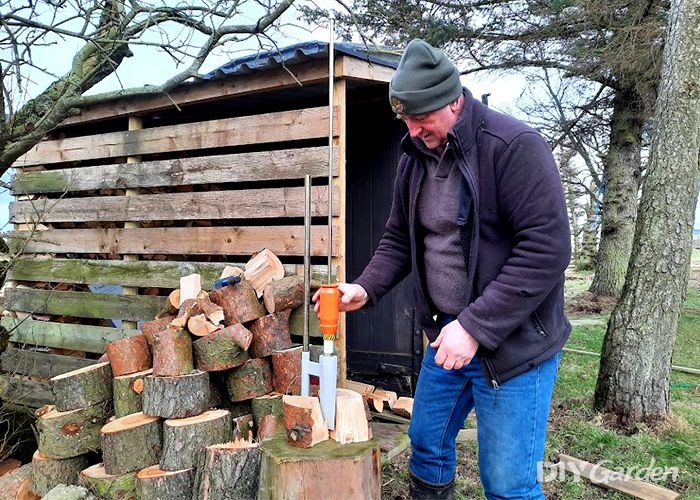 Although there weren't really any noticeable safety features incorporated into this tool, I would still say that the Swedish Log Splitter is generally pretty safe to use, so long as you don't accidentally end up with your hands in between the weight and the log.
To be fair, there's plenty of safety advice in the instruction manual. It tells you how to stand, how to throw the weight, and what to wear when using the log splitter. Follow all of that and you're unlikely to experience any injuries!
Although the instruction manual states that ear protection should be worn when using this log splitter, I didn't find it to be particularly loud. Its noise level was probably a little quieter than an axe would be.
This log splitter costs quite a bit more than the manual wood splitters that I tested, but is significantly cheaper than a hydraulic log splitter. To be fair, the cheaper manual splitters were designed to produce kindling, rather than split logs, whereas the Swedish Log Splitter does both. In my opinion, it's also worth paying a higher price for a tool that doesn't require any force or strength to use. All you have to do is lift the weight and drop it back down, compared to manual splitters that require the use of a hammer.
For this reason, I'd say that it offers fantastic value for money. It'll split the same sized logs as the hydraulic Forest Master FM5 Log Splitter will, yet it's less than half the price and doesn't need electricity to run.
There aren't many log splitters out there that are suitable for people of all ages and abilities, which is why the Swedish Log Splitter is just pure genius. Thanks to its innovative design, this log splitter provides a quick and effective way to produce both split logs and kindling, without leaving you with a sore back to deal with once you're done.
Why You Can Trust DIY Garden
At DIY Garden, we believe your trust is earned through our knowledge and transparency. Our team of experts has over 75 years collective experience in the gardening and DIY space. Since the website's creation in 2016 we've tested over 275 products, ensuring our recommendations are based on real experience. We're open about what we've tried and what we've researched, and this is clearly labelled in our product reviews. Every year, we revisit and update our suggestions to include worthy new additions to the market. Our aim is to give you straightforward, honest, and helpful recommendations, so you can confidently choose the best tools and equipment for your projects.
Swedish Log Splitter Price Comparison
Price History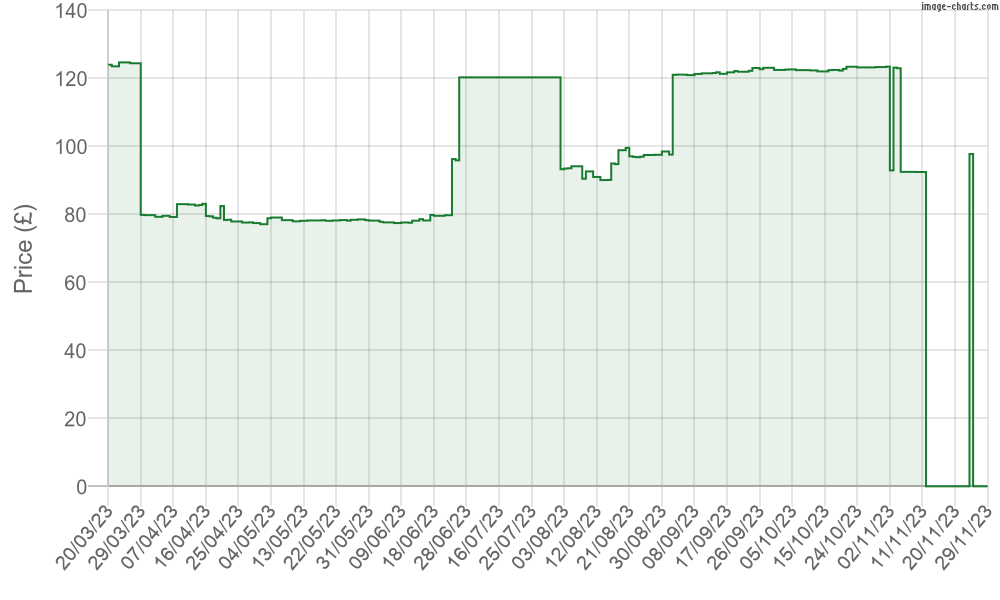 About Your Guides
Derek Smith has been farming all of his life, and is an professional landscape gardener with over 22 years experience. He owns a 25-acre farm in Aberdeenshire with a focus on self-sufficiency, living off the land, and working with nature.

Sarah's role as chief editor at DIY Garden is about more than just making sure we're literally dotting the i's and crossing the t's (although she's a stickler for detail, so it's certainly about that too!). It's about proof-reading, fact-checking and continuously researching everything we publish, ensuring that it adheres to our

editorial standards

, so that everyone can really get the most out of their green space.
You May Be Interested In These Other Log Splitter Reviews