In this laser level review, I thoroughly compared build quality, performance, ease of use and value for money for multiple products. After hours of research and testing, I recommend the Huepar BOX-1G Green Laser Level as the best laser level on the UK market.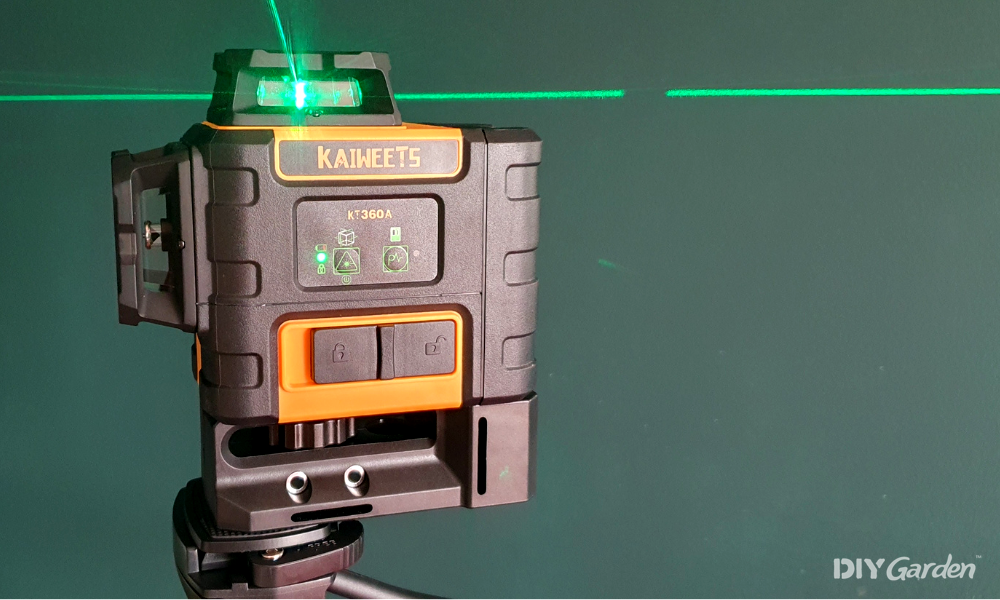 My Top Recommended Laser Levels
How I Tested
Product Tester:
I tested multiple products so that I can recommend the best laser levels currently available on the market. I assessed each one individually, comparing their build quality, performance, ease of use and value for money. Here are the factors that I researched and tested for each of these elements:
Build Quality: I examined how well it was built and if the unit was covered with a protective layer like rubberised plastic to improve its durability. I tested how sturdy its mounting system was, giving sturdier mounting systems a higher rating.
Other factors I looked out for when assessing build quality were a plumb dot mode or a laser lock off setting – laser levels with either of these features were given better ratings. Battery life was an important consideration; those with shorter battery life (below 15 hours) were given lower ratings, while those with built-in lithium batteries and fast USB charge capabilities were rated higher. Those that did not have any IP54 protection were rated lower than those that had it. The ability to attach the laser to a ¼" standard camera tripod thread was another plus, although not coming with its own tripod was a bit of a minus. Those that came with sturdy protective cases or bags were also rated higher but lower if those cases did not have room to hold their accessories.
Performance: I tested the lasers indoors and outdoors to rate their performance. Green lasers give a better visibility range and are the best for use outdoors or indoors, so they typically scored higher than red lasers, which have a lower range and are best for use indoors, where they are more visible. Those with longer ranges with and without a receiver (30 m and above) scored better than those with short ranges (below 20 m). It was given better ratings if it had optional high-power modes to enhance visibility. I also tested and rated the units based on their accuracy; those that were accurate to +/-0.2 mm/m were rated exceptionally high. Those with a full 360-degree range of built-in lasers were also rated super high as I deemed these most useful for the average user, while those with a limited range of degrees were rated lower since they would have to be moved more often.
Ease of Use: For ease of use, I first tested how easy it was to set up and mount on different surfaces; magnetic mounts were especially easy to use and received better ratings if the magnets were strong enough, but clamps that did not rely on metal surfaces were also given better ratings for versatility. I also looked at how easy it was to turn on and move the locking slide on and off and how easy it was to cycle through the different modes if it had them. Furthermore, I considered how easy the instructions were to understand – if they were precise and explanatory, they were given better marks.
Value For Money: As green lasers are typically more expensive than red lasers, the value for money differed. However, for each laser, I considered its performance and the additional features it brings to the table against its price point. Those that offered a lot of features for a reasonable price were given the highest ratings.
My Top Recommendation Based on Real-world Testing
Other Laser Levels Worth Considering
Compare Product Features Here
Use the dropdown to sort the table by the feature that's most important to you.


Our score
Type
Without Receiver
With Receiver
Plumb Dot Mode
Laser Lock Off
Accuracy
Mount
IP54 Protection
Operating Time
Tips For Buying a Laser Level
Laser levels should be able to shoot grids on walls or mark out plumb dots, although not all have a plumb dot mode.
You can choose between red and green laser levels. Red lasers are more common and budget-friendly, but the better laser levels are the green ones.
Green laser levels have a longer working range than red lasers and are brighter and easier to use outdoors. However, they are that much more expensive.
The laser level working range is specified (in metres) both with and without a receiver

, so bear this in mind when comparing values.

Horizontal laser levelling line accuracy is an important feature – this is specified in mm/m, with lower numbers more favourable.

The best laser levels are accurate to within +/-0.2 mm/m.
Laser levels are battery-powered – look out for their maximum operating time – the best laser levels can go for up to 20 hours. Some come with a rechargeable battery too.
Finally, dust and splash protection is an important feature for laser levels – make sure yours is IP54 certified

.
Why You Can Trust DIY Garden
At DIY Garden, we believe your trust is earned through our knowledge and transparency. Our team of experts has over 75 years collective experience in the gardening and DIY space. Since the website's creation in 2016 we've tested over 275 products, ensuring our recommendations are based on real experience. We're open about what we've tried and what we've researched, and this is clearly labelled in our product reviews. Every year, we revisit and update our suggestions to include worthy new additions to the market. Our aim is to give you straightforward, honest, and helpful recommendations, so you can confidently choose the best tools and equipment for your projects.
How to Choose The Best Laser Level
If you're sick of trying to hold a spirit level up to the wall with one hand and make accurate pencil marks with the other, then get hold of a laser level. You might not need the best 360° green laser just to put up shelves or picture frames, but it'll make the job much easier.
Red Lasers
The most common and more budget-friendly laser type found in this sort of tool is red. The original laser level colour, they're reliably accurate and not expensive, but their range is limited, and these laser levels can be hard to see in bright areas and almost impossible outside.
Green Lasers
The new kid on the block, green laser levels, haven't been around for as long as their red cousins, but they can be up to a whopping 50 times brighter and much easier to see outside. With a longer working range, they're more suitable for professional surveyors and builders but come with a heftier price tag.
Self-levelling Lasers
The best laser levels all come with self-levelling capabilities – this is what makes them so useful for DIY jobs. Being able to shoot a perfectly horizontal or vertical laser line at a wall in seconds is no mean feat, and usually involves an internal pendulum mounted on a gimbal that uses gravity and magnets to level itself.
Laser Level FAQs
Are laser levels accurate?
The best self-levelling lasers are accurate to within ± 3 mm per 10 metres. That's accurate enough for most DIY tasks, and not something you can easily replicate with a spirit level. Even a budget laser level is accurate enough for most jobs like putting up shelves or hanging wallpaper.
Can I use my laser level outdoors?
Although laser levels are much better suited for indoor use, they can be used outdoors but it can be a bit tricky finding the laser mark, especially in direct sunlight. The more powerful green laser levels are a little more visible, but you'll still struggle to find them at the best of times.
Some of the best laser levels come with a "pulse mode" that makes use of a separate laser detector device. The detector picks up on the beam even in bright sunlight where the naked eye will struggle. The detector will give a visual and audio signal when the laser is on the mark. These laser levels are seriously handy but will cost you extra.
Are laser levels dangerous?
The class 2 laser levels found in DIY tools are powerful but aren't considered particularly dangerous. You should obviously avoid shining the beam into your eyes but they're not like something out of a sci-fi film. The danger from laser levels comes from temporary "flash blindness" that can occur if the laser shines directly into the eye. This temporary disorientation can lead to further accidents but isn't particularly dangerous on its own.