March has finally arrived and gardeners can get more involved with their outside spaces after a long winter. There's lots to do at this time of year!
What To Do With Veggies In March
It's time to plant seeds. Tomatoes take time to grow from seed, so now is a good time to get started.
Pop a few seeds in damp, warm compost and pop them on a sunny windowsill. They'll sprout within a few weeks and bring that glorious summer tomato smell with them. Growing tomato from seeds is one of my favourite things to do at this time of year.
Other seeds you can start now include chillies, sweet pepper and aubergines.
Outside it's time to plant onions and shallot sets if it's dry. They don't mind a bit of early spring cold, but they don't like it wet and soggy. If we're due a wet month, pop a cloche over the top, but ensure plenty of air circulation so they don't turn mouldy.
Parsnip seed can go in now. They take ages to germinate so need an early start. It's best to cover them with a cloche to keep cats and birds off and warm the soil.
Begin the weed battle! Removing early weeds now will help the war come mid-summer. It's also worth picking off slugs and snails and overturning large stones and flowerpots so the birds can take them away for you.
Rhubarb is popping up too – Here's Timperley Early that I planted over autumn. I won't take any stalks from this crown until next year so it will grow strongly and establish.

Timperley Early rhubarb
What To Do With Flowers In March
Plug Plants
Plug plants are very small plants, usually in a flowerpot measuring an inch across, that have germinated and have their true leaves.
They still need lots of protection and can't go outside yet, but they're a great money saver against a full-size plant. Fuchsia, lobelia, pelargoniums are good plug buys. Pop them in a greenhouse or sunny windowsill for a month or so.
Tidy up shrubs and bushes
If you've not trimmed back the roses, now is the time unless you have ramblers. These flower on last year's growth, so don't cut them back until the flowers have faded in summer.
Cut back willow and dogwood to the base. They can get unwieldy and out of control in the summer months without a good prune now. The new growth this year will be much brighter than the older stems so it prepares your winter display too.
Throw some wildflower seeds around! California poppies and opium poppies germinate very easily in poor soils and make a lovely display.
Tidy up alpines and border plants by getting rid of dead foliage so new leaves can breathe – this is a worthwhile and satisfying job, but do look out for sheltering wildlife.
Deadhead
Spent flowering bulbs can be pinched off so they don't go to seed, but leave the foliage to die back because it feeds the bulb. If you have a wintering flowering jasmine, cut it back now.

Winter flowering jasmine

Spotted Laurel with hips
What To Plant In March
Bare Root
It's a good time to plant perennials and shrubs because the soil is warming up and it's still wet enough for roots to establish. Move the plants you thought were in the wrong place last year and fill gaps with new ones.
Summer Flowering Bulbs
It's time to start making up containers of summer flowering bulbs. Lillies are really pretty insect-attracting bulbs that do well in a container.
Potatoes
Chitted early potatoes can go in too. I use potato sacks because spuds take up lots of garden space. If you want to use a sack, put just 2 or 3 on a few inches of compost and cover them.
As the greenery grows up, cover them again. This layering process creates the best growth. Definitely make sure the greenery is covered if a frost is due as that will kill them.
If we have a warm March lots of seeds and young plants can go in. Read the packet instructions, but do keep them covered or inside for now! March and April can bring frosts and torrential rain.
It is so tempting to rush out on the first sunny day and plant up the garden, but some early spring weather precautions will save you heartache and expense.
How to Tend to

Your Lawn And Hedges In March
If it's dry and the lawn starts to sprout, it's time to get in the first mow. Use high blades if you can and rake out the moss.
Bare patches can be filled with turf or grass seed that will start to sprout very quickly in the sun. Choose a grass seed that suits your lifestyle and garden.
Heavy-duty grass seeds are best for areas that pets and children play on, whereas shady grass seed is best for areas with little sun.
Follow the seeding instructions and peg fleece over the top to keep off pigeons. Fleece also traps warmth that helps seeds germinate. Remove the fleece when the new grass is visible and avoid treading on it.
On a dry day you could re-cut lawn edges that have collapsed over winter. This is a very satisfying job!
If the edges are worn down, and you don't want to change the line or make the border bigger, just cut out a square and turn it around. This creates a sharp grassy edge to the border that quickly fills in from behind.
Hedges benefit from some love now, but many types are flowering and a big draw for pollinators. Wait until any flowers have faded before trimming.
How to

Help Out Wildlife In March
It's all go on the wildlife front.
Amphibians are waking up from hibernation and heading to their spawning ponds so you might spot frogs and toads about now as well as spawn in your pond. Try not to disturb them and don't clear out ponds with spawn in them yet.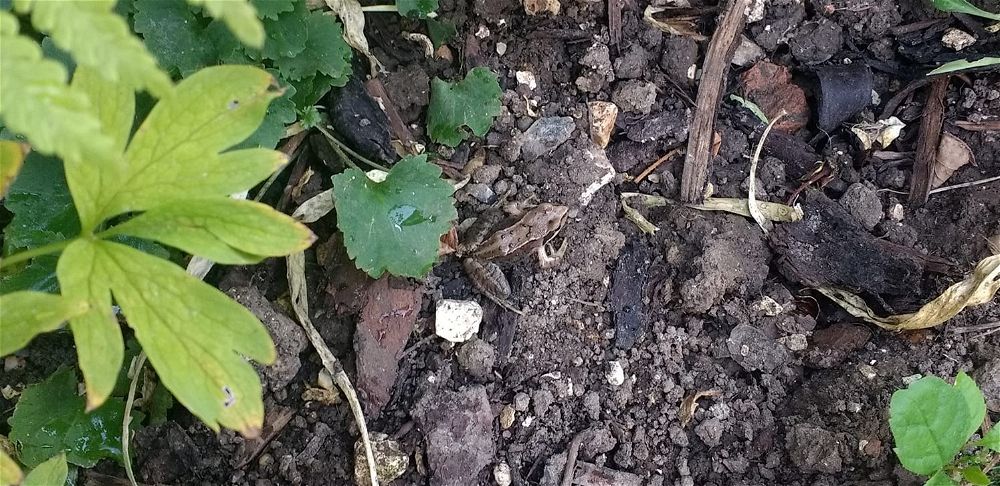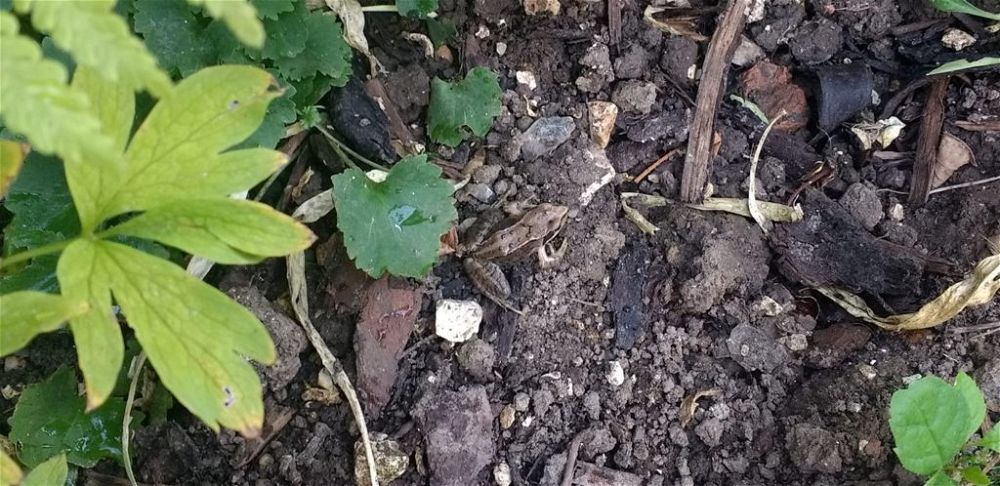 Birds are nesting and hunting out suitable foods in March so if you have aphids consider leaving them for the blue tits.
If you can't face leaving them (like me!) put on washing up gloves and run your finger across leaves and stems. This crushes the aphids. If you have lots wipe them off and put the remains on a bird table. Blue tits love aphids.
Another lover of aphids are ladybirds. If you find one, put it on your aphid population and it'll munch its way through.
Help out birds with fresh, clean bowls of water and sunflower seeds. Hedgehogs also need fresh clean water on the ground and if you're inclined to help them, a bowl of meat flavoured cat food is a lifesaver at this time of year.
If your fencing was damaged by Storm Eunice why not consider cutting a 15 cm by 15 cm hedgehog door in the new panels? This will give all kinds of wildlife access to your garden and it's much easier than trying to cut a doorway when the panel is in situ.
Here's a bird's nest we found in a fallen tree – we popped it back into ta thick hedgerow where hopefully a bird will make use of it this year.

Bird nest after Eunice
This is also the time for early emerging bees. They're looking for nectar and often so exhausted by the cold wind they just land on the ground.
Encourage them onto a leaf and pop them in the sunshine, or feed them sugar water because we need to save our bees! If you're an early visitor to the garden centre, buy a few flowering plants for visiting bumblers.

Winter flowering cherry for bumble bees
How to Deal With Garden

Pests In March
We've already talked a bit about pests in March, but it's so important to start managing the situation now, especially if you don't want to resort to sprays and slug pellets.
Exposing snail eggs to UV lights kills them so dig over your beds and rake up wooden or stony areas.
Aphids can be controlled by squashing them, leaving them for the birds, or spraying with garlic or citrus fruit steeped water.
And of course, the never-ending pigeons! Who can blame them, they get hungry too and at this time of year they are nesting and searching out food for their squabs – that's the term for a pigeon chick! Cover greenery, seeds and anything you've planted against the never-ending pigeon hunger.
Tending to

Patios, Decks, and Garden Furniture In March
It's time to uncover, clean and treat your patios, decks, and garden furniture ready for the first warm days.
Decks can be slippery after a winter of neglect so go carefully. Pressure washer or scrub away algae, moss, and slimy leaves from decks and patios, and leave them to dry. Decks can have a coat of oil or new paint on a sunny day once they dried out.
Garden furniture will need work depending on its type. Clean wooden furniture with a pressure washer (go gentle) or scrub it down, and then apply whichever treatment you use oil, paint, creosote etc when it's dried out. Metal parts can be rubbed down and repainted too.
It's a good time to fix any breakages (Storm Eunice has a lot to answer for) and decide whether it's time for new furniture. Plastic furniture is especially vulnerable after winter because frost causes cracks in UV damaged plastics. Check yours carefully for wear and tear.
I swapped out nearly all my furniture for rattan last year so I'm in the happy place of pressure washing it down and that's it! More time for tea!
Let's keep our fingers crossed for early spring and plenty of warming sunshine this March. If you know any sunshine dances please start doing them now!