In this football goal post review, I thoroughly compared design, build quality, durability, fun factor and value for money for multiple products. After hours of research and testing, I recommend the FORZA Locking Football Goal [8ft x 6ft] as the best football goal post on the UK market.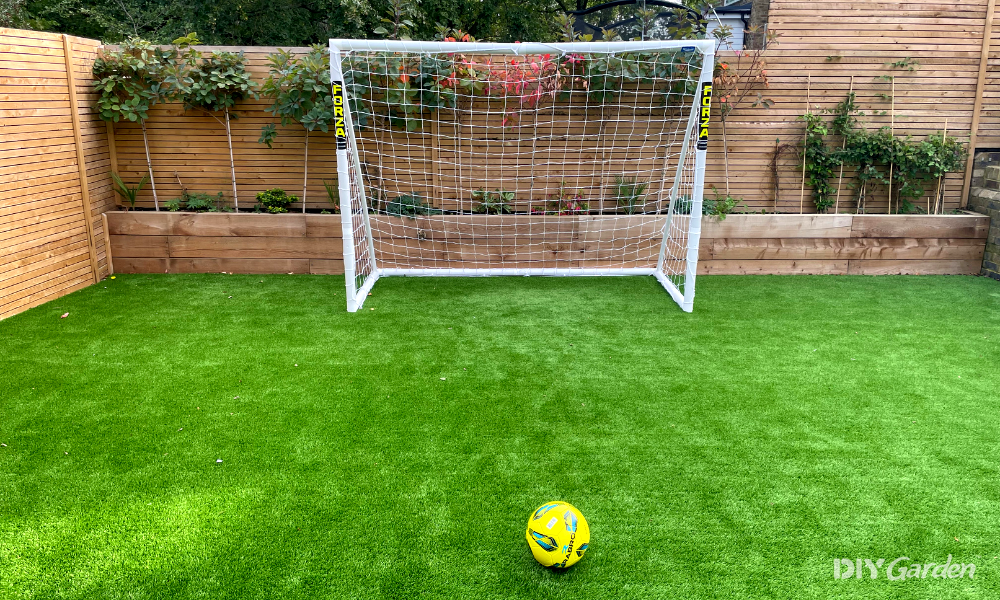 My Top Recommended Football Goal Posts
My Top Recommendation Based on Real-world Testing
Other Football Goal Posts Worth Considering
Compare Product Features Here
Use the dropdown to sort the table by the feature that's most important to you.


How We Chose Our Recommendations
When selecting football goals for your garden, we keep a keen eye on several factors when selecting our product recommendations:
Size & Space: The size of your garden matters. We consider goals that fit comfortably within your available space while providing enough room for enjoyable play.
Durability: Garden football goals need to withstand all sorts of player abilities and weather conditions. We look for goals constructed from sturdy materials like steel or weather-resistant PVC to ensure they can handle the elements.
Ease of Assembly: No one wants to spend hours deciphering complicated instructions. We favor goals that are easy to assemble and disassemble.
Safety: Safety is paramount, especially when it comes to children. We prioritize goals that come with sturdy netting, secure anchors, and rounded edges to minimize the risk of accidents.
Portability: The ability to move your goal around the garden is a significant advantage. Goals with lightweight frames are appreciated for their convenience.
Net Quality: A good goal needs a good net. We consider goals with high-quality, durable nets that can withstand countless shots without fraying or tearing.
Price & Value: While we always seek value for your investment, we also ensure that the price reflects the quality and features of the goal.
Why You Can Trust DIY Garden
At DIY Garden, we believe your trust is earned through our knowledge and transparency. Our team of experts has over 75 years collective experience in the gardening and DIY space. Since the website's creation in 2016 we've tested over 275 products, ensuring our recommendations are based on real experience. We're open about what we've tried and what we've researched, and this is clearly labelled in our product reviews. Every year, we revisit and update our suggestions to include worthy new additions to the market. Our aim is to give you straightforward, honest, and helpful recommendations, so you can confidently choose the best tools and equipment for your projects.
Tips On Buying a Football Goal For The Garden
For children up to 10 years old, a 1.8 x 1.2 m (6 x 4 ft) goal is a great size. Larger posts of around 2.4 x 1.8 m (8 x 6 ft) will better accommodate teenagers whilst still fitting in the backyard. If this all sounds a little large to permanently be in your garden, a pop-up goal might be a better idea for smaller spaces.
Pop-up goals are available in all sizes, so you don't have to be limited to a compact goal. However, even small 1.2 x 0.9 m (4 x 3 ft) pop-up goals can be enjoyed by children of a large age range; they'll just be more like target practice for older kids. You should also consider a pop-up goal if you want something that's easy for kids to take to the park, beach or on holiday

.

When it comes to permanent goal posts, there are a few options in terms of construction material. Choose galvanised steel posts if you want the most durable option

– the crossbar is unlikely to dip over time which can happen with other models.

Alternatively, uPVC goal posts are a very practical choice

. Firstly, uPVC isn't as hard as steel so it's a more appropriate choice for younger children. uPVC posts are weatherproof and can take a lot of force but are easy to pack away, making them some of the best football goal posts for the garden.

I recommend looking for posts that twist and lock into place

. These tend to offer more stability than those that simply slide together, improving the overall strength of the frame. 
I've gone with the FORZA Football Goal as my top recommendation. It measures 1.8 x 1.2 m (6 x 4 ft) and is suitable for children up to 10 years old. The poles are made from uPVC, and it only takes 30 minutes to put up, so can be taken down without much hassle if needed.
How to Choose The Best Football Goal Posts
Having football goal posts in the garden can provide hours of fun for your family.
There are different designs available, depending on what you're after. Goal posts with targets can help improve precision, whilst larger nets stop footballs going into the neighbour's garden. Alternatively, pop-up goals can be a great option for family holidays or smaller gardens.
The following guide will give you a better idea of what to look for when choosing football goal posts for the garden.
Materials
When it comes to material you should think about whether you need to leave football goal posts outside all year round.
If so, aluminium posts are very popular as they're rustproof and take the hassle out of putting them up and down if it rains, plus they are lightweight enough to move single handed.
If you're looking to splash out on professional standard goal posts then look at steel which is the gold standard and much stronger than aluminium. I wouldn't recommend steel football goal posts for smaller children though, as they can hurt themselves bumping into the posts.
UPVC is another popular goalpost material. It's weatherproof and can take a lot of force, but it's simple to pack away. Many upvc goal posts have locking systems to keep them firmly in place.
At the cheaper end of the scale, there are all-synthetic fibre goals which are quick to pop and up and down. They don't last in all weathers but fold up easily so you can take them places or store them in the shed.
Nets are often overlooked when it comes to choosing the best goal post for the garden, but netting takes just as much abuse as posts, especially if your kid is a good shot.
The thinnest netting grade is 1.6mm. It's cheap and won't last long, a better option is netting that measures 5mm – this is what they use in professional matches. It's more expensive but it'll last you longer.
Polypropylene is a modern and popular material for goal netting. It's a type of plastic that's much more hardwearing than fibre or twine nets. If you can find HDPE – that's high-density polyethylene, it'll last even longer.
Whatever you choose, pull nets clear of the ground when you're not using them to prevent wildlife from getting trapped.
Size
Goalposts are available in different sizes to match the age of your children. The Football Association has regulations if you want to use them!
For kids under seven – an 8×4 foot goal
For kids aged under twelve – 16 x 7-foot goal
Full-sized goalposts are for kids aged over 15
Of course, you can ignore this advice as it's only regulation for professional games, and after-school clubs, but you'll find the sizes make sense compared to your kid's height.
However, it does depend on the size of our garden. Nowadays gardens tend to be compact, so getting goal posts in there might be tricky.
Choose kids football goal posts that are big enough to have fun, but don't ruin your outside space. A 6-8 x 4 foot goal is big enough for primary school kids to enjoy.
One other aspect to be aware of is the space inside the goal.
If you have an aspiring goal-keeper they will need room inside the net to make a save. If grandad is stuck as goalie it doesn't matter so much.
Weatherproofing
Are you planning to leave the goal posts outside in all weathers?
If so, choose aluminium, steel or upvc posts with a polyethylene net.
This will ensure the goalposts don't rust or rot in our wet and damp weather, or get brittle in the sunlight and snap. If you choose these durable materials you won't need to treat the goalposts with anything.
If you're intending to bring them indoors, you can choose any material you like but I'd recommend you choose something that's easy to take apart, such as a upvc locking system goal – which leads us nicely to…
Ease of Construction
If you're one of those people that develops 'the red mist of rage' over half-cooked instructions choose something simple like a pre-set locking system or fold away goal posts.
Here are the options and their level of construction difficulty.
Folding portable goals – the easiest and cheapest option. They fold out and fold down again. All you have to do is fit the ground anchoring pegs.
Locking goals – these are already partially fitted and you just have to slot the bars into place so they seal and become durable. The Samba recommendation above has a button that unlocks the frame. They are portable and lightweight enough to take places.
Lightweight free standing – you need to fit these together, but once in place they can stay put for years. This type of goalpost can be anchored with ground pegs.
Steel free standing – large steel goals need construction and must be securely anchored. If you don't plan to move them, the feet can be concreted into place.
If you choose a well-known brand, they will have a construction video on the home website for you to follow.
Difficult instructions usually come with cheap imported goals using Google translate. Forza and Samba have excellent customer service teams that'll talk you through construction over the phone if you get stuck.
Football Goal Post FAQs
What is the size of a goal post in football?
If you're hoping to be scouted for a Premier League team in the near future, it's worth practising your penalties in the right size goal! Premier League goals measure an impressive 24ft x 8ft. 
What size football should kids use? 
Footballs are available in a range of sizes. For kids aged between 6 and 9, a size 3 football is best. Between 10 and 14 should use a size 4, and 14+ should use a size 5 football. Size 2 footballs are suitable for kids under 5 years of age. 
How far out is the penalty spot? 
If you're wanting to practice your penalties Harry Kane-style, you're going to need to ensure you're taking them from the right spot! In professional football, the penalty spot is 12 yards (11m) from the goal line. In your own garden, the spot can be as close to the goal as you like – we won't tell!