In this weed burner review, I thoroughly compared design, ease of use, effectiveness, safety and value for money for multiple products. After hours of research and testing, I recommend the Flame King Heavy Duty Propane Torch Weed Burner as the best weed burner on the UK market.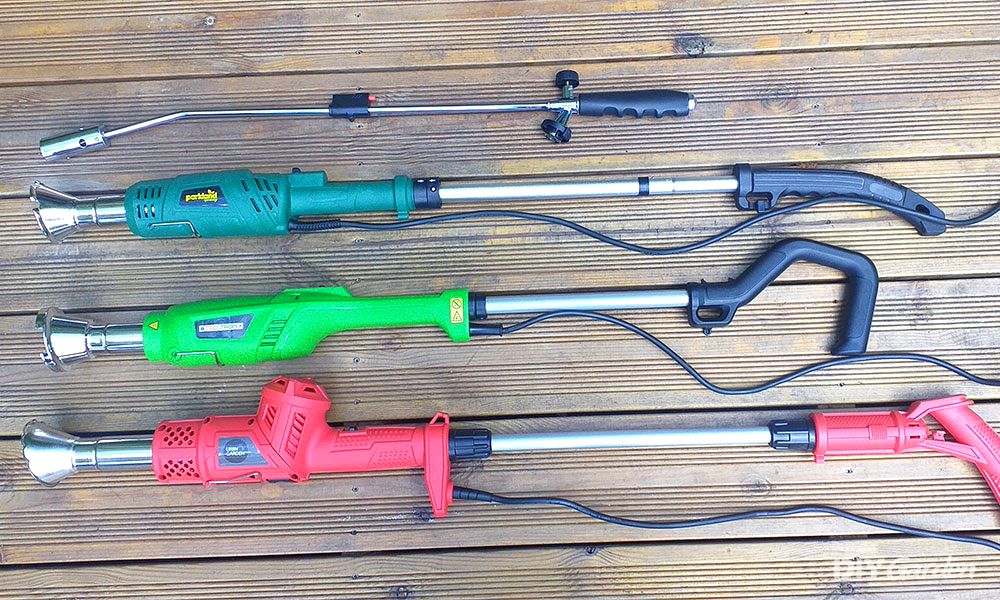 My Top Recommended Weed Burners
My Product Reviews & Opinions
Compare Product Features Here
Use the dropdown to sort the table by the feature that's most important to you.


Our score
Max. Temperature
Weight
Cable Length
Heat Settings
No. of Nozzles
Extendable
Tips For Buying a Weed Burner
The best tool to kill weeds without using chemicals is a weed burner. What better way to seek revenge than scorching them away!

If you only want to treat weeds once, gas-powered weed burners are the most powerful and effective

. Capable of reaching temperatures of over 1000

°

C, I found that one treatment with a gas burner was enough to see weeds disappear. Gas weed burners can easily scorch lawns so they're best used on hard surfaces.

Gas weed burners are also great if you want a really light tool

. From my experience, they're more than half as heavy as other burners.

If you don't want to mess around with fuel canisters, choose an electric weed burner with a maximum temperature of 600 – 700°

C. These may need a few applications, but they'll make weeds shrivel.

If you don't feel comfortable with an open flame, electric burners are the way to go

.

There are a couple of factors that can make weed burners more versatile. Electric burners with multiple nozzle attachments will have multiple uses

. A cone head is ideal for combatting weeds, but the best electric weed burners will also have nozzles that allow them to double up as paint strippers and melt driveway ice on wintry days.

More than one temperature setting is worth looking out for

. With both gas and electric weed burners, this can increase the tool's versatility. 
After testing several weed burners, my top recommendation is the Green Habitats Weed Burner. It's a gas propane option that reaches a maximum temperature of 1300°C. I saw big weeds shrivel and disappear in the weeks after using this burner once.
It weighs just 0.47 kg, lighter than most electric- and gas-powered models. And it's cordless, so there are no worries about tripping or burning through the power cable.
Why You Can Trust DIY Garden
At DIY Garden, we believe your trust is earned through our knowledge and transparency. Our team of experts has over 75 years collective experience in the gardening and DIY space. Since the website's creation in 2016 we've tested over 275 products, ensuring our recommendations are based on real experience. We're open about what we've tried and what we've researched, and this is clearly labelled in our product reviews. Every year, we revisit and update our suggestions to include worthy new additions to the market. Our aim is to give you straightforward, honest, and helpful recommendations, so you can confidently choose the best tools and equipment for your projects.
How to Choose The Best Weed Burner
Weeds can be stubborn and prove a nuisance for gardeners. Even if your garden is mostly patio, weeds can still rear their ugly heads between the slabs and ruin its neat appearance.
Weed burners offer a great way to stop weeds in their tracks. Producing a large amount of heat in a concentrated area, they can be held directly over the offending weeds, burning them and killing them off. They are designed to cause the cells inside weeds to explode, so even when the damage isn't immediately visible, the treated weed will die over time.
Most weed burners have a maximum temperature of around 650°C, although some burn hotter, so they can bring some serious heat to the battle of the weeds!
The following information will help you decide whether a weed burner is right for you, and which style of weed burner to look out for:
The Benefits of Using a Weed Burner
They eliminate the necessity to use chemical weed killers. This is great for a number of reasons. Chemical products aren't good for the environment and they can also affect more than just weeds. They may damage other plants or kill wildlife. What's more, they can prove hazardous for pets, so you have to be really careful when using them.
A weed burner makes it easier to 'spot attack' a particular weed. Whilst other weed-killing methods are more generalised, applied as a spray or granule, you are in full control when using a weed burner. Only the area covered by the nozzle will be affected by heat.
They're lightweight and less effort than other weed-removal methods. Removing weeds by hand with a weeding tool can be time consuming and painful on the knees. Similarly, mixing herbicides can take a while as they need to be prepared properly. By contrast, a weed burner can be used whilst standing and takes very little time to heat up.
Weed killers can come in handy for other tasks too, such as thawing ice, stripping paint, and lighting the BBQ. As a result, they're not only useful to have around in the spring and summer, but during winter too.
For more information, check out our page on how to use a weed burner.
Weed Burner Type
There are two main styles when it comes to weed burners: gas-powered burners and mains-powered burners. Naturally, there are pros and cons to each type.
Gas-Powered Weed Burners
These weed burners can reach extremely high temperatures – often over 1000°C. As a result, they are extremely effective at quickly killing off weeds.
Most of the time they will kill a weed in just one session, damaging its roots sufficiently so that it won't grow back.
They are also cordless, making them easy to carry around without any restrictions. This means that there is also no tripping hazard as there would be with a mains-powered burner, and no chance of accidentally burning through a cable.
However, there are also some negatives to gas burners. They tend to be heavier than mains-powered models, and you need to make sure that you have a way to safely store the gas canisters.
Due to the fact that they work with a visible flame, they are also more likely to scorch hard surfaces such as patios and driveways. Burning fuel also causes fumes and releases greenhouse gases, making gas burners less environmentally friendly than their mains-powered counterparts.
READ NEXT: The Best Weed Membranes
Mains-Powered Weed Burners
These electric weed burners don't use an open flame which can make them feel safer than using a gas-powered machine. They do still get extremely hot, often reaching temperatures of 600°C or more, so need to be used with care.
Some electric weed burners are very light and can be used with one hand, this makes them easy to manoeuvre and control (and also means that the spare hand can be used to keep the power cable out of the way).
They're a more environmentally friendly option compared to gas weed burners; however, because don't get as hot it can take more applications to fully kill off weeds. Electric weed burners may need to be used several times, several weeks apart, to get rid of weeds completely.
The main drawback of an electric weed burner is being restricted by the power cable. Some models have cables that are less than 2 metres long, so you almost always have to pull an extension around with you. It's also possible to find burners with longer cables, commonly around 5 metres, but an extension cable might still be needed.
Temperature Range
Some of the best weed burners will have two temperature options, offering a low and high temperature. This is more common with electric weed burners than gas-powered ones.
It's good to have the choice because the low temperature setting is useful for other tasks, such as lighting the BBQ in summer or melting ice and snow in the winter.
The high temperature setting is the one used to really do damage against weeds. The higher the temperature of your weed burner, the more effective it will be.
One thing to bear in mind, of course, is to be really careful when using a weed burner; these are some serious temperatures we're talking about.
Make sure to leave it somewhere secure after use – not lying around where the kids might find it – and let it cool down completely before storing.
Unit Adjustability
As well as variable temperature settings, electric weed burners can be adjustable in other ways.
Nozzles
Whilst some units only come with one nozzle attachment – usually a cone shaped nozzle for targeting a small area – others can come with various options included.
Depending on what you're hoping the use the weed burner for, you may want more attachments. For example, thinner nozzles can be used to targeting and isolate specific weeds, potentially causing less damage to surrounding grass.
If a weed burner has several nozzles, it will likely be more suitable for more completing a variety of tasks. For example, flat nozzles can allow weed burners to be used to strip paint (if recommended by the instructions).
Extendable Handles
An extendable handle can be beneficial for two reasons. One, you can adjust the length of the unit to suit your height, improving the comfort of your experience. Two, you can make the unit smaller when it comes to tidying it away, making it easier to store.
Weed Burner FAQs
Will an electric weed burner work on weeds between paving?
An electric weed burner works really well in small areas like cracks in paving/on the drive etc. Use the smallest nozzle attachment, if it came with a few options, to get as close as possible to the root of the weed.
What does a weed burner actually do?
A weed burner is designed to heat the weed's cells, damaging them and causing them to burst. When the cells in the stem are destroyed, the stem is not able to carry nutrients to the rest of the plant. This is what ultimately kills the weed.
How can I tell when I've used enough heat on a weed with an electric weed burner?
You'll know that a weed has been burnt enough when its leaves turn from glossy to matte. This means that the internal structure of the weed has been damaged, and it will then die off.
Generally, all weed burners come with instructions about how long you need to hold the burner over the weed, and from what height. Following these instructions should be sufficient to damage the weed and eventually kill it off.
Are electric weed burners safe?
Most weed burners are designed to be easy and safe to use, but they should still be used with care.
These tools get extremely hot and often take over an hour to cool down. It's important to read the instruction manual fully before use, and follow any advice carefully.
If you have an electric weed burner, it's likely that you will need to run it on a lower heat setting after use, before turning it off completely.
Don't be tempted to 'check' how cool your weed burner is for at least an hour after use. And make sure to leave it out of reach of children and pets at all times.
If the grass is very dry, using a weed burner could cause it to set on fire, so be careful about where and when you use it.