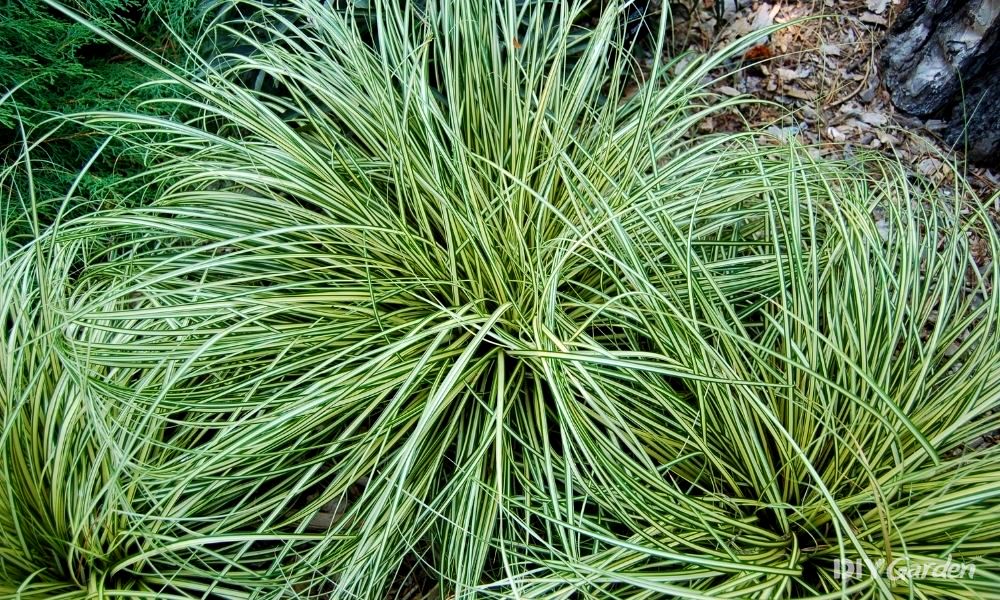 Got a tonne of pots but no grasses? No worries. After reading this article, you'll have grasses coming out of your ears!
Below, we take a look at the evergreen grasses that will sit in your pots perfectly! They'll provide a year-long display that's sure to keep your garden looking lively through even the dullest winter days.
Without further ado, let's get to it!

1. Blue Lyme Grass
Botanical name: Leymus arenarius
Max. height: 5ft
Blue Lyme Grass is a fast spreader. So, letting it roam free can have repercussions – it's better to confine it to a pot. This plant has striking steely blue leaves that have a sword-like appearance.
This plant has served many purposes historically. Inuits created baskets from the leaves, and the stems were utilised in roof thatching.
2. Orange New Zealand Sedge
Botanical name: Carex testacea
Max. height: 1.6ft
Orange New Zealand Sedge possesses orange foliage when exposed to sunlight. The leaves softly arch towards the ground, giving the characteristic grass look.
Although this plant can handle just about any living condition, you'll miss out on the warm orangey glow if you keep it in the shade.
3. Japanese Sweet Flag
Botanical name: Acorus gramineus 'Ogon'
Max. height: 2.5ft
Japanese Sweet Flag is the perfect plant to add some oriental flare to your patio. This mini plant won't stand out in height, but it's got something else going for it – a sweet, syrupy scent. It's this distinctive characteristic that gave Japanese Sweet Flag its name.
4. Blue Oat Grass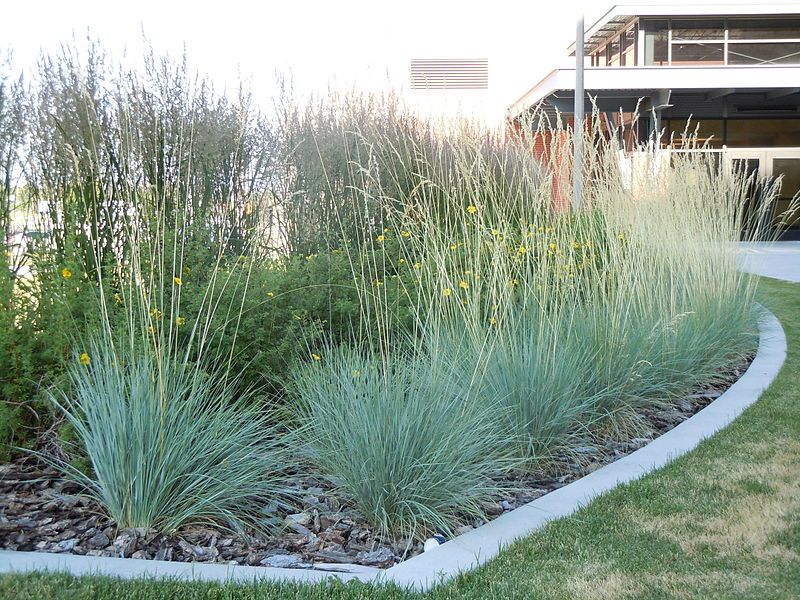 Botanical name: Helichtrichon sempervivens
Max. height: 3ft
Nothing can beat the soothing rustle of the Blue Oat Grass on a windy day. Its foliage, pale green with a slight blue tint, immediately draws the eye.
Its Latin name "sempervivens" translates to "immortal", which relates to this plant's year-long foliage display.
5. Japanese Blood Grass
Botanical name: Imperata cylindrica
Max. height: 2ft
If there was ever a name to capture your attention, it's Japanese Blood Grass. And this plant's appearance is every bit as gripping as its title, with vibrant, blood-red leaves that stick up like bloodied swords.
But it's only with age that its leaves take on their striking red colouration. They're green with red tips, to begin with.
6. Ruby Grass
Botanical name: Melinus nerviglumis 'Pink Champagne'
Max. height: 1.6ft
Sticking with the unusual colour theme, here's Ruby Grass. This plant displays amethyst-coloured flowers quite unmatched by any other potted plant. These appear in summer and transform to off-white as they age.
Ruby Grass isn't phased by drought or heat and will make an excellent annual in chilly conditions.
7. Red Fountain Grass
Botanical name: Pennisetum setaceum 'Rubrum'
Maximum height: 5ft
You won't find a better plant for a pot than Red Fountain Grass. Its beautiful purple blooms atop arching stems are a sight to behold. And just for added drama, the plant is peppered with burgundy-red leaves!
This plant loves warm weather and is hardy in such conditions. If you're a gardener in a cooler climate, this plant still makes a lovely annual.
8. Japanese Forest Grass
Botanical name: Hakonechloa macra 'Aureola'
Max. height: 1.6ft
Japanese Forest Grass is a lower-growing evergreen option. This plant is loved for its colour-changing capability, with luscious green leaves that take on a red-brown tint in autumn.
Japanese Forest Grass is perfect for a pot, especially if your conditions don't meet its requirements – moist soil that's partially shaded.
9. Bamboo Muhly
Botanical name: Muhlenbergia dumosa
Maximum height: 5ft
It's an interesting name for a grass species, right? Bamboo Muhly resembles bamboo in many ways – with feathery, bamboo-like leaves and the characteristic stem notches.
This oriental-looking plant will sway in the slightest breeze and makes a show-stopping living screen.
10. Feather Reed Grass 'Karl Foerster'
Botanical name: Calamagrostis x acutiflora 'Karl Foerster'
Max. height: 5ft
Gardeners love Feather Reed Grass for its adaptability and resilience. A variety of particular interest is 'Karl Foerster' – this bears towering, fuzzy flower plumes that fade from bronze to brown as the seasons progress.
This plant makes the ideal privacy screen or gripping focal point.
11. Leatherleaf Sedge
Botanical name: Carex buchananii
Max. height: 2.5ft
Although not technically grasses, sedges appear in this article because they're often unappreciated. When you plop Leatherleaf Sedge in a pot, it really shines.
Leatherleaf Sedge's leaves have a bronze tinge that gleams when caught in the sun. These thin leaves form a tufted mound that arches with age.
12. Japanese Silver Grass 'Morning Light'
Botanical name: Miscanthus sinensis 'Morning Light'
Max. height: 7ft
Japanese Silver Grass 'Morning Light' has variegated ivory leaves that really steal the show. The combination of this plant's vase shape and gentle swaying motion makes it the perfect landscape softener. Morning Light's inflorescence is crimson when young, changing to a dazzling silver-grey with age.
It's partial to a colder climate, so it will thrive in any UK garden.
13. New Zealand Flax
Botanical name: Phormium tenax
Max. height: 6ft
Gardeners feature New Zealand Flax in their gardens without even knowing it – it's both popular and unrecognised! This plant's strap-like leaves take on a multitude of colours; red, yellow, green, and copper, depending on the variety you choose.
Although this particular variety doesn't exceed 6ft, some New Zealand Flax cultivars grow to 12ft tall.
14. Fibre Optic Grass
Botanical name: Isolepis cernua
Max. height: 1ft
Fibre Optic Grass is a wonderfully quirky low-growing sedge. It has tall, bowing stems that form wispy clumps. But it's the plant's inflorescence that grabs your attention – tiny silver-white cones attached to the very tip of their stems. Although outdated nowadays, the name "Fibre Optic Grass" was given for this characteristic.
15. Silvergrass
Botanical name: Miscanthus × giganteus
Max. height: 8ft
Silvergrass is a group of popular ornamental grasses, loved for their simplicity and elegance. These plants look great whatever the weather, be it snow, sun, rain, or frost. The rustling of Silvergrass' feathery plumes in the wind is a spectacle to admire.
16. Red Rooster Carex
Botanical name: Carex buchananii 'Red Rooster'
Max. height: 2.5ft
Place Red Rooster Carex in a container on its own or with other grasses; it works either way. This plant is highly versatile – just give it full sun and good drainage, and it'll be happy, regardless of the soil type you place it in. Give it a good trim in spring, and it'll be bursting with new growth before you know it!
17. Feathertop Grass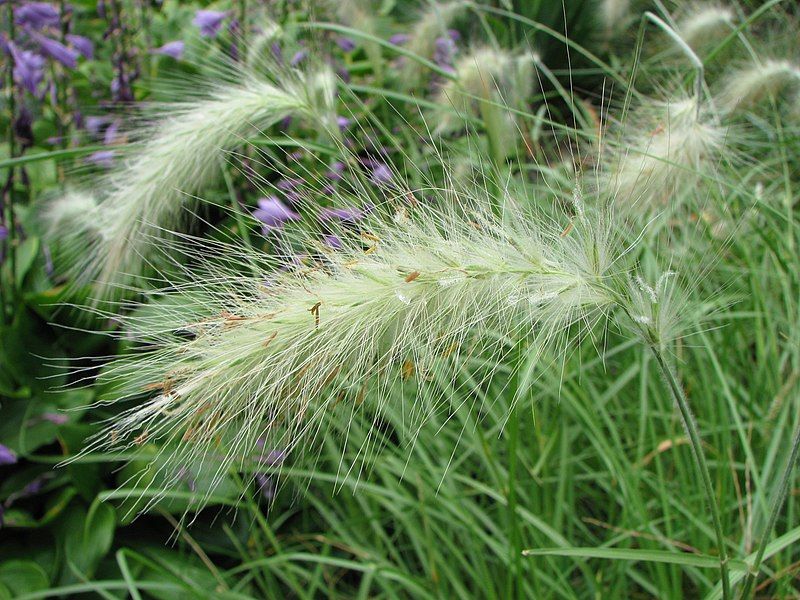 Botanical name: Pennisetum villosum
Max. height: 1.5ft
Feathertop is an annual evergreen plant loved for its feathery flower plumes that sit atop long green stems. When they first appear, these are green and white but take on a deeper purple shade as the plant ages.
18. Weeping Brown Sedge
Botanical name: Carex flagellifera 'Bronzita'
Max. height: 1.5ft
With Weeping Brown Sedge, the clue is in the name. It displays gold-brown leaves all-year-round which protrude from the base and curl downwards. Its delicate colouration and dainty leaves will act as a landscape softener, providing the perfect backdrop for other plants.
19. Red Hook Sedge
Botanical name: Uncinia rubra 'Everflame'
Max. height: 1ft
If you're after an eye-catching statement plant, try Red Hook Sedge. The plant's silky red-green leaves will charm anyone and everyone. "Hook," present in this plant's name, relates to the hook-shaped seeds. They're designed this way to maximise seed dispersal, hooking onto any animal that passes by.
20. Blue Fescue
Botanical name: Festuca glauca 'Elijah Blue'
Max. height: 1.5ft
Blue Fescue is a dwarf grass that packs a lot of personality into its tiny form. Its blades are blue with a silvery tinge and sit upright in a small/medium pot. Blue Fescue's stems are topped with tall inflorescence in early summer. It'll grow in any conditions you expose it to; just give it a little bit of sunlight.
21. Mexican Feather Grass
Botanical name: Stipa tenuissima
Max. height: 2ft
Mexican Feather Grass thrives off full sun and well-drained soil. The stems, so thin they resemble individual pieces of thread, grow in compact clumps that gives an overall orderly appearance.
In winter, seed-eating birds flock to Mexican Feather Grass as this plant's feather-like seedheads become an essential food source.
22. Peruvian Feather Grass
Botanical name: Jarava ichu
Max. height: 3.3ft
Peruvian Feather Grass is a relative to Mexican Feather Grass. It's similar in appearance, with thread-like, vibrant green foliage. This plant produces silky white blooms during summer, which float like a cloud in the wind. This only adds to Peruvian Feather Grass' beauty.
23. Ribbon Grass
Botanical name: Phalaris arundinacea
Max. height: 3ft
This plant's name, "Ribbon Grass", alludes to its most prominent quality – its ribbon-like leaves. 'Picta' is the most decorative of Ribbon Grass varieties, showing off variegated green leaves with cream-white stripes.
The rapid spreading rate of Ribbon Grass is often its downfall, but plonking it into a pot solves this.
24. Chinese Silver Grass
Botanical name: Micanthus sinensis 'Kleine Silberspinne'
Max. height: 5ft
Chinese Silver Grass is a showstopper in winter, providing style and grace and whooshing gently whenever a breeze comes along. This plant isn't susceptible to pests or disease and will stand proud in a sunny spot.
Gardeners love Chinese Silver Grass most for the way its flower plumes change colour through the seasons, progressing from silver to orange, red and yellow.
25. Golden Oats
Botanical name: Stipa gigantea
Max. height: 8ft
Golden Oats was given its name for its flowers, oat-like in appearance and transforming from purple when young to golden when ripe. The stems change colour too! They're green in summer then gold in autumn.
This plant is dainty and sophisticated, swaying side to side gently on breezy days.
26. Purple Fountain Grass
Botanical name: Pennisetum advena 'Rubrum
Max. height: 25ft
Purple Fountain Grass stands out from the crowd in height and appearance. Its size will take your breath away, sure. But it's the vivid burgundy colour that the flowers and foliage take on in summer and autumn that become the real focal point of the garden.
Give Purple Fountain Grass full sun and some shelter, and it won't disappoint.
27. Pheasant's Tail Grass
Botanical name: Anemanthele lessoniana
Max. height: 3ft
This grass species has delicate leaves that bear red-brown flowers at the end of summer. Pheasant's Tail Grass was given its name for the colours of its leaves throughout the seasons, taking on a red-orange tinge through summer till autumn.
During winter, the colours intensify, making Pheasant's Tail Grass an eye-catching addition to a dreary-looking winter garden.
28. Golden Japanese Forest Grass
Botanical name: Hakonechloa macra 'Alboaurea'
Max. height: 1.5ft
Golden Japanese Forest Grass is popular among gardeners because of its green blade-like leaves decorated with creamy yellow stripes. This gives the plant almost a neon yellow appearance in some lights. So, if you're looking for something with striking colour, Golden Japanese Forest Grass may be the evergreen grass for you.
29. Japanese Sedge 'Evergold'
Botanical name: Carex oshimensis 'Evergold'
Max. height: 1ft
Japanese Sedge 'Evergold' gets its name from the attractive golden stripe that runs down the centre of its spiky leaves. Gardeners love this grass because it's well-suited to shady areas, so it will bring life to even the darkest of garden spots.
30. Blue Arrows Rush
Botanical name: Juncus inflexus 'Blue Arrows'
Max. height: 3ft
Blue Arrow Rush is a sun-loving plant that prospers when exposed to high heat and even drought. This tufting grass is leafless, but its stems stand erect in a pot, putting on quite the show. Blue Arrow Rush is a softening addition to any garden due to its thin blue-green stems.
31. Frosty Sedge
Botanical name: Ficinia truncata 'Ice Crystal'
Max. height: Under 1ft
It's always an icy day with Frosty Sedge. This plant possesses the natural look of a frosty morning, with verdant green leaves enclosed in a white outer margin. This little grass is ideal for a small garden, as it provides heaps of drama in a tiny surface area.
32. Dwarf Pampas Grass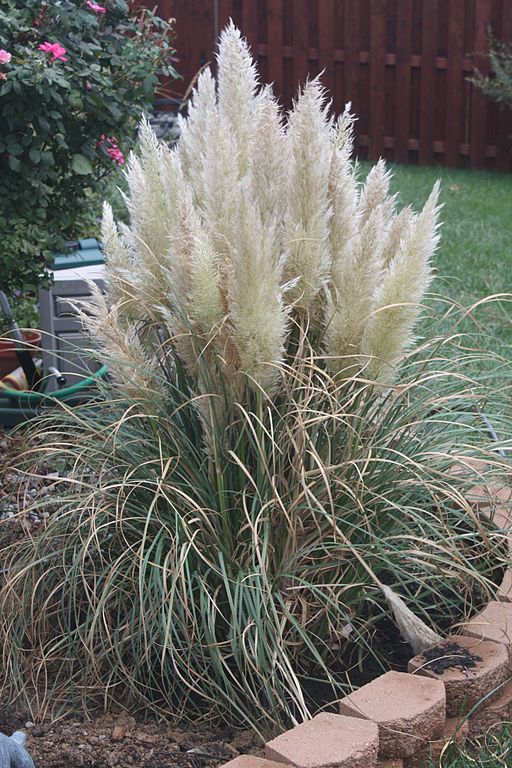 Botanical name: Cortaderia sellloana 'Pumila'
Max. height: 2ft
If you're a fan of grasses, you've likely heard of Pampas Grass. It's one of the most popular grass varieties, with its tall stems topped with fluffy white plumes. Dwarf Pampas Grass gives you the same beauty but on a small scale.
Its plumes provide the privacy you're after without forming a concrete barrier.
33. Everlite Sedge
Botanical name: Carex oshimensis 'Everlite'
Max. height: 1ft
Everlite Sedge gained its name from the never-ending light it seems to catch. It has narrow leaves that are predominantly cream in colour but are surrounded by dark green edges. This gives the plant a prominent stripy appearance and a contrast that will invite attention.
It loves shade, so plop it in a shady spot and watch it work its magic!
34. Black Mondo Grass
Botanical name: Ophiopogon planiscapus
Max. height: Under 1ft
What Black Mondo Grass lacks in size, it makes up for in character. It presents inky, near-black arching leaves that form clumps. The plant produces tiny pink flowers at the end of spring, and blue-black berries follow.
Although Black Mondo Grass is great in a pot visually, it will grow slower when contained.
Go Get Your Grass Plants for Pots!
Ornamental grasses for containers aren't always easy to find. Not until you read this article, anyway. Woah, that's a lot of evergreen grasses!
Grasses add drama to your garden. They bring movement and unique texture that can't be achieved by any other plant. The versatility of grasses allows for multifunctionality – your grass can become a garden focal point, form a natural privacy screen, or bring some joy to a lifeless patio.
Whether you want tall grasses for pots or itty bitty ones, grasses that make a bold colour statement or that subtly swish in the wind, that's for you to decide!