Encourage Wildlife With These 28 Garden Pond Ideas
Ponds are great for wildlife and bring a beautiful sense of tranquillity to the garden. Better yet, they're easy to install and suitable for any size garden.
If you're after some inspiration, look no further than these 28 garden pond ideas.
1. Create a Raised Oasis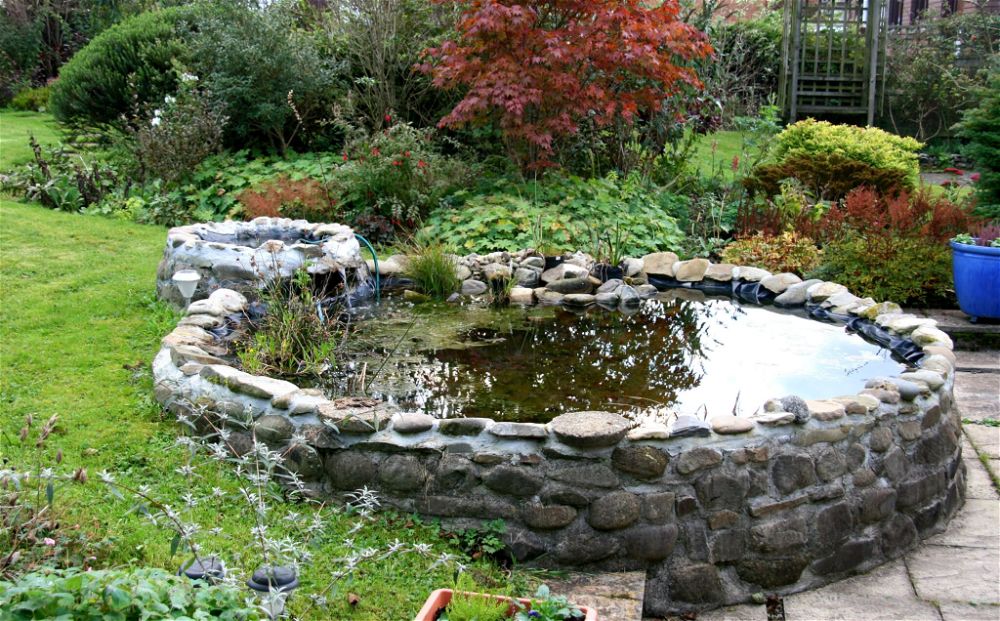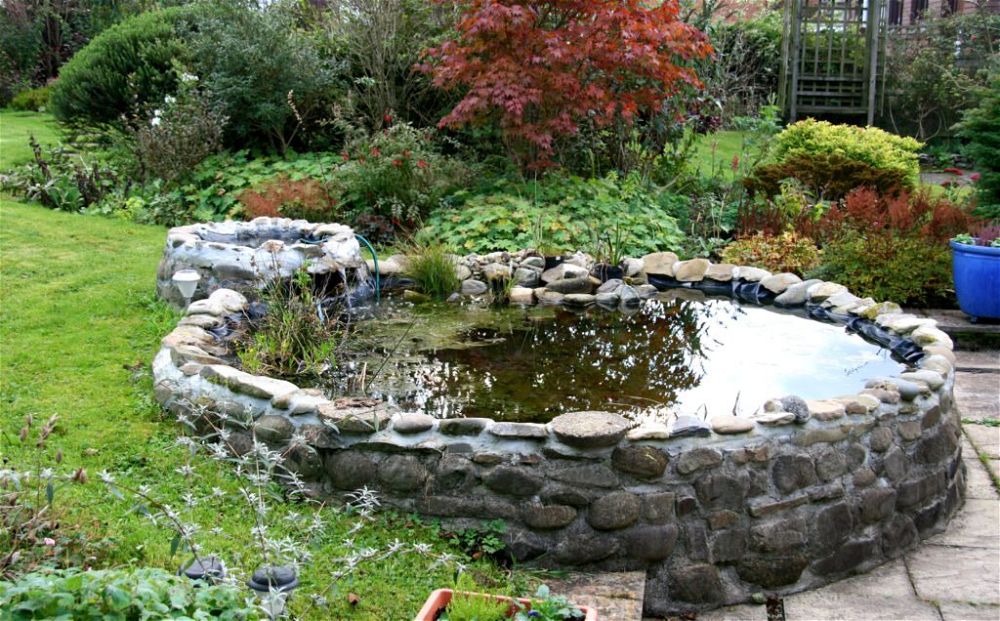 Raised ponds create an enchanted feel in the garden. Even better: their walled edge is the perfect spot to perch and relax with a coffee.
Raised ponds are also a great way to prevent accidental falls or your dog terrorising the frogs and fish.
2. Go Tiny With a Small Garden Pond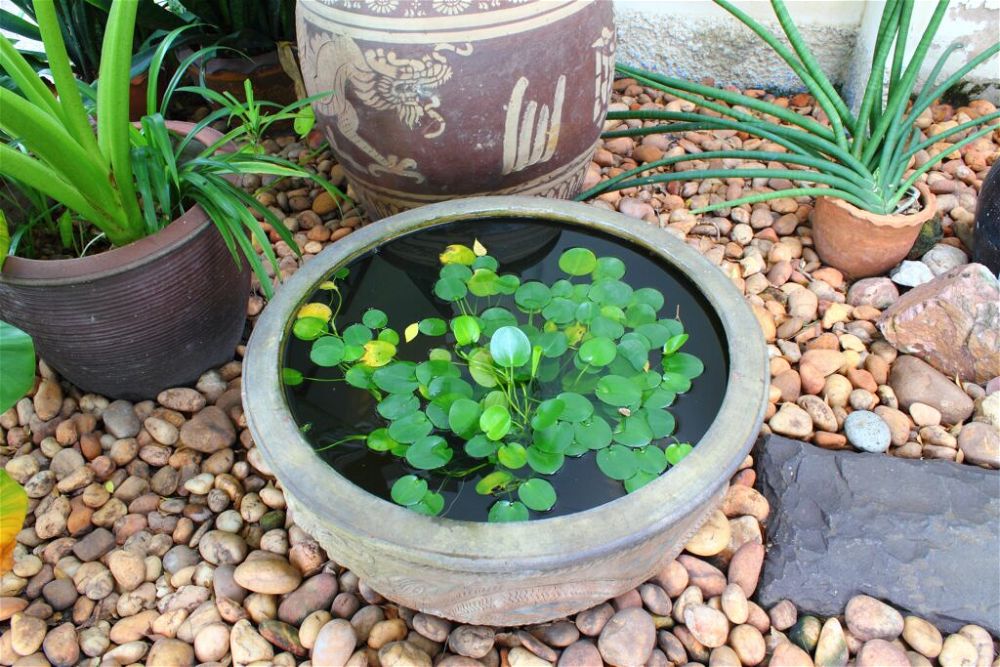 Here's the simplest of small garden ponds – a stone basin filled with water and lily pads. It's cute, easy to manage, and will still attract wildlife. You might have to top this up in very hot weather (try to use rainwater), but it's worth the effort.
3. Use Urns as Water Features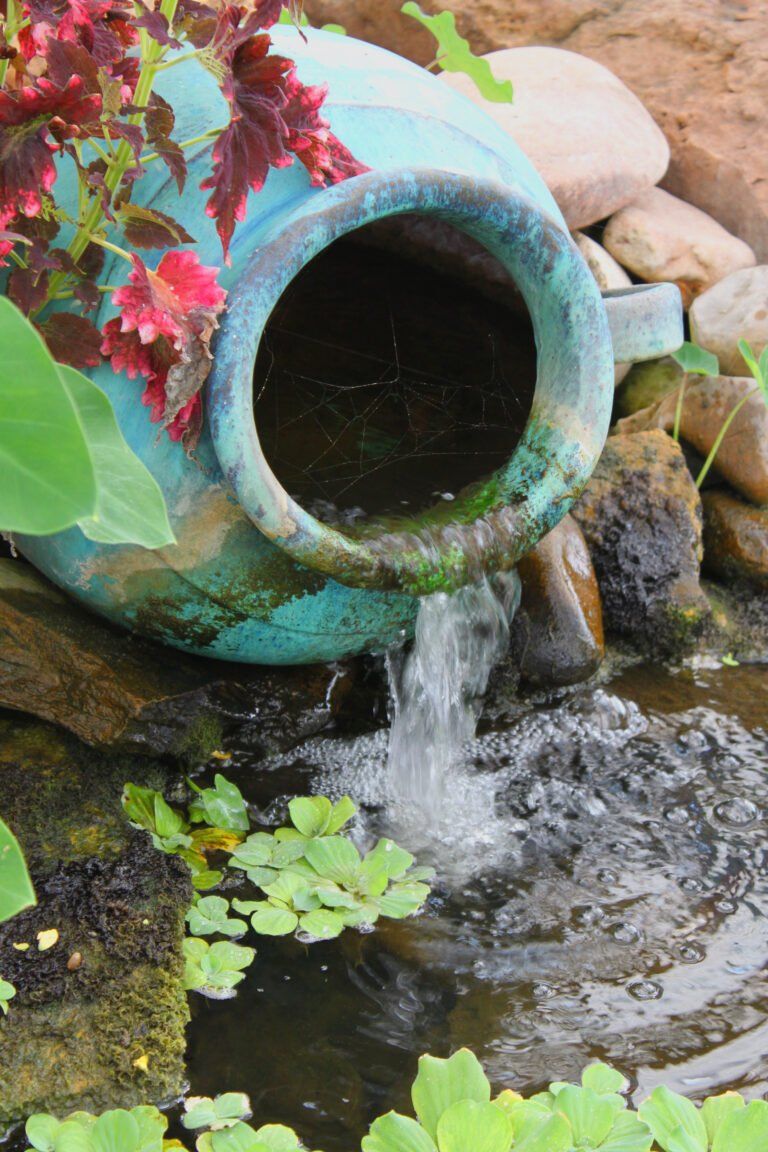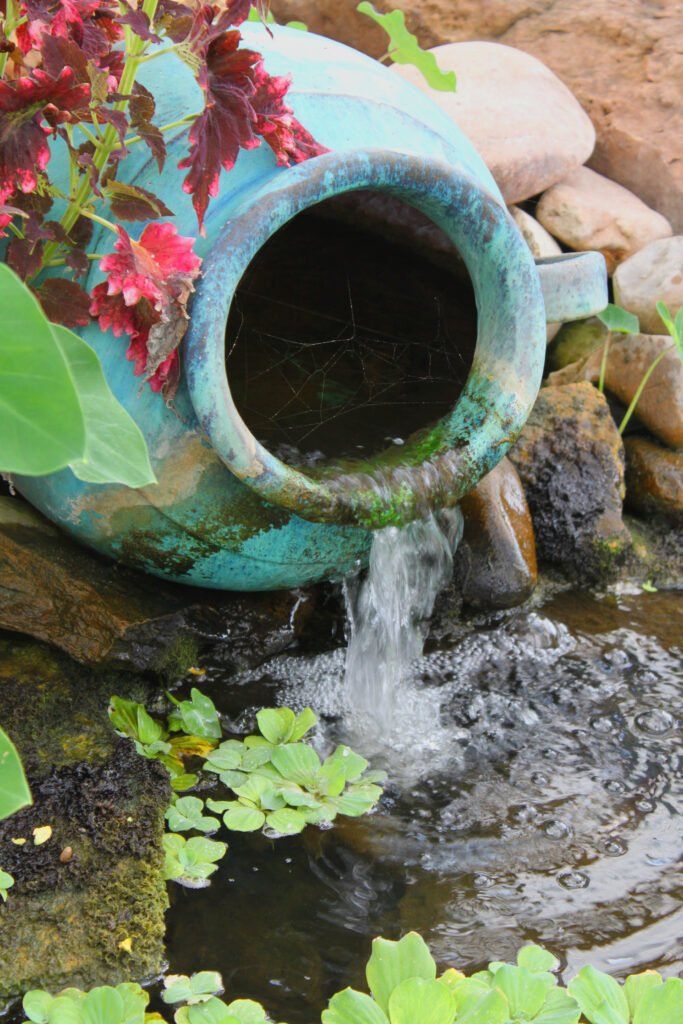 Here's an interesting idea for a small pond design.
The trickling water keeps the water from stagnating and will attract plenty of wildlife – look closely and you'll see a spider has already moved in to deal with any pesky flies for you. Plus, the tinkling water creates a relaxing soundscape.
4. Build a Pond into Decking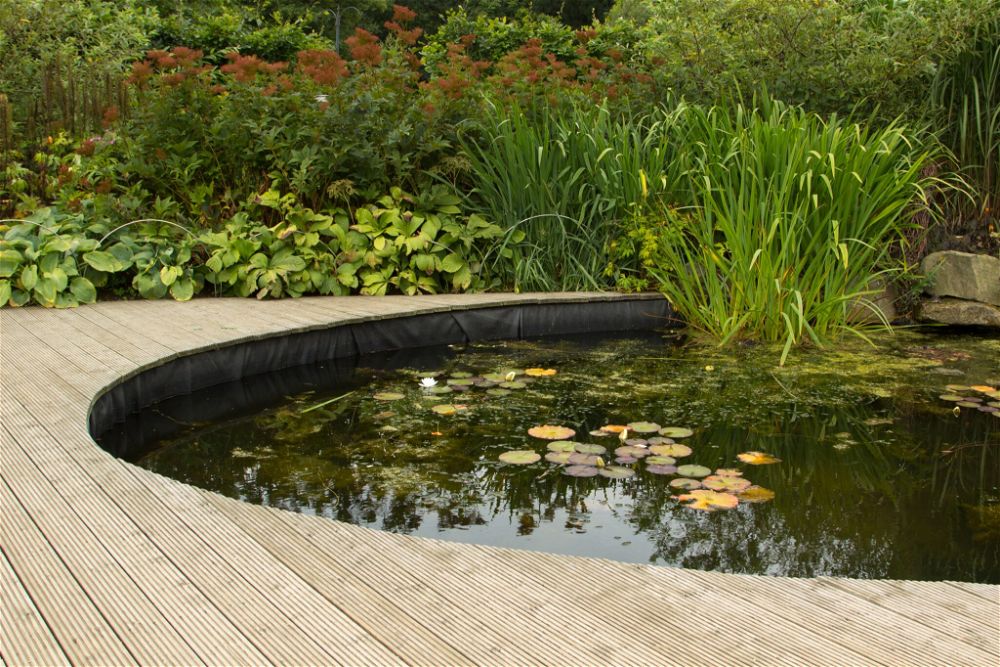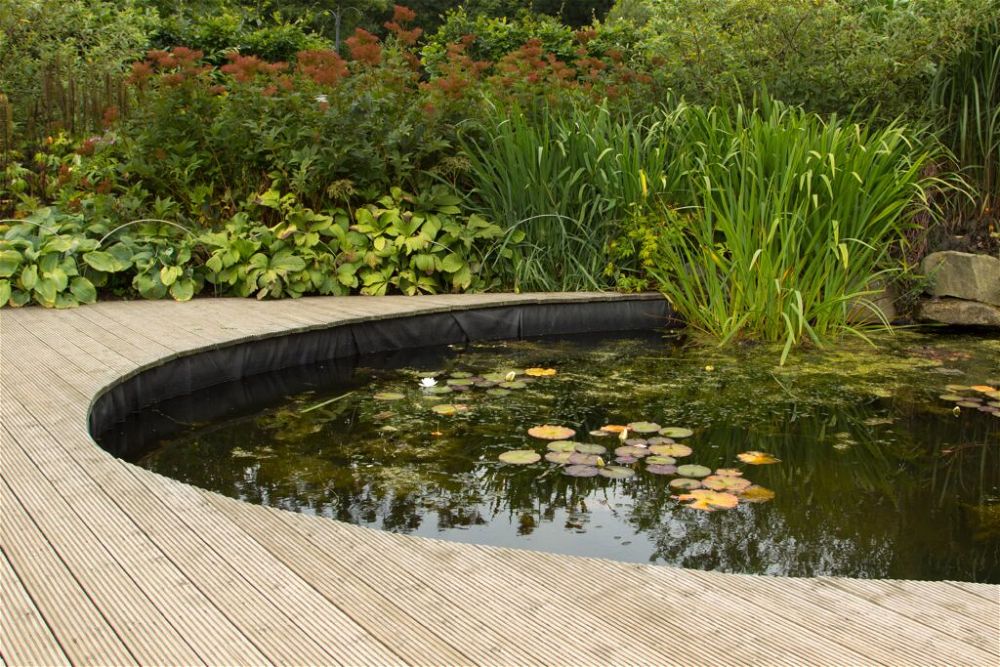 Here's a modern garden pond idea that's easy on the eye. The sharp lines of the modern decking contrast well with the softness of the water.
Plus, hidden at the back there's are layered rocks, offering wildlife, such as hedgehogs, a way to access the water and climb out if they fall in. This is a very important aspect of any pond – ensuring wildlife can escape.
5. Create a Rockery Waterfall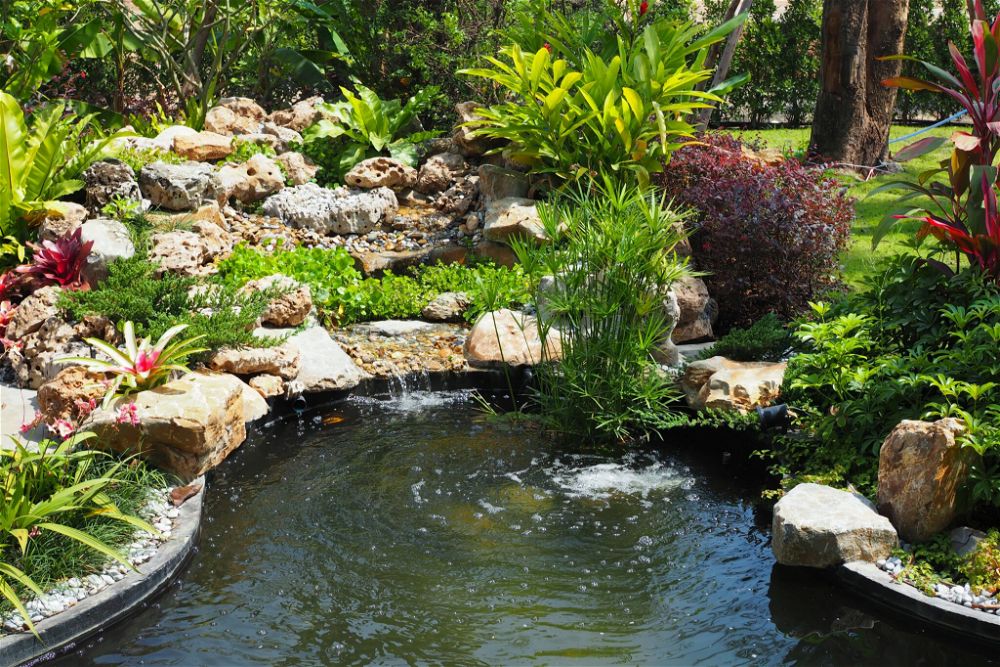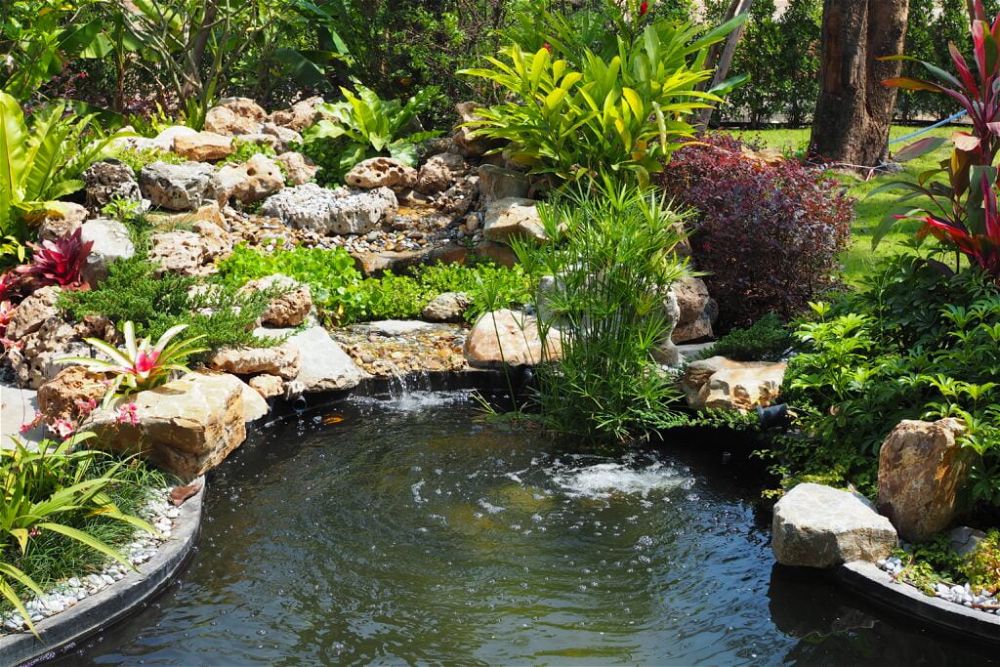 Here's a beautiful garden pond waterfall that fits right into the surroundings.
The pebbled waterfall surface is attractive to wildlife especially birds who will wash and drink from the clean, shallow water. Waterfalls also help keep a pond oxygenated and prevent stagnation. It sounds relaxing too, so everyone is happy.
6. Decorate Pond Edges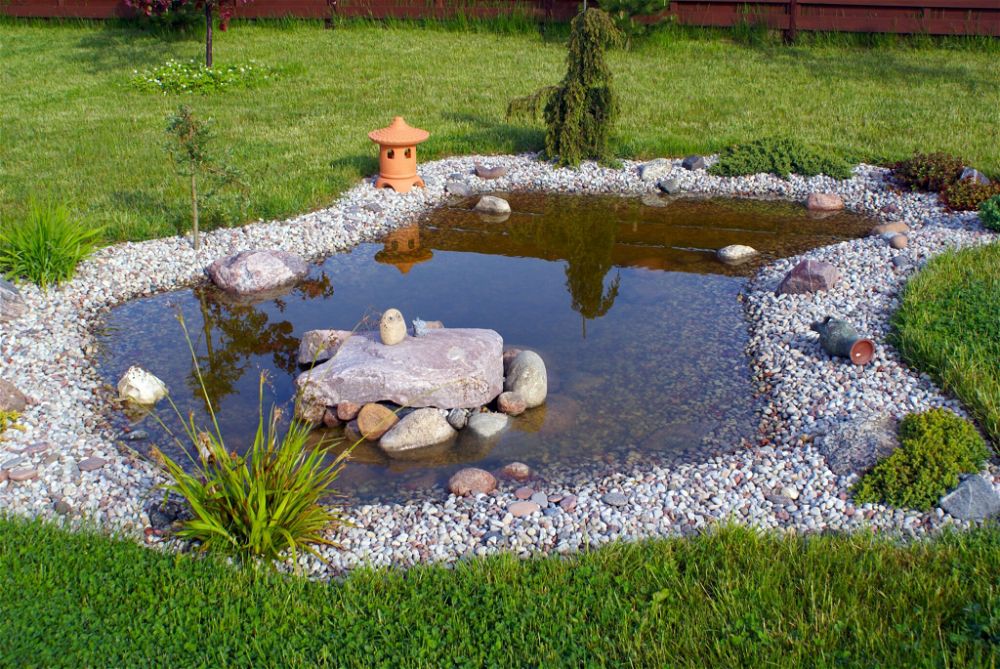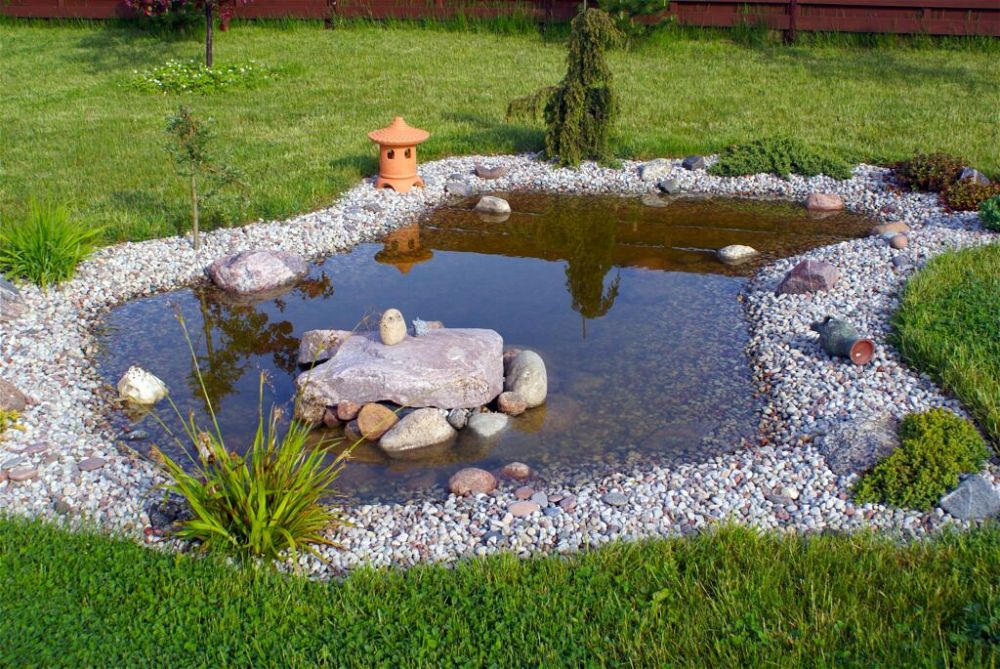 The pond edges can have just as much impact a the pond itself. Use textures, plants and models to create a themes area.
The pebbles above create easy-to-maintain edging which not only fits with the relaxed Japanese theme, but offers wildlife safe access.
7. Stock the Garden Pond With Fish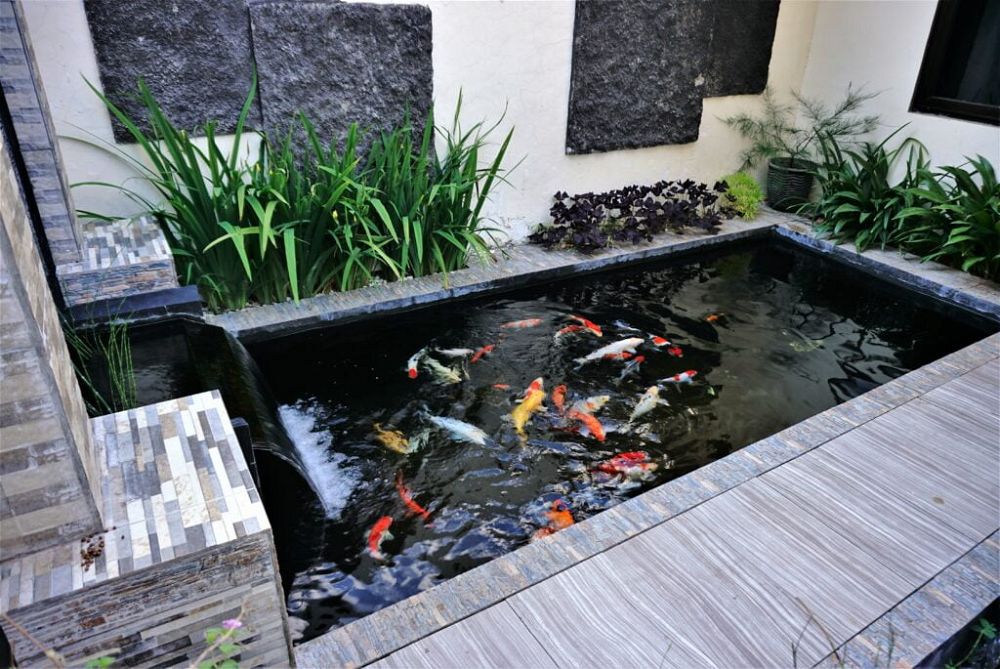 A rectangular pond and sheet fountain create a very modern aesthetic whilst keeping those fish swimming in fresh water.
Fish don't mix well with wildlife such as frogs as they tend to eat the spawn, but birds and hedgehogs will come for a drink so do make sure they have an escape route such as a pile of stones in one corner of the water.
8. Carefully Plan Small Ponds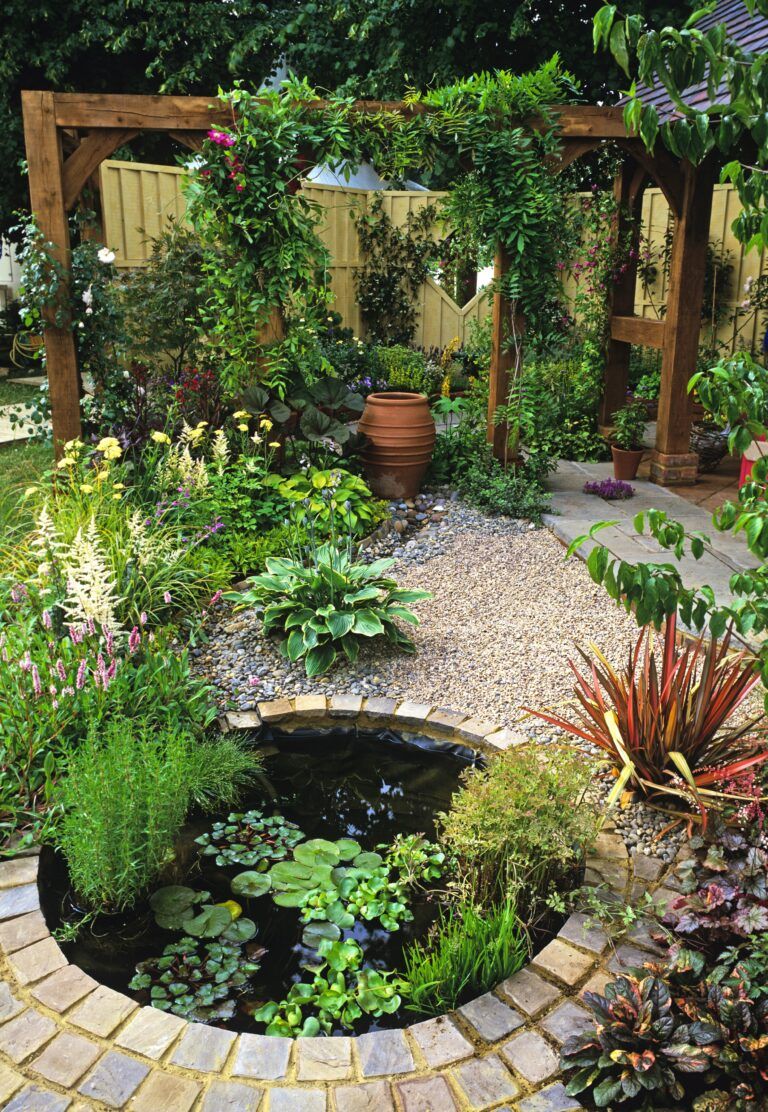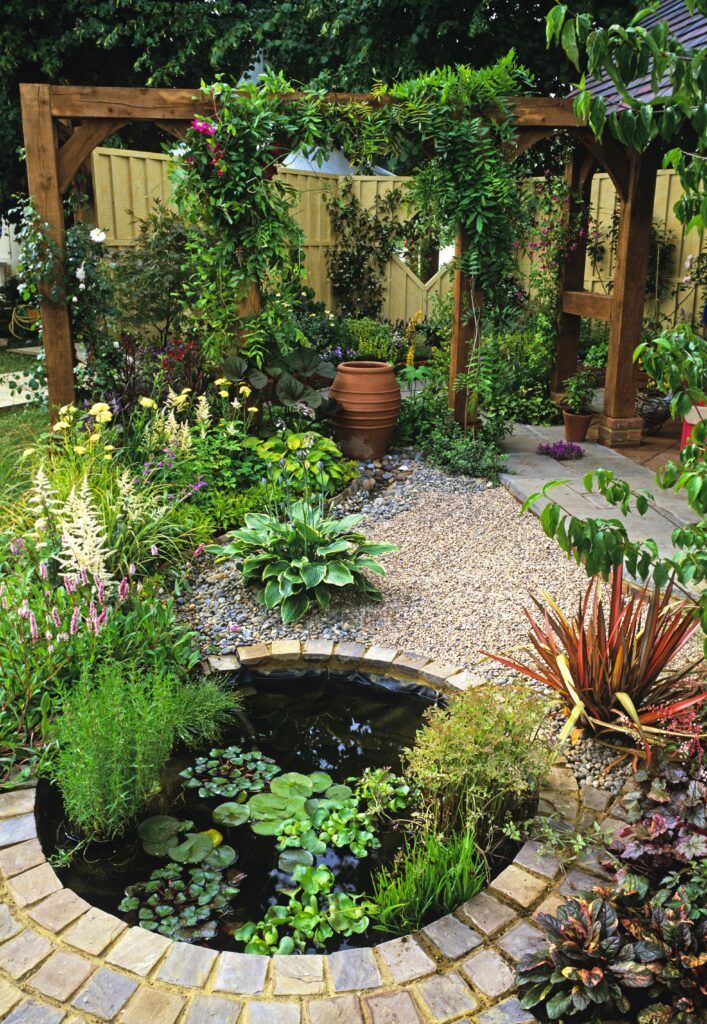 Here's the perfect sized pond for a small garden. It doesn't take over the available space.
This is a great design for urban gardens. Brick-built edges mean it'll last and it will attract plenty of wildlife with those pond plants including traditional lily pads.
9. Keep it Simple With Containers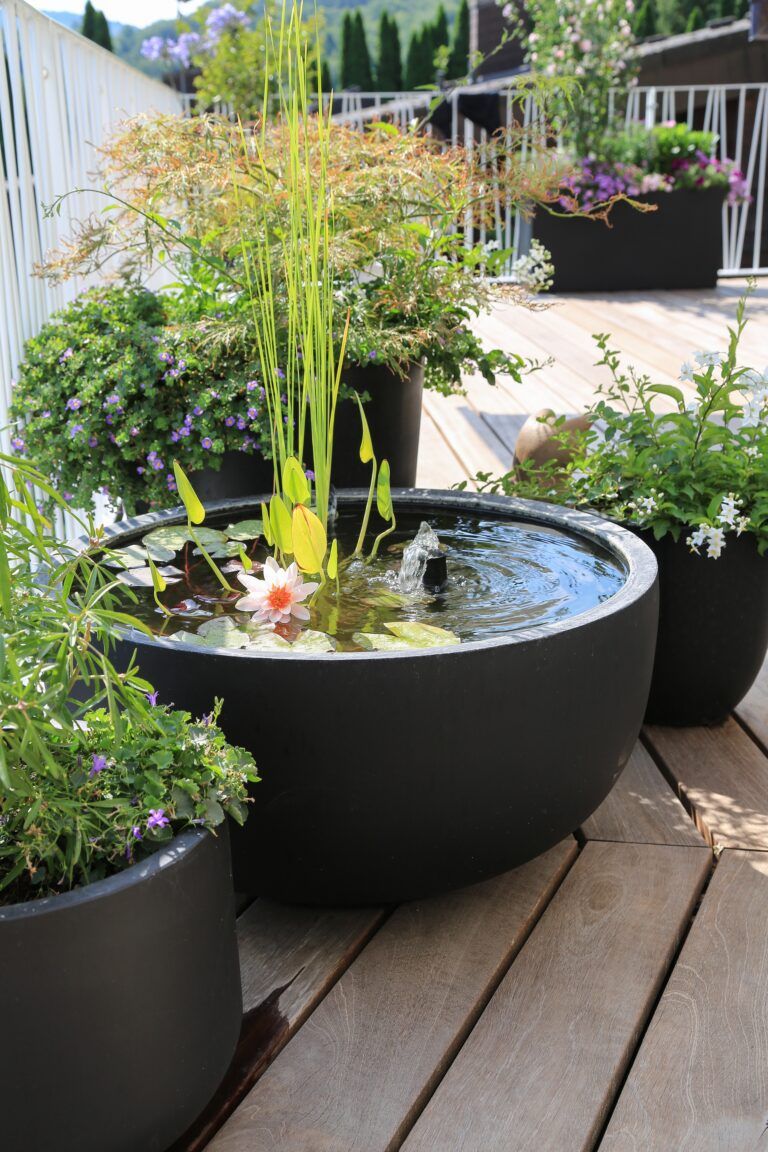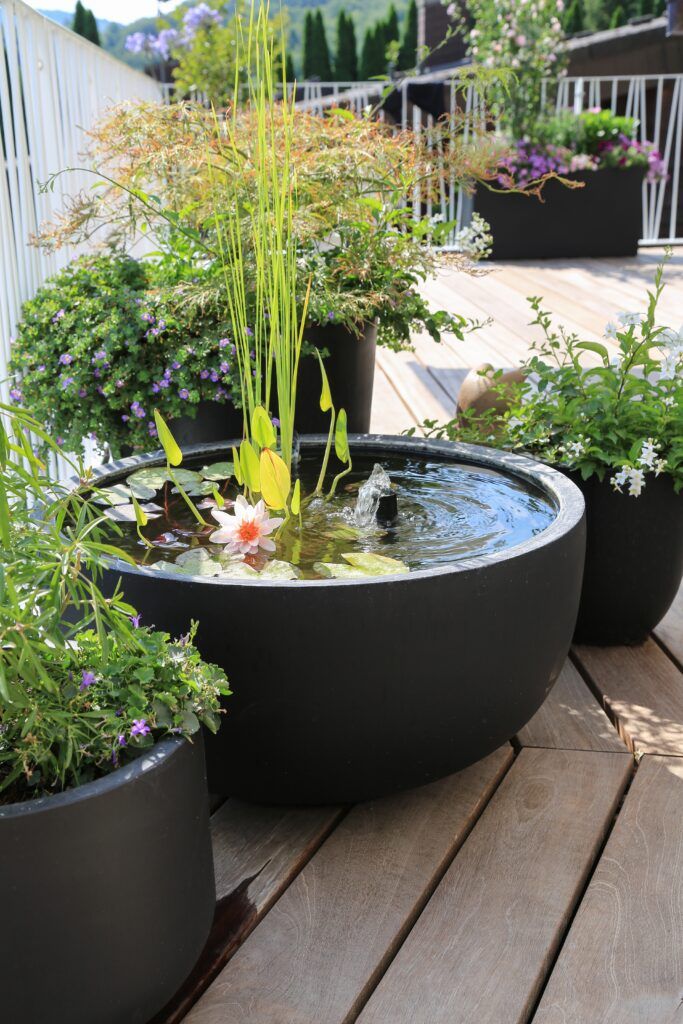 What could be easier than filling a large container with water and adding a few rushes? Nothing – so that's why this design is the easiest pond!
There's no need to rake out leaves or worry about falling in, just top it up and enjoy the wildlife it brings. This easy pond has a small water feature to enhance the surface. Choose a solar-powered one for the simple life.
10. Create a Natural Pond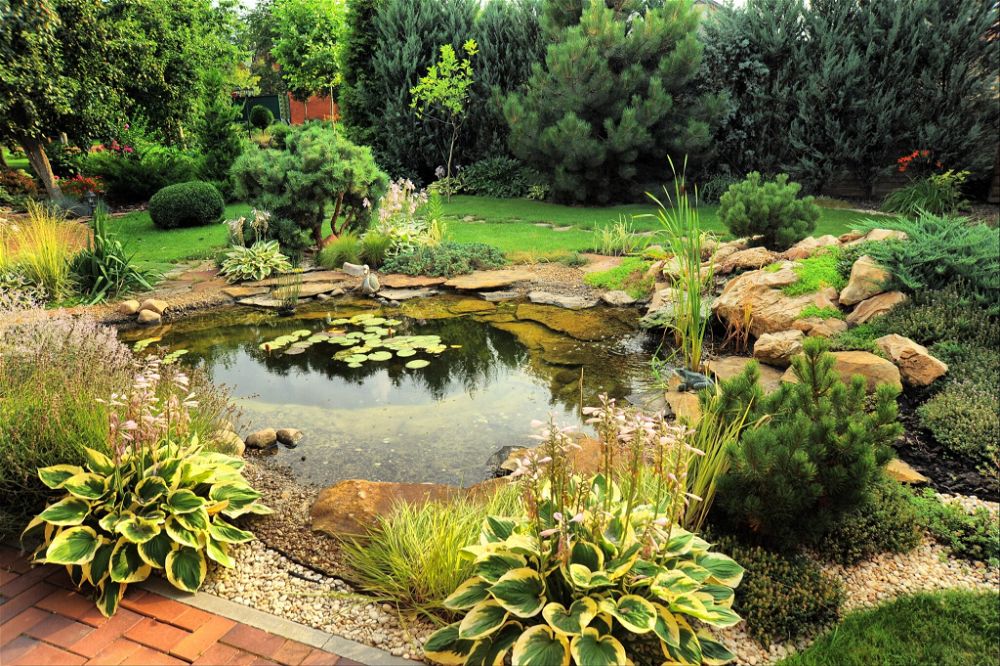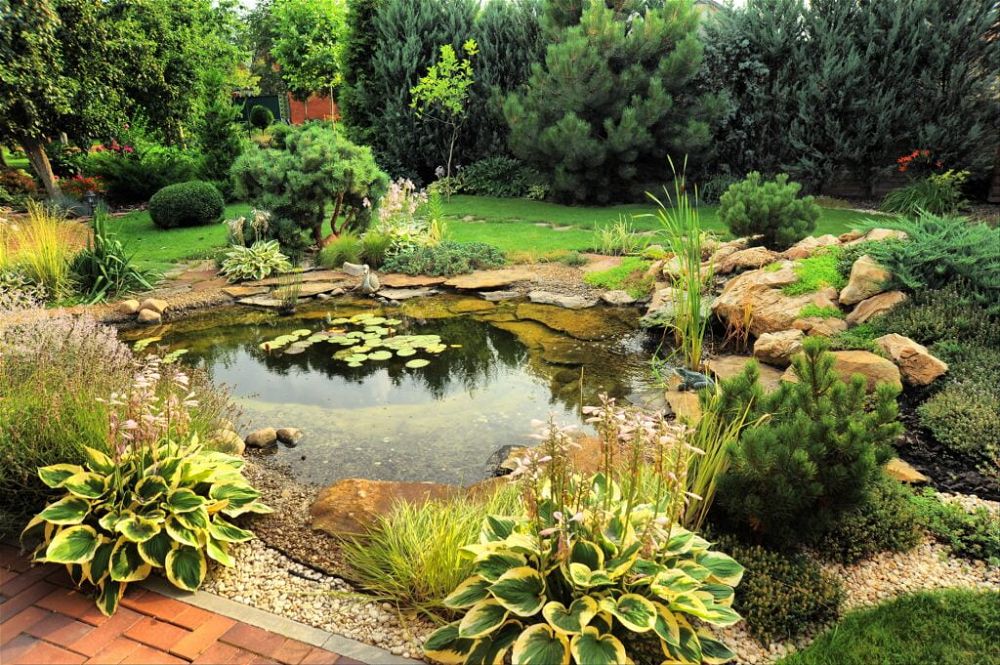 This is a great natural garden pond because the planting is thick enough to cover the brick and plastic work. Wildlife will love the shelter and enjoy hiding out there when it's hot.
The tiered water levels are perfect for all mammals to safely drink – it's an idyll for frogs, newts, hedgehogs, and even grass snakes. Not to mention you!
11. Work With Garden Corners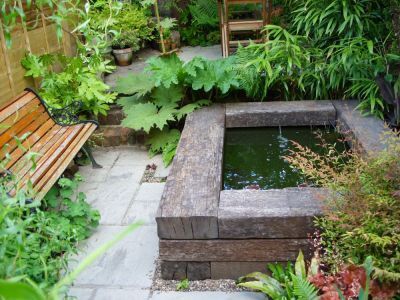 Here's the best corner garden pond! This would tuck away in any right angle of your garden.
Built from sturdy railway sleepers you could sit on the edge and enjoy watching the fish or wildlife. Love the way large plants soften the corners but don't take over the water.
12. Consider Plant Placement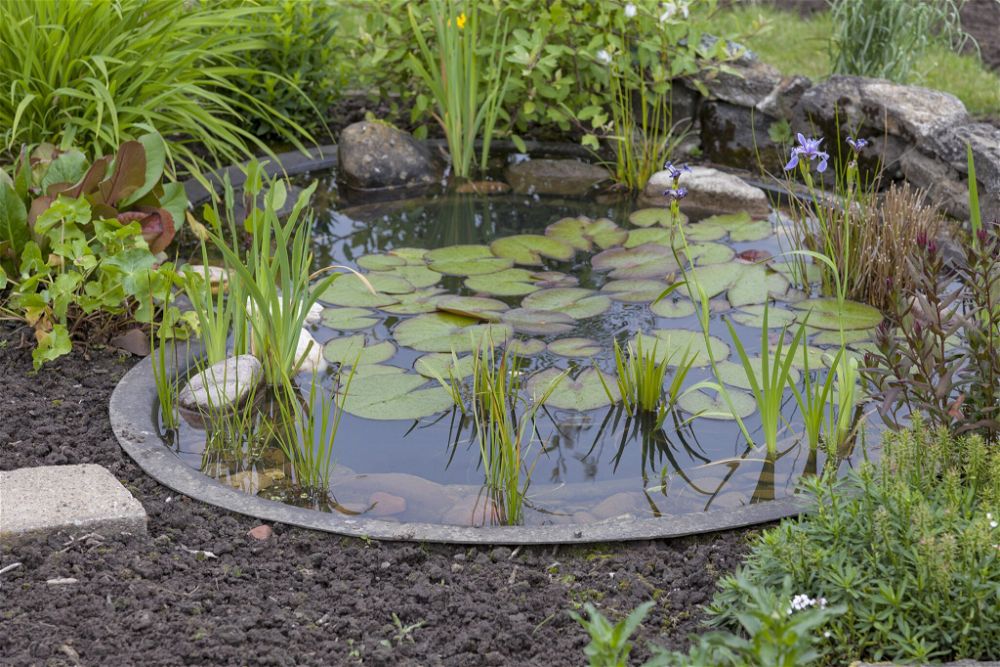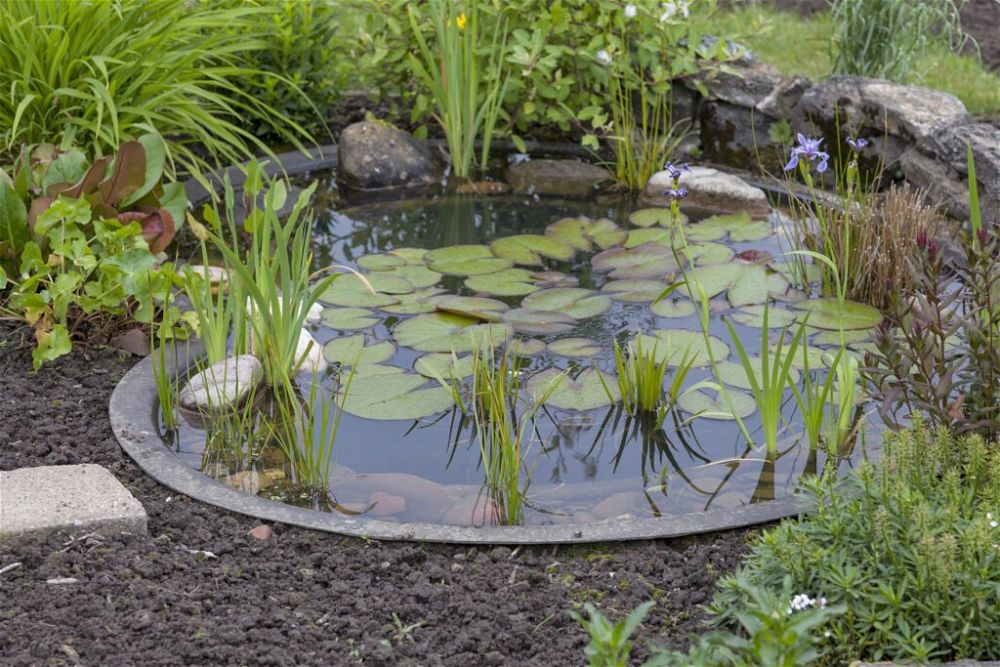 Choosing the right plants for a pond will attract plenty of wildlife. Lily pads are a favourite and they add cover for frogs or fish.
Around the edges marsh marigolds, yellow flag iris, and rushes are appreciated by wildlife and look pretty. If you plant tall pond plants dragonfly larvae can climb the heights to dry out their new wings.
13. Think 'Long and Thin'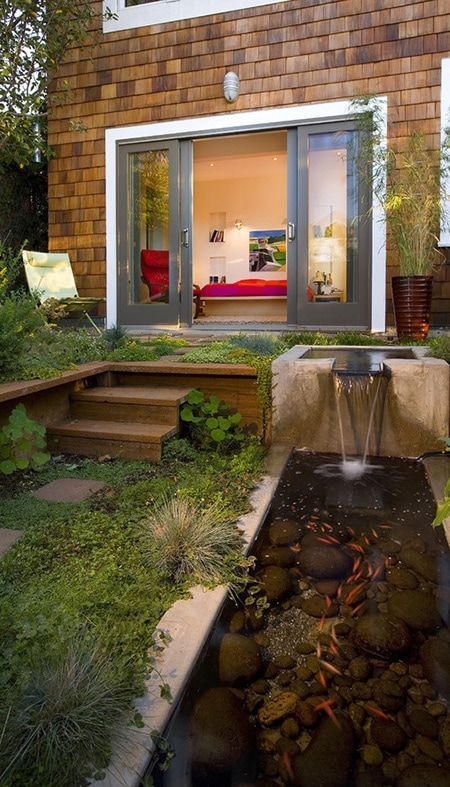 Who wants a fish pond that runs the length of the garden? I do!
This fish pond design is really unusual and blends modern with traditional. The modern sheet waterfall contrasts wonderfully with the rounded stones and small bright fish. It would be a pleasure to sit out here on a hot afternoon or warm evening just appreciating the view.
14. Get Creative With a DIY Pond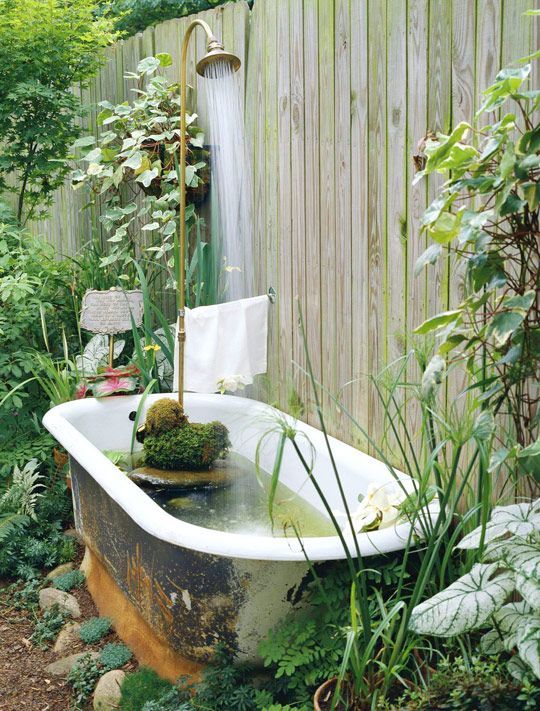 You don't get quirkier than this DIY garden pond!
It's a recycled bath complete with a shower head as a waterfall. This looks like something from Charlie and the Chocolate Factory – completely mad and totally brilliant. The towel rail – just too funny.
If you like to have unusual designs in your garden surely this is the best pond ever.
15. Consider Alternative Shapes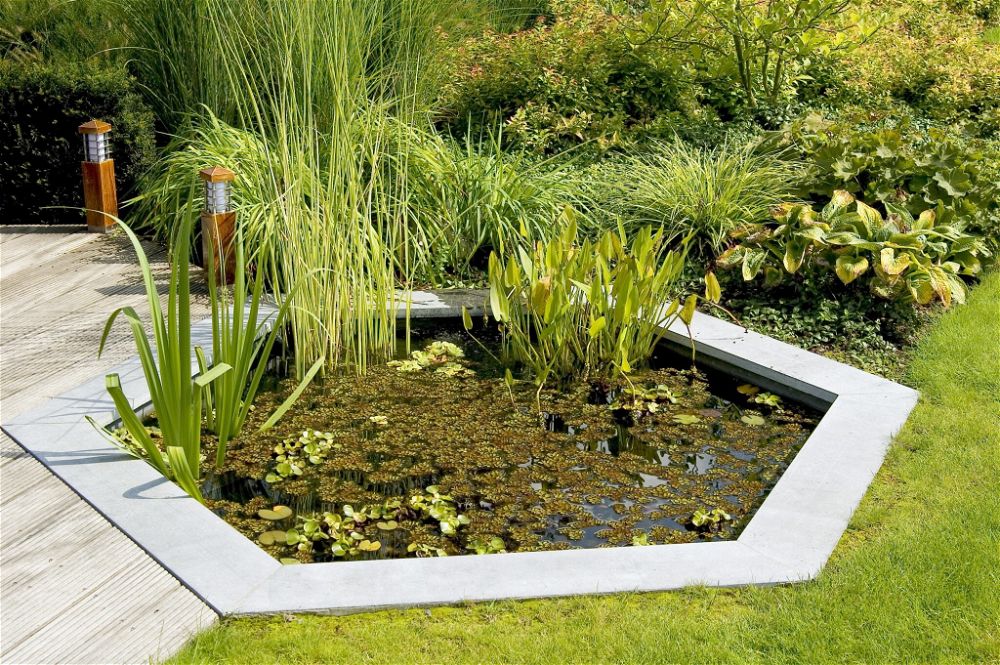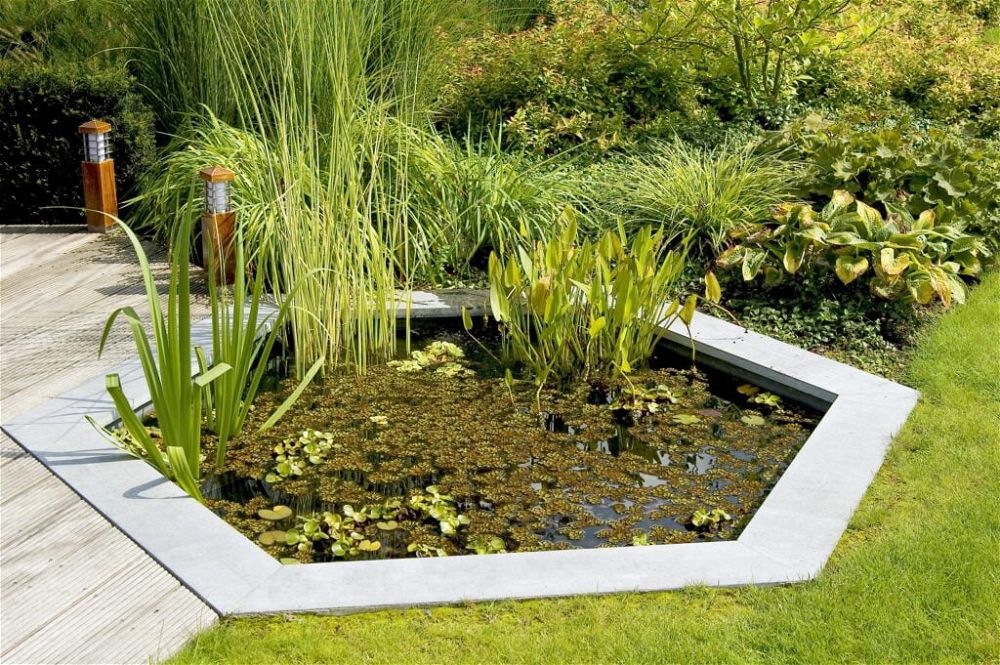 This hexagonal pond really stands out and joins the decking to the lawn, but is still wildlife-friendly with its planting. Think outside the box when it comes to pond shapes – they don't all have to be circles and squares!
16. Illuminate With Garden Pond Lighting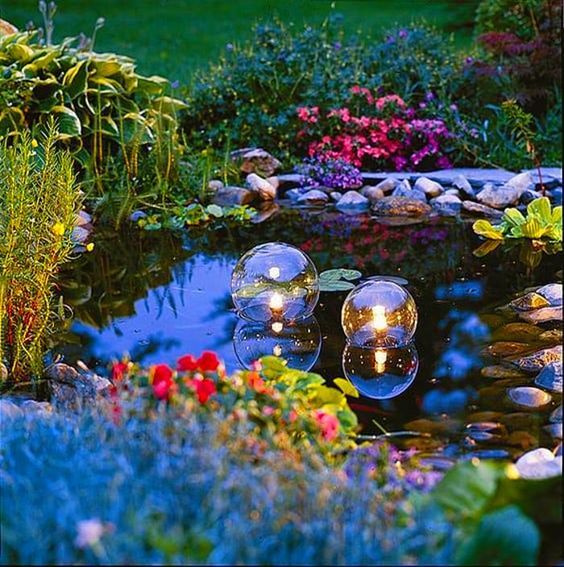 These beautiful bubbles light up a pond and fit the water theme!
Pond lights make your pond safe to be around at dusk and these lights are not so harsh they scare off all the potential wildlife. Children might imagine a huge whale beneath the surface blowing up bubbles.
Imagine sipping a relaxing drink here after a hard day. It's hard to beat.
17. Showcase Koi With a Show-Stopping Pond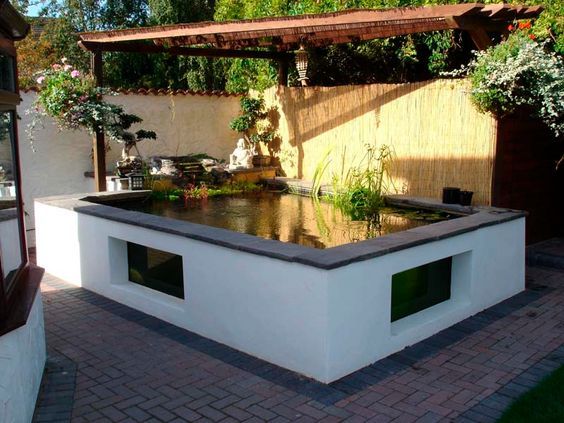 If you want koi you'll know how expensive they are. After you've paid out all those hundreds of pounds you'll want the best view!
This koi garden pond gives you the best side views through windows. It's a great idea to add some shade too, koi don't like it hot and it might put off any passing herons that fancy a snack.
18. Don't Stop at One Just Fountain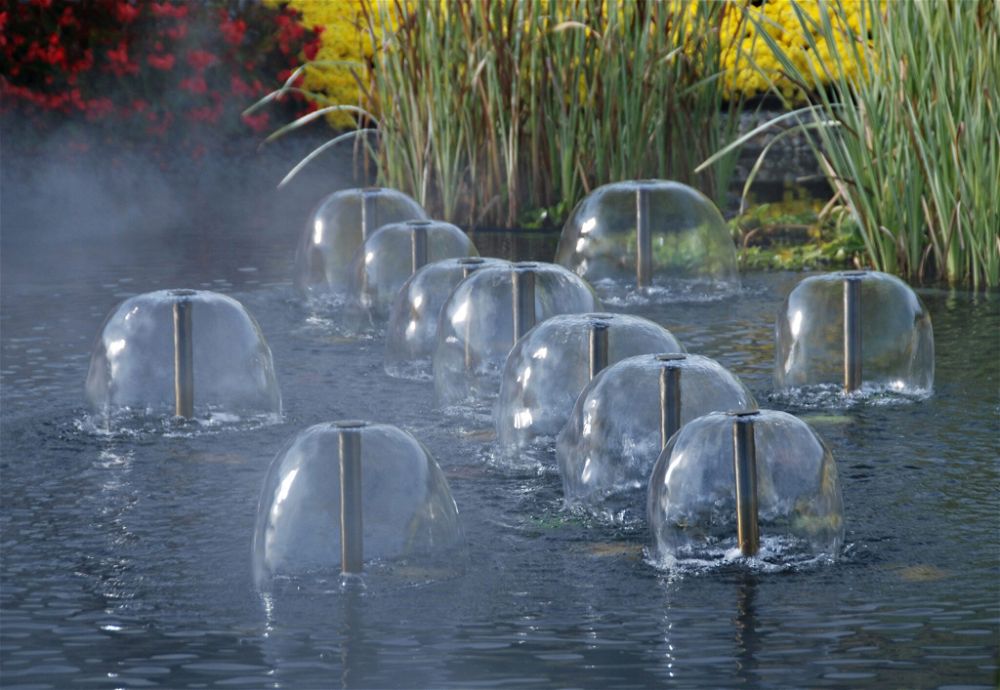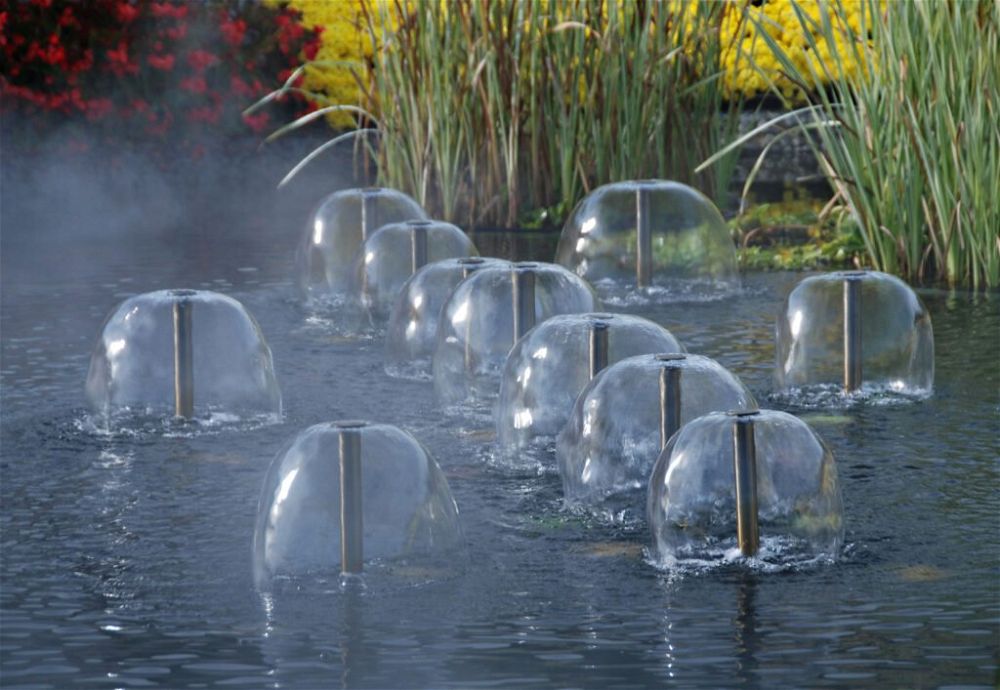 Larger ponds look fabulous with multiple sheet fountains. These bubble fountains don't splash and cause too much noise – plus they look like giant bubbles!
Smaller ponds would look great with just one or two of these and they especially suit modern gardens that don't want a traditional urn or stone fountain.
19. Build Seating into Your Pond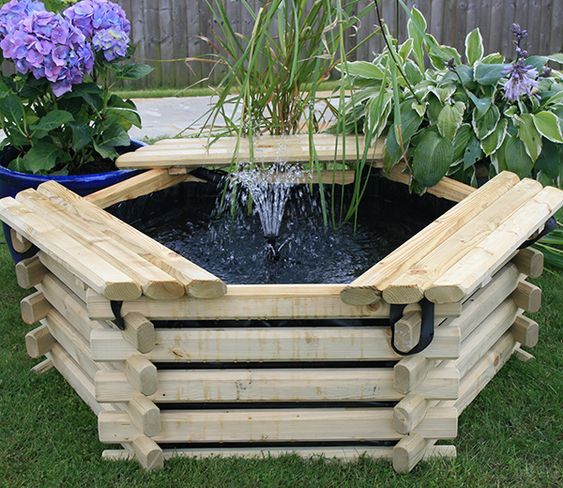 One of the best reasons to have an above ground garden pond, other than the lack of digging, is the opportunity to create extra seating.
The seats around this pond are perfect perching points for a relaxing coffee and book. Above ground garden ponds keep Rover at bay too – no-one wants a dripping wet dog and traumatised fish!
20. Run Ponds Under Bridges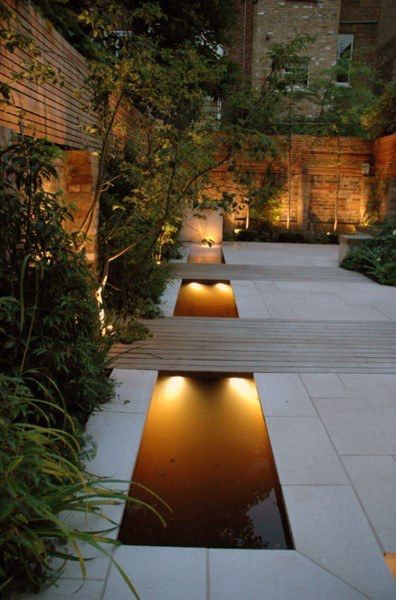 A round hole in the ground isn't the only way to build a pond. This contemporary pond is a real eye-catcher and will attract wildlife.
Love the bridges and soft lighting that allow you to take a good look down – it's perfect if you have koi. The square shapes echo the fence and bring it all together to create the best contemporary garden pond around.
21. Stack Ponds For a Tiered Water Feature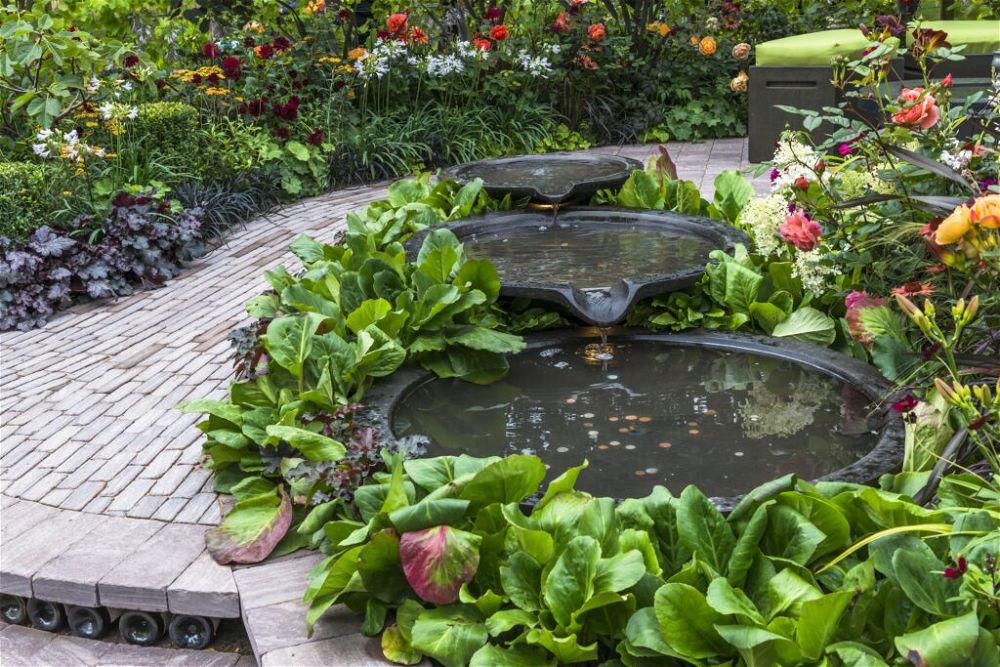 This three-tier pond is beautiful and will attract plenty of wildlife. The elephant's ear planting and brickwork complement each other well, and are those old wine bottles beneath the decking? Great ideas combined to make an unusual garden pond water feature.
22. Leave Shallow Areas For Birds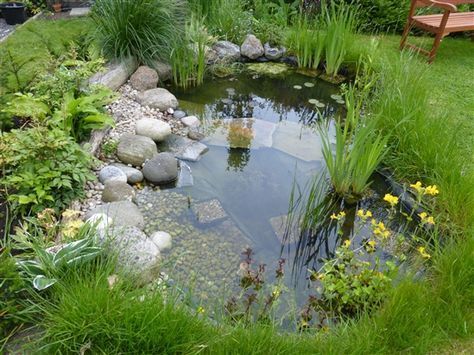 All the elements combine here to make a top-class wildlife pond.
It has a shingle bank to let mammals drink safely, and the shallows are perfect for birds to bathe in. There's a lot of wildlife-friendly planting, plus long grass has been spared from the mower – great news for endangered bugs! This pond is nirvana for wildlife.
23. Provide Refreshment for Bees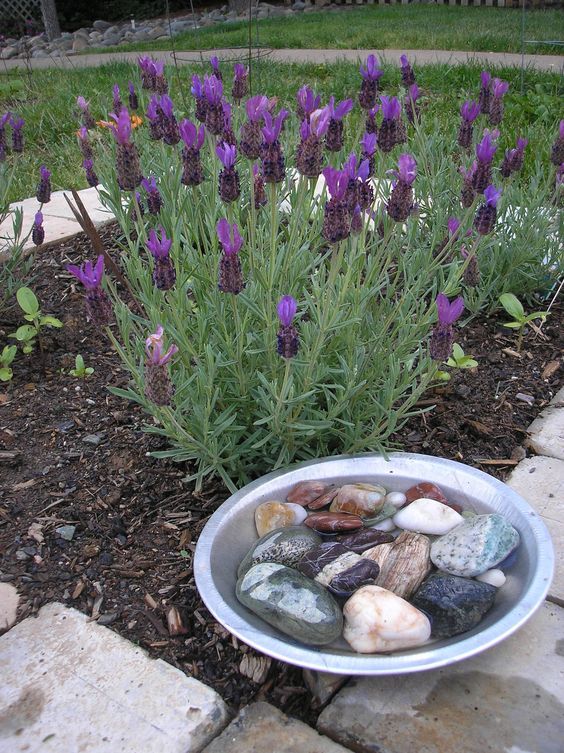 The tiniest of garden ponds for the tiniest of creatures.
We should all help pollinating insects and the best ways to do this are planting nectar-rich flowers and providing water. Busy bees need a drink too!
Find a shallow container such as a heavy saucer and fill it with stones or sea glass so bees and butterflies have somewhere to safely land and take a cool, refreshing drink.
24. Transform Plant Pots into Ponds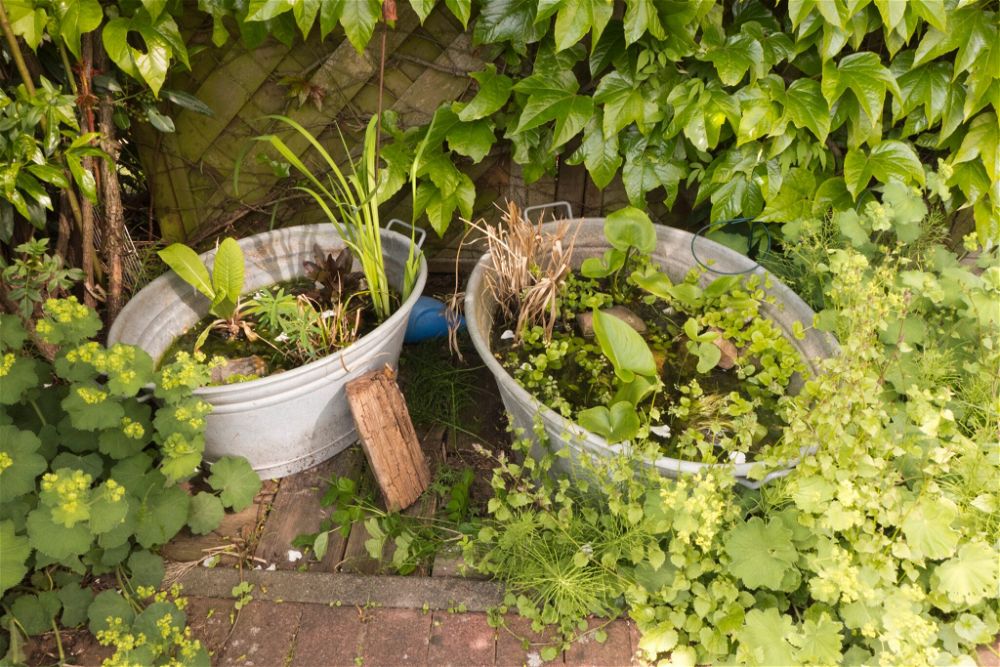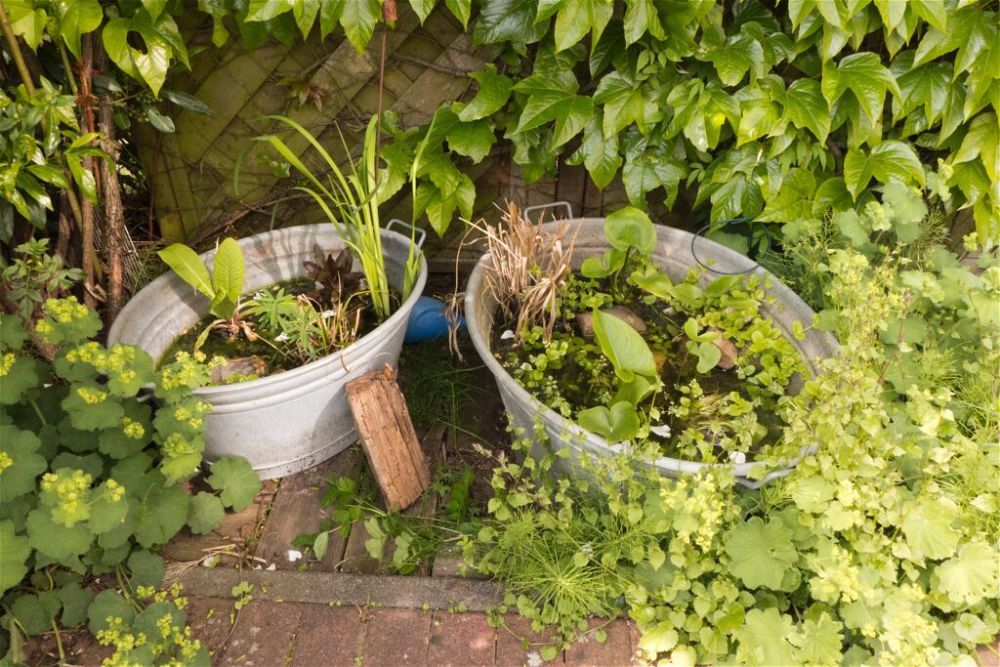 Two old zinc tubs make hardwearing and rustic looking garden pond plant pots. This is a great way to create a pond without any digging or hassle.
Use garden pond plant pots in several areas of the garden to provide habitats for dragonflies and water for birds and pollinators.
These tubs are placed near a hedge and wild greenery allowed to enclose the space. It's a 'welcome' mat for wildlife in your garden.
25. Build Ponds into Walls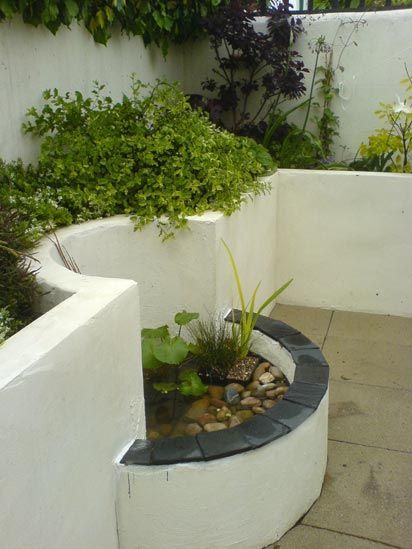 This small raised garden pond is the perfect way to encourage wildlife and still keep plenty of space on your patio. It takes up little room against the wall but creates loads of impact.
This raised pond might seem small, but it's enough to attract all kinds of flying insects and birds to your home. It's the perfect pond solution for urban areas and new builds.
26. Go Big for a Real Statement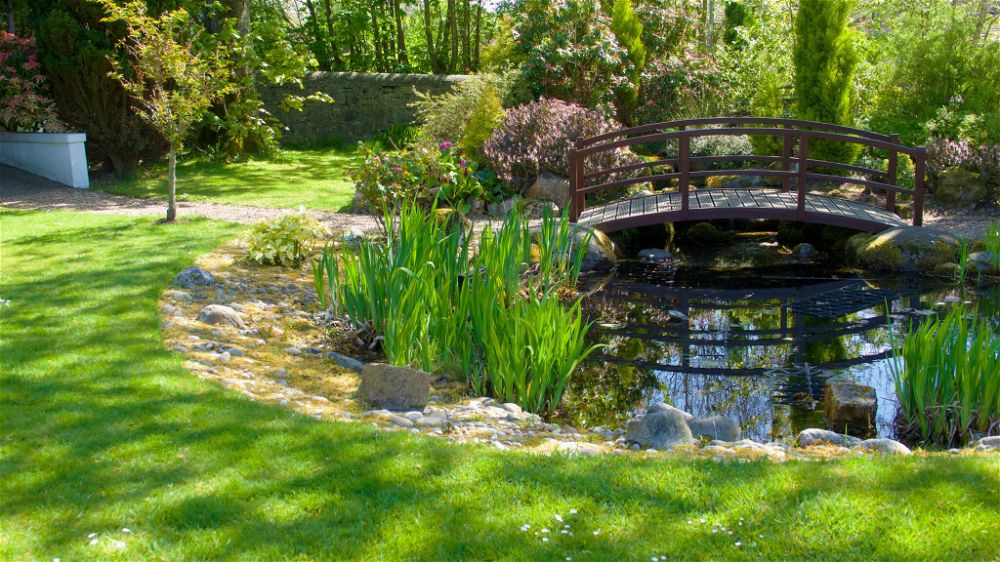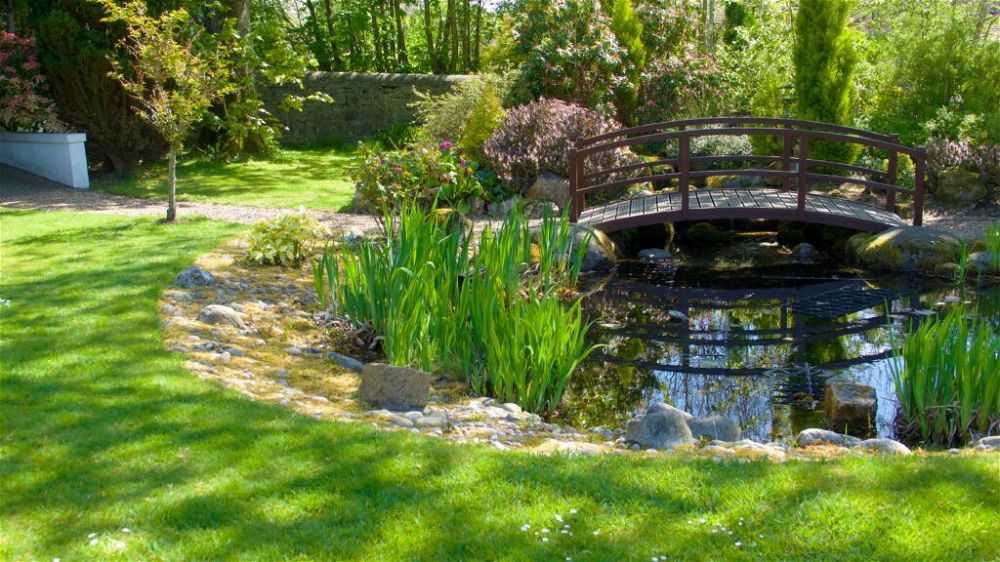 A large garden pond is a dream when you want to encourage wildlife.
This one is so big it has its own bridge! Sloping pebble sides make entry safe for mammals and there's plenty of water to go round so you could expect lots of visitors.
Love the way this pond is large, but blends into the garden landscape with plenty of natural planting.
27. Incorporate a Barrel Pond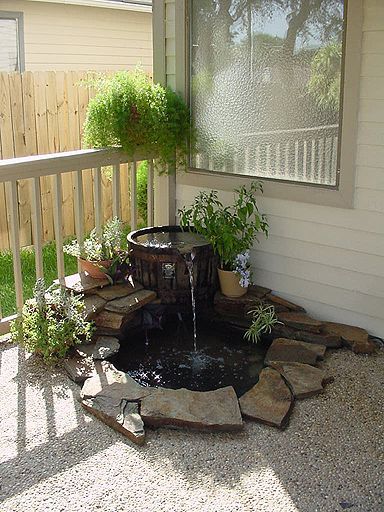 Want to enjoy a pond all year round? How about a barrel pond on the deck?
If you have a small garden or just want a little pond this is a good way to get all the elements of tinkling water, plant life, and wildlife coming to your back door. This design is pretty unusual and you won't have to dig out any soil or stones either.
28. Upcycle an Old Sink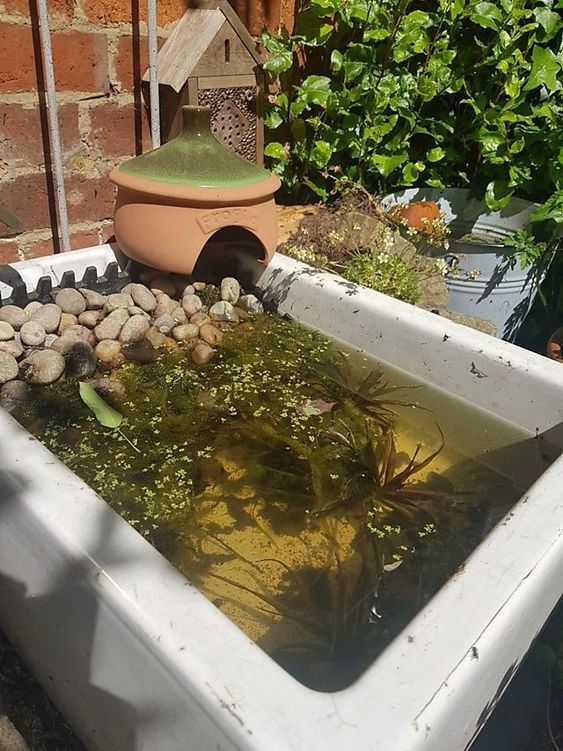 A small garden wildlife pond can help out in a big way.
This pond is a recycled butler sink with an added frog house 'a frogilow' for shade! There's even a bee house just behind to encourage all sorts of wildlife.
There's a natural stone ramp for mammal access and pebbles on one side to stop bees and butterflies from falling into the water. And is that a second small wildlife pond behind in the form of a zinc tub?
This is a great way to manage a wildlife pond in a small space and it creates a pretty garden feature.
How Ponds Encourage Wildlife
One of the very best things you can do for wildlife is create a water source. Our homes and roads were built over natural water points, so wildlife is always on the lookout for a drink or somewhere to breed in the case of frogs and dragonflies.
From a large pond, to a small butler sink, to a saucer of water your efforts will be instantly rewarded. Birds and insects will appear first followed by mammals and amphibians.
A birdbath is a great place to start if you don't want to commit to a pond straight away, but a ground-level water source will allow hedgehogs, voles, and toads to join the party.
If you want more ways to encourage wildlife into the garden, check out our Guide to Attract Local Wildlife.