In this car pressure washer review, I thoroughly compared assembly, design, performance, ease of use, versatility and value for money for multiple products. After hours of research and testing, I recommend the Kärcher K2 Power Control High-Pressure Washer as the best car pressure washer on the UK market.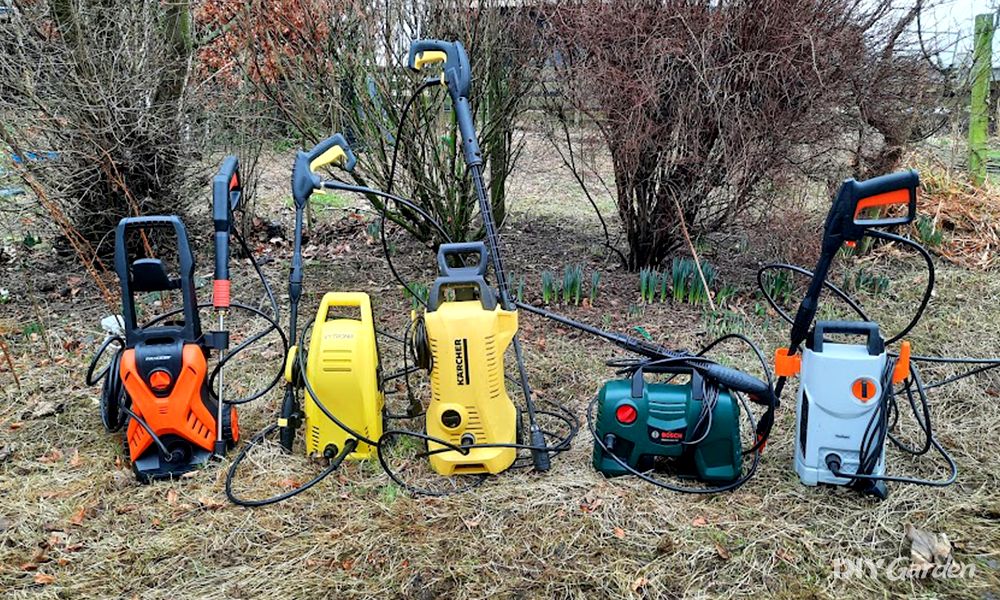 My Top Recommended Car Pressure Washers
My Product Reviews & Opinions
Compare Product Features Here
Use the dropdown to sort the table by the feature that's most important to you.


Our score
Water Pressure
Flow Rate
Power
Hose Length
Weight
Tips For Buying a Car Pressure Washer
For car cleaning, an electric mains-powered pressure washer will be sufficiently powerful.

There's no need to use a petrol pressure washer for cleaning the car.
There are also battery-powered pressure washers on the market, but I haven't included them in this list because they lack the power of mains-powered models. For cleaning the car, you'll want a mains-powered washer

.

For light or medium jobs, choose a max pressure of 90 – 120 bar

and a flow rate of around 330 L/hour. In fact, when it comes to cleaning the car, you might occasionally want to use a lower pressure of around 80 bar. This will still clean well, without risking damaging the paintwork.

Look for a machine with a dial to increase and decrease the pressure, or at least an adjustable spray wand

.

To tackle heavy-duty jobs, I recommend a washer with a bar pressure of around 130

. This will be sufficient for jobs like cleaning decking, concrete, and patios.

Look out for additional accessories if you want a more versatile tool

. For example, angled lances can help with clearing gutters and different nozzles can offer more spray variation.

The best pressure washers for your car will have a range of compatible accessories available

, meaning additional tools

can be purchased at a later date if necessary.
Of the five models we tested, the Kärcher K2 Power Control High-Pressure Washer came out on top. It's suitably powerful for cleaning the car, as well as other tasks, with 110 bar pressure. It's hugely versatile, with numerous attachments included; plus, it can be used with warm water up to 40°C, which is useful for tackling more stubborn grime.
Why You Can Trust DIY Garden
At DIY Garden, we believe your trust is earned through our knowledge and transparency. Our team of experts has over 75 years collective experience in the gardening and DIY space. Since the website's creation in 2016 we've tested over 275 products, ensuring our recommendations are based on real experience. We're open about what we've tried and what we've researched, and this is clearly labelled in our product reviews. Every year, we revisit and update our suggestions to include worthy new additions to the market. Our aim is to give you straightforward, honest, and helpful recommendations, so you can confidently choose the best tools and equipment for your projects.
How to Choose The Best Pressure Washer for your Car
Many people go looking for the UK's best pressure washer to help with cleaning cars. It's important that the model is suitable for car washing; pressure washers that operate at too high a pressure can damage paintwork.
If you're keen to purchase a pressure washer for car cleaning (and other tasks!), the following tips will help you make an informed purchase.
READ NEXT: The UK's Best Portable Pressure Washers
Useful Features to Look Out For
For easier car cleaning, I recommend looking out for pressure washers with these key features:
A long hose. Look for pressure washers with a hose of at least 5 m long, anything shorter will be very inconvenient.
Wheels. These make it easier to move the pressure washer around your car. Alternatively, choose a lightweight design with a secure carry handle.
Variable pressure settings. You'll need higher pressure for areas around the wheels, and lower pressure for windscreens/windows.
Angled nozzles. These make it easier to access different parts of the car. A nozzle that directs water upwards is a great option for getting all the grime out of wheel arches.
Built-in detergent tank/detergent bottle included. A soap bottle attachment will automatically apply detergent if desired, meaning less elbow grease is needed!
READ NEXT: The UK's Best Budget Pressure Washers Under £100
Choosing the Correct Power
Pressure washers that are used predominantly for cleaning cars don't need to be excessively powerful. You'll need a max pressure of 100-130 bar.
Look for a flow rate of around 330 litres per hour or more.
This should also be suitable for garden furniture, guttering, and other light/medium duty jobs.
If you'd like to use your pressure washer to clean guttering, you may find these drain and gutter cleaning attachments useful.
If you also need a pressure washer for more heavy-duty cleaning tasks (decking, patios, concrete), choose a model with 130 bar max pressure, and use it at a lower setting for car washing.
Electric vs Petrol Pressure Washers
For cleaning cars, electric pressure washers are sufficient. These are cheaper, slightly less powerful and quieter than petrol pressure washers. They still have enough power to clean encrusted patios and driveways.
The downside to electric pressure washers is that they need to be plugged in and you often need to use an extension cable.
Petrol powered pressure washers are suitable for large scale jobs and heavy-duty cleaning. They are more expensive, more powerful and more work to maintain. They don't need to be connected to a power socket so you aren't limited by the power cable.
For car cleaning, and jobs around the home, petrol-powered pressure washers aren't really necessary.
Car Pressure Washer FAQs
What PSI is safe for washing cars?
Washing the car with a high pressure jet wash can damage the paint, eventually leading to rust. 
The best pressure washers for car cleaning will have between 1200 – 1900 PSI which generally equates to a max pressure of 80 – 130 bar.
How should I use a pressure washer to wash my car?
First, you should read the instructions as these can vary from brand to brand.
Run your garden hose to clear any debris in the pipe.
Attach the high-pressure hose to the lance. Connect the hose to the washer/ place the suction hose into a body of water (like a water butt).
Turn on pressure washer.
Squeeze trigger gun gently to check connections are secure. Test on the ground (not your car!).
Rinse the top layer of grime from car using low pressure. For windows, lights and other delicate surfaces, opt for a light spray.
Apply detergent if desired. Allow it to sink in for a few minutes. Don't allow detergent to dry as it will leave marks.
Use an attachable brush to remove stubborn dirt and grease.
Rinse car fully using a higher setting – no more than 130 bar.
Allow car to dry naturally (or you can use a leaf blower to dry it if you have one!).
Can pressure washers be used without detergent?
Yes, pressure washers work very effectively even without detergent. However, for cleaning cars, you may find using a detergent gives it a better finish and shine. 
For mouldy areas, you should consider using a detergent to kill the spores and prevent them from spreading. 
Start typing and press enter to search