In this pressure washer under £100 review, I thoroughly compared design, power, ease of use, versatility and value for money for multiple products. After hours of research and testing, I recommend the Kärcher K2 Power Control High-Pressure Washer as the best pressure washer under £100 on the UK market.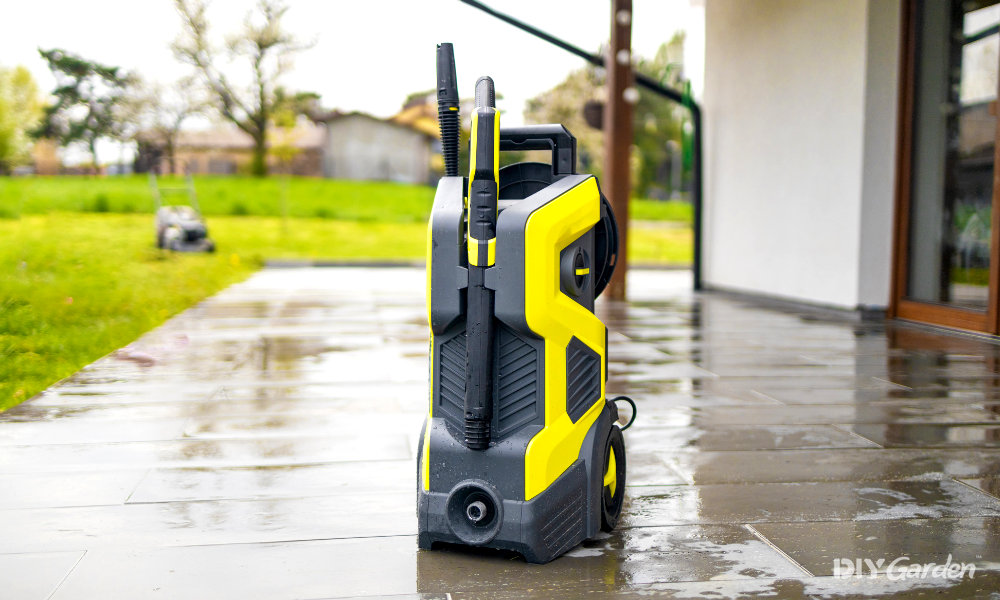 My Top Recommended Pressure Washers Under £100
My Product Reviews & Opinions
Compare Product Features Here
Use the dropdown to sort the table by the feature that's most important to you.


Our score
Water Pressure
Flow Rate
Power
Hose Length
Weight
Tips For Buying a Budget Pressure Washer
The first thing to consider is the amount of pressure you need. Even budget pressure washers can deliver surprisingly high pressure, operating at anything from 20 bar to 135 bar at the top of the scale.
If you want to clean thick mould from a patio or decking, you'll need a washer with around 120 – 135 bar pressure

. For wheelie bins, boot cleaning, garden furniture and bikes, a pressure of 100 bar should suffice.

When it comes to car cleaning, look for a lower pressure of around 80 bar

. This is to avoid damaging the paintwork which can also lead to rust.

Pressure washers under £100 are usually electric – powered by either a mains cable or a rechargeable battery

. If power is your main criteria, mains-powered washers tend to deliver a little more oomph. They are a little heavier than cordless washers though, usually weighing at least 5 kg.

Battery-powered pressure washers can weigh as little as 2 kg.

They're the best pressure washer choice in terms of versatility; you can use a cordless washer in your driveway, but also take it in the car to hose down bikes after a muddy trail.

For portability, battery-powered pressure washers are tough to beat!
Look out for pressure washers with an adjustable spray nozzle

because they can be used across a range of surfaces. You'll likely want at least a fan spray, wide spray and jet spray option.
Why You Can Trust DIY Garden
At DIY Garden, we believe your trust is earned through our knowledge and transparency. Our team of experts has over 75 years collective experience in the gardening and DIY space. Since the website's creation in 2016 we've tested over 275 products, ensuring our recommendations are based on real experience. We're open about what we've tried and what we've researched, and this is clearly labelled in our product reviews. Every year, we revisit and update our suggestions to include worthy new additions to the market. Our aim is to give you straightforward, honest, and helpful recommendations, so you can confidently choose the best tools and equipment for your projects.
How to Choose The Best Pressure Washer Under £100
Pressure washers are very versatile and can be used to tackle a range of cleaning jobs around your property. Whether you're cleaning your car, blasting muddy boots or washing down bikes after a muddy ride, a pressure washer can make a lot of jobs easier.
Pressure washers are available to suit a range of budgets, and I've tried and tested a range of pressure washers that are under £100, so even those with a tighter budget can enjoy the benefits of a pressure washer.
One of the main differences when it comes to budget pressure washers is they may not have the same number of accessories (either included, or generally available) as more expensive models.
Take a look at the information and advice below to discover how to find the best pressure washer under £100.
READ NEXT: The UK's Best Pressure Washers Overall
Budget Doesn't Mean Bad!
First off, it's important to make clear that just because a pressure washer costs less than £100, by no means is it a second-rate purchase!
Many pressure washers under £100 still have plenty of power. In fact, many of them will have sufficient power to blast patios clean (which is always a good way to gauge a pressure washer's power, is it not?).
130-bar pressure washers will be able to do all of the jobs you want done around the house – including brightening up paving. 100-bar pressure washers may not be able to blast away years worth of grime, but they'll still clean the car and any fresh dirt.
One of the main things that sets pressure washers under £100 apart from pressure washers over £100 is the number of included accessories. With budget pressure washers, you generally don't get more than a couple of extra nozzles, if that. More expensive machines may come with angled lances, and a larger variety of accessories, to facilitate jobs like cleaning gutters and under car arches.
A Pressure Washer's Many Uses
If you're wondering whether a pressure washer is really worth getting, it may interest you to know about all of the versatile ways they can be used.
Of course, traditional uses for a pressure washer include cleaning bikes, lawnmowers, tools, caravans and cars.
However, they can be used in many more ways. More unusual uses of a pressure washer include:
Cleaning outside surfaces ready for painting
Cleaning children's play equipment
Cleaning outdoor furniture
Washing floors
Cleaning fencing
Collecting leaf fall
Spot-cleaning mouldy areas
Cleaning out wheelie bins
Washing encrusted garden tools
Clearing guttering
BBQ cleaning
For some of these tasks, such as clearing guttering, it can help to have a specific angled lance fitted to your pressure washer; however, for the most part, any regular pressure washer can be used for the above jobs!
Choosing the Correct Power
Pressure washers are available to suit a range of tasks, and it's the power that can make all the difference when it comes to difficult cleaning jobs.
Budget pressure washers under £100 can still be exceptionally powerful, with the most powerful budget pressure washers still boasting over 130 bar pressure.
Decide what you're going to be using your pressure washer for before choosing the power, because a cheaper, less powerful model may be all you need.
When it comes to pressure cleaning cars, avoid using too much power. Sometimes it's better to choose a less powerful washer, around 80 – 100 bar, and put in a bit more elbow grease, rather than risk damaging the paintwork.
100 bars and below
Wheelie bins
Tools
Bikes
Garden furniture
Car cleaning/caravans
100-130 bars
130 bars+
Decking
Patios
Concrete
Brickwork
Be extra careful when using a pressure washer on brickwork or patios, or anything where grouting is involved. You should only use a pressure washer on these surfaces once or twice a year, max. The strong power of the pressure washer can risk dislodging and damaging grouting.
Using Detergent with a Pressure Washer
Even some budget pressure washers come with a removable detergent attachment. These  can be particularly useful when car cleaning, to get an additional sheen.
Alternatively, if you've got a lot of mould on your patio, it's best to use detergent as plain water can spread the spores.
If this sounds appealing, know that it's still possible to find a budget machine with one of these attachments. Having a detergent bottle attachment often helps the detergent to be applied evenly.
Another option is to simply use a spray bottle to apply detergent to the surface before pressure washing it clean.
Useful Accessories for Specific Jobs
Some budget pressure washers come with a few accessories to help you tackle specific jobs. However, it's less common for budget machines to come with a large range of additional components.
The following accessories can be useful for completing specific jobs. If you think they might come in handy down the line, try to ensure that the budget machine you're buying has compatible accessories that can be bought separately.
Drain and gutter cleaning kits.
Patio cleaners.
Telescopic lances (allowing you to reach high areas such as shutters and eaves).
Extension hoses (giving increased range – a good option if the mains cable isn't particularly long).
Under chassis nozzles (allowing you to clean the wheel arches beneath your car).
Soft pressure washer brush (preventing scratches on glass or caravans).
One way lances (used to high-pressure spot-clean certain areas).
Electric vs Petrol Pressure Washers
Pressure washers are either electric or petrol powered.
All the budget pressure washers I've recommended are powered by electricity. These are best for most domestic tasks, as they are quiet and better for the environment than petrol powered pressure washers.
Electric pressure washers have all the necessary power required for domestic tasks. They also have the added benefit of being very manageable because they tend to weigh around 5 kg.
What about a Battery-Powered Pressure Washer?
Battery-powered pressure washers are another good option, and these are normally cheaper than petrol or mains-powered pressure washers.
The benefit of battery powered pressure washers is that they can be used anywhere. You don't need a power source nearby, nor an extension cable. They are usually very lightweight and easy to manage.
The downside to battery powered pressure washers is that the battery life is often poor. Most have a battery life of under 15 minutes. However, if you've got a couple of shorter, lighter jobs to tackle, a battery powered pressure washer may be the best option.
READ NEXT: The UK's Best Portable Pressure Washers
Pressure Washer Safety Considerations
Here are some of the risks involved with using a pressure washer and how to avoid these problems:
Poorly maintained cables. Lots of budget pressure washers are powered using a mains cable. You should ensure the cable is in good condition, as any damage could lead to an electric shock.
Tripping over. Tripping over your cable is another real risk. Watch where you are stepping and keep pets and children well away.
Slipping over. To avoid surfaces being more slippery than necessary, don't use more detergent than you need. Also, wear sturdy shoes. Eye protection will protect you from any water or filth that splashes back.
Hurting someone. Pressure washers can cause serious harm if aimed at humans or pets. Keep the lance pointing downwards and make sure children stay away from the machine.
Pressure Washing FAQs
How should I use my pressure washer?
It's important that you read the instructions that come with the pressure washer you purchase. However, most pressure washers work in a similar way.
Attach the high pressure hose to the lance. Allow your garden hose to run for a few seconds to get rid of any debris inside it.
Connect the garden hose to your garden tap. Alternatively, place the pressure washer's suction hose into a bucket or water butt if it is able to draw water from a static source. Check all fittings are tight.
Plug your pressure washer into the power source (assuming it's electric) then turn the pressure to the lowest setting.
Turn the pressure washer on and aim the lance at the floor. Gently squeeze the trigger until water sprays out.
Work at 45° to the surface that you're trying to clean. Work from top to bottom.
Add detergent if needed.
Rinse the detergent off with water and spray at the widest setting for a final rinse.
Can I use a pressure washer without detergent?
Yes, pressure washers are very effective even without detergent. Whilst detergent can help kill germs and bacteria, as well as creating more of a shine, it's not necessary for all jobs. However, if you're cleaning mouldy areas, using detergent will help to kill the mould spores and stop them spreading.
What type of spray should I use to clean my car?
Use a spray that is as low pressure as possible for the job. For cleaning the car, consider using a pressure washer between 80 – 100 bar. Using 130 bar will better blast away dirt, but there is a real risk of stripping the paint. Don't use a 0° jet spray on your car. The narrowest spray you should consider using is 20°. Always test the spray on the ground first, and then on a small, concealed section of the car. Use a very gentle spray for cleaning any glass windows.
Start typing and press enter to search