Our
Kärcher K2 Power Control High-Pressure Washer

Review

This pressure washer truly was a pleasure to use – I honestly can't fault it at all. It may not be as powerful in terms of water pressure as some of the others out there, but it still offers more than enough to carry out just about any home and garden cleaning task that you may need done. 

Even better, it's incredibly versatile. With all of the different attachments available, it has clearly been designed to be a machine that does everything, and it follows through on this intent. Whatever you plan on using this pressure washer for, be it scrubbing a patio a few times a week or occasionally cleaning your garden furniture, the Kärcher K2 Power Control High-Pressure Washer is a machine that I would recommend to everyone. 

B08R6638K5

4054278796123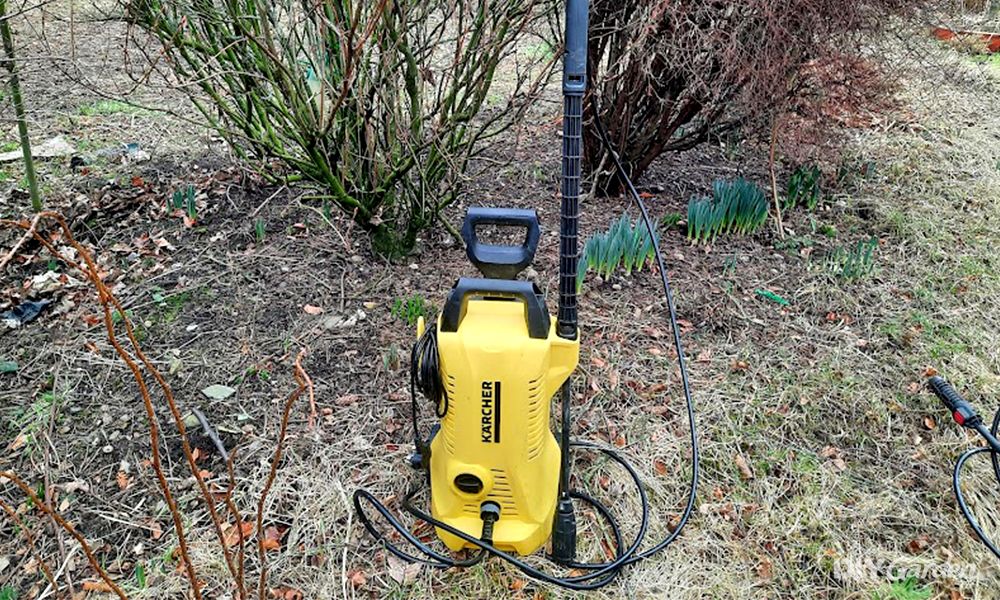 Kärcher is a German brand that has made quite the name for itself over the past 60 years when it comes to the cleaning tools and machines that they produce. They're not only known for quality, but innovation too, to the point where the brand has more than 1300 patents that protect their one-of-a-kind designs.
So, I was excited to be testing out the Kärcher K2 Power Control High-Pressure Washer. This machine was designed to be used for a variety of different home cleaning tasks, from washing cars to scrubbing patios to cleaning garden furniture. Living on a farm means that my car ends up very dirty very quickly, so I was curious to see how well this pressure washer would cope with that.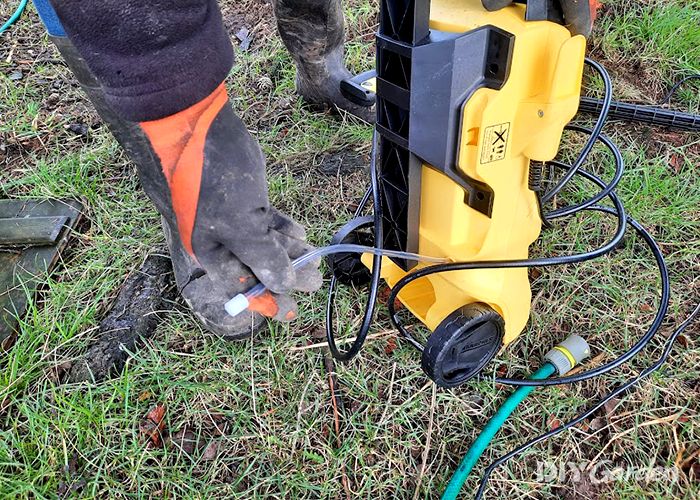 It's always a bonus when a new power tool doesn't require too much assembly, so I was delighted to find that the Kärcher K2 Pressure Washer was extremely easy to put together.
No tools are required – everything connects with a quick push and turn. Start by pushing the handle in, and then the hose, and then push the lance together.
After this, connect the other end of the hose to your water supply and plug the pressure washer into your electrical supply, and you're ready to get cleaning!
In total, it only took about five minutes to get this pressure washer out of the box, assembled, and ready to be used.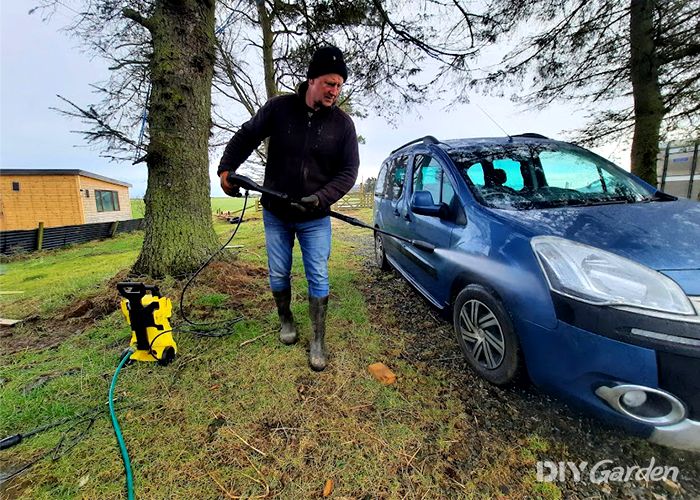 The first thing that stands out about this pressure washer is its bright yellow colour, synonymous with all Kärcher products. You're definitely not going to lose this one in your garden!
In terms of size, it's relatively compact. It's not the smallest pressure washer that I tested (check out the Bosch if you're wanting something super-compact), but it's not big and bulky either. That said, it does have wheels for when you need to pull it around, saving you from picking it up and moving it, although the adjustable handle (which most of the other pressure washers I tested didn't have) does make the picking up more convenient too!
Just like the other pressure washers I reviewed, this one also has a 5m hose, a 5m cable, and a double filter. However, unlike the others, this one has a small suction hose at the back. This hose can be placed into a bottle of detergent, where it will then suck the cleaner up and disperse it with the water – very clever!
It also comes with a few different accessories, along with the option of purchasing extras. I'll discuss these in more detail later on (skip to the Versatility section if you can't wait), but it's great to see that Kärcher has designed this pressure washer in a way that allows it to be used with so many different attachments.
I couldn't really find any downsides to the design of this pressure washer. Granted, it's made from plastic, but so are most of its competitors, at least all of the ones that I tested. Plus, the plastic doesn't make it look or feel cheap or flimsy in any way, so it isn't really an issue.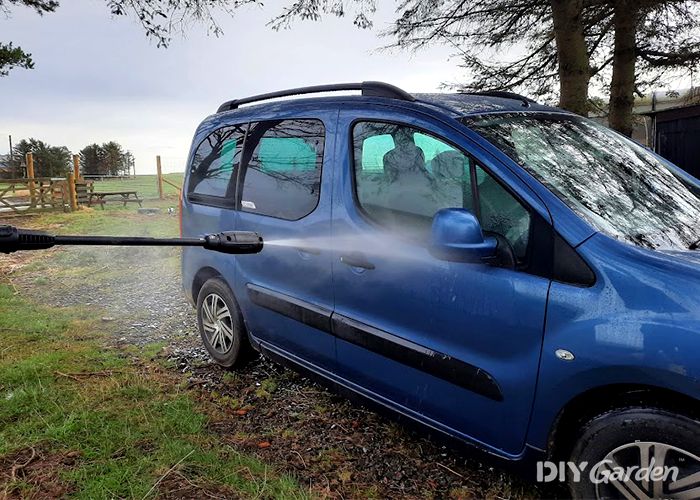 As mentioned, I had one main task in mind for this Kärcher pressure washer – cleaning my very dirty car. So, for this, I connected up the lance that offers variable water pressure – you can choose from a soft 20 bar spray or go all out with a 110 bar jet, which is a fantastic amount of variation.
I started with the soft before giving the car a quick shampoo. The suction hose is very handy for this! I then turned up the pressure a bit to wash all of the shampoo off, revealing a very clean and sparkly car underneath. I also tested this pressure washer out on another vehicle, using it to clean out the back. Again, it performed perfectly, getting rid of some very questionable stains!
In terms of power, this pressure washer isn't quite as intense as some of the others that I tested. As a comparison, the VonHaus has a maximum pressure of 135 bar paired with a 1600W motor, which is larger than the 1400W on this Kärcher.
However, stats aside, you don't really notice the difference too much when you're actually using the machine. 110 bar was more than enough to clean even the most stubborn smears of dried mud off my car.
Unfortunately, since I don't have a patio, I wasn't able to test out how the machine's patio cleaner attachment performs. Still, going by the pressure washer's performance on my car, I would have no doubts about this machine being able to efficiently scrub down even the grimiest of hard surfaces.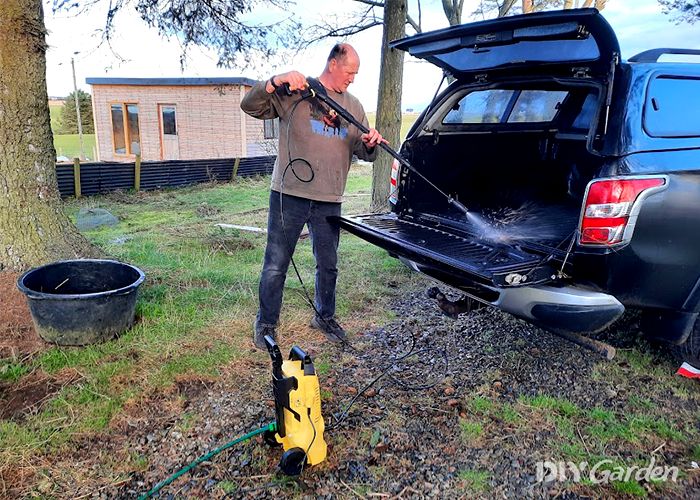 Kärcher definitely kept convenience in mind when designing this pressure washer, and that's something that's always going to be appreciated by anyone who uses it.
For starters, it's very lightweight. Yes, it comes with wheels, but you'll probably never need to use them as it's much more convenient to just pick the machine up by its handle when you need to move it around. Speaking of which, the adjustable handle is a simple but thoughtful feature that once again contributes to how easy it is to use this pressure washer.
In terms of hose and cable length, these both worked well for me, although that's partly because I was using an extension lead. If I didn't have this option, I would find the hose length to be a little short. However, the extension lead meant that I could place the machine right next to my car, and so the 5m hose gave me enough freedom to easily move around the vehicle while washing it.
I also noticed that this pressure washer seemed much quieter than the others that I used. Some can be downright noisy and annoying, but this one is quiet enough that it won't disturb your neighbours (too much) if you were to use it on a regular basis.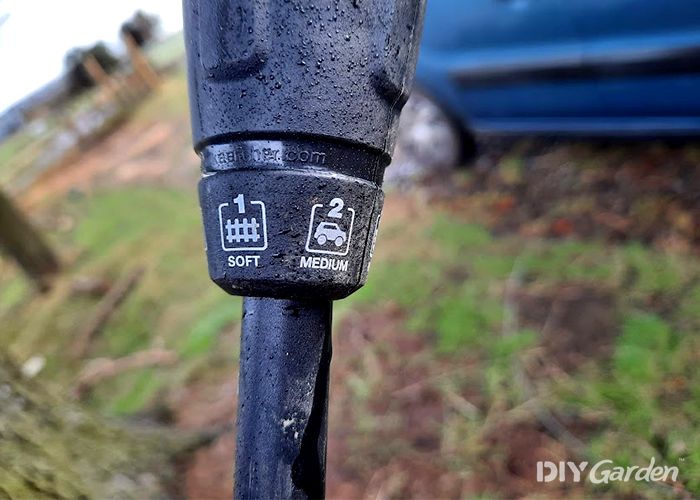 I would have to say that this Kärcher pressure washer is probably one of the most versatile of all of the pressure washers that I tested.
It comes with some fantastic accessories; a hose, a gun, and two lances. As mentioned, one of the lances has three pressure levels to choose from, along with a mixing mode for when you want to use the suction hose at the back. The other lance is all about intense high-pressure – it's called the Dirt Blaster for a reason!
In addition to those accessories, the pressure washer can also be purchased with different kits. The Home Kit, which is what I had, comes with a surface cleaner attachment, as well as a bottle of detergent. You could also get the Car Kit, which comes with accessories better suited for washing cars. Alternatively, each of these accessories, plus a whole bunch of others (from a rotating brush to a telescopic jet pipe), can be purchased individually.
All of these attachment options give this pressure washer so much versatility. Some of the pressure washers that I tested didn't have any extra attachments available, so it was great to see that Kärcher went the opposite way, meaning that you could pretty much wash just about anything, from a bike to a roof, with this machine.
It's also worth noting that this pressure washer can be used with both hot and cold water, so long as the water is under 40°C. This means that it can be used to clean things that only respond well to heat, from oil and grease to algae.
This pressure washer offers amazing value for money. Even if you purchased just the basic kit, its price would be in-line with most of its competitors, even though those machines don't offer nearly as much in terms of versatility.
I also love the fact that this pressure washer is accompanied by the Kärcher Home & Garden app. Download the app and input the task that you're doing, and it'll tell you exactly how much pressure to use, along with other tips, so that you can get the job done perfectly. This support is such a great touch from the brand – it's something that none of the other pressure washer brands that I used offer, and it really does help to add value to the product.
This pressure washer truly was a pleasure to use – I honestly can't fault it at all. It may not be as powerful in terms of water pressure as some of the others out there, but it still offers more than enough to carry out just about any home and garden cleaning task that you may need done. 
Even better, it's incredibly versatile. With all of the different attachments available, it has clearly been designed to be a machine that does everything, and it follows through on this intent. Whatever you plan on using this pressure washer for, be it scrubbing a patio a few times a week or occasionally cleaning your garden furniture, the Kärcher K2 Power Control High-Pressure Washer is a machine that I would recommend to everyone. 
Why You Can Trust DIY Garden
At DIY Garden, we believe your trust is earned through our knowledge and transparency. Our team of experts has over 75 years collective experience in the gardening and DIY space. Since the website's creation in 2016 we've tested over 275 products, ensuring our recommendations are based on real experience. We're open about what we've tried and what we've researched, and this is clearly labelled in our product reviews. Every year, we revisit and update our suggestions to include worthy new additions to the market. Our aim is to give you straightforward, honest, and helpful recommendations, so you can confidently choose the best tools and equipment for your projects.
Kärcher K2 Power Control High-Pressure Washer Price Comparison
Price History
Our Scores:
Assembly

Design

Performance

Ease of Use

Versatility

Value for Money

Overall
Features:
Water Pressure

110 bar

Flow Rate

360 l/h

Power

1400 W

Hose length

5m

Weight

3.99kg
About Your Guides
Derek Smith has been farming all of his life, and is an professional landscape gardener with over 22 years experience. He owns a 25-acre farm in Aberdeenshire with a focus on self-sufficiency, living off the land, and working with nature.

Sarah's role as chief editor at DIY Garden is about more than just making sure we're literally dotting the i's and crossing the t's (although she's a stickler for detail, so it's certainly about that too!). It's about proof-reading, fact-checking and continuously researching everything we publish, ensuring that it adheres to our

editorial standards

, so that everyone can really get the most out of their green space.
You May Be Interested In These Other Pressure Washer Reviews