Our
Kärcher OC3 Mobile Outdoor Cleaner

Review
Best portable washer with a water tank
Most suitable for low pressure tasks like window cleaning, washing muddy boots etc
Relatively quiet and easy to use
B084WCFP84
4054278636344
Best with water tank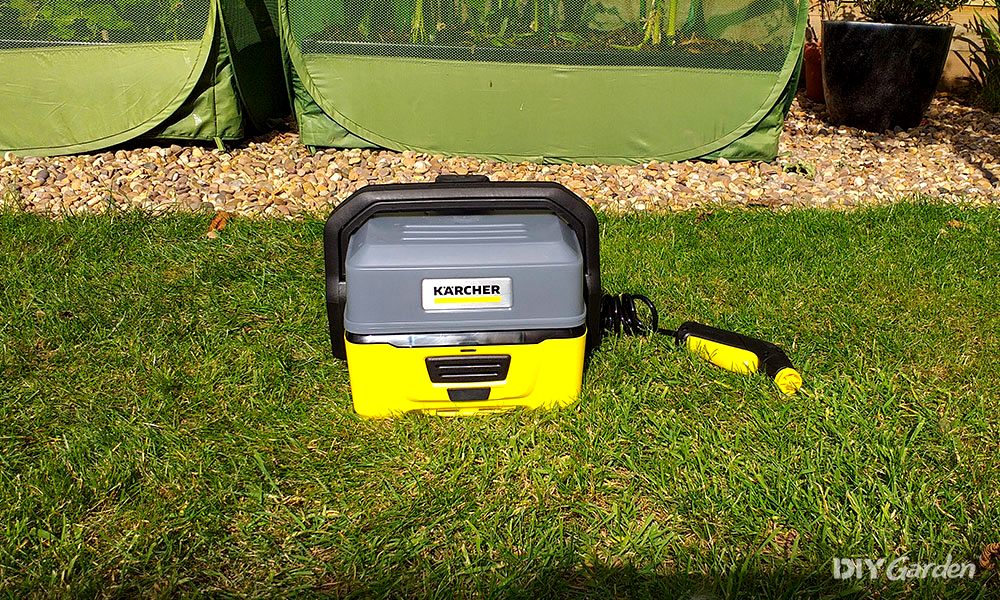 The Karcher OC3 Mobile Outdoor Cleaner is a unique cordless pressure washer in that it has a built in water tank. Most models don't have this feature. So I was intrigued to put it to the test, and see how it compared. This is how it performed…
Read our product testing methodology here.
How I Tested
I used the Karcher OC3 on the following items to see how well it cleaned them:
Bike
Muddy boots
Garden tools
My dog's paws!
Car
Patio furniture
Patio algae
Windows
Wheelie bin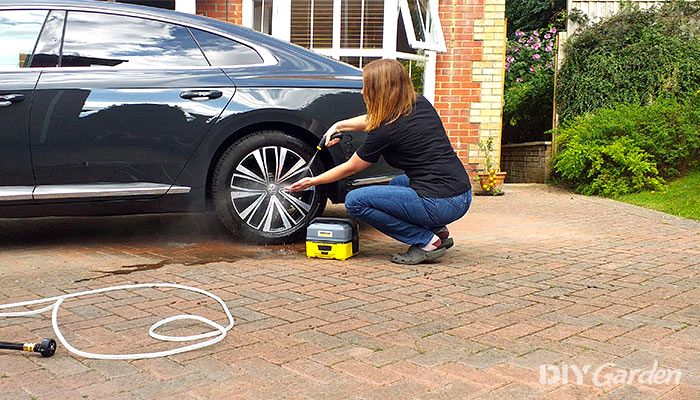 This is a portable, cordless pressure washer with 5 bar pressure and a rechargeable lithium-ion battery. Measuring 28 x 23 x 20 cm, it's as compact, neat and tidy as they come.
It's extremely easy to carry around because it's a self-contained unit with an internal reservoir. This makes the Kärcher OC3 a little different to the other pressure washers I tested as the others require an external water source.
There's no hose restricting your movement and it's possible to hold the whole pressure washer in one hand, walk about, and use the spray with the other hand. The spray hose measures 2.8 m long.
Plus, it's branded in Kärcher's signature 'yellow and black' style which is a reassuring reminder that this washer comes from a reputable, reliable brand.
The plastic body is tough and there are hardly any components to worry about. It's a simple design made up of a water container, a battery and a 'flat spray' nozzle.
As is custom, after doing all the other tests with the Kärcher OC3, I dropped it on my stone patio from shoulder height to see if it could take a few bumps. It scratched the plastic but the machine still worked fine so it's quite robust.
One design feature that I particularly like is the way the hose fits inside the machine to keep it all tidy. I'm forever losing small attachments so this design is excellent for me.
Putting it Together
This unit requires the least assembly of those that I tested.
There is a large on/off button on the front, as well as a small covered charger port.
Before you can use the pressure washer it needs to be charged. It uses a USB-to-mains charger (the battery stays in the unit) and when the battery light stops flashing green it's good to go.
It's then a case of unplugging the body and filling the top section with water. After that, you can pull out the nozzle and start spraying. That's it – it really couldn't be simpler.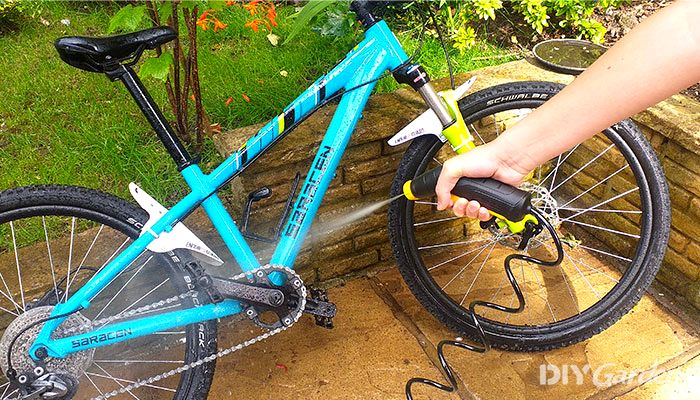 Battery: 180 minutes charging time for 15 minutes continuous use. This is about average.
Here's a list of the different items I cleaned using the Kärcher OC3 and how the washer performed:
Bike: The Kärcher OC3 did an OK job cleaning my son's bike. The bike was splattered with fresh mud and there was some dog poo on the front tyre. Whilst it rinsed the majority of the mud away, a brush was needed on the poo and muddy tyre treads.
Muddy Boots: Fresh mud washed off easily but dried mud from our Lake District trip two weeks prior didn't shift.
Garden tools: It cleaned my trowel, fork and wheelbarrow with some additional help.
On the plus side, I enjoyed how easy it was to carry this lightweight washer up the garden to the wheelbarrow. There was no need to carry a heavy bucket of water or trundle the wheelbarrow down closer to the tap.
It's the simple things like this that make it much more likely you will actually use this power washer in the first place.
However, when it came to actually cleaning the tools, they came clean with a brush, but the washer on its own didn't shift much.
Pets: My cat was not keen on helping out so I tested the washer on a friend's dog.
I'll be honest, it was chaos with water everywhere, and nigh on impossible to get a photo. However, that was down to the excitable dog as opposed to any failings on the washer's part.
Eventually the Kärcher did rinse all four muddy paws gently and well. If your dog is well behaved, this nifty pressure washer will clean one dog's grubby paws in around a minute.
Car: It's gentle enough on paint so the Kärcher did a good job of cleaning the glass and paintwork.
It was easy to walk around the car without dragging a big machine or lifting up a watering can that runs freezing water back down your sleeves.
It struggled on the dry and muddy wheel arches – there's just not enough pressure to shift ground-in dirt.
Patio furniture: The Kärcher OC3 washed down four chairs plus a table before the water ran out.
It struggled on bird mess and couldn't get the leaves or moss from seat edging on its own, but with a brush and squirt of soap it rinsed them well.
Patio algae: Nope. Shifted nothing at all
Windows: Excellent for windows, especially as you don't have to leave one end in a bucket. It was gentle enough to wet and rinse the glass but I had to use a squeegee to clean them properly.
Wheelie Bin: It made the wheelie bin wet but didn't get it clean.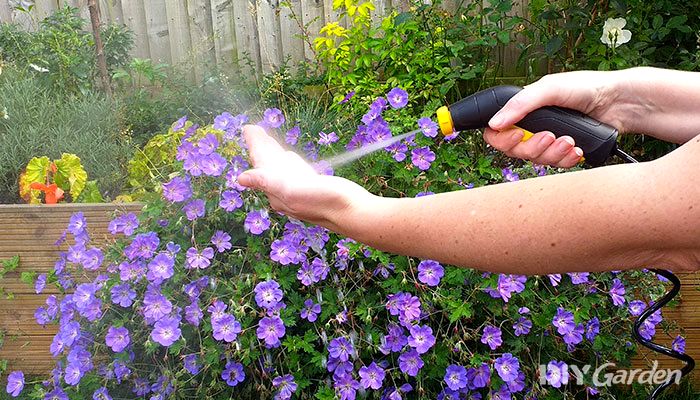 As you've probably gathered from me describing this as having the power of 'a tap on full blast', it's probably the least powerful washer that I tested. Certainly still good for some jobs, as seen above, but it does only have 45 watts of power.
It felt like the equivalent of about 2 x the pressure of a standard hose pipe.
Whilst relatively noisy, it's not aggressively so. I would describe it as about as loud as a modern hairdryer.
In terms of disturbing the neighbours, my view would be that if they wouldn't mind you blasting a hairdryer outside, they won't mind you using this power washer. Therefore, it's probably an 'after 9 am' machine for the weekends.
Because it's cordless, this is a safe little machine. There's nothing to trip over and the handle does a great job of keeping the battery pack and water reservoir clipped together.
The water filter comes off easily and rinses without fuss, keeping debris from the machine's internal workings.
I perhaps feel that it's a little expensive for what it does… but then it also depends what you need it for.
There's no denying that the fact it's portable makes it very useful for certain jobs. If you're an outdoorsy person and you want something that will hose off your dog or your shoes after a walk, it's ideal to put in the boot of the car.
It's also easy to carry around the garden for odd jobs.
However, as mentioned, it isn't the sort of power washer that will shift a lot of dried mud (certainly not without additional brushing), so if that's what you're hoping for I'd go with a different model.
Best portable washer with a water tank
Most suitable for low pressure tasks like window cleaning, washing muddy boots etc
Relatively quiet and easy to use
Why You Can Trust DIY Garden
At DIY Garden, we believe your trust is earned through our knowledge and transparency. Our team of experts has over 75 years collective experience in the gardening and DIY space. Since the website's creation in 2016 we've tested over 275 products, ensuring our recommendations are based on real experience. We're open about what we've tried and what we've researched, and this is clearly labelled in our product reviews. Every year, we revisit and update our suggestions to include worthy new additions to the market. Our aim is to give you straightforward, honest, and helpful recommendations, so you can confidently choose the best tools and equipment for your projects.
Our Scores:
Design

Performance

Power

Noise

Safety

Value for Money

Overall
Features:
Pressure (Bars)

5 bar

Water Flow Rate

2 L/min

Battery Life

15 mins

Weight

2.78 kg

Charging Time

3 hours

Spray Speeds

1

Spray Patterns

1

Hose Length

2.8 m

Water Tank

Yes
About Your Guides
Becky Mathews is an enthusiastic gardener that shares her outdoor spaces with nature. Always happy with her hands in the soil, or rescuing wildlife in trouble, she enjoys writing about her environmental successes and failures

Sarah's role as chief editor at DIY Garden is about more than just making sure we're literally dotting the i's and crossing the t's (although she's a stickler for detail, so it's certainly about that too!). It's about proof-reading, fact-checking and continuously researching everything we publish, ensuring that it adheres to our

editorial standards

, so that everyone can really get the most out of their green space.
You May Be Interested In These Other Pressure Washer Reviews