Our
Wilks USA RX550i Pressure Washer

Review

Once you've had a go at trying to clean your patio by hand, even with harsh patio cleaning chemicals, you'll appreciate how difficult and tiring it is. Swapping out nasty substances and back breaking labour for a powerful pressure washer is a no-brainer in my opinion.

Although my first impression of the Wilks USA RX550i wasn't good, thanks to a useless manual and a few swapped out parts, it was thankfully just a temporary blip. Once I'd fiddled with all the parts and worked out what did what, I found this to be a very useful tool to have around.

The best things about this pressure washer are the massive amounts of hose and the wide variety of nozzles and wands that come with it. There's no getting round the fact that this is a heavy tank of a jet washer though. It's not something I'd want to carry up a flight of stairs, but thanks to its long reach I doubt I'll ever need to test that out.

Overall, I think this is a contender for best pressure washer on the UK market right now because it's really powerful and incredibly quiet. For the money, you can get a lot of work done with just the power of water. I'm off to wash the car again!

B08G51PGYY

5060569763643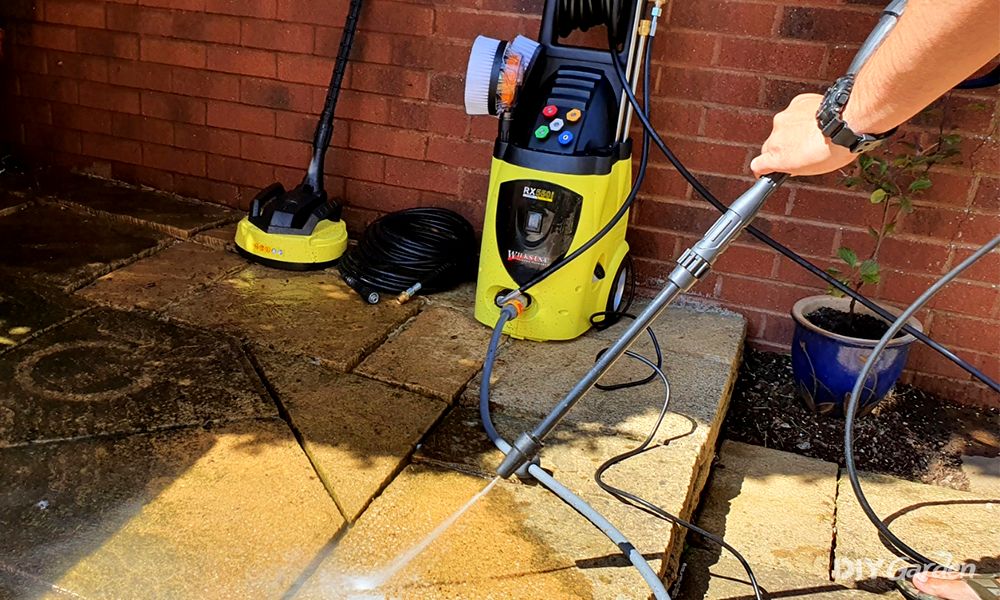 Some people say that the true cost of owning a house is having to look after the garden. For a lot of people, cleaning off a dirty patio or manky garden furniture is a job that's either left to the professionals or forgotten about entirely. And that's because doing it by hand is a painful and thankless task! Scrubbing down a sooty garden wall is no one's idea of fun, after all.
I'm glad to say that there is a much better way of doing all this. Thanks to the Wilks USA RX550i Pressure Washer, I can give the outside of my house and even my cars a good cleaning. And all without resorting to nasty chemical cleaners or back breaking labour. Using a powerful motor and some clever accessories included in the kit, I can do it all with just the power of water.
Although they're not as well known as the other big yellow pressure washer brand, Wilks USA have an impressive range of electric and petrol powered pressure washers. They make them for DIYers as well as professional users, so they should know their stuff.
So, if I'm going to try and find out which is the best jet washer for the UK market, it's time to get out in the garden and start cleaning!
Getting this pressure washer ready for action unfortunately took a lot longer than I think it should have. I put this down to the poor manual. It dedicates just six pages of small print to the entire assembly and operation of the pressure washer.
The diagrams are hard to make out, and some of the accessories supplied look different to the ones in the manual, so you can't just go by the pictures. It was a disappointing start, but after a bit of head scratching, I got the gist of it.
After test fitting all the connectors and checking the sizes, everything was included, and it was time to put it together for a test. Once I'd worked out how to connect my garden hose to the pressure washer via the plastic filtered connector, it was ready for work.
Overall, this was a disappointing start. It shouldn't be too much to ask for a proper parts list and a bit better manual for a pressure washer that has so many accessories and a whole lot of potential. Unless you're already familiar with pressure washers, it could take you a while to get to work.
Screwing on the different wands was easy enough with a bit of trial and error, but it's strange to me that a brand called Wilks USA doesn't come with a comprehensive manual for setting it up for the first use.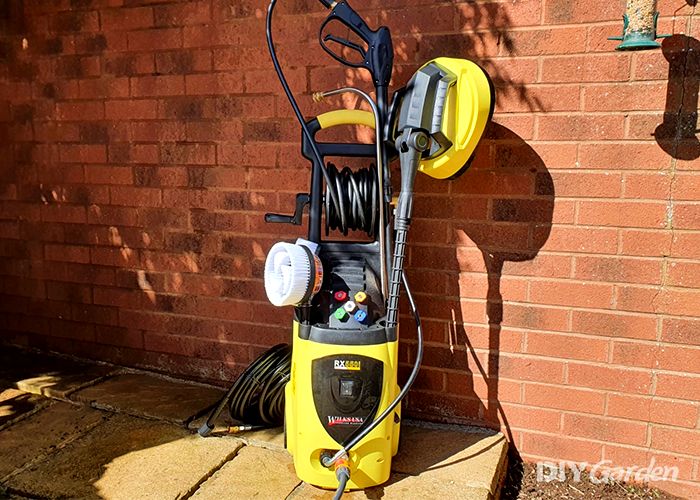 The way that Wilks have put this pressure washer together is pretty similar to the biggest name in the industry. Decked out in black and yellow like a Kärcher, it's a big and chunky piece of kit with a big rubberised yellow handle on top.
Rolling the washer around is helped with large 150 mm diameter wheels with chrome-look rims and chunky solid rubber tyres. It's a good thing that this pressure washer has massive wheels and such a big handle, because this thing is a tank! Weighing in at almost 30 kg, it's not the sort of tool you'll want to pick up and take with you.
One thing I'm a big fan of is the hose reel built into the top section of the pressure washer. You can wind the hose in with a flip down handle, which makes short work of the 8 m hose that's already attached. For extra reach, you also get an 18 m long hose. Join the two together and you've got a whopping 26 m of high pressure hose that will reach just about anywhere.
You get 5 m of power cable with this pressure washer. It's stored neatly on the back of the unit, and there's even a cut-out that fits the standard 3-pin plug when not in use. It's not the longest power cable in the world, but the long hose means you're not completely tied down.
This powerful pressure washer gets its grunt from a massive 3,000 Watt copper wound induction motor. You get a maximum pressure of 262 Bar that drops to 155 Bar working pressure. It's a fair drop in pressure, but this washer did everything I asked of it so I'm not complaining.
With a maximum water flow rate of 8.7 l/min and a working flow rate of 7 l/min the 2.5 kW motor capacity can shift a serious amount of water, which is something to bear in mind if you're on a water meter!
What is undoubtedly the best thing about this pressure washer is the impressive range of accessories that come with it. You get six different types of wand and five different nozzles that produce a range of spray types for whatever job you've got in front of you.
The quality of the wands is fine for DIYers. I've seen a higher quality gun and slightly better fittings on professional level pressure washers, but they cost a lot more that what you're paying here. The threads on some of the wands take a bit of starting to connect, but once they're on they hold nice and tight.
Starting with the basics, you get a 44 mm long straight attachment made form metal with brass fittings on either end. The push fitting takes any of the five different nozzles that are stored handily in the pressure washer body.
Colour coded for easy identification, here's what's included:
A blue low pressure nozzle with a flat shaped opening for spraying on detergent. This won't blast the dirt off your car, but when used with the onboard detergent tank, it's ideal for covering your car in snow foam.
A white 40° wide spraying low pressure nozzle that seems perfect for cleaning wide areas that can't take high pressures. It's ideal for cleaning the paintwork on your car or more delicate polycarbonate conservatory roofs.
A green 25° medium pressure nozzle is the happy medium between dirt blasting power and a paint protecting spray strength. It's gentle enough to avoid destroying your paint job, but it'll still get rid of baked on dirt and bird droppings. It'll do a good job on your patio too.
A yellow 15° high pressure nozzle is the ultimate patio cleaning flat sprayer in my opinion. You can focus the jet on a small enough area to clean off all but the most stubborn bits, but it can still work fast. It's not a good idea to use this nozzle on your car or motorbike though. It's a bit too aggressive for that.
A red 0° "pencil" stream nozzle. This is the most extreme nozzle included with the set. The fine stream is incredibly powerful. I wouldn't use this to clean a whole patio because it would take hours, but for the most stubborn bits of algae it's the only nozzle that will do.
I was really excited to find a turbo wand included with the attachments. If you've not used one before, it's a game changer when it comes to things like stubborn patio mould or caked on mud. The nozzle rapidly rotates a narrow stream of water, meaning you get all the power of a 0° stream without it focusing on one spot for too long. Nine times out of ten, this is the attachment I reach for because it's incredibly versatile.
For cleaning your car, there's a pair of soft bristle brush attachments that won't scratch your paintwork or windows. My favourite one is the rotary brush that spins using water pressure to give your dirty car a good scrub. Paired up with some car washing soap, this is great for getting your car back to a high shine. You won't bother going through an expensive drive through car wash again!
There's also a curved cleaning wand that will help you blast the dirt and debris from your gutters without over stretching. It's great for cleaning things like behind your car wheels or conservatory roof without climbing up a ladder as well. It curves round to 90° and accepts all the different nozzles included with the set.
If you need to clean a wide area, Wilks have also included a "whirlaway" patio cleaner attachment. It's a 28 cm wide yellow plastic housing with a double ended spray nozzle inside. The water pressure spins it around, and the brushes around the edge help to scrub the floor clean. It's not powerful enough to blast off years of black grime, but it's the best attachment for a quick clean and to maintain a reasonably clean floor.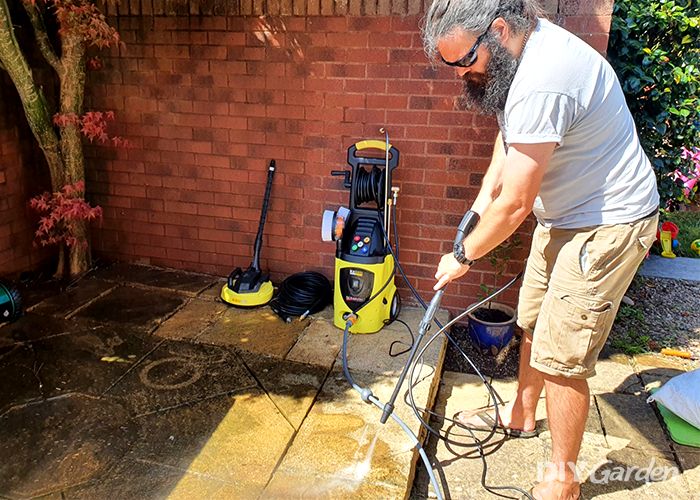 I've used a few different pressure washers over the years, to blast the dirt from my patio and walls, and to give my car a speedy clean up. Some of the smaller and more portable ones do a reasonably good job, but I was completely blown away by the Wilks RX550i.
Boasting a 3,000 Watt copper wound motor, I knew it had more grunt than even the big name brand equivalents. But as I've found out testing other tools, it's not simply the size of the motor that makes the difference. Whatever Wilks have done under the bright plastic casing, it really works.
Alongside the different nozzles that get the most out of the water pressure, especially the turbo wand attachment, this pressure washer does the business. I deep cleaned my patio and brick walls using the turbo wand and the 15° nozzle.
The flat spray of the 15° nozzle got right into the corners and cleaned a slightly wider section, but the turbo wand was the ultimate tool for the real ground in dirt and grime. It really made the most of the 3,800 psi or 262 bar peak pressure level.
Another surprising thing about this pressure washer was how easily it stopped when I let my finger off the trigger. Some jet washers dribble and leak, but this one cuts off immediately without a fuss, even with the extension hose attached. This might even save me a few pennies on power and water in the long run too!
Some users have complained that the sustained jet pressure of 2250 psi or 155 bar is not enough. That might be a problem for commercial users or professional cleaners, but for a DIYer like me it's got more than enough power.
First things first: this is a heavy beast. There's no escaping this if you want to pull the pressure washer up some steps or over a threshold. You can feel every gram of the almost 30 kg weight if you try and load this bit of kit in the back of a car.
The big wheels are great though, the deep tread on the solid rubber tyres is grippy on grass as well as concrete. Once you've tipped the pressure washer up, it rolls around like a sack trolley would so it's fine on the flat. And just like a sack truck, when it's up on its two wheels it's very easy to move around, even with one hand if you're being careful.
Wilks USA have obviously thought long and hard about how to get around the weight problems their RX550i is having though. The included 8 m hose is fine for getting around a small patio on its own, but the real gem is the extension hose included in the set.
With 26 m of hose, I can set up the pressure washer in my back garden, then snake the hose all the way to the front of the house and clean my pathway. There's equally enough to go the other way and clean my cars around the back!
Don't then be put off by the weight of this pressure washer. Unless you've got an enormous garden, you don't need to worry about lugging the whole thing around. Even though the high pressure hose is quite stiff, it's a lot easier to manoeuvre whatever wand you want into the right position.
The range of accessories and different types of spray nozzles make this an incredibly versatile pressure washer. Some smaller models of jet wash are much more limited in what you can use them for. Sure, you could buy extra attachments, but having them all to hand here is very useful. It's the range of add-ons that elevate this from a basic bit of DIY kit to an almost professional jet washer.
The onboard storage is particularly handy as well. The four tubular holders in the body of the washer can hold all the wand accessories when not in use. It's great to have somewhere to hide them, especially if, like me, you have a habit of losing bits like this.
The spray nozzle holder built into the washer is another clever feature. All five of them have a home in the body of the pressure washer, and even though they're a bit hard to pull out, it means they won't just fall out when you're moving around.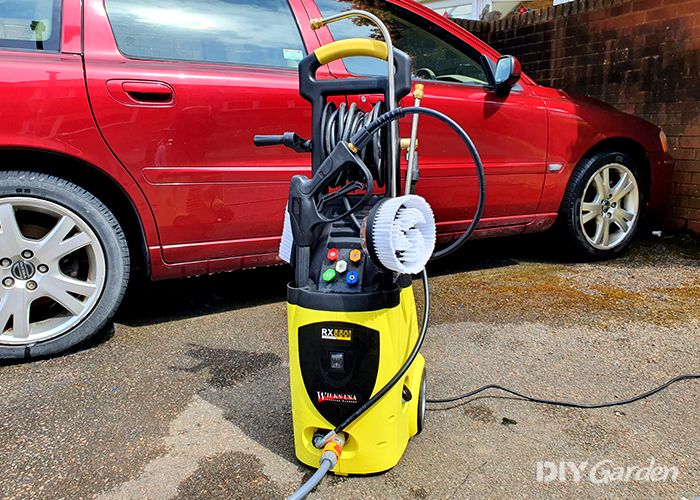 The best pressure washer kit will have you thinking "what can I do with this next?". Let's face it, they're amazing tools, but also a lot of fun to use as well. Luckily, this pressure washer comes with a huge range of accessories for cleaning just about anything you can think of.
The range of nozzles that stow nicely away in the body of the washer transform this big beast into a flexible tool that can be gentle as well as powerful. A less expensive jet washer is only good for blasting concrete, while the Wilks can clean off my car paint without destroying the clear coat on top as well.
Even though the patio cleaning attachment wasn't the best quality, it was a handy thing to have included in the set. Cleaning off a patio or garden wall took a lot less time, even if it didn't have as much blasting power.
What sets this pressure washer apart, for me anyway, is the detergent tank and the car cleaning brush. I added a big glob of car washing solution into the tank and plugged the spinning brush head on the end of the wand, and it did the best cleaning job on my dirty car I've ever managed. Compared with the drive-through car wash I normally use, it was amazing!
Since I've had this pressure washer in my home, I've cleaned off all the pathways, the patio, the garden walls, garden furniture and even my daughter's wendy house. Whether it's on concrete, brick, stone, metal, plastic, or paint, I've found an attachment that works and the right nozzle to get the most out of this machine.
There's no other way to say this: there are much cheaper pressure washers on the market. You could get hold of a fairly decent jet washer from one of the big names in the market for a third of the price of the Wilks RX550i. However, if you want this level of power and as many accessories, the Wilks starts to look more like a wise purchase.
What makes this one of the best pressure washers available right now, in my opinion, is the big motor. It reaches seriously high pressures, which is good for at least two reasons. The first, is that it can blast off even the most stubborn mould, dirt, and gunk. The second is that this power means you can still get excellent cleaning power at the end of 26 metres of hose.
It's true that cheaper, and lighter, pressure washers are available, but you still need to lug them about your garden with your hosepipe trailing behind you. Because Wilks have included all this extra hose in the purchase price, you can plug in almost anywhere. You simply need to carry the wand and high pressure hose about. It saves time and sweat, so it makes sense in the long run.
Another way to look at the slightly high initial cost of this pressure washer is to compare it to taking your car through a drive-through car wash. My local one costs £7 for the cheapest wash, and the hand car wash closest to me starts at £12 for a basic clean. So, it wouldn't take that long before this pressure washer has paid for itself. You've got all the accessories you need to do a better job of it as well.
Once you've had a go at trying to clean your patio by hand, even with harsh patio cleaning chemicals, you'll appreciate how difficult and tiring it is. Swapping out nasty substances and back breaking labour for a powerful pressure washer is a no-brainer in my opinion.
Although my first impression of the Wilks USA RX550i wasn't good, thanks to a useless manual and a few swapped out parts, it was thankfully just a temporary blip. Once I'd fiddled with all the parts and worked out what did what, I found this to be a very useful tool to have around.
The best things about this pressure washer are the massive amounts of hose and the wide variety of nozzles and wands that come with it. There's no getting round the fact that this is a heavy tank of a jet washer though. It's not something I'd want to carry up a flight of stairs, but thanks to its long reach I doubt I'll ever need to test that out.
Overall, I think this is a contender for best pressure washer on the UK market right now because it's really powerful and incredibly quiet. For the money, you can get a lot of work done with just the power of water. I'm off to wash the car again!
Why You Can Trust DIY Garden
At DIY Garden, we believe your trust is earned through our knowledge and transparency. Our team of experts has over 75 years collective experience in the gardening and DIY space. Since the website's creation in 2016 we've tested over 275 products, ensuring our recommendations are based on real experience. We're open about what we've tried and what we've researched, and this is clearly labelled in our product reviews. Every year, we revisit and update our suggestions to include worthy new additions to the market. Our aim is to give you straightforward, honest, and helpful recommendations, so you can confidently choose the best tools and equipment for your projects.
Wilks USA RX550i Pressure Washer Price Comparison
Price History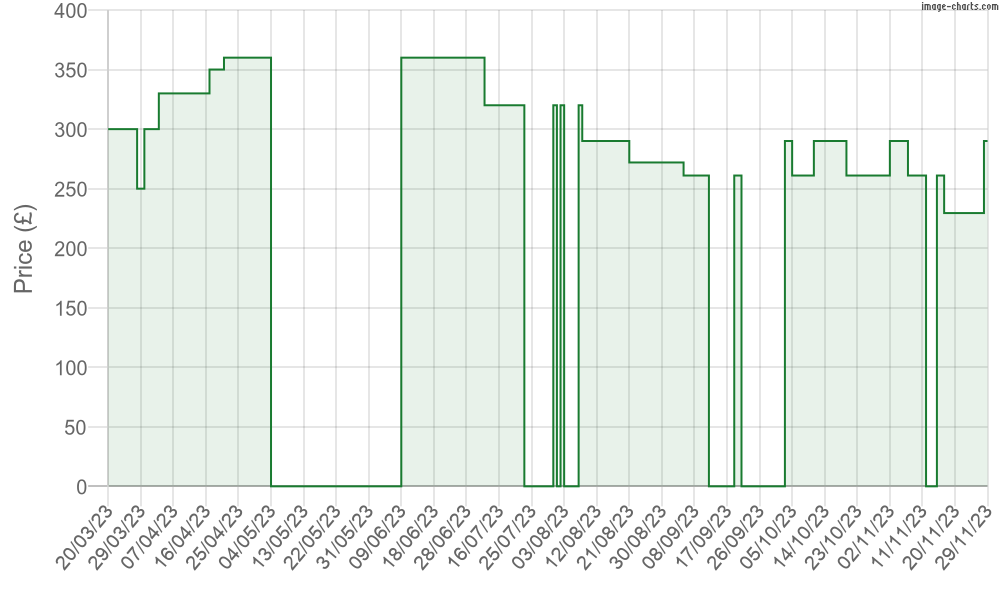 Our Scores:
Ease of Assembly

Design

Power

Ease of Use

Versatility

Value for Money

Overall
Features:
Water Pressure

262 bar

Flow Rate

510 l/h

Power

3800 W

Hose length

8m

Weight

31.5kg
About Your Guides
Harry Duncton is a jack of all trades with experience ranging from carpentry and furniture restoration to tree surgery and gardening. Happiest when found in his shed, he hopes his daughter will find a passion for making things as well.

Sarah's role as chief editor at DIY Garden is about more than just making sure we're literally dotting the i's and crossing the t's (although she's a stickler for detail, so it's certainly about that too!). It's about proof-reading, fact-checking and continuously researching everything we publish, ensuring that it adheres to our

editorial standards

, so that everyone can really get the most out of their green space.
You May Be Interested In These Other Pressure Washer Reviews