Our
WORX WG620E.6 20V Hydroshot Cordless Pressure Washer

Review
Best cordless pressure washer on the market
It's able to generate a lot of power, which is very impressive
It's quiet, easy to assemble, and has good battery life too
B07Y5FF59K
6924328349006
Best cordless pressure washer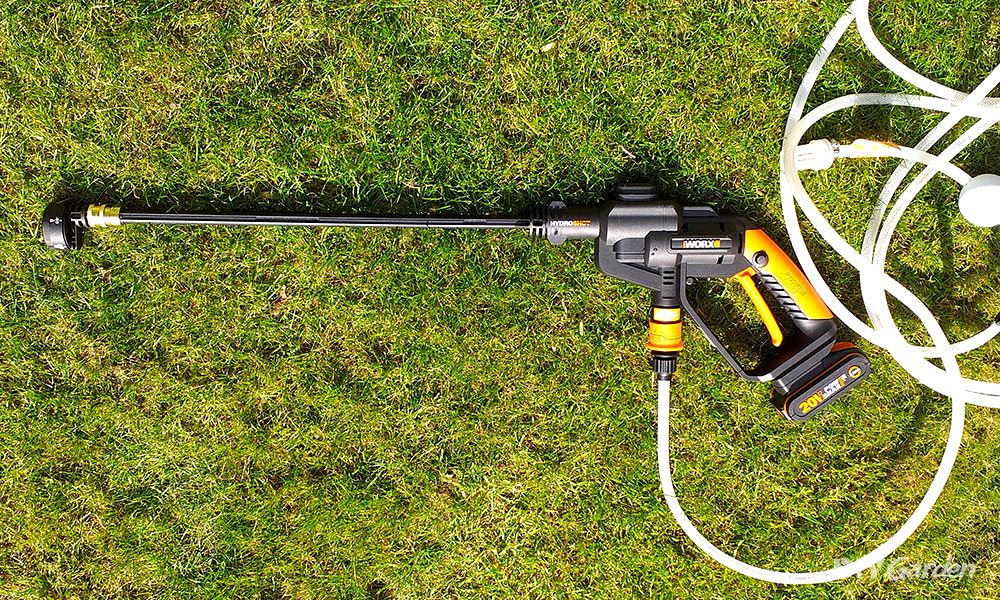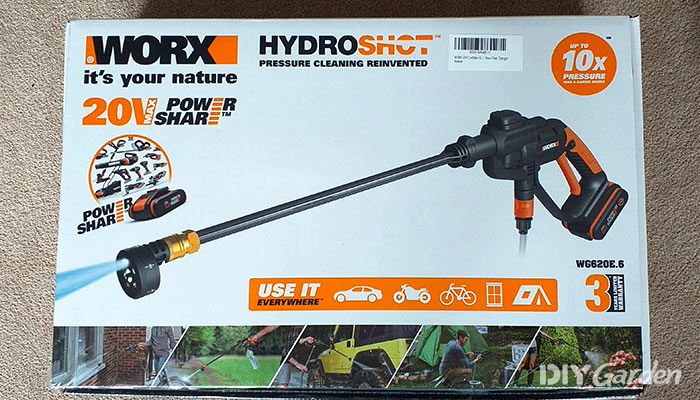 This jet washer looks the business; it's an impressive sight when the box is opened. The orange-and-black design looks professional, and the box is well laid out.
It runs off a 20-volt lithium-ion battery that's part of Worx's 'PowerShare' platform – this means the battery is interchangeable with other 20 V Worx products.
When it comes to power, the max pressure is 320 psi. This equates to around 22 bar, which is pretty standard when compared to the other cordless portable pressure washers I tested. Using the button on the top it's easy to change the pressure. As mentioned, the highest pressure available is 22 bar, and the lowest is approx. 6.5 bar.
As expected, using the higher pressure mode uses up more battery power, but it's particularly handy for tackling caked-on mud and tough stains. It's useful to be able to swap between the higher and lower pressure settings depending on how much grime there is.
The nozzle has several spray angles: 0°, 15°, 25°, and 40°; plus a light 'watering' spray. And, to avoid blockages, the 6-metre-long hose has an integral filter to stop any debris in the water from clogging up the nozzle.
Last but not least, there are a few useful 'extras' included: a detergent bottle, a water-bottle attachment, and a net bag to keep it all together.
All the component parts are of good quality and instill a sense of confidence that the washer is 'money well spent'. Also, when I tested how it would fare if dropped it from shoulder height, nothing broke, so it's definitely quite robust.
Putting it Together
It's very simple to assemble this pressure washer even without looking at the instruction booklet.
Everything fits together easily and there are solid, well-made couplings to prevent leaks.
Once the battery is charged, and the extension lance, nozzle and hose are connected, it's ready to use.
When the trigger is squeezed, water arrives in 15-30 seconds.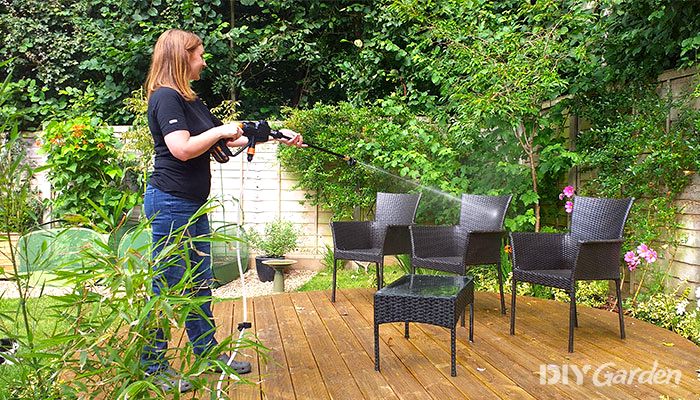 Battery: 3-5 hours charging time for 30 minutes continuous use.
This is double the charging time and double the usage time of the other pressure washers featured here. I used it for an hour on and off, doing lots of different jobs, and the battery was still going strong.
Here's a list of the different items I cleaned using the WORX Hydroshot, and how the washer performed:
Bike: This pressure washer works really well for cleaning bikes. It has just the right variety of nozzle pressures and spray widths to give a really thorough clean.
The pencil jet (0° setting) got into muddy chain links and removed dried-on dog mess from tyres. It even spotlessly cleaned the underside of my mudguards.
Muddy Boots: All cleaned up no problem. I gave my husband's dusty dried-on mud hiking boots a blast and they came up good as new.
Garden Tools: The wheel barrow is sparkling and it was easy to get around all the different parts. The Hydroshot's ergonomics are good and the pipe is more flexible than others.
Pets: This pressure washer isn't suitable for animals. The narrow sprays, which you'd need for cleaning a dog's paws, are way too harsh, and the softer sprays are too wide an angle to be of any use.
I put my hand under the 15° spray and it hurt like hell – definitely not appropriate for washing dirt off mucky pets.
Car: Excellent on the car wheel arches. It cleaned the mud and build-up away using the 0° 'pencil' jet, along with the 15° angle.
I washed over the car on the 60° setting and it cleaned off the recently deceased flies no problem.
The detergent bottle worked well as it applied plenty of detergent to the wheel arches which are always hard to get at.
I wouldn't want to use the pencil jet on paintwork though as it might do some damage. But with the 60° setting it worked well.
Patio Furniture: Beautifully cleaned!
I might have imagined it, but it seems like this has a finer spray than the other washers I tested (comparing them on the same pressure setting).
This means pigeon poo and cobwebs are blasted off without any little bits of annoying residue.
Patio Algae: Not much happened with the wider sprays. The pencil jet cleans in a very narrow path, so I wrote my initials in the long-term algae.
Windows: Washed down and rinsed well with the 40 – 60° spray.
Wheelie bin: It did a great job on my neighbour's bin. It was in a bit of a worse state than mine, so provided the washer with more of a challenge.
The Hydroshot didn't disappoint! It did a thorough job of removing dried-on newspaper, food blobs and that horrid 'bin' smell without getting my hands dirty.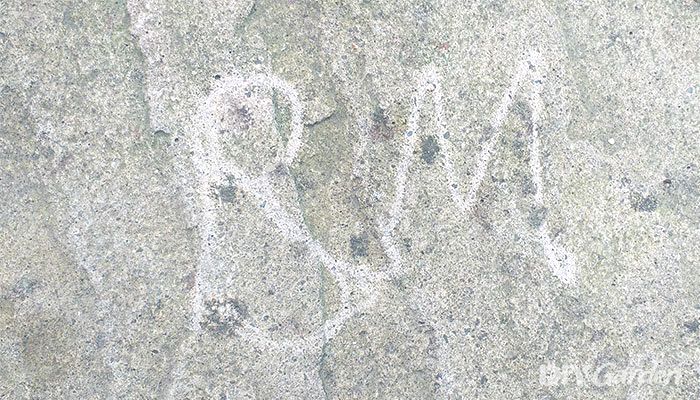 With a 20 V battery, it has plenty of power. The low-pressure setting also works well for less extreme messes.
In the space of half an hour (the time the battery lasts) I realised you can get quite a lot done. You can clean a whole car, or wash down the conservatory windows pretty thoroughly.
It has the longest lasting battery life of all the pressure washers I'm reviewing.
It's certainly one of the quieter pressure washers that I tested, but that isn't to say that it's silent. It's probably the second quietest machine I used, after the Kärcher OC3.
If a quiet machine is important to you (it is to me, I have a lot of wildlife living in my garden) then the WORX Hydroshot seems a pretty good option to go for.
The Hydroshot has a safety button that needs to be depressed before the trigger will work; it is therefore difficult to activate by accident. There's also easily detachable, wash-clean filter, which stops debris getting stuck in the nozzle which could cause problems.
Whilst this tends to be a slightly pricier option, I do feel that it offers good value for money.
I think the cost is justified for the following reasons: it's made out of robust, quality materials (like I said, it didn't break when I dropped it!); the battery power lasts for a good amount of time; the finer jets are very powerful; and it isn't excessively noisy.
If you paid less for a pressure washer, I think you'd have to expect to get less all-round quality.
Best cordless pressure washer on the market
It's able to generate a lot of power, which is very impressive
It's quiet, easy to assemble, and has good battery life too
Why You Can Trust DIY Garden
At DIY Garden, we believe your trust is earned through our knowledge and transparency. Our team of experts has over 75 years collective experience in the gardening and DIY space. Since the website's creation in 2016 we've tested over 275 products, ensuring our recommendations are based on real experience. We're open about what we've tried and what we've researched, and this is clearly labelled in our product reviews. Every year, we revisit and update our suggestions to include worthy new additions to the market. Our aim is to give you straightforward, honest, and helpful recommendations, so you can confidently choose the best tools and equipment for your projects.
Our Scores:
Design

Performance

Power

Noise

Safety

Value for Money

Overall
Features:
Pressure (Bars)

22 bar

Water Flow Rate

2 L/min

Battery Life

15-30 mins

Weight

1.65 kg

Charging Time

5 hours

Spray Speeds

2

Spray Patterns

5

Hose Length

6 m
About Your Guides
Becky Mathews is an enthusiastic gardener that shares her outdoor spaces with nature. Always happy with her hands in the soil, or rescuing wildlife in trouble, she enjoys writing about her environmental successes and failures

Sarah's role as chief editor at DIY Garden is about more than just making sure we're literally dotting the i's and crossing the t's (although she's a stickler for detail, so it's certainly about that too!). It's about proof-reading, fact-checking and continuously researching everything we publish, ensuring that it adheres to our

editorial standards

, so that everyone can really get the most out of their green space.
You May Be Interested In These Other Pressure Washer Reviews