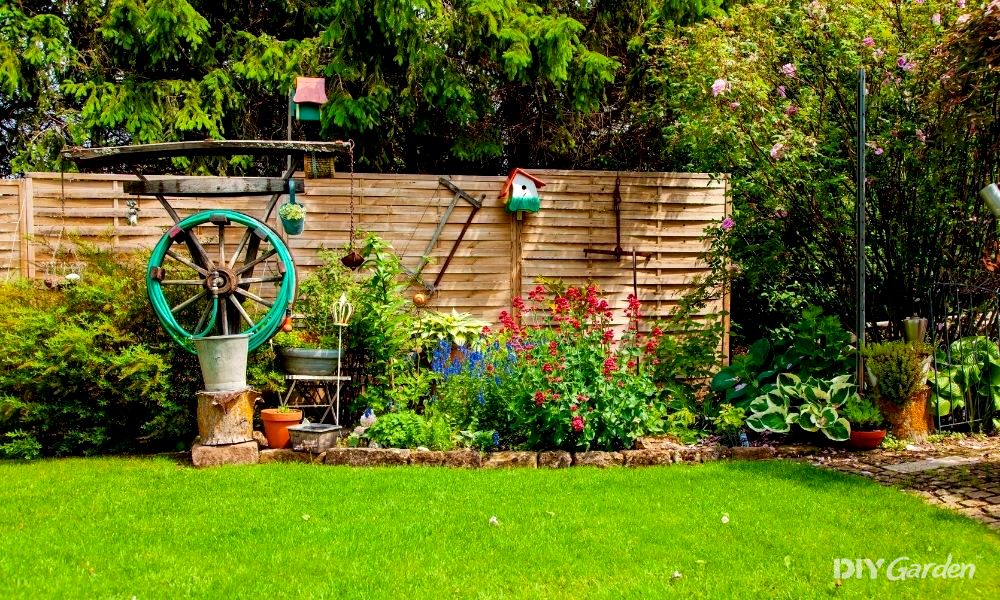 If neighbouring houses overlook your garden, it can be difficult to fully relax outdoors – creating privacy is something many homeowners struggle with.
Fortunately, there are plenty of ways to improve the privacy in your own backyard whilst staying on the right side of your neighbours (by not blocking their sunlight!).
From hedges and tropical plants to low-level garden structures, there are loads of clever ways to block your neighbour's view of your garden whilst keeping your own outdoor space bright and airy.
Need some inspiration? Check out these cheap ways to block your neighbour's view of your garden.
How to Block Out Your Neighbour's View of Your Garden
1. Create a Living Wall
View this post on Instagram
Living walls make excellent outdoor screens that help block your neighbour's view. They also create a sense of serenity and purify the air. The best plants for a living wall include Maidenhair fern, London pride and Japanese spurge.
2. Design a Screen Using Pallets
View this post on Instagram
Add some rustic charm to your backyard with upcycled pallet fencing. Pallets can be used to create outdoor screens surrounding your patio, or to add depth to your existing boundary. This is one of the most affordable garden screening ideas!
After more DIY pallet ideas? Check out our page on upcycled pallet projects.
3. Consider a Frosted Glass Fence
View this post on Instagram
If you're worried about blocking natural light, a frosted glass fence is a great way to screen your garden. This style of fencing is especially useful on balconies, where you want to create privacy without making your outdoor living space feel dark and enclosed.
4. Design a Sunken Garden
Levels can create complete privacy without needing to build your garden fence any higher. Use cascading landscapes to your advantage and create a sunken garden. Add a low profile sofa and coffee table to form a private place without sacrificing sunshine, comfort or style.
5. Focus on High Priority Areas
View this post on Instagram
Although it can be tempting to surround your entire garden with an enormous stone wall or fence, this can result in a 'closed in' feeling that we are all trying to avoid (plus it may upset your neighbours!).
Instead, focus on creating outdoor screens for the most important areas, whether that's your patio, dining area or inflatable hot tub.
6. Identify Private Spots for Seating
Before adding anything extra to your garden, check that you're optimising the space you already have. If your garden is overlooked from the far end, the most private place for seating might be right up against the fence. Rearranging garden furniture could be an easy way to create privacy.
7. Invest in a Pergola
View this post on Instagram
A wooden or metal pergola can create a wonderful extension to your living space. It can also create privacy from the sides and above. Grow climbing plants, hang outdoor curtains or use slats for added privacy. Also, look for louvred roofs for more cover from above.
8. Screen Your Garden With a Leyland Cypress Hedge
View this post on Instagram
This might not be the quickest fix, but Leyland Cypress hedges undoubtedly create a thick and insulated privacy screen. Even in poor soils, a Leyland Cypress hedge can grow up to 4 ft per year. Best of all, these are evergreen shrubs that will create year-round outdoor screens.
Why not check out our page on The Fastest Growing Hedge Plants for some more hedge-related inspiration?
9. Add Bamboo to Your Fence
View this post on Instagram
If you want cheap ways to block your neighbour's view, bamboo reeds are very affordable. You can buy bamboo fencing on a roll, or grow bamboo yourself, and another benefit is it doesn't block too much natural light.
READ NEXT: READ NEXT: Fast Growing Evergreen Trees For Garden Privacy
10. Shield Overlooked Gardens With a Gazebo
View this post on Instagram
If your garden is overlooked from your neighbour's first story windows, a gazebo can make your seating area feel more secluded. Gazebos offer screening from all angles, and they have the added benefit of allowing you to use your garden in any weather!
11. Use Archways for Privacy
View this post on Instagram
A decorative archway can help make your seating area feel more private by blocking sight lines. Archways are charming and elegant, especially when covered with climbing foliage. Tall planters on either side of the archway will help make your outdoor seating space secluded and contained – perfect if your neighbours can usually gawp into your garden from their kitchen window.
12. Strategically Place Outbuildings
View this post on Instagram
A strategically placed summerhouse or shed is a great way to block neighbour's view of your garden. It's best to position outbuildings so that they back onto the boundary which is overlooked. Sheds can be up to 2.5 m high when built within 2 m of your property boundary.
13. Install a Large Parasol
Create a shady and secluded spot with a large parasol. Not only will this protect from prying eyes, it's a great garden screening solution for those who can't install a permanent garden screen. A brightly coloured parasol will add a bohemian vibe to your patio. Plus, don't forget, you can always install more than one!
14. Use Faux Foliage for Maintenance-Free Privacy
View this post on Instagram
If you haven't got time to maintain a living privacy wall, the same effect can be achieved with faux foliage. Creating a vertical garden screen using faux foliage is a maintenance-free way to block your neighbour's view and add some gorgeous greenery to your outdoor space.
15. Extend Your Fence With a Trellis
View this post on Instagram
If you're keen to raise the height of your garden fence but you don't want to sacrifice sunlight, a trellis can be installed on top. This will prevent the closed-in feeling but still give you additional privacy. Ensure the total height of the fence isn't over 2 m tall.
16. Use Hanging Planters to Screen Balconies
Achieving complete privacy on a balcony can be difficult, especially when the area is small. Decorating your balcony with hanging plants and planters is a great idea. It can help block onlookers without disrupting your view.
Check out this page on making the most of your balcony garden for more tips!
17. Bask in the Shelter of Exotic Plants
View this post on Instagram
Relaxing under the canopy of a large-leafed exotic plant will have you feeling like the only person in the world! Exotic plants such as Canna Musifolia, Colocasia and Fatsia Polycarpa can transform your garden into a tropical sanctuary.
18. Create a Privacy Screen With Leftover Wood
View this post on Instagram
Upcycling is all the rage: be good to the planet whilst saving pennies by creating a privacy screen from left over wood. Position it around your seating for instant privacy.
Old room dividers or even unwanted doors can be upcycled to create a charming garden screen.
19. Hang Outdoor Curtains
View this post on Instagram
Create complete privacy with billowing outdoor curtains. These can be hung from your pergola or gazebo, or you can make a frame, to create a secluded spot to relax. Plus, there's the added benefit that outdoor curtains will help block bugs and allergens from your seating area.
20. Conceal Your Patio With an Awning
View this post on Instagram
Create a private and shaded patio area with a garden awning. These can be fixed to the side of your home and extended outwards when needed. At night, they can be retracted back into the wall.
21. Layer Your Plants
View this post on Instagram
Creating tiers of different size plants is one of the best ways to help your garden feel more secluded. While this won't fully block your neighbour's view, varying the sizes of outdoor plants can fill gaps, add depth and block sight lines. A great way to create a more private area without relying on an enormous fence!
22. Create a Container Garden
Create a cosy container garden with lots of potted plants. Potted plants can be used to create a screen around a decking or seating area. If your garden is sloped, raise your planters above the seating for complete privacy.
Check out our Guide to Container Gardening for more ideas!
23. Add Outdoor Screens to Shield Your Patio
Protect your patio with freestanding, or built-in, outdoor screens. Decorative outdoor screens enhance privacy while still allowing light through. Privacy screens are a simple solution that can be used to create partitions and block neighbour's view into your own garden.
24. Relax in a Secluded Arbour
View this post on Instagram
Take refuge from the world outside in a traditional arbour. Providing the perfect spot to sip a coffee and read, these can be tucked away in the most secluded corner of your garden. Decorate with climbers like honeysuckle for additional privacy.
25. Take Advantage of a Sloped Garden
View this post on Instagram
Sloped gardens can be used in your favour to shield your garden from neighbours. Consider using the gradient of your garden to your advantage and create complete privacy by having your seating at the lower end. Even more privacy can be achieved by using low-profile outdoor furniture.
26. Add Depth With Climbing Plants
Fill in any gaps in your fencing with climbing plants. This is a great idea that will restrict your neighbour's view and provide year-round screening without blocking light or spoiling your garden's appearance. Honeysuckle climbers look great on a stone wall, fence or hedge, and they're also very easy to grow and maintain.
For more ideas on which plants to choose, check out this list of The Best Climbing Plants.
27. Snooze in a Day Bed
View this post on Instagram
If you're worried about prying eyes during your afternoon nap, a day bed is a must-have. More private than a traditional garden bed, a daybed usually has a canopy which can be pulled over the top – offering you both shade and privacy while you doze.
28. Opt for a Free-Standing Awning
Free-standing awnings aren't limited to being placed against the wall of your house. They can be strategically placed to stop overlooking neighbours peering down into your garden.
29. Allow Light in With Slatted Wood Fencing
View this post on Instagram
A beautiful choice for urban gardens, slatted panels allow sunlight to pass through while simultaneously preventing your garden from being overlooked. Less space between wooden bars will give you more privacy, whilst bigger gaps will prevent your garden from feeling enclosed.
30. Grow Tall Perennials
View this post on Instagram
Tall plants, like foxgloves and lupins, can shield areas of your garden without blocking the sun. Unlike trees, flowers grow reasonably fast, and foxglove stalks can grow up to 5 ft tall. Blooming plants like these will add depth when placed against a garden boundary. While not the quickest way to block your neighbour's view, this method is both effective and affordable!
Why not check out these other tall plants for screening?
31. Relax in an Egg Chair
View this post on Instagram
The epitome of luxury, an egg chair feels much more private than traditional outdoor furniture. When positioned in a corner, an egg chair will provide you with a secluded spot to sit and relax, so you can forget about nosy neighbours!
Check out our page for all the details on The Best Hanging Rattan Egg Chairs.
FAQs
Do I have a legal right to privacy in my garden?
In the UK, you do have a right to privacy in your garden, but this doesn't mean you can block your neighbour's view without following certain regulations. For example, you can't plant trees that will completely overshadow your neighbour's property. Security cameras are another example: these are only allowed to be set up within your own space and can't look into any neighbouring property.
Is it illegal to block my neighbour's view?
It is perfectly legal to block your neighbour's view of your garden so long as you stick to certain rules. Remember that even if you follow regulations, your neighbours can still complain if your garden is affecting their ability to enjoy their own.
Remember that your garden fence or hedge cannot be over 2 m tall, and your neighbour will also be able to make a complaint if you have one (or more) deciduous or evergreen trees over 2 m tall in your garden. These can block light from your neighbour's property.
If you've got any outbuildings such as a shed, summer house or pergola, there are certain regulations you must follow. The buildings must be under 2.5 m tall if situated within 2 m of your property line.
What are some cheap ways to block my neighbour's view?
The best quick-fix for privacy is an awning or parasol. Free-standing awnings are reasonably cheap and can be placed wherever privacy is most required. Alternatively, several parasols can be used to create an enclosed, protected area.
Adding a bamboo privacy fence, or a trellis on top of an existing fence is also a good quick fix.
For a more permanent option, you could consider a corrugated metal fence. A corrugated metal fence is reasonably cheap, quicker than putting up a standard fence, and also block noise well. They're just not the most attractive.
A final option is to focus on creating privacy in specific areas of the garden, rather than across the garden as a whole. For example, seating areas can easily be made to feel more private with the addition of tall outdoor plants, garden curtains or a structure like a gazebo.