The balance between privacy and prison-like walls is a precarious one. You want to stop your neighbours from staring, but you don't want to feel closed in.
And to sidestep ending up with a gloomy garden, you have to avoid blocking off all the glorious sunlight.
What to do? This article takes you through all the ways you can block out your neighbour's view of your garden. Effective doesn't have to mean expensive; here, you'll also find all the top tips on how to block your neighbour's sight on a budget.
Locate Your Neighbour's Viewpoints
So, go out in your garden. Don't worry, the article will still be here when you get back. Take a look at where your neighbour has a clear view of your garden. Is it from overlooking windows? Is it due to low fencing?
Now, think about what areas of your garden you want to be private. Is it just the seating area, or do you want to benefit from blissful privacy wherever you are?
Where is the direct line of sight to those spots? That's what you want to block, and here are some ways to do it.
How to Block Out Neighbour's View
1. Erect a Fence
There's a simple solution if your neighbours are looking in due to a low fence. Just install a taller fence. This gets rid of their intrusive gaze and gives you the privacy you crave.
Fences have the added bonus of providing security, as they deter unwanted guests from entering. And there are thousands of fence types and styles to choose from!
2. Plant Trees
Fences are an excellent option for garden screening from neighbours, but they block out light if they're too tall. They can also feel restrictive.
Trees are perfect because they'll obstruct your neighbour's view but still allow sunlight to shine through.
Just beware, this can quickly become expensive because you'll have to buy mature trees to get instant privacy. Otherwise, you may be waiting for years!
3. Grow Shrubs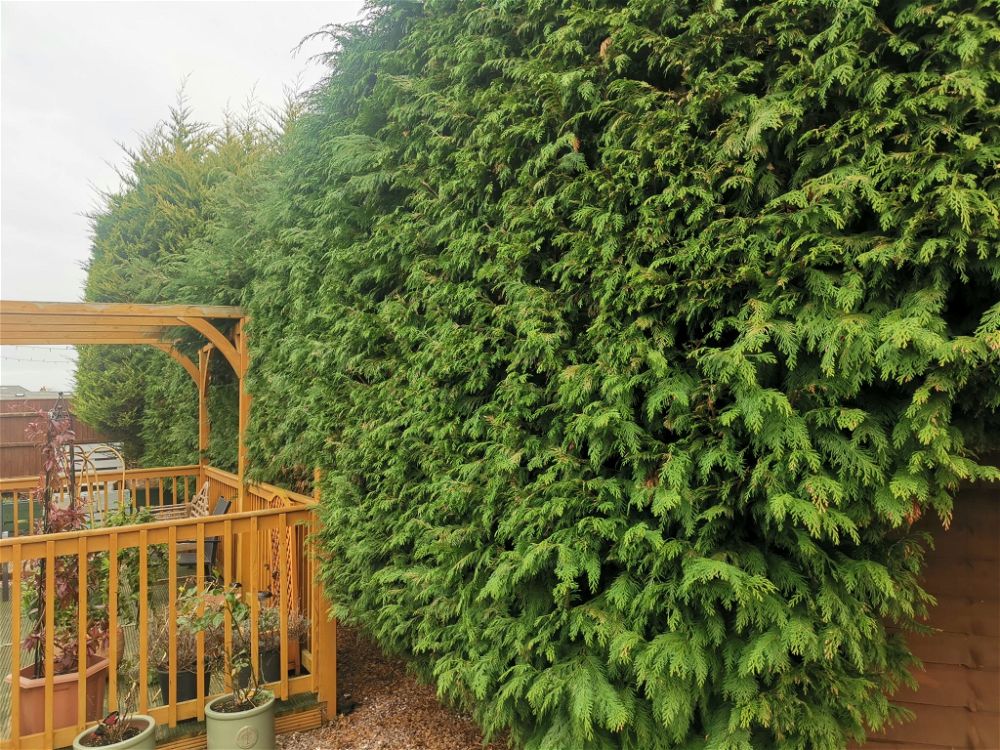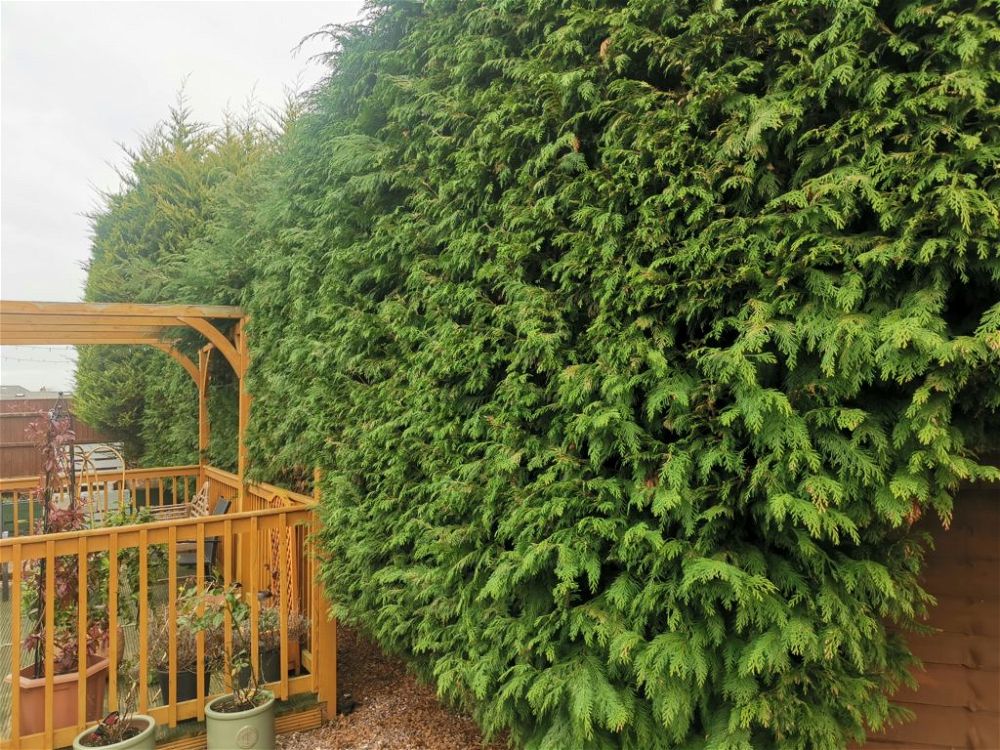 Shrubs are another form of natural barrier providing a reprieve from your neighbour's spying eyes. And these tend to grow quicker than trees!
Hedges don't just have to act like a fence, either. Why not try a topiary by giving your hedge a stylish trim?

4. Install a Trellis
A trellis will block your neighbour's view and retain your garden's open feel in the process. You can keep your trellis as it is or adorn it with beautiful, fast-growing climbers such as Star Jasmine or Honeysuckle.

5. Train a Vine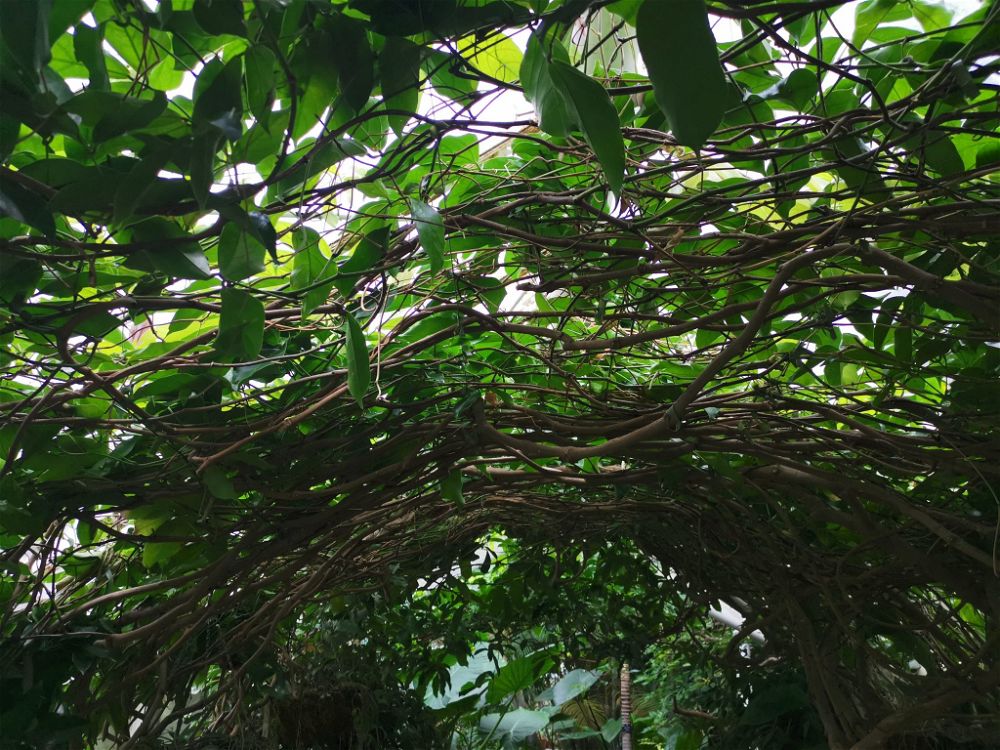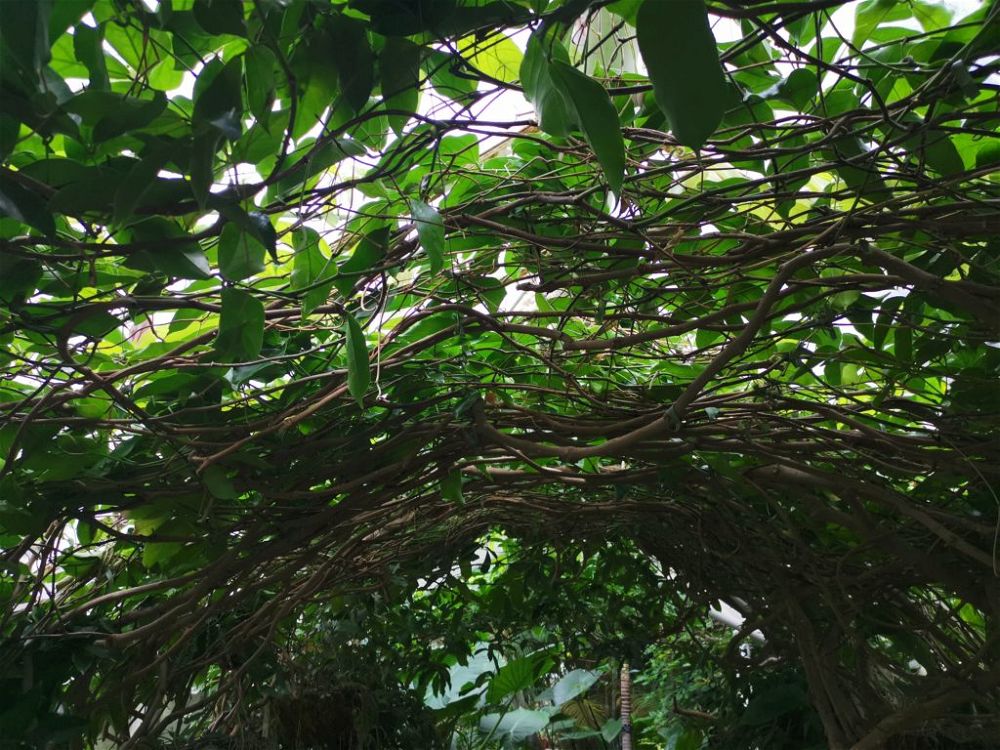 Why not swap a climber for a vine? Growing a vine up your trellis or along your fence can give you that added bit of privacy from onlookers.
Boston Ivy is a great trailing vine option, as it quickly grows, giving your garden a wild, natural look. Or try a Rocktrumpet plant for a more flowery feel.

6. Utilise Structures
A summer house or shed can quickly block out your neighbour's view of your garden. Just think back to where their line of sight is and position your structure right in the way!
If you like this idea, but you'd prefer to be immersed outside, choose a gazebo instead!

7. Give an Arbour a Go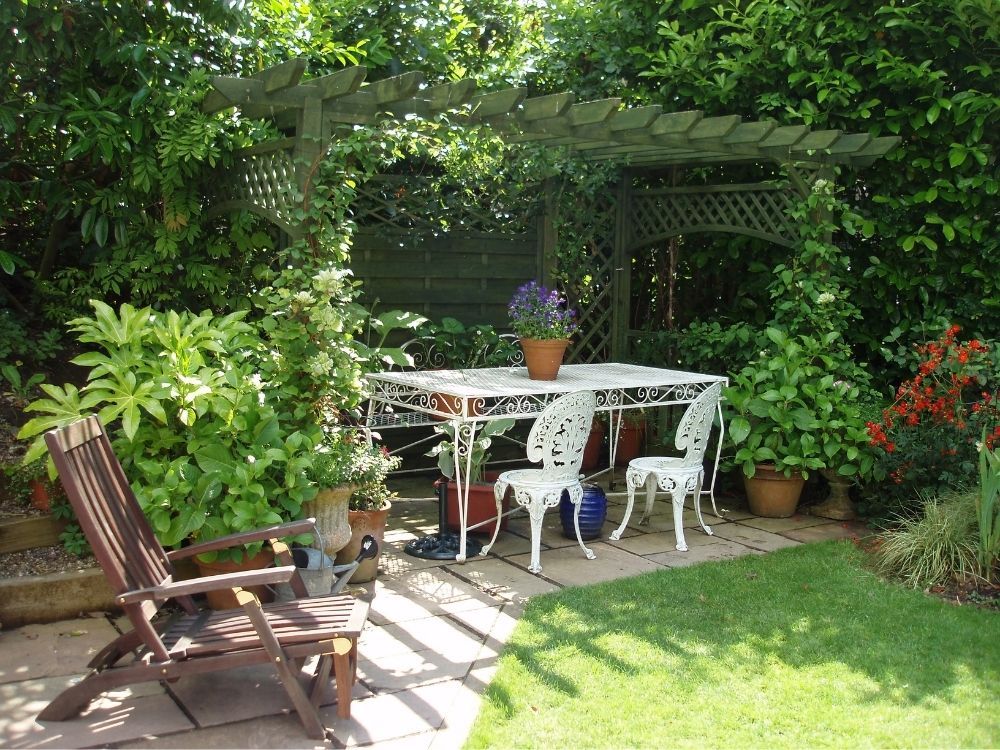 Arbours provide a secluded nook for you to hide away in. Get one with seating and walls for ultimate privacy, or grow climbing plants up the sides. And if you're struggling with eyes overhead, get a roofed arbour.

8. Try Ornamental Panelling
Fence panelling can end up being a bit dull and boring. A decorative alternative is ornamental panelling.
You can get all manner of designs and styles – so what will it be? Bold black, cosy, or bright and colourful?
9. Contain the Space with Curtains
Curtains can transport you to a spa or European beach holiday. They feel like a little piece of luxury brought to your garden. They also stop your neighbour from peering into your seating area!

10. Fix Blinds
If you're not into curtains, how about blinds? Roller blinds give a beautiful bohemian look to any garden. Just attach them to your pergola or gazebo and enjoy sublime serenity.

11. Feature a Parasol or Pergola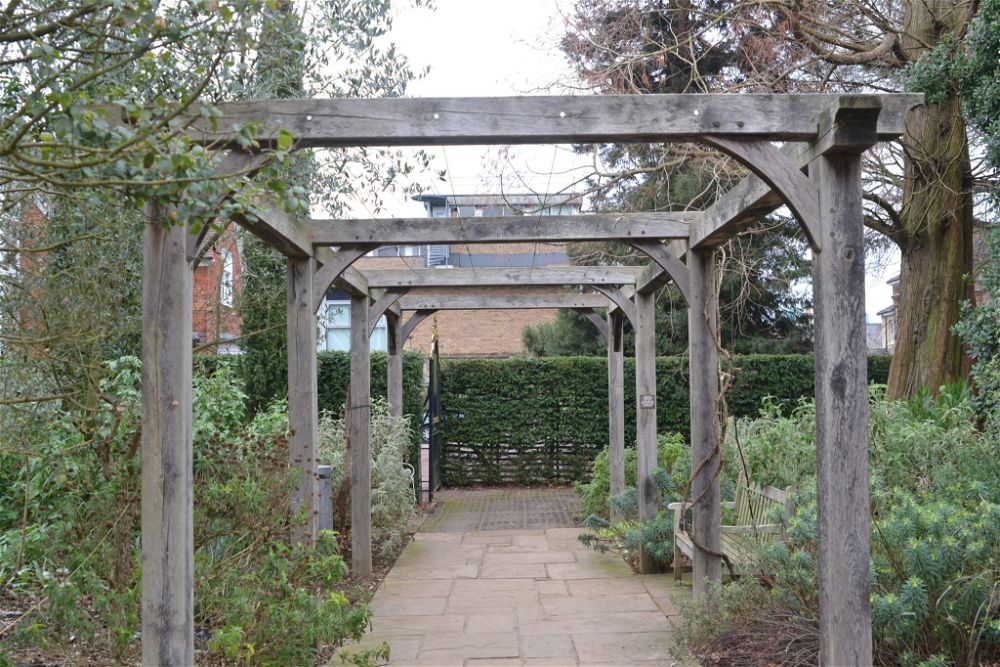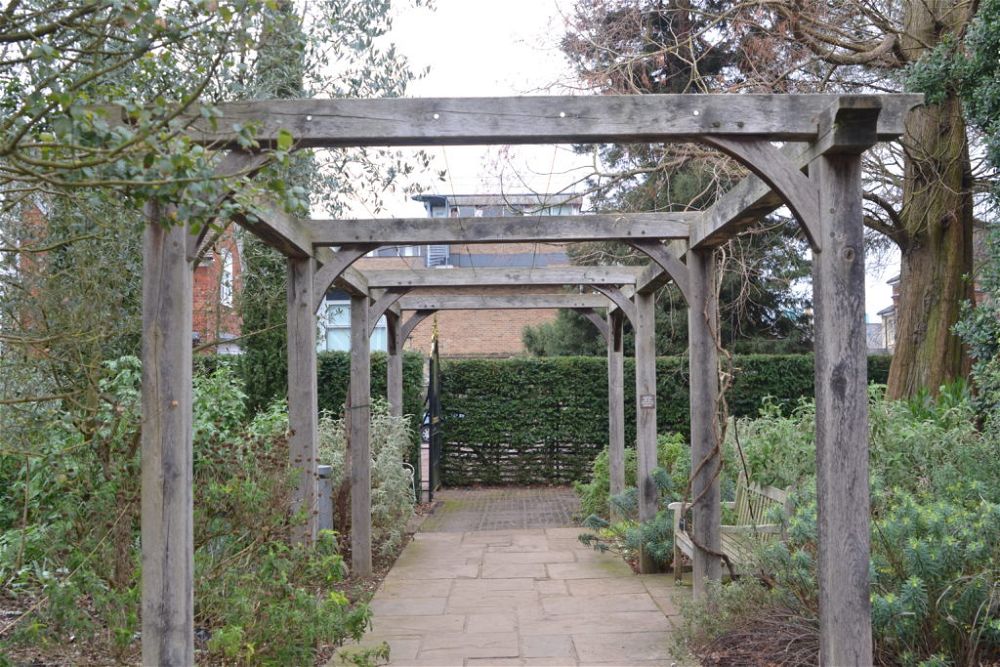 Parasols and pergolas work well when you want privacy from above, such as when your neighbour has overlooking windows.
Protect your seating area from view by putting up a parasol, or swap this for a timber pergola topped with trailing plants for a green addition to your garden.

12. Change the Focal Point
If there's one particular viewpoint you want to shield, why not try a sculpture or a singular panel to make your previously-hated spot an eye-catching focal point?
If you really want to splash the cash, an elaborate water feature is a great option, too. The water even blocks any sound you make, so they can't hear your conversation, either!
13. Grow Tall Grasses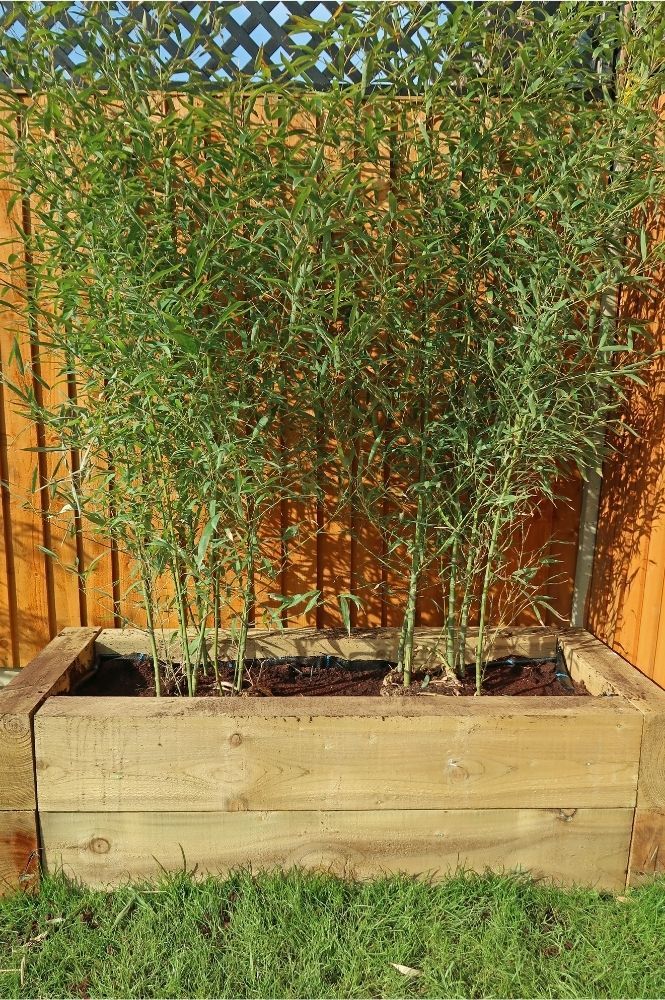 Tall grasses are hardy, resilient plants that require little maintenance. They can also be extremely fast growers, quickly shutting off any view your neighbour previously had of your garden!

14. Extend the Space with Open Panelling
Block panelling does provide a privacy shield, but it can also make your garden seem small. With open panelling, you benefit from added privacy, but you can still see into the other areas of your garden.

15. Install an Awning
If you can't get your neighbours to stop looking into your back window, why not try an awning? These deliver shade on sunny days and completely obstruct your neighbour's view!
Cheap Ways to Block Neighbour's View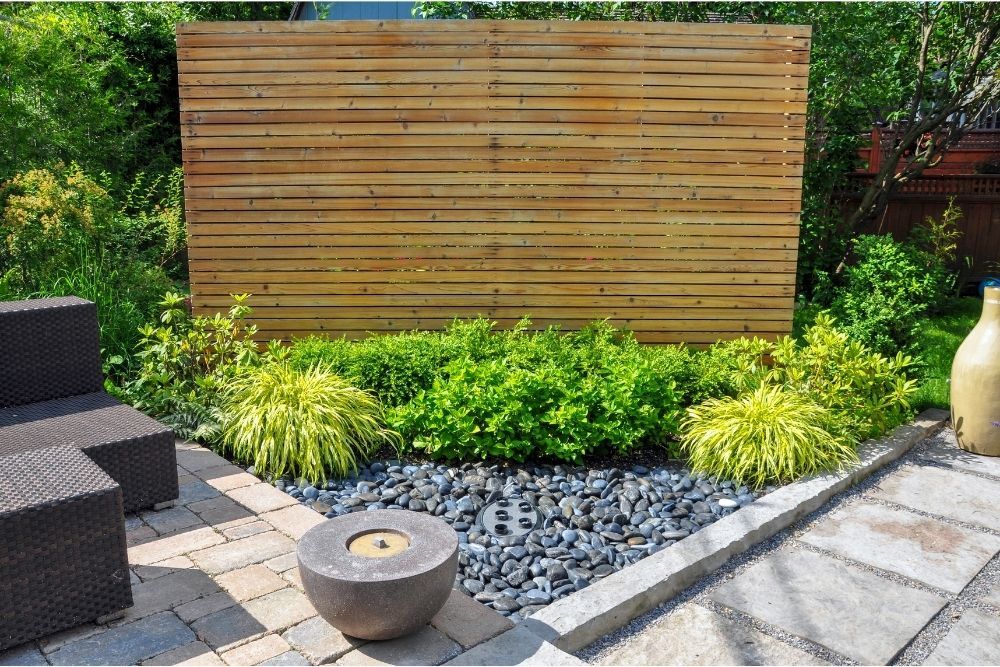 If you looked at the above options and cringed because of the potential cost, relax! There are plenty of cheap ways to block your neighbour's view, too. Let's take a look.

1. Check Your Garden's Boundaries
There may be no need to add anything new into your garden at all; how about some rearranging instead?
Check your garden for anything that already acts as a barrier shielding parts of your garden from view. Could you reposition seating here to optimise privacy?

2. Use Artificial Screening Materials
You can still get the green look on a budget. Faux hedging sheets and fake plants can be picked up at almost any garden centre. And they require no maintenance whatsoever, win-win!
3. Build a DIY Screen
Who said privacy screens have to be expensive? Build your own screen with some cheap PVC piping, a sheet of fabric, and some sturdy pegs. This can also quickly be dismantled if there are times when you don't mind the intrusion.

4. Make a Wattle Wall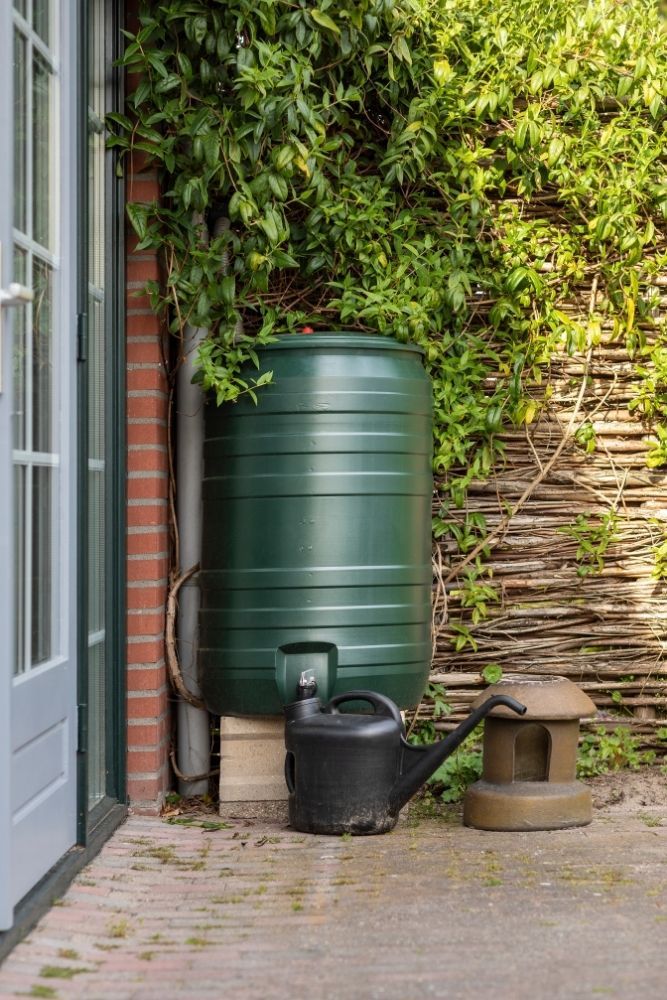 This will take some time but will keep your garden looking oh-so natural. Wattle is created by weaving many thin branches, producing a woven lattice.
This is a technique used worldwide for keeping cattle contained, and it has become popular in cottage gardens.
5. Try Negotiating with Your Neighbour
Is your nosey neighbour a reasonable person? Do you share a relatively good relationship with them, even if they are much too curious for your liking?
If so, why not try talking to them about the issue? They may be willing to add a privacy screen to their overlooking areas. This saves you many pennies!

6. Upcycle Old Materials
You'd be surprised by how handy old materials can be. Have a look around your garden; maybe there's something you could upcycle for a privacy barrier?
Pallets are a great place to start, and you may have these already! You can remove each piece of wood and create your own panelling.
Final Word
There are many ways you can increase your property's privacy. If you want to block everything out, try a fence or hedge.
Give a trellis, parasol or pergola a go if you want to retain the spacious feel of your garden, or go cheap with materials lying around the house!