It's a sunny Friday evening at the end of a long work week and you're longing for a cold beer and some well-deserved respite in your garden. The last thing you want interrupting your peaceful refuge is the sight of your next door neighbour barbecuing in his shorts, right?
In today's world, it seems impossible to maintain any privacy. Urban sprawl and an increased demand for housing means that traditional walled properties have been replaced by open plan living, giving the illusion of bright and uncluttered gardens that, ironically, reduce personal space.
More and more, people are yearning for time when they can withdraw from their busy lifestyles and unwind in their own little secluded patch of serenity, away from prying eyes. Unfortunately, cheap tropical desert islands are in short supply, but with these ideas for screening, you'll be a world away from your neighbours in no time.
Privacy screening is a useful tool, not only to separate your property from your neighbours, but also to divide different areas of your garden. This is extremely effective around patios and outdoor dining areas, and works very well to define different zones in smaller outdoor spaces.
Walls & Fences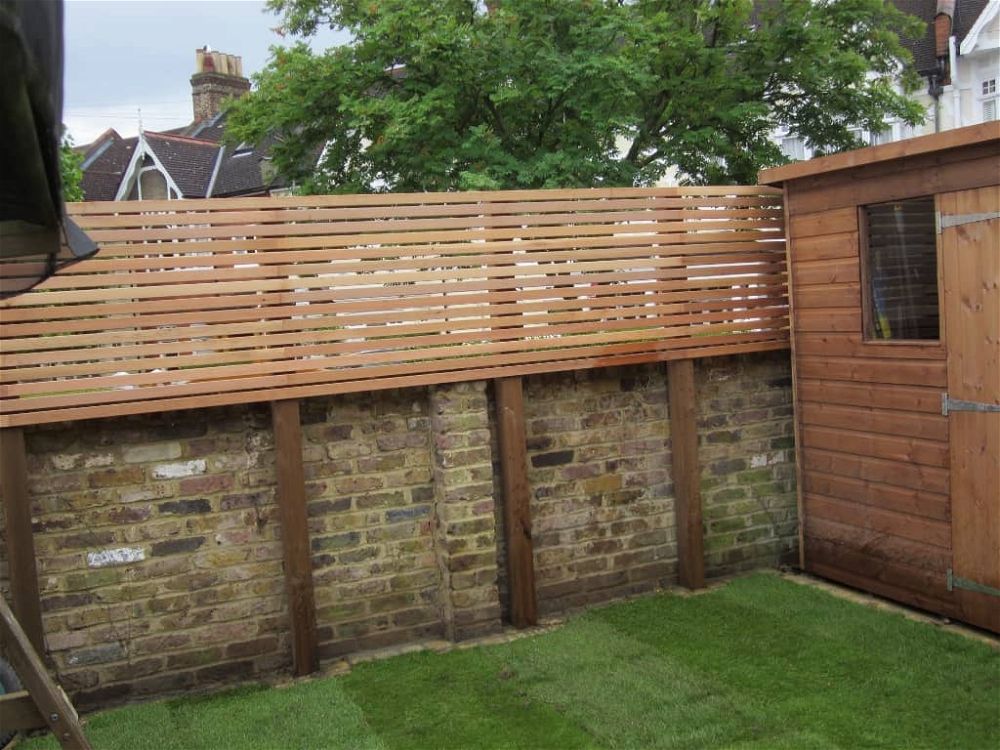 Image source
Walls and fences are the most common partition methods. Solid and durable, they will withstand most weather conditions and don't require much upkeep apart from an occasional coat of paint or creosote. However, some residential areas have restrictions on acceptable height, and in certain cases you may need to apply for planning permission before erecting your barrier.
Walls and fences are functional options but can be expensive to construct and the result is often a dull, harsh façade that looks out of place among bright vibrant plants and shrubs.
Use climbing plants to vivify walls and fences and add a splash of colour, or for a low-maintenance solution, a row of bamboo in large planters is an excellent compromise.
Plant Your Way to Peace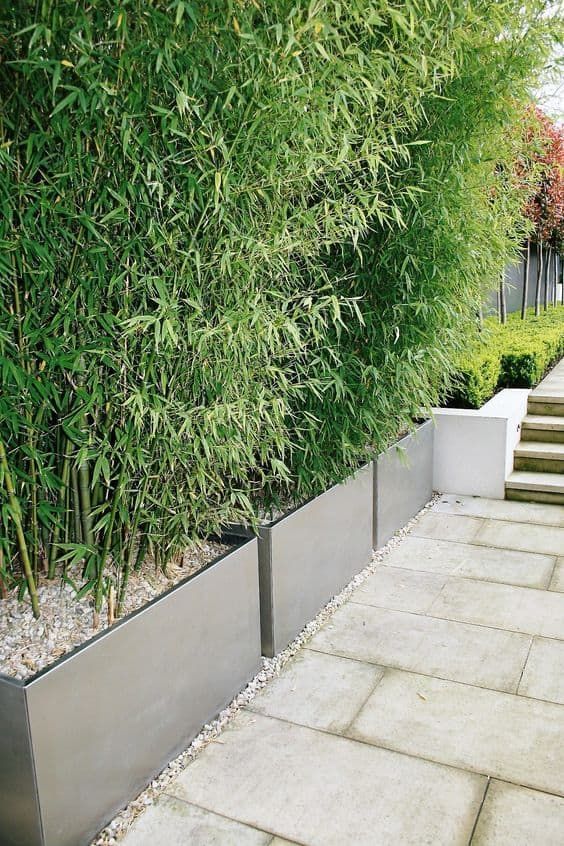 Image source
Build a sense of serenity and security with trees, hedging and bamboo plants. Creating a secluded, tranquil atmosphere, they also make great sound barriers and offer your garden a natural, rustic feel. In areas where there is a restriction on wall and fence height to the front of a house, the addition of a planted screen is a clever way to get around these regulations and gain a few more precious feet of privacy.
Traditionally, hedging and trees were the most popular partitioning methods. However, there are some points to consider before getting your shovel out. Hedging and trees are often slow to grow to the desired height, sometimes taking years. Buying mature specimens is a possibility, but they are more expensive than young saplings and will still not build a fully integrated grown wall. Or check out my article on fast growing trees. Hedging is often bulky and will eat into valuable ground area in small gardens. On top of this, hedging and trees require regular maintenance to keep them manageable and in optimal condition.
Despite these disadvantages, hedging is hardy and if cared for, will reward you with generations of loyal service. Laurel is one of the most popular species of hedge, growing up to 2 feet per year. Laurel plants should generally be spaced 3 feet apart, but for a swifter result, planting 2 feet apart will form a quick screen. Leylandii is also a fantastic rapid grower, but requires regular maintenance to keep it spiralling out of control, and its roots can potentially cause structural damage if planted too close to your house. Leylandii can be so rampant that there is currently legislation in place regarding its growth.
If you're stuck for space, then pleached hornbeam planted in front of a fence or wall will provide an extra few feet of shelter. Italian cypress is another terrific fast growing evergreen tree for compact spaces, it's columnar shape growing upwards without gaining much width.
For concrete yards, bamboo planted in containers will create a division while also breathing life into an otherwise dull space.
Metal Screening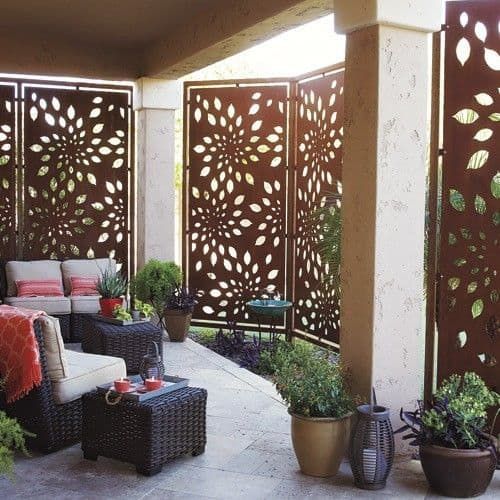 Image source
Parasoliel panels are the hottest garden trend this summer! An instant and inexpensive way of enclosing your outdoor space, these metal screens not only give you the solitude you crave, they also act as an unusual standalone feature.
Decorative patterns are laser cut into the steel for added visual interest, allowing natural light to filter through. Available in all shapes and sizes, these panels are built to last. The idea of metal screening sounds unappealing but choosing a copper or rust coloured partition will give an earthy feel and help it to blend flawlessly with the surrounding vegetation.
Wooden Screening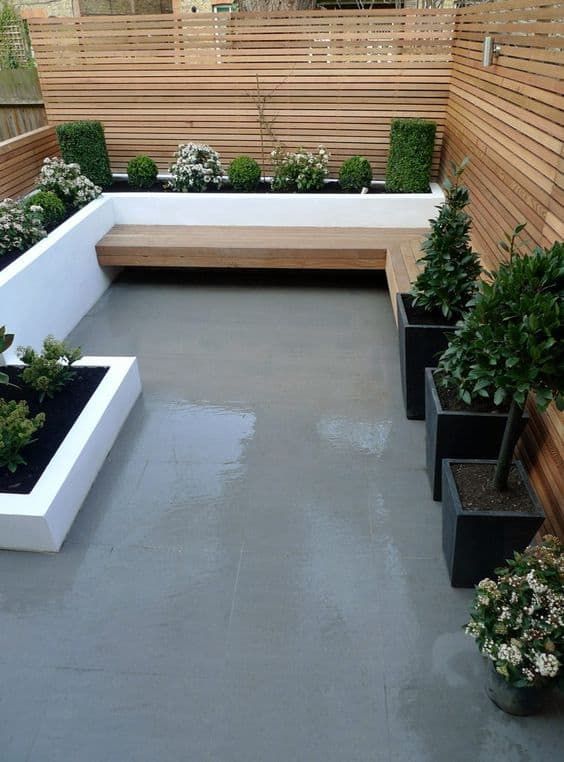 Image source
Bamboo screens and trellis panels make brilliant versatile dividers. Plain trellis is an ingenious way of partitioning small gardens, while still letting light through to give an airy, open feel. It can also be dressed up with creeping plants, vines and even fruit trees.
Why not build a living wall that will not only afford you more privacy, but will transform your garden into a leafy serene retreat? Hang wind chimes, birdboxes and insect hotels from your trellis to attract the local wildlife, or decorate it by painting or covering it with mirrored glass. Indulge your creativity and let your personality shine through!
For the ultimate zen atmosphere, bamboo fencing will shield you from the rat race while bringing you closer to spiritual enlightenment. Although it won't withstand any major force, it has a wonderfully natural appearance and allows that all-important light through. Bamboo panels can be bought from any garden store or if you're handy with your tools, you can make your own quickly and easily.
Upcycled Screening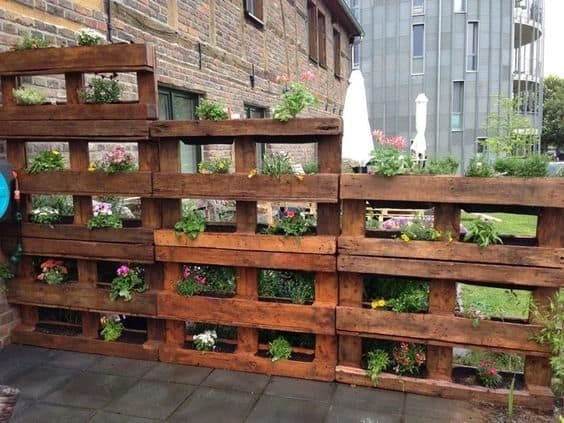 Image source
Think before you dump! Interior doors, old shutters and disused room dividers can be repurposed as garden screens. Paint them up to match the colour scheme of your beds and shrubs. Train climbing plants through them to create striking focal points and features. Upcycling is all about using your creativity and thinking outside the box, and the results are often superb. Have fun with it and experiment!
The trusty old pallet can also be used to build a diy screen. For a quick and simple option, secure small planters to the front of the pallet and fill them with flowers and herbs.
Whether you opt for a man-made structure or a more natural planted screen, you should always take your neighbours into consideration before erecting it. Don't allow your yearning for seclusion to obstruct their property and possibly cause a rift. As the old saying goes, good fences make good neighbours!