How We Test & Rate Products – 276 and Counting!
Our Product Testing Methodology
At DIY Garden, our goal is to provide you with fair, honest and unbiased product recommendations.
Although we spend a lot of time researching products based on their technical specifications, we understand that the real value to you is in us trying and testing them first. By only recommending the very best products, we hope to help you save time, money and a lot of frustration!
Our team of experienced garden and DIY professionals spend thousands of hours testing products. These are products we've physically unboxed, assembled, and used over a sustained period of time.
How We Review Products
We product testing process is broken down into 4 stages:
Research
Purchasing
Testing
Review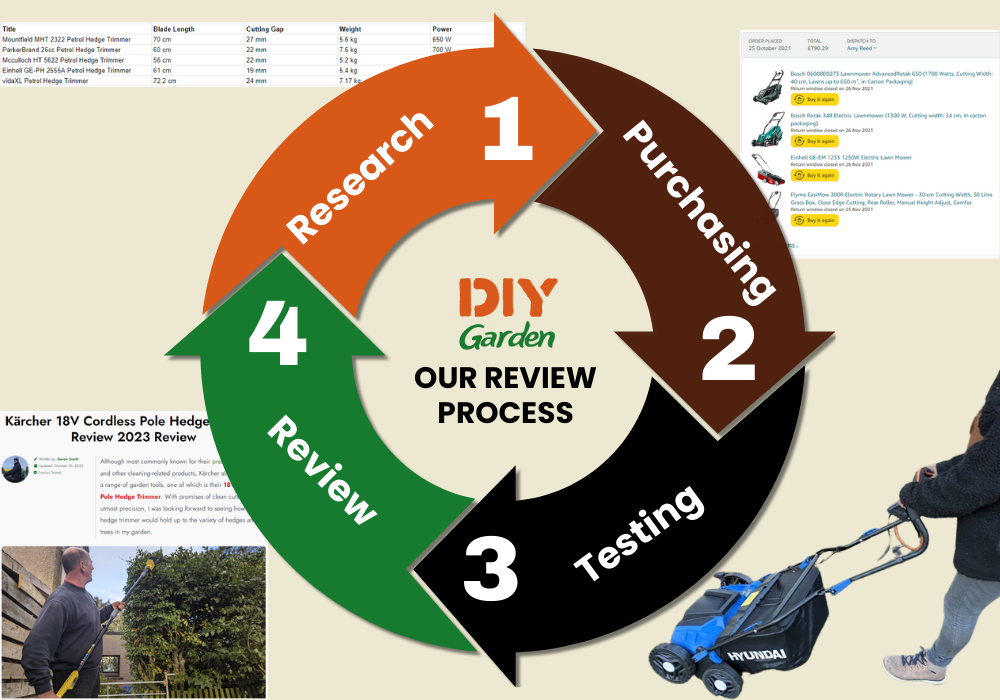 1. Research
Every product recommendation on our site has undergone in-depth research. This involves gathering a list of all possible products within the category. We then document their technical specifications from the manufacturer's website. It's collated into a comparison table, to understand which have the best features on paper. We then gather data on price, warranty, customer popularity and any safety concerns or recalls. Finally, we research anecdotal evidence from customer reviews and forums. Once all of this information is gathered, our team determine which products should then be acquired for testing.
2. Purchasing
We take exactly the same purchasing steps as our readers do. We buy the majority of our products for testing from Amazon.co.uk, checking out as a normal customer would. We also purchase products from local garden centers, hardware stores and other retailers too.
Very occasionally, we have brands reach out to us asking to test their products. We only proceed with accepting a free product if the following criteria are met:
The product has undergone our pre-testing phase and as a team, we agree it has the technical specifications and qualities to warrant being tested.
The manufacturer allows us to keep the product permanently, so that we can apply our long-term testing methodology to it.
The manufacturer understands that we NEVER show any bias towards complimentary products, and we will review it honestly, highlighting both the good and the bad.
3. Testing
All product tests are conducted remotely, by our team members. A lot of our product tests are carried out by Alina and Derek because they live on a farm and there's plenty of space and facilities to conduct thorough analysis. Before unboxing begins, a series of tests are laid out depending on the type of product. For example, cordless lawn mowers will be tested on how long the battery lasts, garden shredders on the maximum diameter they can shred branches, and pole hedge trimmers on how high they can reach. There are multiple tests listed out for each product, and these our scored based on their performance. Details on our scoring can be found below.
4. Review
Once all testing is complete and the results have been analysed the testers will then go ahead and document their findings. The majority of products have single page reviews (like this one), and then a more condensed 'roundup review' is published for all products tested (like this one). We also publish video reviews on our YouTube channel to offer our readers an alternative way of digesting our findings.
Our Commitment to Long Term Testing
We appreciate the gardening and DIY space is fast moving. Each year there are new products on the scene worth testing for our audience. As such, we hold and store our previously tested products for the long-term, or until they're discontinued. This enables us to re-test products in the future when necessary.
Our Core Product Testing Categories
The majority of our product tests are carried out in 10 core product categories. These have been carefully selected because of their technical complexity, relatively high cost and importance to the majority of UK households. By testing these products first and understanding how good they really are, we can help our readers make more informed and better buying decisions.
Our Secondary Product Testing Categories
We also test products in a range of other categories such as Log Splitters, BBQs, Weed Killers, Compost Bins and Garden Tools. These products are often not as complex as those mentioned above, but are still very popular and therefore warrant first-hand experience to determine how they perform. Again, this helps our readers make more informed buying decisions.
Pre-Testing Reviews
Every product recommended on DIY Garden has undergone extensive research and technical analysis. However, some products we review are yet to go through our product testing process. This is because we believe they meet at least one, if not more of the following criteria:
We have enough personal experience within our team to determine which products are best, using the manufacturer's specifications
We have used similar products extensively in the past and can therefore make educated decisions
We feel there aren't sufficient tests the product could go through to determine which are best
The products aren't very popular and real-world testing would only benefit a very small subset of our audience
We plan on testing these products, but there are others in our pipeline of greater importance to our readers
*Any pages that contain recommendations where we haven't yet real-world tested any of the products have been clearly marked as such. This way our audience are well-informed of this before following our advice and clicking any links to retailers.
How We Rate Products
Our extensive testing helps us understand what makes them good, and what their drawbacks are. We then score them out of 5 based on criteria that is relevant to the product category.
Some common factors we consider are:
Ease of assembly
Design
Performance
Ease of Use
Safety
Value for Money
We also take into account how the product performs, relative to it's price point. This helps us more informed recommendations for people with different budgets.
Our Scoring Scale
5 Stars – Excellent
4 Stars – Good
3 Stars – Average
2 Stars – Poor
1 Star – Failed
Updating Scores
With new releases each year, we're continually looking to test new products in our core categories. Once new products have been tested, this sometimes means we have to update the scores of the existing products on a page. This is so that the scores make sense in comparison to the other products on the page.
For example, let's say a product scores 5 Stars in all of its categories and is the best on the market. But the following year, a new product comes along and is considerably better. It no longer makes sense to score the previous leader 5 Stars in every category. All previous scores need to be adjusted to take into account the higher standards within the market.
Overall, we find this to be the best approach so our readers get a clear understanding of which is the best product.
Our Author Ratings
You may have also seen that some of our authors have a number and star next to their name.
This shows how many real-world product tests they've conducted, and the level of experience when it comes to testing tools and equipment.
Authors with a silver star indicate that they are one of our more experienced product testers. To achieve this feat, they'd have to have tested over 25 products.
Authors with a gold star indicate that they are one of our most experienced product testers. To achieve this feat, they'd have to have tested over 50 products.

Got a Question?
Hopefully this helps provide a clear insight into how we test products, and if you have any questions regarding the process, please do get in contact via this page.
We hope you find this page very useful when searching for products and encourage you to bookmark it for future reference and updates.
Products Tested