Are you looking for an easy way to decorate your front or back garden at Christmas? A quick way to add festive cheer to your outdoor space is to hang baubles and ornaments on your garden trees.
If you're wondering what baubles you can hang outside and how to secure them to your outside trees, here's everything you need to know about this Christmas decorating hack.
Can You Hang Baubles Outside?
Hanging baubles outside is a great way to add a festive vibe to your front or back garden. It's perfectly fine to hang normal, indoor baubles outside. Just be mindful that they may break or the colours may fade if you have heavy wind, rain or snow.
While you can hang china decorations on outside trees, they can smash in the wind. The best baubles and ornaments to hang on outside trees are plastic or strong metal ones (preferably ones that won't rust in the rain).
One thing to know about hanging baubles on outside trees is that they may not be visible at night-time. If you want to enjoy your decorated tree when the sun sets, you can paint them with glow in the dark paint. They'll soak up the sunlight during the day and glow brightly in the evenings – just like Christmas lights do!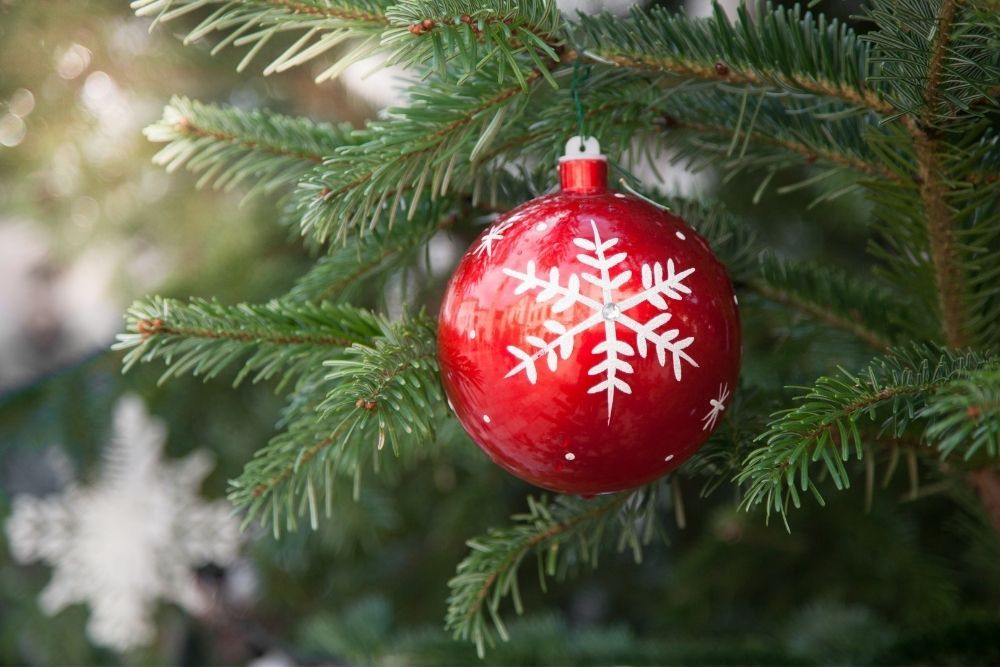 What You'll Need to Hang Christmas Ornaments on Outside Trees
Hanging ornaments on outside trees is relatively simple to do. But it can make a big difference to how festive your front or back garden looks!
Here are the main things you'll need to use if you want to hang baubles and other ornaments on outside trees:
Baubles
A pair of scissors
Cable/zip ties (you can also use thick string)
A fishing line (optional)
Glow in the dark paint (optional)
How to Hang Christmas Balls on an Outdoor Tree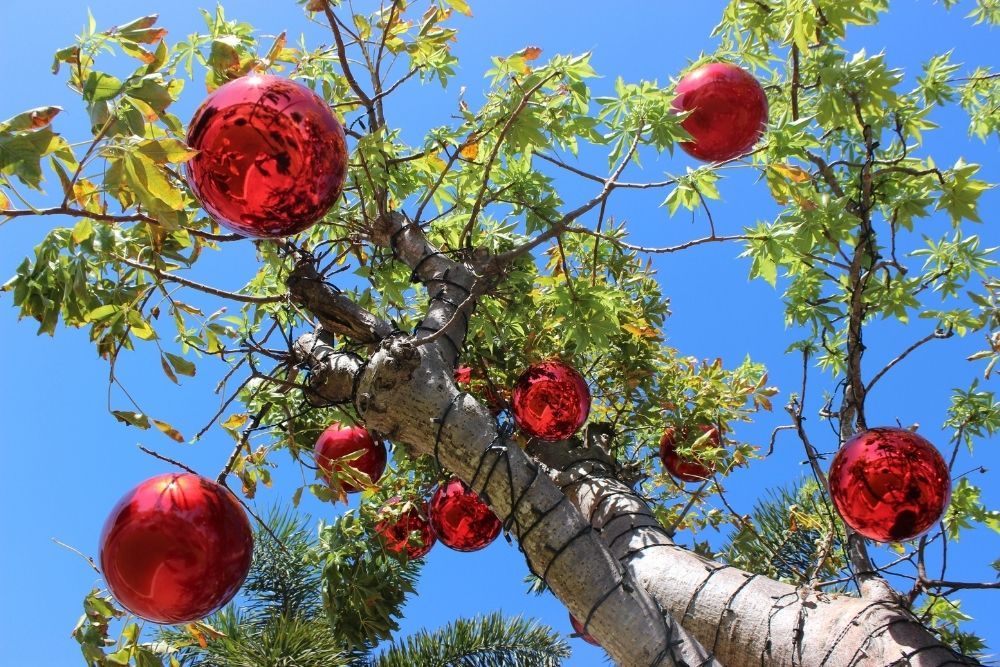 Here's how to hang Christmas balls on an outdoor tree in four simple steps.
1. Choose Your Location
If you're hanging Christmas balls on an outdoor tree, you want to enjoy them! Look out of your windows and take note of where you will see the baubles the most. If you want guests and passers-by to see the decorations, have a look from the pavement outside your house as well.
2. Paint Baubles
If you are painting your baubles with glow in the dark paint, do this before you hang them up on your trees. Choose the colour you'd like to paint them and give them 1-2 coats (or follow the instructions of the paint you have).
3. Replace String
Depending on the type of tree, you can do one of two things to hang your baubles outside. You can either hang them individually or you can secure your baubles to a fishing line that then wraps around your tree.
Whichever method you choose, you'll want to replace the string on your current baubles. This is because the bands that come with indoor baubles are usually very thin. You can hang up your baubles with the existing string, but it's not recommended since it can snap easily.
To keep your Christmas balls secure, replace the bands with thick string or a cable/zip tie. If you're using a fishing line, secure the baubles directly to it in an even pattern using the string or the cable/zip ties. Make sure you've measured your fishing line first so you're certain it fits the tree.
If you're hanging your baubles individually, don't tighten the cable ties too much. You'll want to do this when you hang them up on the tree outside.
4. Hang Them Up Safely
If you're using a fishing line, wrap it evenly around the tree. If you need to use a ladder, always do so safely. If you're hanging your baubles individually, make sure you secure them tightly to the branches.
When it comes to taking down the baubles, you can simply snip the cable ties/string or use your ladder to unwrap the fishing line.
Enjoy the View!
Adding baubles and other Christmas ornaments to your outdoor tree is an easy way to make your front or back garden look festive. It's a great decorating hack that doesn't use any electricity nor does it involve having to install any power points outside. Once you've decorated your outdoor trees, all that's left to do is enjoy the view!