In this shed heater review, I thoroughly compared design, practicality, energy efficiency, safety and value for money for multiple products. After hours of research and testing, I recommend the ProBreeze Mini Ceramic Fan Heater as the best shed heater on the UK market.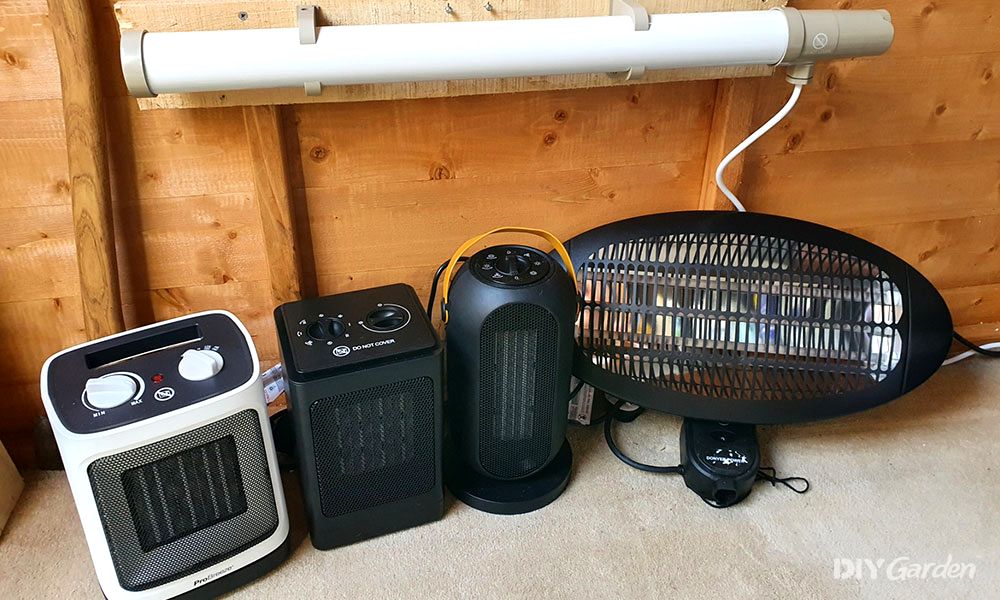 My Top Recommended Shed Heaters
How I Tested
Product Tester:
To find you the best shed heaters available on the market, I tested and studied several different models and rated them based on their overall design, practicality of use, energy efficiency, safety features, and value for the money spent. These are the different factors I examined when testing each of those important elements: 
Design

: To assess the design of the heaters, I tested how fast it heated up the shed to my desired temperature (20°C), how well it spread the heat around by examining the degree of oscillation, and how big of a space the heater could heat. Those that were able to heat large as well as smaller sheds got a better rating. I also looked at the manual controls, whether they had an LED touchscreen and remote control options, and how easy they were to use. I looked at how compact each heater was, as a compact design of around 20 x 20 x 40 cm or less is most suitable for the average user, how aesthetically pleasing the design was, and how noisy the model was. If it was noisy (over 60 decibels), it got a lower rating than quieter models (40 – 45 decibels).  

Practicality

: For practicality, I looked at whether or not the heater can be used as a cooling fan in the summer, allowing for all-season use, how portable it is for use in other buildings or spaces, and how quickly it can heat up a room when it is needed. Those with remote controls for ease of operation were also rated higher. I also looked at how quickly the room became cool when the heater was shut off, which was a concern with infrared models. Finally, those with built-in frost protection to turn on when the temperature dropped below a certain point got a higher rating. 

Energy Efficiency

: For energy efficiency, I looked at whether or not it had a built-in thermostat so that it would shut off when a desired temperature was reached; those without a thermostat got a lower rating. Those with a timer or an automatic shut-off after a certain period of use got a better rating since there is no risk of leaving it on and forgetting about it. I also examined whether it had eco-settings and different wattage output settings (for example, 2000 W and 1000 W settings, or does it have a third setting, or only one setting) and its overall energy use when set to high. 

Safety

: Those with features like anti-tip technology and built-in overheat protection got higher safety ratings than those without. I also looked at how hot the outer surface of the heaters gets in case you need to or accidentally touch them. Models with accidental splash protection from water also got a higher rating sin

ce those would be very useful for damp garden sheds where you might otherwise not want to use a heater.  

Value for Money

: To identify a heater's value for money, I asked the questions: How fast does it produce heat and heat up the entire room, and how big of a room will it heat for the price? Heaters with excellent performance but that were still affordable were given the best ratings. 
My Product Reviews & Opinions
Compare Product Features Here
Use the dropdown to sort the table by the feature that's most important to you.


Our score
Power Source
Power
Heat Settings
Weight
Tips For Buying Shed Heater
For standard sheds, a 2000W heater is sufficient. If the shed is larger than average, or not well insulated, you may benefit from a heater closer to 3000W.
One of the most important things to look out for are adjustable power settings. You want the heater to have at least two heat settings – high and low power – for better control over energy consumption. On top of this, I advise looking for a heater with a thermostat.
Choose a fan heater if you want to quickly heat up a small shed. These are great at circulating air, ensuring your shed stays relatively warm even after turning off the heater. Alternatively, halogen heaters are effective at transferring infrared heat. They'll warm up any objects/people that are touched by their glow. Additionally, halogen heaters can be useful if you have a draughty shed. This is because they're not intended to heat the air.
Although not essential, it's useful to have a heater that has a power cord long enough for your shed space – a 1.5 m cable is pretty good to look out for. Even so, you may still need an extension lead depending on the size of your shed and the positioning of the heater.
Overall, I've chosen the ProBreeze Mini Ceramic Fan Heater as the best shed heater. It's a powerful little heater, suitable for small and medium-sized sheds. It has 'high' and 'low' power settings, as well as a thermostat, allowing you to control energy consumption whilst keeping the shed warm.
Why You Can Trust DIY Garden
At DIY Garden, we believe your trust is earned through our knowledge and transparency. Our team of experts has over 75 years collective experience in the gardening and DIY space. Since the website's creation in 2016 we've tested over 275 products, ensuring our recommendations are based on real experience. We're open about what we've tried and what we've researched, and this is clearly labelled in our product reviews. Every year, we revisit and update our suggestions to include worthy new additions to the market. Our aim is to give you straightforward, honest, and helpful recommendations, so you can confidently choose the best tools and equipment for your projects.
How to Choose The Best Shed Heater
Whether you use your shed as a home office, or want somewhere to warm up after a cold morning gardening, there are plenty of low-cost garden heaters that will keep out the chill. Heaters can also ensure that plants, tools and paint don't freeze during winter.
They don't have to be used exclusively in sheds either, and can be a valuable addition to garages, summerhouses, conservatories and greenhouses as well.
READ NEXT: How to Insulate a Shed
There are several types of space heater to choose from, including: electric radiators, fan heaters, halogen heaters, tubular heaters, propane gas heaters and paraffin heaters. Many of these are very efficient and don't cost too much to run.
A paraffin heater or gas heater will allow you to heat a shed or greenhouse to keep it above freezing even if you don't have an electricity supply to the building.
Finding the best shed heater will depend what you need it for, so the following information should help you work out which one to choose:
The Different Types of Heater
There are several different types of garden heater. They all have different attributes and varying advantages and disadvantages. Here are the different styles of space heater available and what they're best used for:
Electric Heaters
You'll be spoilt for choice when it comes to choosing an electric space heater as there are loads of styles available.
Electric Radiators
Electric radiators are generally considered to be the most energy efficient type of convection heater. Heaters that use convection warm up the air in a room, instead of just heating up surfaces via radiant heat whilst they're on. As a result, when using an electric radiator, the overall temperature of the room will increase.
Even when the radiator is switched off, the room will remain warm for some time (depending on how draughty it is) which helps these heaters be energy efficient. This isn't the case with space heaters that use radiant heat.
Electric radiators are a safe, versatile and cost-effective way to provide heat in a variety of situations.
Fan Heaters
An electric fan heater provide instant heat and can warm up a small room relatively quickly. They're good at circulating air, and work continuously to heat cold air and create warm air.
However, an electric fan heater is more power hungry than a lot of other space heaters. The electric fan tends to use a lot of energy, and so does heating the air. This means they are more suitable for quick blasts of heat for short periods, rather than keeping a room warm all day.
If you buy an electric fan heater, you should be careful about power consumption – it can be tempting to leave them on for long periods which can wind up being quite expensive. Look for an electric fan heater with a thermostat to help keep costs down; these will save on power by turning off when the desired temperature is reached.
READ NEXT: The Best Fan Heaters
Halogen Heaters
These heaters use halogen bulbs to provide heat. They're infrared heaters and are often used in outdoor pub areas. Smaller versions are available for home heating.
They use radiant heat, which means they heat surfaces instead of the air. As a result, you will feel warm when sitting in the glow of infrared heaters, but cooler as soon as they're turned off.
A halogen heater is generally relatively cheap to run, and if they come with two or more bulbs, you can choose how many bulbs to have on, and therefore how much power to use. This gives you control over how much it will cost to run your halogen heater.
Often, halogen bulb heaters come with some built-in safety features, so this is something to look out for. For example, many will cut out if they are tipped over or fall.
Infrared heaters with halogen bulbs require some maintenance because the bulbs will need to be replaced from time to time. However, halogen bulbs are generally long lasting.
READ NEXT: The Best Halogen Heaters
Low-Energy Tube Heaters
If you simply want to keep a room or outbuilding frost free, then a low-energy tube heater is a good option to consider.
These are designed to provide steady heat and protect rooms from frost, condensation and damp. If you need to keep your greenhouse, shed or garage frost free then these are a simple, low-cost solution.
They are best used in relatively small sheds, no bigger than 2.4 x 1.8 m (8 x 6 ft); however, more than one tube heater can be used if you have a larger space.
They will not make the shed feel particularly warm, and probably won't turn it into a comfortable environment to work in during winter, but they can protect plants from frost and stop tools from being damaged by freezing temperatures.
Paraffin Heaters
Paraffin heaters are the best garden heaters to buy if there is no electricity supply available.
Paraffin heaters are also referred to as kerosene heaters; paraffin is a slightly more refined form of kerosene.
Paraffin/kerosene heaters are cheap to buy, simple to use and reasonably cost-effective to run. Modern paraffin heaters are also relatively safe to use, though you should follow all instructions and safety guidelines provided by the manufacturer carefully. One drawback is that you will have to buy, store and safely dispose of paraffin, which can be an extra fuss for those who aren't used to doing so.
Paying an electrician to install an outside mains power supply in the garden might be worth considering. This can make many aspects of gardening easier, not just heating. As well as giving you the option to use electric heating outside, an outdoor socket can be useful for running power tools and lighting as well.
Gas Heaters
Gas powered heaters run on either butane or propane gas. Butane and propane heaters are another good option if there is no electricity supply. However, gas heaters shouldn't be used in enclosed areas so they are not as effective for keeping a shed warm (particularly whilst you are working in it).
You'll need to keep a window or door open for ventilation with butane/propane heaters which can negate the reasons for using a space heater in the first place.
Convection or Radiation Heaters
Not all heaters go about heating in the same way.
Heaters that use 'convection' heat up the air around the heater. Once that air is warm, it rises pushes cooler air out of the way. This process creates a cycle of warm air moving through the space.
Heaters that heat via convection: electric radiators, fan heaters, tube heaters and paraffin heaters.
On the other hand, heaters that use 'radiation' do not focus on warming up the air. Instead, they use direct heat to warm any objects in front of them.
Heaters that heat via radiation: halogen heaters.
As a result, convection heaters are generally better for heating a room, whereas radiation heaters are better at providing quick blasts of direct heat when you feel you need it.
READ NEXT: The Best Wall Mounted Panel Heaters
Safety Precautions
Be aware that there are some health concerns connected with using a paraffin heater in an enclosed space. Mainly because, through their process of fuel burning, they release pollutants such as carbon monoxide, nitrogen oxides and sulphur dioxide. As a result, it is generally recommended to use these heaters with a window open.
Avoid leaving heaters switched on and unattended as much as possible. Although many of the best heaters have safety functions, generally meaning they will turn off if they start to overheat, you can never be too careful when it comes to a heating device.
Shed Heater FAQs
I need to keep my garage frost free to ensure my freezer and dehumidifier work properly. What type of heat source would you recommend?
To keep an area frost free, low-energy tube heaters are a good option to consider. Electric tube heaters are an efficient heating option that cost very little to run and are capable of keeping small spaces, like garages, above 0°C. Depending on the size of your space, you may need to buy two. This is often the case in areas that are bigger than 2.4 x 1.8 m (8 x 6 ft). These electric heaters can be wall mounted or floor standing, and you can also buy protective metal housings for them – this can be a good idea if there is a chance that children or pets will come near them.
What type of heater should I use to keep my rabbit house warm over winter?
There are a couple of options that will work in this situation. You should bring the rabbit hutch inside, into either a shed or garage and work on heating the space to keep the hutch warm.
Make sure that whichever heating option you choose is safe to use in an enclosed space. The first option to consider is a low energy tube heater that will keep the room frost free. Low energy electric heaters will keep the temperature inside a small shed above 0°C even when the temperature outside is below freezing. Metal housings can be bought for these to make sure pets and children can't get too close to them – they get quite hot to the touch.
The other option is to use an oil-free radiator with a frost-free setting which will also be safe and economical to run.
Will the tools in my shed be damaged by freezing conditions over winter?
Damp, freezing conditions can have an adverse effect on a range of items in your shed. Paints can freeze, metal tools can rust, and plastic parts can become brittle. In addition, the grease and other lubricants in power tools can freeze as well.
You only need to keep the shed just above freezing to prevent this damage, so should look for a heater that will protect the space from frost. Low-energy electric heaters are normally the most cost-efficient and effective way to do this.
Before using any tools, you should allow them to warm up to room temperature.