In this waterproof garden storage box review, I thoroughly compared design, sturdiness, capacity, assembly ease and value for money for multiple products. After hours of research and testing, I recommend the Keter Store It Out Pro Outdoor Storage Box as the best waterproof garden storage box on the UK market.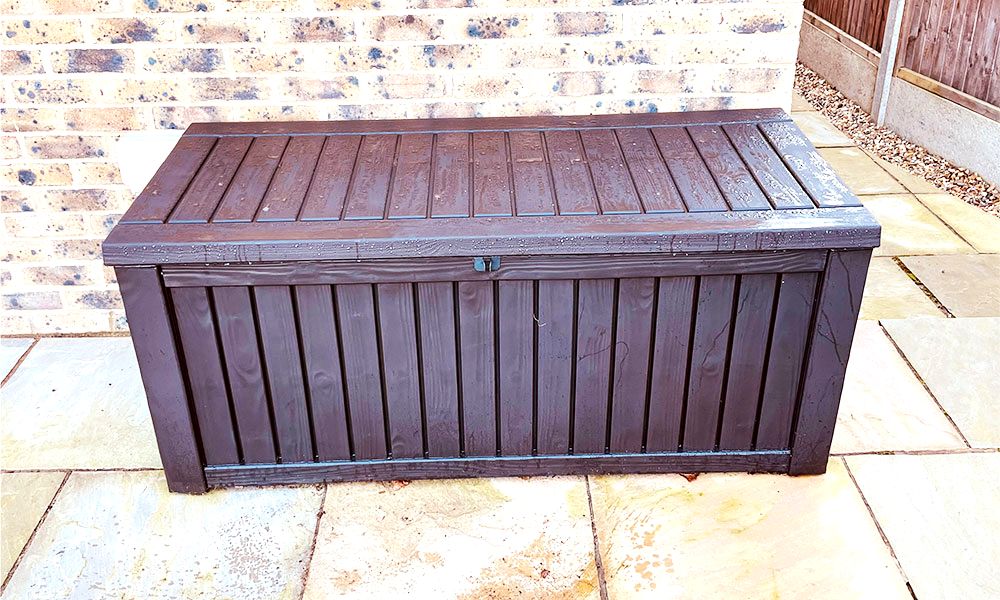 My Top Recommended Waterproof Garden Storage Boxes
My Product Reviews & Opinions
Compare Product Features Here
Use the dropdown to sort the table by the feature that's most important to you.


Our score
Capacity
Dimensions
Lockable?
Piston Assisted?
Weight
Tips For Buying a Waterproof Garden Storage Box
Although wooden storage boxes are pleasing on the eye, I recommend choosing storage boxes made from plastic resin. These are the best garden storage boxes if you want a waterproof design. They're also excellent all-rounders: easy to maintain, affordable and not susceptible to rot.
When it comes to size, large, 500L storage boxes are best for big gardens

. These will also be useful for storing long items like gardening tools. If you choose a large storage box,

look for a model that doubles up as seating as these better utilise garden space. (See here for the best garden storage benches).
Smaller 200L boxes will fit nicely in small and medium gardens

without being obtrusive. They're the prime choice for storing small items like children's toys, blankets and cushions.

The best waterproof garden storage box will be completely weatherproof. It will have a watertight seal

to protect its contents even in torrential rain. And don't forget sun damage –

make sure the plastic is UV-resistant

. This won't crack, fade or become brittle in the sun.

Other features worth looking out for are wheels and handles, as you can relocate these outdoor storage boxes with minimal hassle.
Why You Can Trust DIY Garden
At DIY Garden, we believe your trust is earned through our knowledge and transparency. Our team of experts has over 75 years collective experience in the gardening and DIY space. Since the website's creation in 2016 we've tested over 275 products, ensuring our recommendations are based on real experience. We're open about what we've tried and what we've researched, and this is clearly labelled in our product reviews. Every year, we revisit and update our suggestions to include worthy new additions to the market. Our aim is to give you straightforward, honest, and helpful recommendations, so you can confidently choose the best tools and equipment for your projects.
How to Choose The Best Waterproof Garden Storage Box
A lack of garden storage can be a frustrating issue.
Waterproof garden storage boxes offer a great way to make the most of every square metre of your garden. These boxes come available in a range of sizes and can be used to store cushions, blankets, and even tools and machinery if you've not got a shed or garage!
Here are a few things to consider when it comes to buying the best outdoor storage box for your needs.
Choosing the Best Material
All the boxes I've recommended are made from plastic, which boasts a number of advantages over wood:
It often comes in a style that is made to resemble wood – style for a fraction of the price!
It is much more affordable than wood and suits most budgets
It's usually very lightweight so easy to move from place to place
It's maintenance-free, unlike wood which will need to be treated every so often
It's weatherproof, waterproof and difficult to damage
Some more expensive boxes may have UV protection so won't fade if exposed to strong sunlight
Wood is a more traditional choice but tends to lack some of the more practical aspects of plastic:
It offers a timeless and classic design
Needs to be treated yearly to ensure the wood doesn't rot
Storage compartment may not be fully watertight (hence why plastic is usually used for waterproof boxes)
Will start to show weather damage over the years
Can be very heavy
Overall, if you're after a watertight option, the best garden storage boxes will tend to be made from plastic.
Design
Plastic garden storage boxes generally have a simple design, but they come available in a range of finishes and colours. The more expensive boxes can double up as garden furniture, working as benches or coffee tables, while cheaper boxes will be smaller and likely not last as long.
Things to look out for design-wise include easy access (so either a removable lid or a gas lifted lid) and ease of movement. Most garden storage boxes have wheels and handles so they can be relocated with minimal fuss. Elevated feet will help keep the contents dry, but this isn't completely necessary if the box is fully waterproof.
Those with an assisted lid are easier for those with limited mobility or strength to use, and there's no concerns that a child (or adult!) will accidentally trap their fingers as the box shuts.
Weatherproofing
The very best waterproof garden storage boxes will not only be made from waterproof materials, they'll also have a watertight seal.
If your box is going to be stored outside, it's important that it's resistant to all weather conditions, not just rain. Be careful with very lightweight plastic boxes because, if left empty, they may blow away in the wind. If your box is especially small, I recommend either weighing it down with heavy items inside, or keeping it in a more sheltered area.
Choose a UV-resistant box if it's going to be kept in a sunny location. Worst case, the sun will make the plastic box brittle and prone to cracking. A less-dramatic but still disappointing effect is that the colour may start to fade over time.
Waterproof Garden Storage Box FAQs
Can I keep cushions in my garden storage box?
Provided your box is completely watertight, you should be able to store garden furniture cushions and blankets inside it. Even if you think your box is fully watertight, I recommend not leaving textile items inside it for long periods of time as they may still get damp.
It's also best to allow any textile items to fully dry before putting them inside the box.