Our
Ryobi RLT1825M20S One+18V Cordless Grass Strimmer

Review

Although this strimmer falls short on thick weeds, it does also have a lot going for it. Its multiple features, edging function, and adjustable design make it versatile and comfortable to use. If you go with a larger battery, this is a strimmer that would suit all garden sizes, so long as grass and light weeds are all you need to strim.

B08XWDKJGJ

4892210197023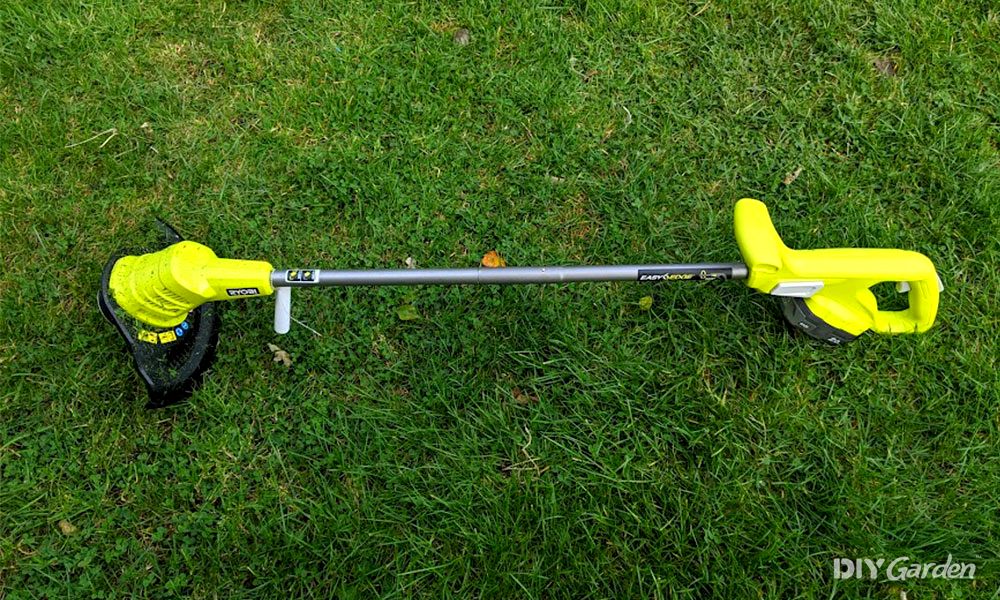 A popular Japanese manufacturer of garden tools and machinery, Ryobi has a reputation of producing high-quality products at mid-range prices. At first glance, their RLT1825M20S One+ 18V Cordless Grass Strimmer seems to fit these specs – it's affordable yet offers some intriguing features, so I had high hopes for this product.
Read our product testing methodology here.
How I Tested
Since the Ryobi One+ strimmer is designed to be used on both grass and weeds, I wanted to thoroughly test it on both. Lawn borders provided the grass, while various overgrown areas around my farm meant that I had plenty of weeds at my disposal. These ranged from a light scattering of willowherb and nettles around mature fruit trees to thick patches of brambles, docks, and thistles.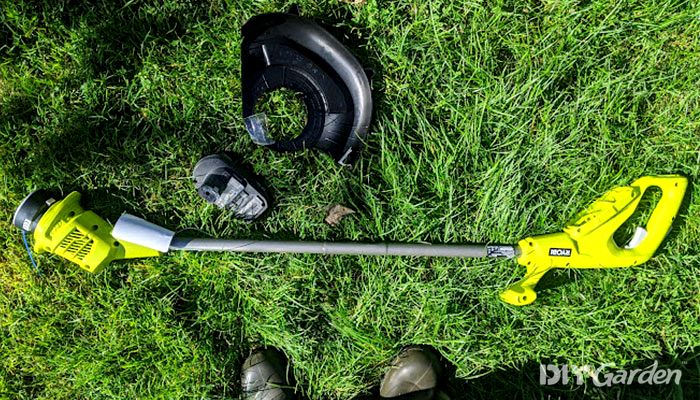 I always appreciate a good instruction manual when assembling garden tools and machines, but I wasn't too impressed with Ryobi's offering for this strimmer. Fortunately, having put together a few different strimmers by now, it wasn't too difficult to figure out what needed to be done.
I started by clicking the shaft together, which was easy enough. Then, the guard needs to be attached with four screws. This was more than the other strimmers I tested – their guards simply clicked in, or just needed one screw, but it only took a couple of minutes to do.
Since the cable spool is already inserted, all that needed to be done after that was insert the battery, after which the strimmer turned on without any problems. All in all, assembly took about 10 minutes.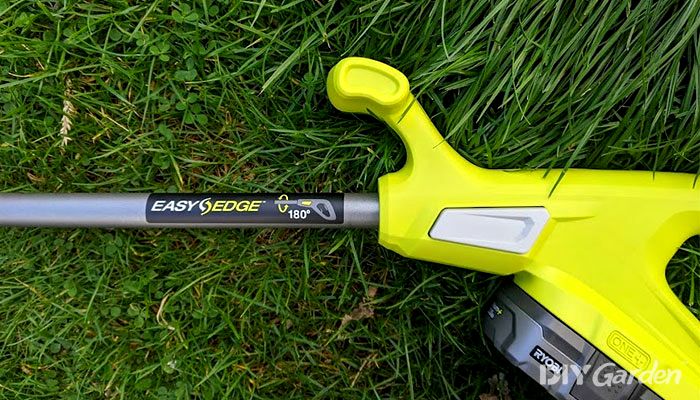 Visually, this strimmer fits in well with the rest of Ryobi's branding. It has the same aesthetic, and displays the brand's signature green and grey colour palette.
According to Ryobi, the strimmer is designed with both an adjustable handle and an adjustable shaft. This not only means that people of varying heights can comfortably use the strimmer, but it also enables you to reach the tricker sections of a garden. That said, I couldn't work out how to actually adjust the shaft, and, as I mentioned, the instruction manual was pretty much useless. I checked one of Ryobi's instructional videos online and the strimmer I had didn't have the same shaft as the same-model strimmer that they were using, so I'm not quite sure what happened there!
Putting that aside, the strimmer's auto-feed line feature appealed to me, as did its adjustable cutting width – you can choose either 25cm or 30cm. This was an interesting feature that I hadn't come across with the other strimmers I tested – it should hopefully make the strimmer even more versatile in the garden.
If all of those adjustable features weren't enough, the strimmer's cutting head can be adjusted too, with three positions to choose from. Just like many of its competitors, Ryobi's cordless strimmer has been designed with an edging function, along with a button on the side that allows you to switch between its edging and strimming modes.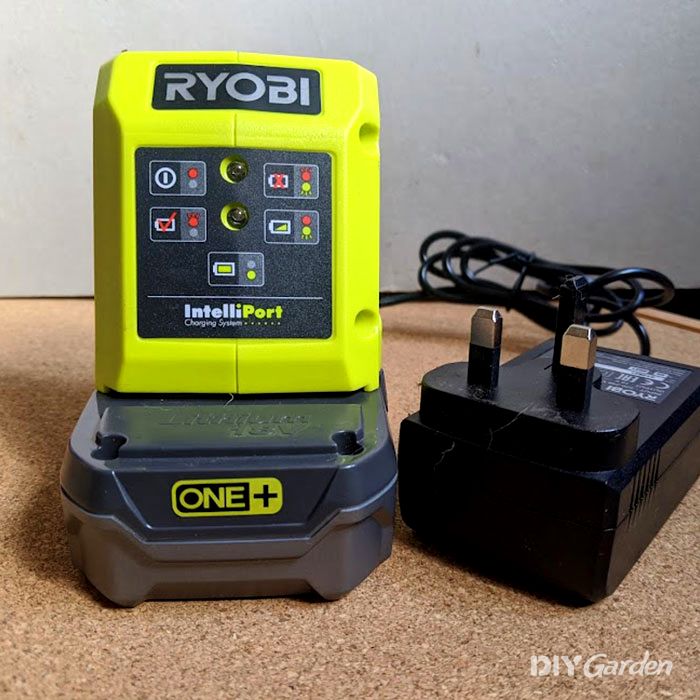 My Ryobi One+ cordless strimmer came with a 2.0Ah battery, but not all of them do, so it's worth checking this when making your purchase if you don't already own a Ryobi battery. For those of you who have another battery-powered Ryobi One+ tool or machine, then that battery should work fine with this strimmer.
Charging
It took about an hour to charge this strimmer's 2.0Ah battery. This is pretty much on par with most of the other strimmer batteries I've used.
Battery Life
When it comes to battery sizes, 2.0Ah isn't particularly big, so it didn't surprise me too much that this strimmer only ran for about 20 minutes before its power noticeably declined. After this, it would work in short 5-second spurts for a while before it fully died.
Unfortunately, unlike the Bosch Advance Cut 36 and Einhell GC-CT cordless strimmers I tested, this one doesn't have an LED indicator to tell you how much battery life is left. While you could easily glance at your watch to see when your 20 minutes is up, this only really works if you're using it for a straight 20-minute stretch. If you're going to be taking it around different parts of your garden and using it for several shorter periods, it'll probably leave you with a half-finished job, unless you have a backup battery.

Strimmer
I started by testing the Ryobi One+ cordless strimmer on short grass, and it happily whizzed through this. I then moved onto long grass around the edges of my lawn, and while it managed to cut this back, it didn't seem to be quite as powerful as some of the other strimmers that I tested, such as the WORX GT 3.0.
Light weeds weren't a problem for this strimmer – it allowed me to quickly tidy up a few areas that had gotten slightly out of control. However, once I moved over to the thicker and wilder weeds, the strimmer felt like much more of an effort to use. It was able to take down nettles, but struggled with docks and brambles.
While I can see how the adjustable cutting width could be useful for some, it wasn't something that I personally needed. I ended up keeping the strimmer on 30cm while testing it.
Edger
Although my lawn doesn't really have defined edges, I still gave the edging function a try. I appreciated how easy it was to switch between the strimming and edging modes, and loved the finish that the edger left – neat, clean, and beautifully defined.
At 2.3kg, this is a pretty lightweight strimmer. Its weight, coupled with all of its adjustable design features, makes this a very comfortable strimmer to use. I was able to use it for the full 20 minutes of battery life without feeling as though my arms were going to fall off.
If you went with a larger battery and could therefore use the strimmer for a few hours straight, you may start to feel the ache after a while. Unfortunately, this strimmer doesn't have any harness attachments – you'll just have to take regular breaks instead!
The strimmer's auto-feed line feature makes life much more convenient. I have to say that it was one of the best line feed systems of all the strimmers I tested. You simply hold the trigger down lightly and it will release more line. This means that you don't end up wasting too much cable, compared to strimmers that release a bit of line each and every time you release the trigger (such as the Bosch Advanced Grass Cut 36).
The Ryobi One+ cordless strimmer isn't a particularly loud machine. Of course, just like every strimmer, it makes a noise, but I didn't feel the need to wear ear defenders when using it for short stretches.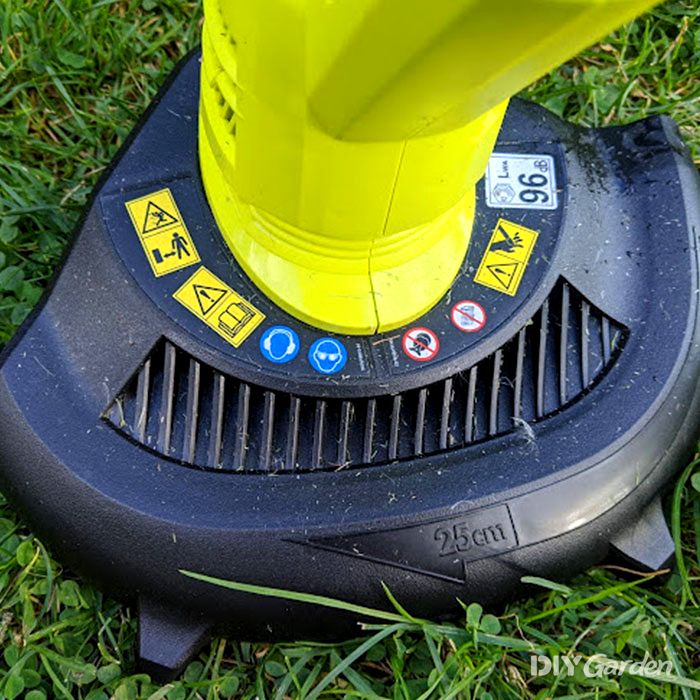 In order to turn this strimmer on, there's a button that you need to press when pulling the trigger. This prevents anyone from accidentally hitting the trigger and sending the cable spinning, which, in my opinion, is a very important safety feature.
This strimmer is also covered in several safety stickers that point out potential hazards. While I can see the reasoning behind this, I didn't find them to be particularly useful.
Just like with pretty much every other strimmer out there, this one has a guard that blocks debris from flying up towards your face. As mentioned, this guard was held in place with four screws. Although this felt tedious when assembling the product, it did make the guard feel a little sturdier compared to some of the other strimmers I tested.
Keeping in mind how adjustable this strimmer is and the sheer number of features it offers, it comes in at quite a reasonable price. That said, its inability to cope with thick weeds does let it down in a big way.
If grass and light weeds are all you intend to strim, then yes, the Ryobi One+ Cordless Grass Strimmer does offer value for money. However, if you want a strimmer that can be used on dense and overgrown vegetation, this one won't cut it (literally) – your money would be better spent elsewhere. In this case, I would recommend going for the WORX GT 3.0 cordless strimmer.
When considering value, it's also worth noting that this strimmer does come with a three-year warranty, as well as a full reel of line. Once this runs out, you'll be able to replace it with any generic 1.6mm strimmer line, rather than being limited to Ryobi's own-brand line.
Although this strimmer falls short on thick weeds, it does also have a lot going for it. Its multiple features, edging function, and adjustable design make it versatile and comfortable to use. If you go with a larger battery, this is a strimmer that would suit all garden sizes, so long as grass and light weeds are all you need to strim.
Why You Can Trust DIY Garden
At DIY Garden, we believe your trust is earned through our knowledge and transparency. Our team of experts has over 75 years collective experience in the gardening and DIY space. Since the website's creation in 2016 we've tested over 275 products, ensuring our recommendations are based on real experience. We're open about what we've tried and what we've researched, and this is clearly labelled in our product reviews. Every year, we revisit and update our suggestions to include worthy new additions to the market. Our aim is to give you straightforward, honest, and helpful recommendations, so you can confidently choose the best tools and equipment for your projects.
Ryobi RLT1825M20S One+18V Cordless Grass Strimmer Price Comparison
Price History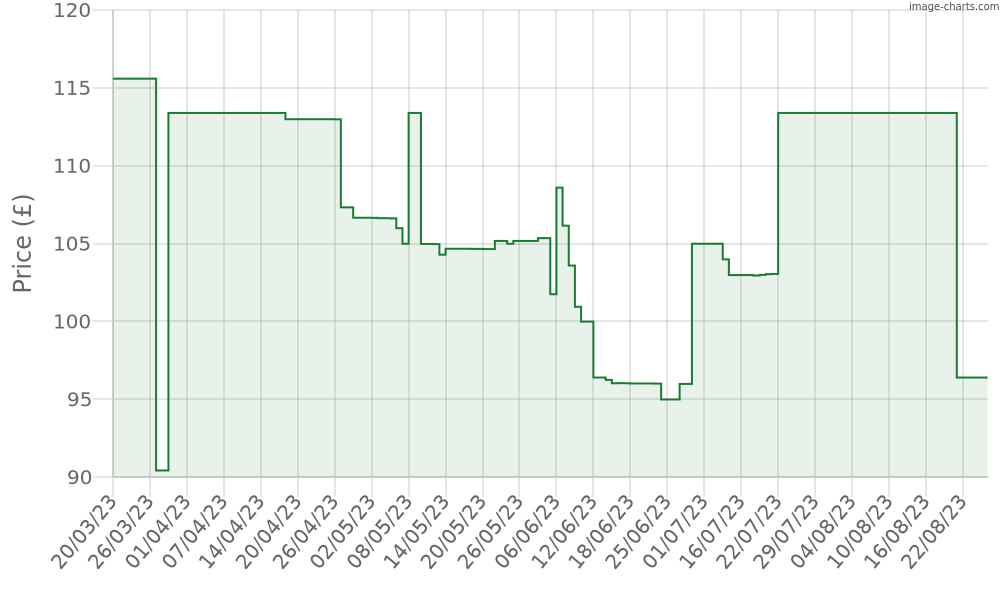 Our Scores:
Ease of Assembly

Design

Battery

Performance

Ease of Use

Noise

Safety

Value for Money

Overall
Features:
Weight

2.1kg

Cutting Width

25cm

Battery Included

Yes

Charging Time

60 mins

Battery Life

20 mins

Power

18V

Noise

94.2dB

Telescopic Shaft

Yes
About Your Guides
Alina Jumabhoy has spent several years learning about, and experimenting with, different organic growing techniques at various gardens and farms around the country. Fuelled by her quest for self-sufficiency, she's now putting that information to good use on her own rural farm.

Sarah's role as chief editor at DIY Garden is about more than just making sure we're literally dotting the i's and crossing the t's (although she's a stickler for detail, so it's certainly about that too!). It's about proof-reading, fact-checking and continuously researching everything we publish, ensuring that it adheres to our

editorial standards

, so that everyone can really get the most out of their green space.
You May Be Interested In These Other Strimmer Reviews