Our
WORX GT 3.0 Cordless Grass Strimmer

Review

The WORX GT 3.0 exceeded my expectations. It was able to cope with pretty much all types of vegetation, although thicker weeds did take noticeably longer to work through. However, if you plan on regularly strimming, you won't have such thick and mature weeds to deal with. 

This is a strimmer that I would most definitely recommend, for both small and large gardens. That said, if you do have a large garden, you'd need to purchase a larger battery to give you a longer run time. Battery aside, this is a very capable strimmer – it's highly versatile and feels as though it's built to last. 

B07KSZTMVP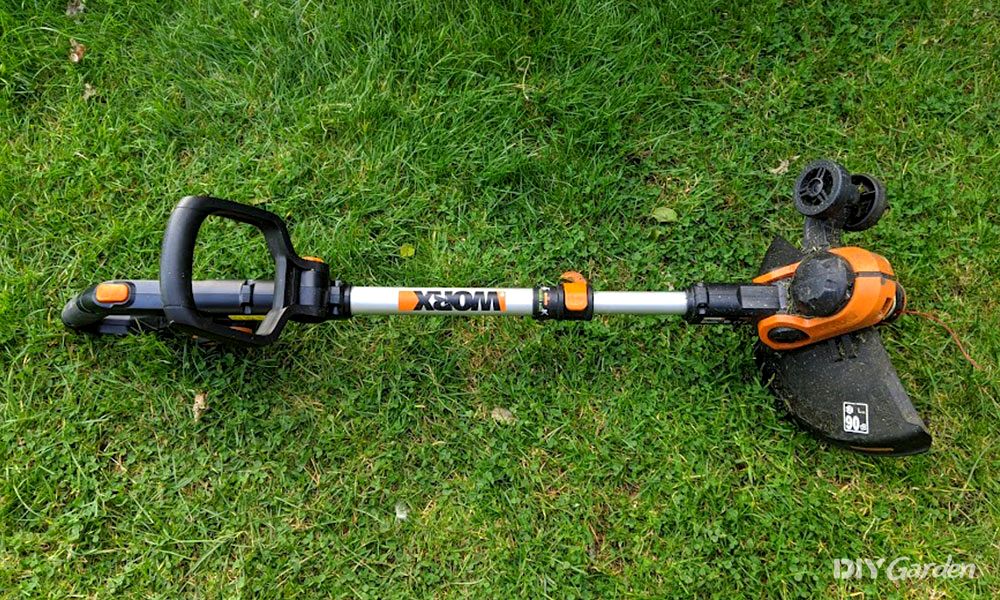 A popular brand for lawn and garden equipment, WORX products are manufactured in China, although the brand's headquarters can be found in the USA. They're known for being high-quality yet budget-friendly, so I was eager to give their GT 3.0 Cordless String Trimmer a try.
Read our product testing methodology here.
How I Tested
I wanted to see how the WORX GT 3.0 Strimmer would work on different types of vegetation. Long grass, thick patches of nettles and docks, unruly tangles of brambles – living on a 25-acre farm and choosing to leave several areas to naturally grow wild means that I had plenty of the above to test the strimmer on.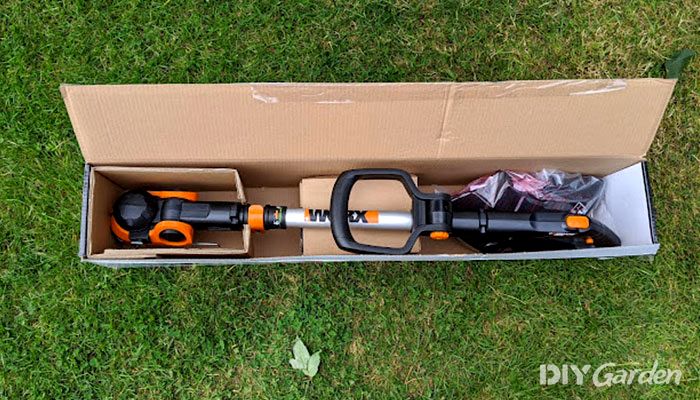 This is an easy strimmer to put together. There's not actually much that you need to do – just put one screw in to hold everything in place (you'll need a Philips screwdriver for this).
It's also easy to slot the guard on – this just clicks into place. You don't need to worry about putting in a cable spool either, as WORX has already done this for you. All in all, this strimmer was ready to be used in under five minutes.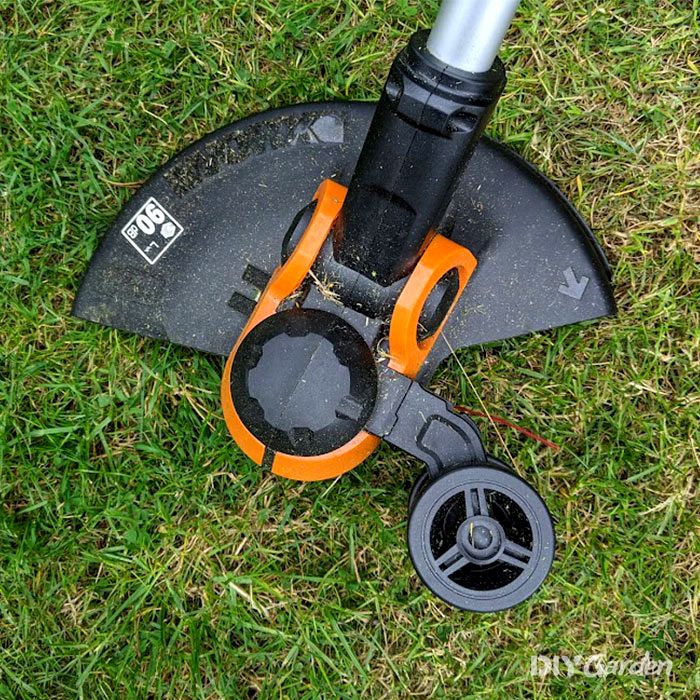 The WORX GT 3.0 has been cleverly designed – it's compact yet boasts several design features that make this tool really versatile. For starters, it has an extendable shaft that can give the strimmer a height of up to 2.8m. This wasn't something that I personally need, but I can see how it would benefit taller people – there's nothing worse than having to constantly stoop over when strimming (or so I'm told!).
The head of this strimmer pivots 90º. It took me a minute to work out that all I needed to do to pivot it was use my foot to push the head around – very convenient! The handle is adjustable too – you can choose from seven different positions. This strimmer has also been designed with a removableable flower guard – it'll save you from accidentally strimming your flowers, something that I have been known to do.
At the top of the strimmer sits a small button – this allows you to feed more line through as you're strimming. The WORX GT 3.0 also prides itself on being a 2-in-1 tool – it not only strims, but it edges too. It has been designed with an edger attachment that easily slides on and off.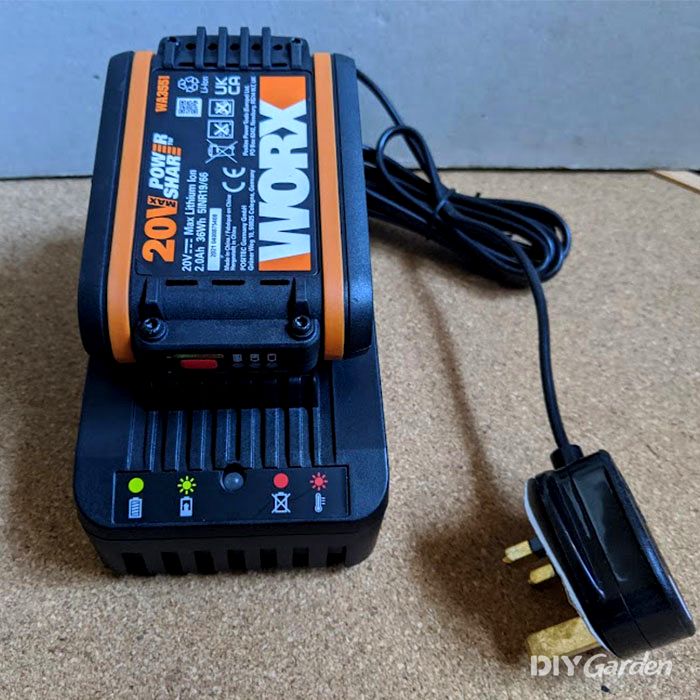 My WORX GT 3.0 came with one 2.0Ah battery, but you could also purchase it as a bare unit, or with two additional batteries.
The battery is meant to work with all WORX 20v and 40v tools, but I did a little research and found that the PowerShare battery was made for the USA market, meaning that it may not work with other WORX products designed for the UK. Unfortunately, I don't own any other WORX tools, so couldn't test this to find out for sure.
I was pleased to see that this battery had a level indicator. Not only is this useful when charging, but it also gives you an idea of how much time you have left when strimming.
Charging
WORX claims that this 2.0Ah PowerShare battery can fully charge in one hour, and I would have to agree! This was one of the fastest charging times of all of the 2.0Ah strimmer batteries I tested.
Battery Life
The 2.0Ah lasted for about 30 minutes. Personally, I didn't find this to be long enough, but it would suit those who have small areas to strim. If, like me, you need to be strimming for longer than this in a single session, it would be worth purchasing a second battery, whether this is the same size or a larger one.

Strimmer
I started by running the WORX GT 3.0 through some long grass, and it cut this back well. It has a cutting diameter of 12", which is great for home use.
I then moved onto a selection of different weeds – mainly nettles, docks, and willowherb. Again, the strimmer handled all of this without a problem, although it left a cleaner cut when working on dry and dead vegetation, as opposed to fresh green stems.
It was time to push the WORX GT 3.0 further, so I paid a visit to the far back corner of my front garden – so thick and dense with brambles and weeds that you can barely walk through it (in my defense – the wildlife loves it!). The strimmer was able to make a dent in all of this, but I had to work slowly.
When it comes to the really thick vegetation, including thick bramble vines and dock stems that look like mini tree trunks, the WORX GT 3.0 starts to struggle. It isn't able to cut this from the bottom in one go. Instead, you'll need to start by strimming the top and then working your way down, breaking each stem into two or three sections.
I also tried using this strimmer on some sycamore saplings that had popped up around the farm. The cable wasn't able to cut these (they were left standing), but it was interesting to note that the cable didn't break either.
Edger
As mentioned, it's easy to fit the edger attachment onto the strimmer, and as soon as you've done this, you can start edging.
The WORX GT 3.0 does a great job of edging a lawn. It leaves a clean and smooth line, and the edging function is easy to use.
At 2.4kg, the WORX GT 3.0 is a very lightweight strimmer. I was able to use it for the full 30-minute battery charge without it feeling too heavy, and I could have easily gone on for double this amount of time.
I also appreciated how easy it was to manoeuvre the head of the strimmer. This is so convenient when strimming uneven ground.
All in all, this is a very comfortable strimmer to use.
The WORX GT 3.0 isn't a particularly loud machine. I didn't feel the need to wear ear defenders, especially when it was only being used for 30-minute stretches.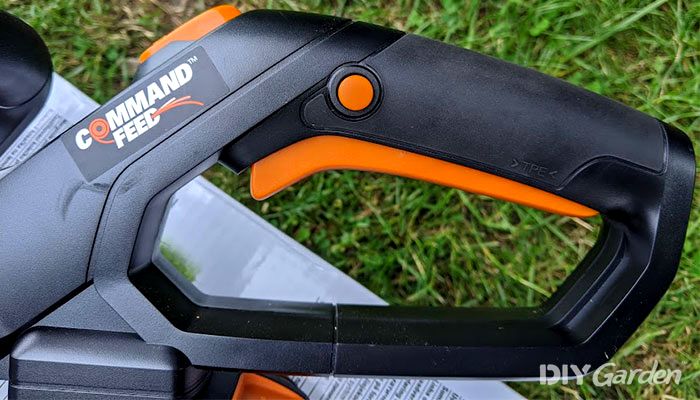 The WORX GT 3.0 comes with a safety guard that stops stones and other debris from flying up at your face.
Another safety feature that I really appreciated was the fact that I couldn't pull the trigger unless I was also pressing a nearby button. This saves the strimmer from ever being accidentally turned on, which could be very dangerous.
Although the WORX GT 3.0 may cost slightly more than some of its competitors, its extra features justify this. The way in which it has such an adjustable design makes it comfortable for a variety of people to use, while the edger function is a useful extra that many other strimmers don't offer.
Even better, not only does this strimmer come with a full reel of cable, but you also aren't limited to WORX strimmer reels once you run out. Unlike with many of the other cordless strimmers out there, you can use any generic strimmer spool in the WORX GT 3.0, which will not only save you some money, but is very convenient. The WORX GT 3.0 comes with a two year warranty, although this can be extended to three years if you register the strimmer after purchasing it.
The WORX GT 3.0 exceeded my expectations. It was able to cope with pretty much all types of vegetation, although thicker weeds did take noticeably longer to work through. However, if you plan on regularly strimming, you won't have such thick and mature weeds to deal with. 
This is a strimmer that I would most definitely recommend, for both small and large gardens. That said, if you do have a large garden, you'd need to purchase a larger battery to give you a longer run time. Battery aside, this is a very capable strimmer – it's highly versatile and feels as though it's built to last. 
Why You Can Trust DIY Garden
At DIY Garden, we believe your trust is earned through our knowledge and transparency. Our team of experts has over 75 years collective experience in the gardening and DIY space. Since the website's creation in 2016 we've tested over 275 products, ensuring our recommendations are based on real experience. We're open about what we've tried and what we've researched, and this is clearly labelled in our product reviews. Every year, we revisit and update our suggestions to include worthy new additions to the market. Our aim is to give you straightforward, honest, and helpful recommendations, so you can confidently choose the best tools and equipment for your projects.
WORX GT 3.0 Cordless Grass Strimmer Price Comparison
Price History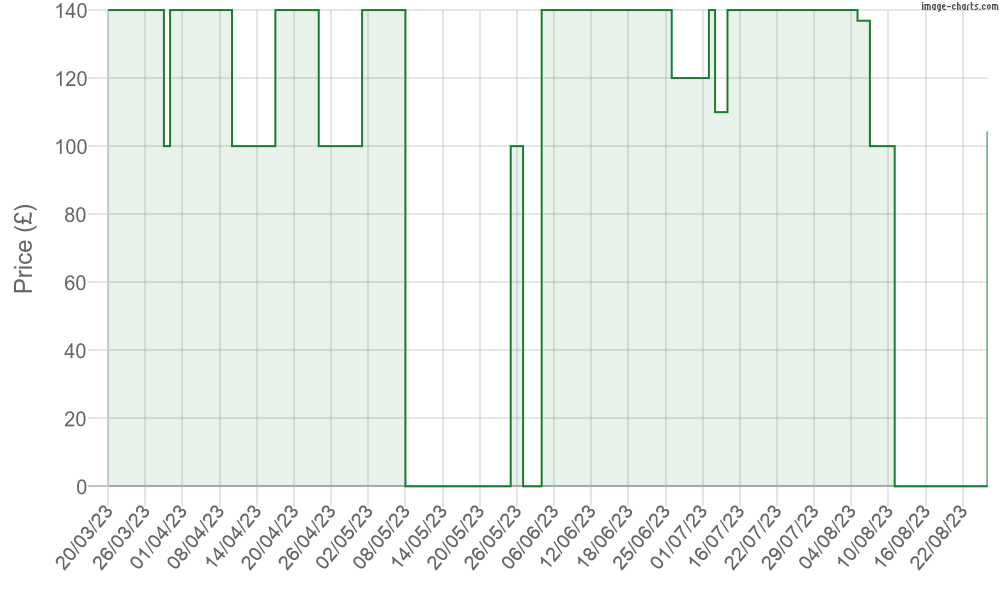 Our Scores:
Ease of Assembly

Design

Battery

Performance

Ease of Use

Noise

Safety

Value for Money

Overall
Features:
Weight

2.4kg

Cutting Width

30cm

Battery Included

Yes

Charging Time

60 mins

Max. Run Time

30 mins

Battery

2.0 Ah Lithium-ion

Power

20V

Max. Speed

7600 RPM

Noise

80dB

Telescopic Shaft

Yes
About Your Guides
Alina Jumabhoy has spent several years learning about, and experimenting with, different organic growing techniques at various gardens and farms around the country. Fuelled by her quest for self-sufficiency, she's now putting that information to good use on her own rural farm.

Sarah's role as chief editor at DIY Garden is about more than just making sure we're literally dotting the i's and crossing the t's (although she's a stickler for detail, so it's certainly about that too!). It's about proof-reading, fact-checking and continuously researching everything we publish, ensuring that it adheres to our

editorial standards

, so that everyone can really get the most out of their green space.
You May Be Interested In These Other Strimmer Reviews