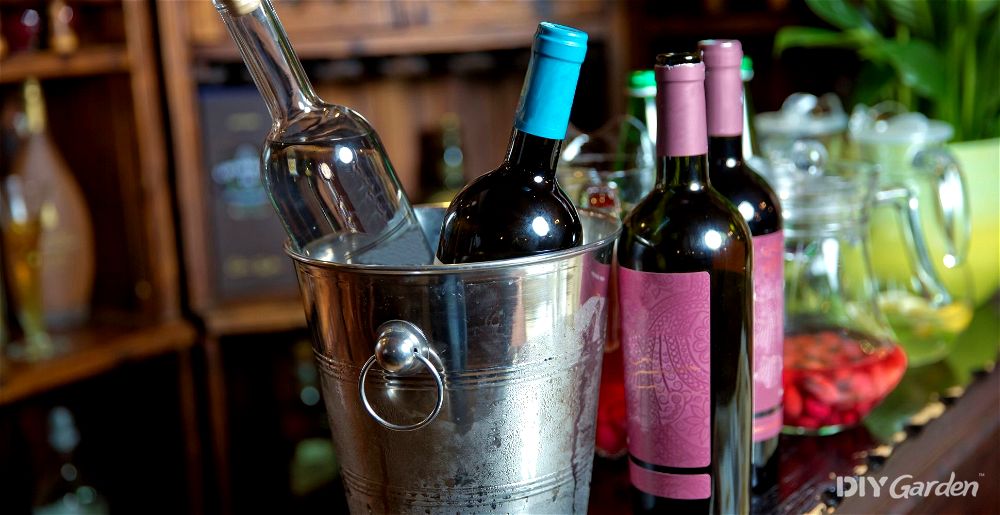 The Best Garden Bar Ideas UK
There's plenty to love about a traditional pub garden, but there's something even better about bringing one into your own backyard.
For starters, you have full control over the drinks menu, and can choose exactly when to ring that bell for last orders…
Whether you've got friends over for Friday night cocktails or you're enjoying a quiet beer in the sunshine, a garden bar is the perfect place to hang out.
Why not get creative with these 35 inspiring garden bar ideas:
1. Opt for a Temporary Bar
View this post on Instagram
An outdoor bar doesn't have to be permanent structures. Smaller, freestanding backyard bars are perfect for anyone renting or not wanting to commit to something permanent. Basic 'skeleton' structures can be purchased online and decorated to your style!
2. Upcycle Old Furniture
If you're on a budget, upcycle unused furniture to create an outdoor bar. A chest of drawers can be given a new lease of life with a coat of weatherproof paint and the drawers are perfect for storing glasses and straws.
3. Integrate a Pizza Oven
Get your garden pub serving food as well as drink; integrate a pizza oven into your outdoor bar and wow your guests with wood-fired homemade pizza to enjoy alongside their favourite tipples.
4. Use Creative Signage
View this post on Instagram
Let friends and family know exactly what your garden pub is about with creative outdoor bar signs. Light-up letters are easy to purchase online, or a traditional chalkboard or menu is always a good look.
5. Raise the Bar with Decking
Dedicate a specific area for your outdoor bar by raising it on decking. This will separate your garden bar from the rest of your outdoor space, adding depth and interest to your garden.
6. Transform Your Garden Shed
View this post on Instagram
If you're short on space, why not transform your existing garden shed into an outdoor bar in the summer months. Use it to store your garden furniture in the winter months, and enjoy a weatherproof garden bar in the summer!
You could even just create a serving hatch, and serve drinks to the garden, if utilising the main area of the shed isn't an option.
7. Create a Wall Mounted Bar
This is one of our favourite garden bar ideas for small gardens: a wall mounted bar can be installed on one of your walls and loaded with your favourite tipples and garnishes. This is a great option for those with balconies or smaller courtyard gardens – a tiny garden doesn't have to mean last orders, just opt for a mini bar instead!
8. Stock a Gin Bar
If sipping on an ice cold G&T in your own garden bar sounds like your idea of a good time, why not dedicate your outdoor bar to different gins? Stock up with your favourite gins, local tonics and hand-picked garnishes (you could grow your own sage or mint for this!).
9. Consider Beer on Tap
View this post on Instagram
If you really want to feel like you're in a British pub, a beer tap is a must-have. Offering good value for money, you simply need a beer keg (or two!) in your outdoor bar. Then, you can enjoy a freshly poured pint after work – at home!
This is one of the best garden bar ideas for creating that authentic pub feeling.
10. Integrate a Hot Tub
If you've got the space, incorporating either a regular or inflatable hot tub into your outdoor bar is one way to ensure the party will continue well into the night! This is one of the more luxurious garden bar ideas, but it certainly has plenty of appeal!
11. Build a Corner Bar
If you've got an awkwardly-shaped garden, a corner bar might be just what you need. These can be slotted at the far corner of your garden and will give you plenty of counter space without encroaching on your lawn.
12. Keep Guests Warm with a Fire Pit
View this post on Instagram
Even in the height of summer it can be chilly when the sun goes down. A fire pit built near your outdoor bar will keep you and your guests warm and cosy while you drink! Blankets, cushions and fairy lights will all add to the atmosphere in the bar area.
13. Embrace Beach Chic with Bamboo
View this post on Instagram
A classic tiki bar is the next best thing to sipping a Piña Colada on the beach. To achieve that tiki bar look, choose natural materials like bamboo and wood for the main elements. Go all out with a straw roof and tropical themed cocktails.
The tiki bar became extremely popular in 1950s USA, so you could also add some vintage Americana to proceedings.
14. Save Space with a Drinks Trolley
View this post on Instagram
A home bar doesn't have to be extravagant. If you've not got a huge budget, a drinks trolley is an inexpensive yet effective way to get that pub garden feeling. Stock with your favourite drinks, garnishes and a couple of glasses.
15. Ensure There's Shade for Guests
View this post on Instagram
No one likes a warm G&T, so a little shade is a must-have with a garden bar to keep you cool and comfortable. This could be in the form of a pergola as pictured above or, for a smaller outside space, a large parasol will do the trick.
16. Integrate an Outdoor Kitchen
Bring even more of your living space outdoors by integrating your garden bar with an outdoor kitchen. If space and weather allows, these can be used instead of your regular kitchen in the summer months. An outdoor kitchen is perfect for hosts who don't want to be stuck inside cooking on their own.
17. Add Privacy with a Gazebo
View this post on Instagram
If you're worried about neighbours looking in on your garden parties, installing your garden bar underneath a gazebo will give you a private spot to socialise. Plus, it means an unexpected downpour won't spoil your fun!
18. Create a Pallet Bar
View this post on Instagram
There's seemingly no limit when it comes to the use of wooden pallets. One of the more affordable garden bar ideas, why not use a couple of wooden pallets to create a freestanding outdoor bar? Put your own stamp on it by painting it your favourite colour and pull up a couple of bar stools!
19. Incorporate Fairy Lights and Lanterns
Strategically place fairy lights and lanterns to transform your garden bar into a twilight retreat when the sun goes down. Whether you're sipping champagne with your significant other or enjoying cocktails with close friends, fairy lights can bring magic to any occasion.
20. Don't Forget the Music!
View this post on Instagram
Make sure your garden bar is wired for sound to give some background ambiance. Plus, it'll be perfect for parties!
21. Embrace a British Pub Theme
View this post on Instagram
British pubs are iconic for a reason! Design your outdoor bar with your local watering hole in mind by stocking it with a range of beers, local spirits and some clever signage. This is one of the best garden bar ideas for creating a themed space with a strong identity!
22. Get Cosy in Winter
View this post on Instagram
Garden bars aren't only for summer! In the colder months, light a fire and adjust your menu to accommodate the change in temperature. Alcoholic hot chocolate and marshmallows always go down well.
23. Keep it Classy
If you like your alcoholic drinks garnished with a touch of sophistication, consider a minimalist garden bar, like the one pictured above. Stick to light colours and consider metal bar stools over wooden ones. Stock the wine rack with the finest wines and research the best premium cocktail ingredients.
24. Create Atmosphere with Neon Lighting
You know it's going to be a good night when there's neon lighting involved. Fix fluorescent signs to the front of your outdoor bar or garden fence to light up the dance floor when the sun goes down.
25. Use Empty Bottles for Lighting
View this post on Instagram
Outdoor lighting always instantly elevates the space. Bring a magical flair to outdoor bar shelves by putting water-resistant fairy lights into empty spirit or wine bottles. Fairy lights with a corked battery compartment are very affordable and can be purchased online.
26. Shop Local
View this post on Instagram
Support local businesses and the environment by looking close to home for your drinks and bar snacks. Stock your own garden bar with local ales and gins from distilleries nearby.
Plus, if you're feeling green fingered, why not grow your own mint, rosemary and basil to use as garnishes?
27. Utilise an Unused Garage
View this post on Instagram
If you've got an unused garage, you could convert it into a home bar. You'll be able to use this bar area in any weather, and, if budget allows, fill it with games such as a mini pool table or darts board! Chuck in a rug and a few bar stools and there's no better spot for an evening-in with friends!
28. Decorate for Special Occasions
View this post on Instagram
Decorating your outdoor bar for themed nights is a great way to bring the party spirit to your garden. Whether it's a 21st birthday, a celebrated anniversary or a National Beer Day (15th June, FYI), let everyone know with bunting, cushions and themed drinks.
29. Recycle an Old Potting Bench
One of the best garden bar ideas for all the gardeners out there – repurpose a potting bench to make a budget-friendly, stylish outdoor bar. These have ample space for glasses, drinks and garnishes – the perfect space-saving drinks station!
30. Watch a Big Game
View this post on Instagram
Sports fans will know that getting a seat in the local sports bar is never easy. If budget and space allow, install a projector on the back wall of your garden bar. Alternatively, a TV will do the trick.
Invite friends over, pull up some bar stools and cheer on your favourite team!
31. Set Up a Lemonade Stand
Not all garden parties have to result in a sore head the next day. Lemonade stands are perfect for families and those who prefer an alcohol-free tipple. Though not your typical garden bar, a pretty lemonade stand will refresh guests of all ages on a hot afternoon.
32. Think Outside the Box for Cooling Drinks
View this post on Instagram
Not everyone has the space or budget for an outdoor fridge or full garden bar, so it can help to get creative. An old planter or pot can used as an ice bucket and will effectively keep your beer or prosecco cold.
Alternatively, if you're not using it, throw some ice in your BBQ and use that instead! This is one of the easiest garden bar ideas and is perfect for parties.
33. Integrate a Living Wall
View this post on Instagram
The area behind your outdoor bar is the perfect spot for a living wall. Contemporary and effortlessly classy, if you've got the budget and the time to maintain a living wall, you won't regret this gorgeous feature. Alternatively, use faux plants for a maintenance-free option.
You could also use artificial grass flooring to continue the 'living wall' theme into the bar itself.
34. Embrace a Balcony View
View this post on Instagram
Small balcony owners can make the most of their outdoor space by attaching a bar top to their railings. Complete the look with a couple of bar stools. Make the most of your view while enjoying your favourite drink!
35. Add a Pop of Colour
View this post on Instagram
Don't feel you need to stick to neutral colours when it comes to your outdoor bar. A pop of colour will brighten up your garden and give you that holiday feeling even when the weather's not on your side!
FAQs
What's the cheapest way to make a garden bar?
The cheapest way to make a garden bar is to use materials you've already got. Budget garden bar ideas include: using an old potting bench, a chest of drawers or a wooden step ladder. These can all be upcycled and transformed into an outdoor bar.
Another option is to use wooden pallets. A humble garden bar can be built using just a couple pallets and a small amount of DIY know-how. Once you've got the structure in place, it's easy to find budget accessories to liven up the bar area.
Which is the best wood for outdoor bar tops?
If the bar top is exposed to the elements, it's going to get rained on at some point. You'll need materials that can withstand year round exposure to all weather. Wood that hasn't been treated is likely to get damp and warp.
Hardwoods such as white oak, acacia, black locust and teak have good weather resistance.
Soft wood such as cedar, cypress and redwood are resistant to rot and insects but are less strong structurally.
In any case, it is the finish that gives the wood the best resistance. Make sure you seal the top using a weatherproof wood stain before use.
How do you seal an outdoor bar?
Sealing an outdoor garden bar will make it resistant to the elements and elongate its lifespan.
Sealants can either be oil-based or water-based. Oil-based sealants tend to stand up better to the elements but take much longer to dry. Water-based sealants may need applying more frequently but can be easier to work with.
1. Start by sanding the worktop until it's completely smooth
2. Remove any remaining sawdust with a dry cloth
3. Stain the wood with colour if you'd like to – check the manufacturer's instructions to see how long it needs to set
4. Apply the sealant using a brush or a rag. Many sealants are self-levelling so they don't need to be applied perfectly evenly
5. If required, sand the wood between different coats
6. Apply as many coats as needed, then leave to dry for as long as the manufacturer suggests