I've researched and compared the best rotary washing lines on the UK market. My top recommendation is the Livivo Rotary Washing Line.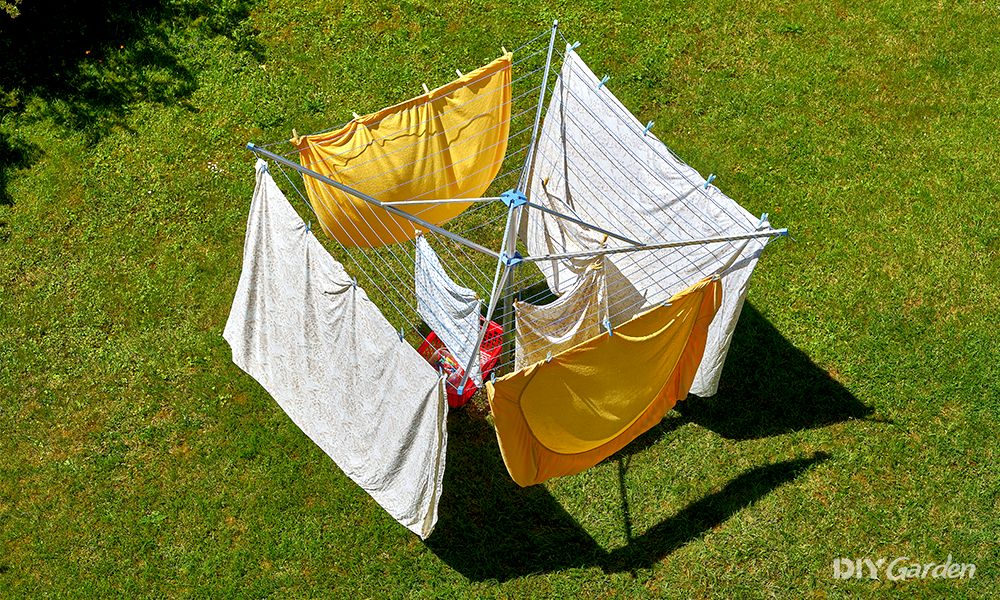 My Top Recommended Rotary Washing Lines
My Product Reviews & Opinions
Tips For Buying a Rotary Washing Line
Smaller rotary washing lines with 30 m of line will be suitable for two-person households. To fit two loads of washing, a larger line with approximately 45 – 60 m of space will be required.
You'll naturally need to base the size of your line on the space you have available. However, these are some useful facts to know: to hang up double bed sheets, the outer line needs to be around 140 cm long

. For king-size sheets, it will need to be around 150 cm.

When it comes to line placement, look for lines that come with a ground socket included. Many standard lines have a 32 mm pole, which may fit in an existing ground socket if you have one

. However, it's also not uncommon to find 40 mm or 42 mm poles.

For hanging longer items, you'll want a rotary washing line that is around 180 – 200 cm tall

. This can help prevent laundry from dragging on the ground. However, this may not be a practical height for everyone.

Some of the best rotary washing lines are height adjustable

, allowing the line to be lowered without affecting line tension. Speaking of line tension, make sure the washing line offers a way to adjust this.

For a strong construction, look for powder-coated steel and PVC lines. These stand up well against the elements. An included cover is useful to have, to keep the lines clean when not in use

.
On this page, I've recommended a range of rotary washing lines to suit various family sizes and budgets. The LIVIVO Rotary Washing Line is my top choice – it's a great quality line with a modern look and 45 m of drying space.
Why You Can Trust DIY Garden
At DIY Garden, we believe your trust is earned through our knowledge and transparency. Our team of experts has over 75 years collective experience in the gardening and DIY space. Since the website's creation in 2016 we've tested over 275 products, ensuring our recommendations are based on real experience. We're open about what we've tried and what we've researched, and this is clearly labelled in our product reviews. Every year, we revisit and update our suggestions to include worthy new additions to the market. Our aim is to give you straightforward, honest, and helpful recommendations, so you can confidently choose the best tools and equipment for your projects.
How to Choose The Best Rotary Washing Line
Rotary washing lines are a practical way to dry washing in the garden. They're often more convenient than a long retractable line as there's no need to mess around propping them up and they don't take up so much space.
The following information will help you choose the best rotary washing line for your garden.
Aluminium or Steel Rotary Washing Lines
Most rotary airers have frames made from aluminium or steel.
Aluminium rotary washing lines are lightweight and rust resistant. These are their main benefits. They can be quite easy to carry in and out of storage, and don't require as much strength to put up. Plus, aluminium is not prone to rust – although it can still corrode over time.
One of the main drawbacks of aluminium is that it's not very strong. Therefore, rotary lines made from aluminium may be more likely to bend or buckle if loaded with too much weight compared to steel ones. Of course, this also depends on the design and construction of the washing line, so it isn't a hard and fast rule. However, when directly comparing the properties of the metals, aluminium is weaker than steel.
Steel rotary washing lines are considered stronger and less likely to bend, warp or break than aluminium ones. This is their main advantage, and can be particularly useful if washing drying heavier items like duvets, blankets or towels.
Choosing a Line with Enough Space
If you're a large family, you will likely want a rotary airer that has at least 50 metres of line, to give you enough washing line space to dry all the washing.
For smaller families, of just a couple of people, a rotary washing line with 30 – 40 metres of line should be sufficient.
Also consider:
The types of items you will be drying, and how big they are. Different rotary washing lines vary in how much space they have between their arms, and therefore how much room there is for drying.
If you want to dry large sheets, you will need the space between each arm to be wider than the width of the sheet.
Rotary washing lines with three arms, instead of four, have more space between them.
It will be a lot easier to hang a king-size sheet on a rotary washing line that only has three arms.
However, lines with three arms instead of four can be weaker, especially if they are not well made. This is because less arms are having to support the same amount of weight as a four-arm line.
For this reason, high-quality three-arm lines can be more expensive than four-arm models because of the materials used.
If you have a very small garden, you might like to look at our reviews of The Best Wall Mounted Washing Lines. These can offer a practical way to save space.
Ground Spikes – How to Secure Your Line
You will need to install a ground socket to hold your rotary washing line.
If you already have one from a previous rotary washing line, you can avoid having to remove it and putting in a new one as long as you buy a washing line that fits the existing socket.
Quite a lot of washing lines either have a 40 mm pole, or a 32 mm pole. If there's already a ground socket in your garden, check its diameter and make sure to buy a washing line that's the same size. This will save a lot of hassle.
If you don't already have a rotary line socket installed in your garden, check to see if the rotary washing line you're looking at comes with one included. Sometimes this is the case, but not always. You'll have to buy one separately if it doesn't come with one. Again, make sure that the socket you get is the correct size for the rotary washing line.
When it comes to installing a rotary washing line socket, they can either be positioned directly into the soil or concreted in.
There are a few steps that will make it easier to install a ground socket directly into the soil:
Soak the ground for several days before attempting to install the socket. The softer the ground is, the easier it will be.
Use a spade to mark a deep X into the ground, with the central point being where the socket will be positioned.
Place the socket in the middle of the X and cover it with a piece of wood to protect it. Use a mallet to encourage the socket into the ground.
After every few hits with the mallet, put the washing line pole into the hole. Use this as a test of whether the socket it going in straight. Push on the pole until the socket is straight.
Remove the pole and continue to use the mallet to get the socket into the ground.
Repeat steps 4 – 5 until the socket is flush with the ground.
Alternatively, to fix a ground socket into concrete:
Dig a hole approximately spade-width wide and as deep as your ground socket.
Place the socket in the hole and pour in a bag of dry post concrete while holding the spike upright.
Check that the socket is level with a spirit level, and add water to the concrete according to the instructions on the bag.
Keep checking that the socket is level until the concrete is dry. Have a long piece of wood on hand in case you need to nudge the socket straight. It should take between five to ten minutes for the concrete to dry sufficiently.
Taking Care of Your Rotary Washing Line
Close and cover the rotary washing line when it's not in use to keep it clean and dry. Some washing lines come with covers included, but if yours doesn't you may want to look into buying one separately.
Ideally, you should put the whole rotary washing line away in very bad weather to protect it from strong winds.
Rotary Washing Line FAQs
My rotary washing line has gone a bit saggy. How do I tighten it?
Firstly, your rotary washing line may have a couple of height options, if you've been using it on the lowest level, pushing it up further will tighten the line. Alternatively, you can manually tighten the line:
Start by setting the rotary washing line at a low position.
Starting at the centre of the line, pull each section until it is reasonably tight. Do not overtighten otherwise you will not be able to close the drier.
Once you pulled the line through on each section, and are happy with the tightness, you can put the rotary drier into the higher position.
It is likely that the last section will have excess line. You should tie off and remove excess washing line at the end; however, before you do this, ensure that the rotary washing line will easily open and close.
The line on my rotary washing line has broken. Can I restring it?
Yes, it's quite easy to restring a rotary washing line. You will need some patience and a couple of hours, but it is simple to do and requires no special tools.
Measure all of the line in one section and multiply this number by three or four (depending on how many arms your washing line has). This will show hoe much line you need to buy. Add a little bit extra for threading and tying. Buy line of the same diameter as the previous line.
Before removing the existing line, have a good look at how it is threaded and tied (taking a few pictures at this stage can be very helpful). Then, remove the old line.
To restring the line, start at the middle. Thread the new cord in the same way as the old one and tie it off to finish. You can do this in two sections if necessary, tying off after the first section and then beginning again on the second half of the line if it makes it easier.
Start typing and press enter to search