Our
Brabantia WallFix Retractable Washing Line

Review

Before testing out the Brabantia WallFix retractable washing line, I didn't even know that the technology existed. This feels to me like an upgrade on a centuries old piece of technology. Being able to fit a full sized washing line in a space less than two metres squared is nothing short of marvellous.

It looks good, it'll save me money on tumble drying, it's better for the environment, and I can pack it away when it's not needed. OK, it's quite expensive compared with a basic washing line, and you need to do a bit of drilling before it's ready to use, but once it's up it's probably the best washing line I've ever seen.

B0023NU5F2

8710755475924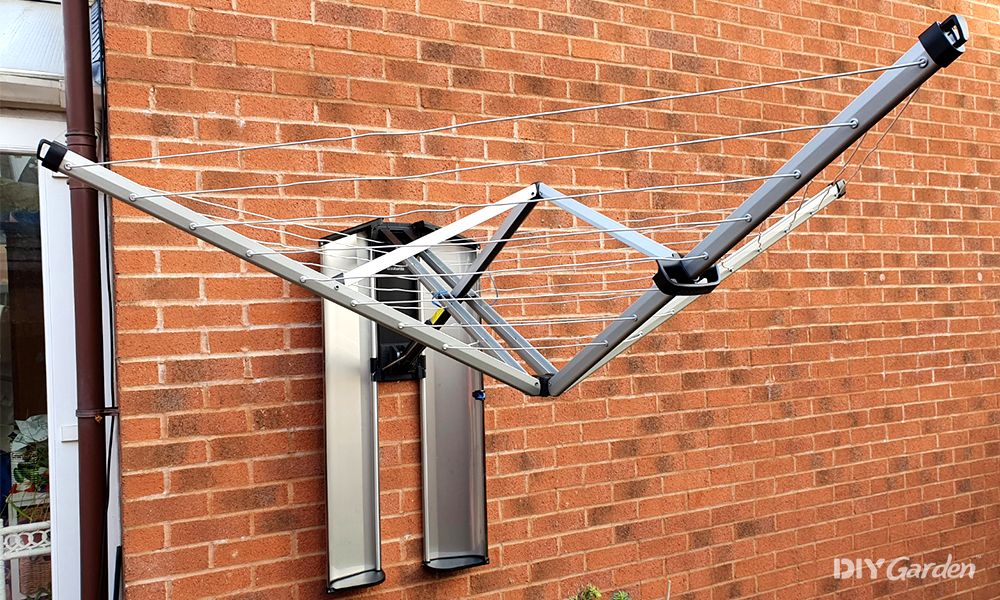 Wall mounted washing lines are an ingenious way of saving space in your garden, and not impeding on your lawn or patio. The Brabantia WallFix Retractable Washing Line is one of the most popular models on the market, so I tested it to see how good it really is, and how easy it is to assemble. This is what I found…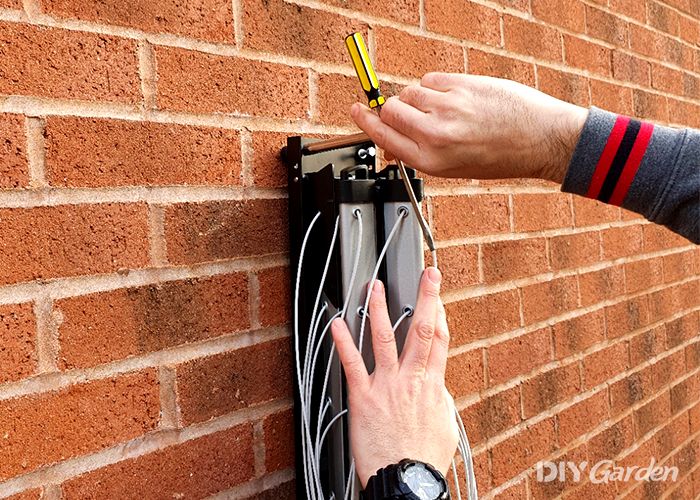 This clever wall mounted washing line is a lifesaver for anyone with limited space, but it does take a bit of putting together. Seeing as it's wall mounted, you'll need to have a drill and a few accessories on hand to get the job done.
You can attach the WallFix to a few different surfaces, but only if you're sure they're solid. Brabantia recommend fixing to brick, concrete, or solid timber only. They've included bolts and wall plugs that are ideal for masonry, you'd need to source your own fixings if you go down the timber route.
It doesn't take a whole workshop of tools to fix this dryer to a brick wall, but you will need the following bits and pieces: A drill with hammer action for getting into your wall, and an 8 mm masonry bit for making the holes. A spirit level will keep everything straight, and a hammer will help to knock the wall plugs in too. You'll need ear defenders, eye protection and a dust mask as well.
Brabantia have included all the fixings you'd need for masonry. You get four sturdy bolts, quality Fischer wall plugs, washers and wall spacers. And if you don't have your own set of spanners, they've even thrown in a basic tool that you can use to drive home the bolts! Provided you own a screwdriver, that is.
The instructions are basic, but there are plenty of clear diagrams with accurate measurements on them to help you get set up without too many issues. All you need to do is work out the height you want the washing line, drill four holes accurately, then drive in the bolts. It's pretty much as simple as that!
One thing the instruction manual didn't make clear was that the side of the shipping box can be used as a drilling template. Simply cut out the template, use your spirit level to keep the holes lined up straight, then drill straight through the template to mark the wall.
Once your holes are drilled and your plugs are in, it's a simple case of bolting the whole thing to the wall. Then you slide the plastic covers on and then snap the protective case into place. It's really very simple and shouldn't be out of reach of anyone who's confident enough to use a drill.
Putting up this washing line isn't as simple as unrolling a length of string or unfolding a clothes horse. But it's a lot more useful and looks much better as well. If you're not confident using power tools, find someone who is. It's only a 20 minute job for a DIYer after all!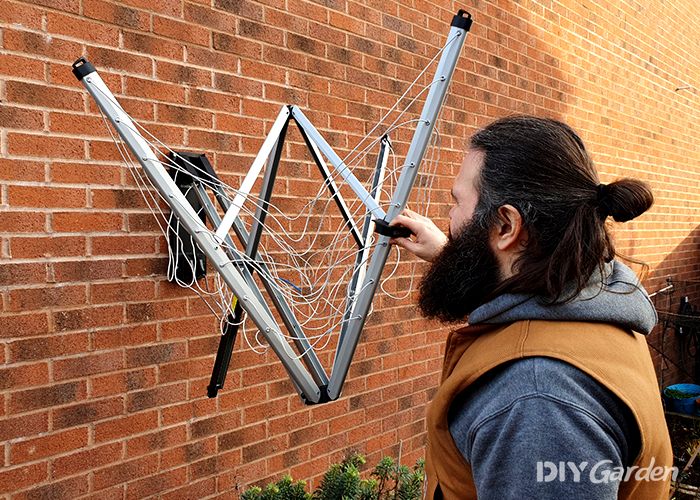 It's not often that a washing line has the potential to improve the curb appeal of a home, but somehow Brabantia have managed to do it! I'm new to the world of wall-mounted washing lines, and this WallFix line has opened my eyes to a stylish new type of streamlined way to dry my clothes outside.
Something that has always annoyed me about rotary washing lines is how much space they take up when they're not in use. They don't look great either. What Brabantia have come up with is a way to store a rotary line in a small space that looks good too.
Another thing that puts me off the standard rotary washing line is how dirty they get when they're left out in the elements. They're not always the best place for your clean washing when they're covered in cobwebs and bird droppings! By storing the line away between uses, everything should stay clean and free of the worst of the outdoors.
Rotary washing lines don't just get dirty though. Stuck outside in all weathers, the steel bolts and other fixings will rust and shorten the life of the washing line. I know you can get rotary washing line covers, but I know I wouldn't bother to put it on every time I finish the laundry! If the case is attached to the washing line, there's no excuse not to use it. And don't worry about the case itself, it's made from aluminium. It's much less susceptible to rust and is an ideal material for this outdoor job.
It's impressive how Brabantia have managed to fit this much washing space in such a small package. Folding up and out from its aluminium housing, I was amazed at the sheer size of the thing! It measures 184 x 182 cm and projects out from the wall in a diamond shape, so your best washing doesn't rub up against the bricks.
Operating the folding section is simple. There's a black plastic handle on the front of the mechanism, you pull it out and up until the line clicks into place. And when you're done with your drying, grab the handle, lift it up until it clicks, and you can stow it all away again. Don't worry about it accidentally folding up, the weight of your washing will keep everything secure.
If there's one thing that I'd warn users about, is that there's not much space inside the protective case. If, like me, you like to leave your washing pegs on the line, you'll need to change your habits. Apart from that, this is a smart-looking and space saving laundry drying wonder!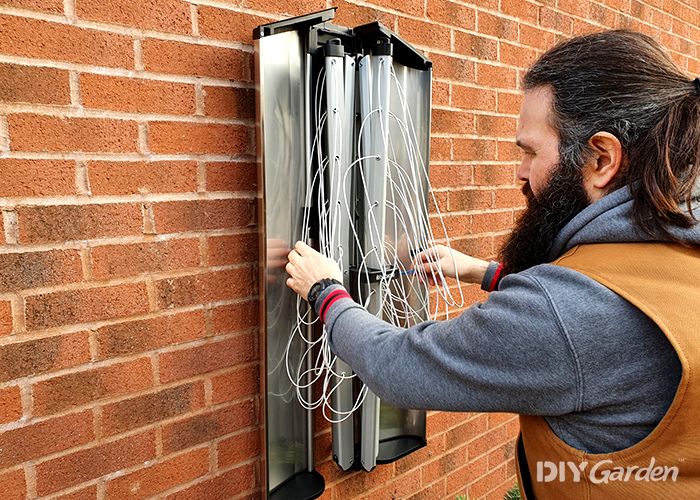 So, is this wall mounted washing line more practical than a standard washing line or rotary line? I suppose some of it depends on how much space you've got at home. I like this design because it folds away once you're done with drying your clothes. You could have a tiny courtyard garden and still get the benefits of drying your clothes outdoors.
If you add up all the line space on this drier, you get a whopping 24 m to play with! You'd need a huge garden to hang that much washing out on a single line. And as for a standard rotary line, you might get a little more line space, but you're forced to look at it all the time when it's not in use.
There's one feature of a traditional rotary washing line that this one doesn't have though. It's the rotary part! Due to the compact construction, you can't spin this washing line around, meaning you need access to all of it to hang your washing up. One of the benefits of the spinning washing line is being able to stand in one spot and hang everything in front of you.
Something else that makes this the best upgrade from a traditional rotary washing line is that you can protect it from the weather. If the wind picks up, it's not going to flap about because it'll be stowed away in its protective case.
My garden isn't the biggest, so this clever folding washing line is perfect for me and highly practical. If you've got acres of space to play with, it might not be quite as appealing as a rotary line, but most of us don't have that luxury.
There are several benefits of air drying your clothes. First off, you don't need to spend all that money on a tumble dryer. Your clothes will receive less wear and tear from tumble drying and pick up less static from the drying process as well. You're saving money, it's better for the environment, and air dried clothes have a wonderful fresh scent to them.
This isn't a cheap clothes airer. Brabantia have used quality materials throughout, from the solid aluminium wall bracket and outer casing to the sturdy steel mechanism of the dryer itself. Looking at the construction fills me full of confidence that this bit of kit isn't going to fail in the first mild breeze.
I've spent close to £100 on basic clothes horses over the years, and they break far too easily. Spending a little more than that on a quality washing line is more of an outlay, but if it lasts for long enough it'll pay for itself. Only if the materials last for as long as they look like they will, anyway. As the old saying goes, you buy cheap, you buy twice.
I think the true value of this clothes dryer is how convenient it is. If you're short on space and you're sick of dragging clothes airers in and out your back door, the cost of this wall-mounted airer isn't the point. It's a lot more expensive that a standard rotary dryer, but unless you've got space for them, they're no use at all!
Before testing out the Brabantia WallFix retractable washing line, I didn't even know that the technology existed. This feels to me like an upgrade on a centuries old piece of technology. Being able to fit a full sized washing line in a space less than two metres squared is nothing short of marvellous.
It looks good, it'll save me money on tumble drying, it's better for the environment, and I can pack it away when it's not needed. OK, it's quite expensive compared with a basic washing line, and you need to do a bit of drilling before it's ready to use, but once it's up it's probably the best washing line I've ever seen.
Why You Can Trust DIY Garden
At DIY Garden, we believe your trust is earned through our knowledge and transparency. Our team of experts has over 75 years collective experience in the gardening and DIY space. Since the website's creation in 2016 we've tested over 275 products, ensuring our recommendations are based on real experience. We're open about what we've tried and what we've researched, and this is clearly labelled in our product reviews. Every year, we revisit and update our suggestions to include worthy new additions to the market. Our aim is to give you straightforward, honest, and helpful recommendations, so you can confidently choose the best tools and equipment for your projects.
Brabantia WallFix Retractable Washing Line Price Comparison
Price History
About Your Guides
Harry Duncton is a jack of all trades with experience ranging from carpentry and furniture restoration to tree surgery and gardening. Happiest when found in his shed, he hopes his daughter will find a passion for making things as well.

Sarah's role as chief editor at DIY Garden is about more than just making sure we're literally dotting the i's and crossing the t's (although she's a stickler for detail, so it's certainly about that too!). It's about proof-reading, fact-checking and continuously researching everything we publish, ensuring that it adheres to our

editorial standards

, so that everyone can really get the most out of their green space.