Our
Tepro Toronto Click Charcoal Barbecue

Review

This BBQ has a lot to give. And, although its design isn't perfect, you can't argue with its price tag when you consider all of its additional features.

However, this isn't what sets it apart from other barbecues – it's the Tepro Toronto Click Barbecue's versatility.

The inner grid in-lay makes it a valuable addition to the garden, not just for the odd barbecue during summer but for quiet nights in, too.

This quality has truly won me over, especially as a food and gardening lover!

Overall, I highly recommend this barbecue for any garden, whatever its size or style.

If you found this interesting and want other recommendations for Charcoal BBQs, you'll love our article on The Best Charcoal BBQs of 2023.

B07HGGT9DR

4011964011649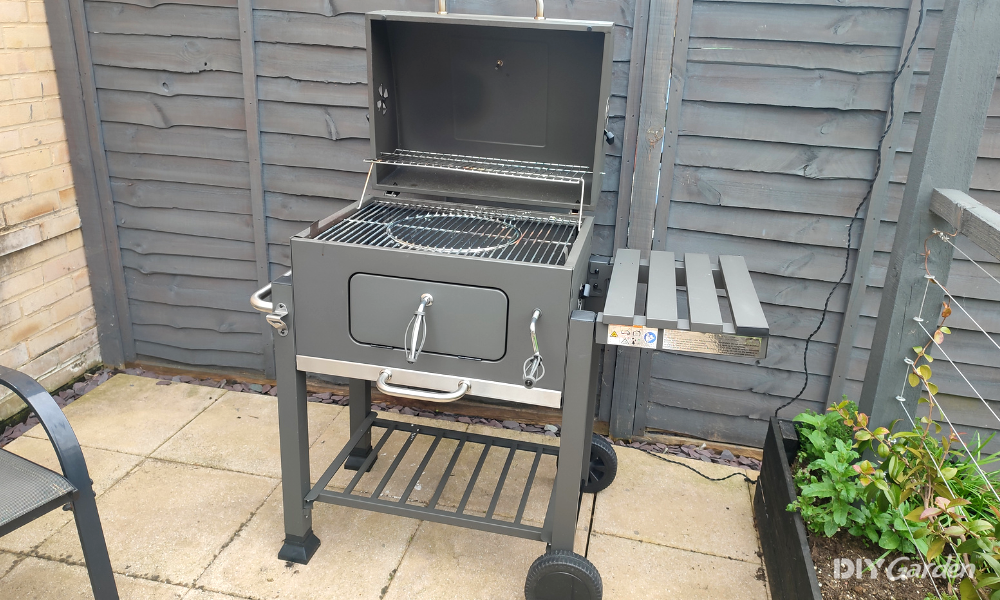 A barbecue is the perfect accessory for a garden in summer. But there are so many BBQs out there – it's hard to find one with all the features you want while offering good value for money. The Tepro Toronto Click Charcoal Barbecue seems to do just that – offering ample grill space (56 x 41.5 cm) in a compact design, this BBQ is perfect if you like to host but don't have a massive garden to work with. Let's test this charcoal BBQ to the max, assessing its assembly, design, ease of use, capacity, and more!
When it came to assembling the Tepro BBQ, there were pros and cons.
It comes completely flat-packed, so it takes time to unpack the parts – a lot of plastic later, you can see all the elements.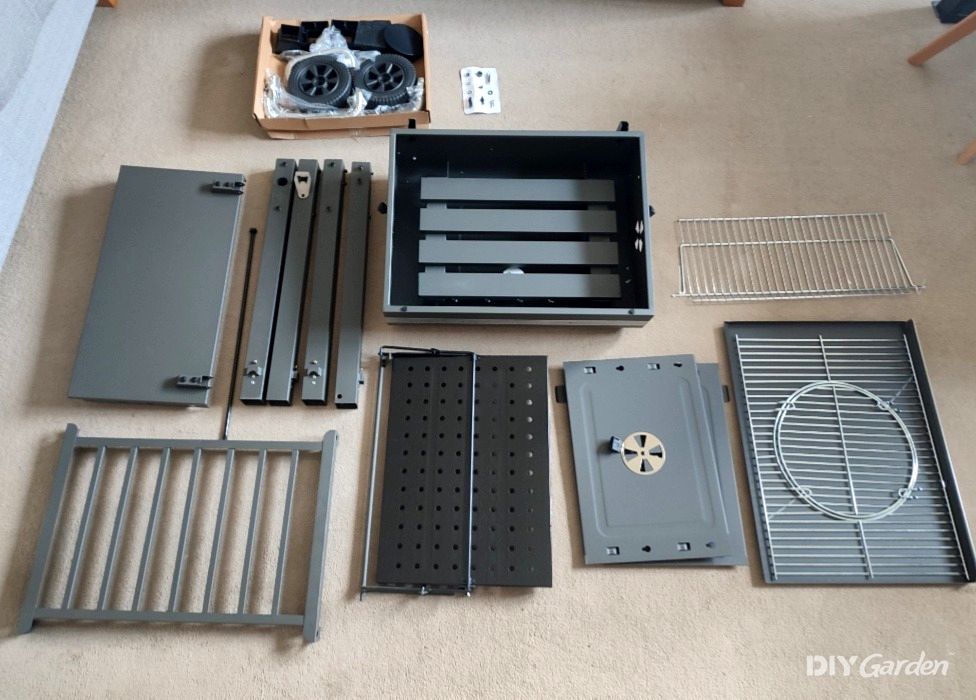 Assembly took 50 minutes (not including the time spent unwrapping, which was around 15 minutes).
I had an extra pair of hands, so if you're assembling this BBQ on your own, it'll likely take slightly longer than an hour.
Let's start with the positives – all the holes are predrilled, saving a lot of time and confusion.
You also only need hand tools (a screwdriver and a spanner). And, in fact, a lot of the parts just lock together, cutting down on the number of nuts and bolts to decipher between and reducing the need for tools!
You could put this BBQ together on your own. However, there are some fiddly bits along the way, such as placing the charcoal grate in position. During these steps, you may benefit from another set of hands.
Now, onto the downsides. The Tepro Barbecue's manual isn't the most straightforward to follow. Containing images only, it's easy to get confused during some stages.
The steps involving assembling the firebox are possibly the most confusing – the walls all look fairly similar, so it's easy to attach one wall the wrong way up.
It's also tricky when installing the various handles, as the images in the numbered key aren't to scale.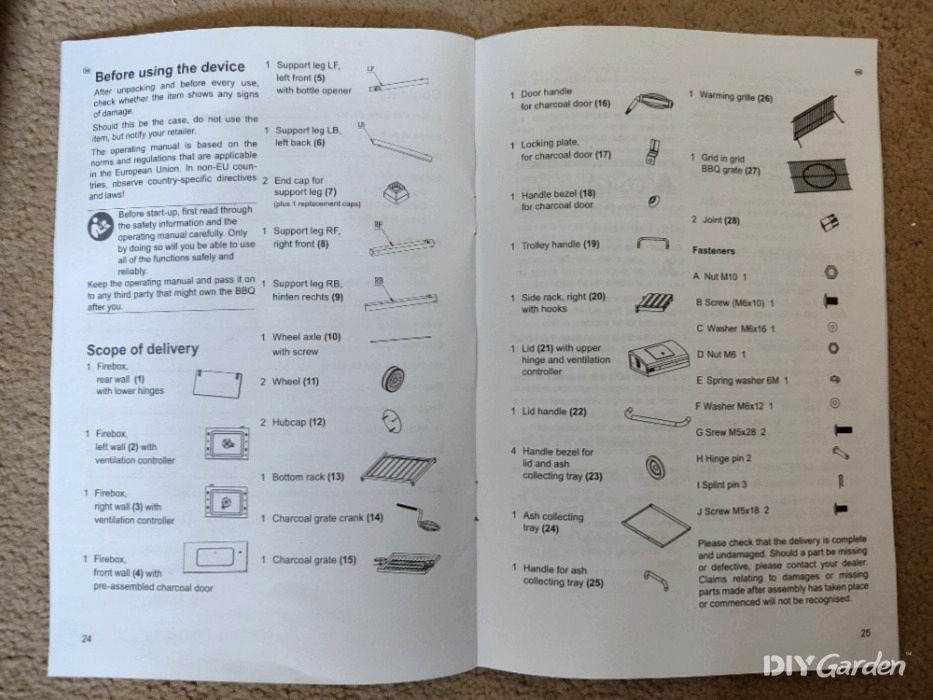 However, as long as you take your time and are patient with it, assembling this BBQ is relatively straightforward, and much less time-consuming than some other BBQ models!
The Tepro BBQ has a sleek, contemporary design, so it will suit any garden, whatever its style.
Considering its additional features and the large parties it can accommodate, this BBQ is relatively compact, measuring 67 cm x 49.5 cm x 37 cm (W x D x H).
Finding a little space for this BBQ is easy, especially as the right-hand storage tray folds down, making it suitable for any sized garden.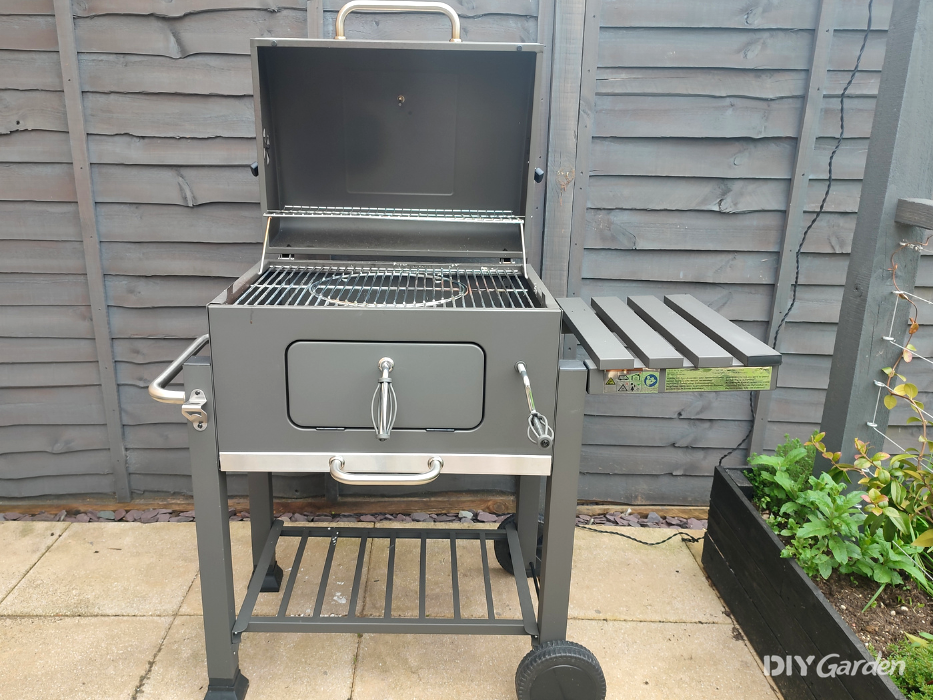 Once assembled, this barbecue feels solid and secure, although a little heavy, weighing 26.55 kg.
You may have to get someone to help you move it outside if you assemble it indoors!
The main elements, including the lid, fire bowl, legs, trolley and tray door, are all powder-coated, so they will stand the test of time.
And the handles and thermometer are made from stainless steel – another durable material.
Unfortunately, it doesn't come with a cover included. This could be an excellent purchase to ensure the BBQ lives its full lifetime.
As I have used this BBQ as new, I can't comment on its longevity. However, it certainly looks like it will stay in good shape for many years.
I do have a couple of minor gripes with the BBQ's overall design, though. Firstly, other charcoal BBQ models offer two fold-out shelves, one on either side.
I can see the benefits of this, as the Tepro BBQ couldn't hold everything we needed.
You could store plates on the storage shelf underneath and uncooked food on the right-hand storage shelf, but there was no space for condiments, sides, or crockery.
Interestingly, the Tepro Toronto XXL Barbecue has an extra shelf, but this design has a considerably higher price tag!
This indicates Tepro may have chosen not to include the second storage shelf on the Tepro Toronto Click to make the product more affordable.
Secondly, the 4 tool hooks the Tepro BBQ offers are helpful but seem a bit out-of-the-way and not easily accessible while grilling.
This is especially true if you position your BBQ in a small space like we did.
The model would benefit from hooks on the front face of the BBQ, as we felt compelled to hook all of our utensils onto the front handrail, which didn't work well!
The last slight bugbear is the tiny gap between the back of the ash tray and the back of the firebox.
Because of this, a small amount of ash fell onto the floor. This was fine on our patio tiles but could be a fire hazard if you place the BBQ on decking. However, you can easily avoid this by positioning it on a non-flammable surface.
If you plan to assemble the BBQ or store it indoors, you'll likely need a helping hand getting it back outside.
The BBQ's 26.55 kg weight and limited non-moving areas to grab onto make it difficult – but not impossible – to carry on your own.
The Tepro BBQ is designed with two wheeled legs and a handle on the opposite side of the BBQ, meaning you can wheel it along with relative ease.
However, this design features plastic wheels rather than castor wheels, which could be more likely to break.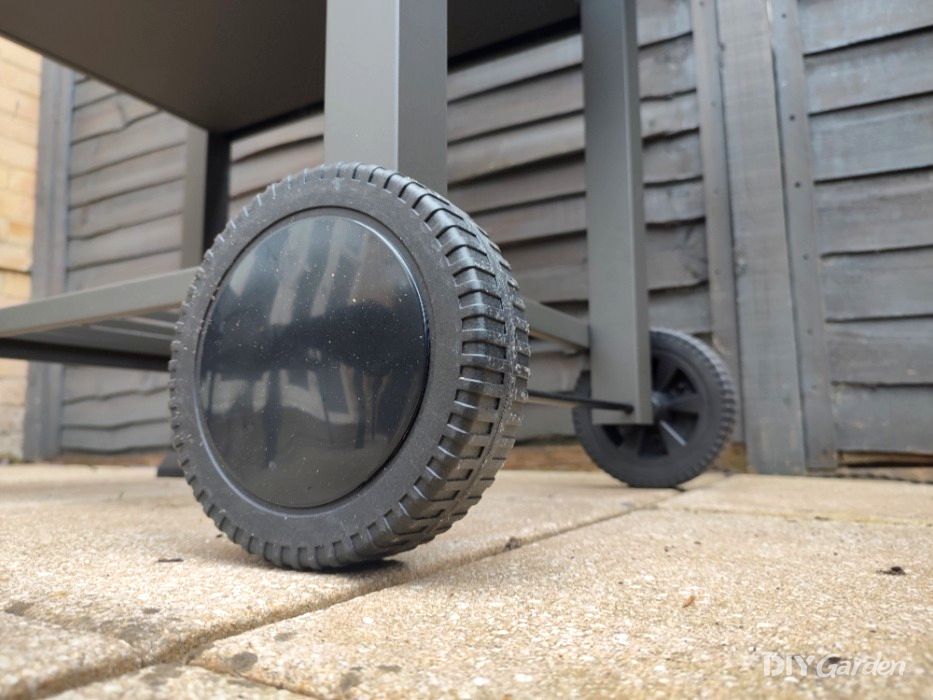 Furthermore, when assembling, we noticed that the wheels wobble slightly and slide about on their axle.
This could have negative repercussions when it comes to manoeuvrability after extensive use.
Considering it was my first time using this BBQ, I was shocked at how easy it was to use.
The various features were straightforward, and the operating instructions in the manual were descriptive and helpful.
The temperature control is one of my favourite features of this BBQ.
The built-in thermometer is a handy addition to the Tepro BBQ's design, as it helped me monitor the temperature and add more coals when I needed to.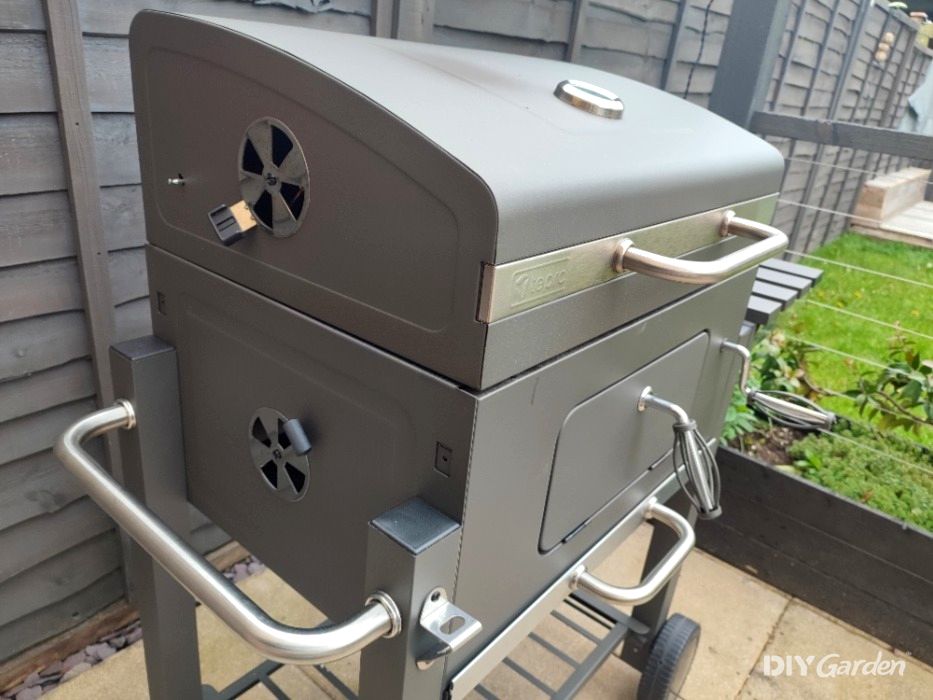 Additionally, the design features a simple crank handle that allows you to move the charcoal grate so it's either closer to or further away from the cooking grate, allowing you to control how much heat your food receives.
And if that weren't enough, you can also open the various air vents, providing an extra option for temperature control.
One downside to the Tepro BBQ's design is its front door panel. The door has a slimline design, making it look sleek and modern but limiting your ability to add extra coals once they're lit.
If I had to choose one faultless feature for this BBQ, it'd be its capacity. The grill is 56 x 41.5 cm in size, providing ample space to feed even a big group of family or friends.
Plus, you have the bonus of a warming rack above, which is 53.9 x 24.1 cm, and an additional 45 cm long fold-out storage shelf to the right-hand side of the BBQ.
When using this BBQ for the first time, there were 3 of us, and we were hungry!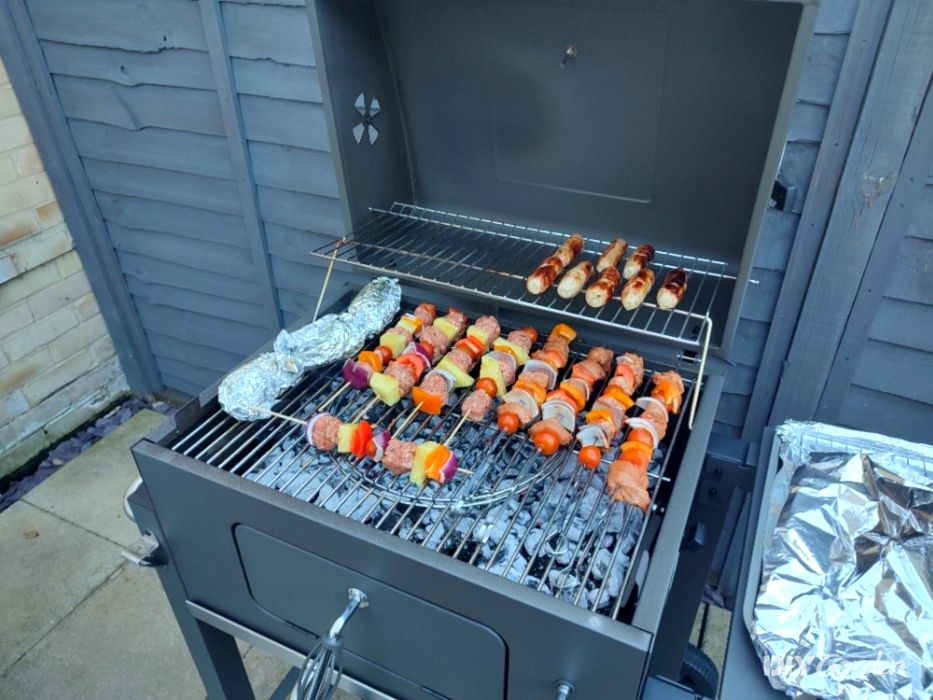 We managed to easily slot 9 kebabs alongside 3 corn on the cobs, with 8 sausages on the warming rack. And we had room to spare!
So you could easily fit enough food for a larger group of people.
If you only want to do one batch of cooking, there's certainly enough grilling space for larger parties – the cooking grate would easily fit 10+ burgers and sausages simultaneously.
And for even bigger parties, you can do a couple of batches, placing the first batch on the warming rack!
READ NEXT: How to Start a Charcoal BBQ
The Tepro Charcoal BBQ has bucket-loads of extra features, making it difficult for other BBQs to compete. It offers:
Built-in thermometer
Storage shelf underneath
Right-hand side fold-out storage shelf
Stainless steel warming rack
Plastic wheels for easy transportation
Removable ash tray
Bottle opener attached
4 tool hooks
Removable circular grid inlay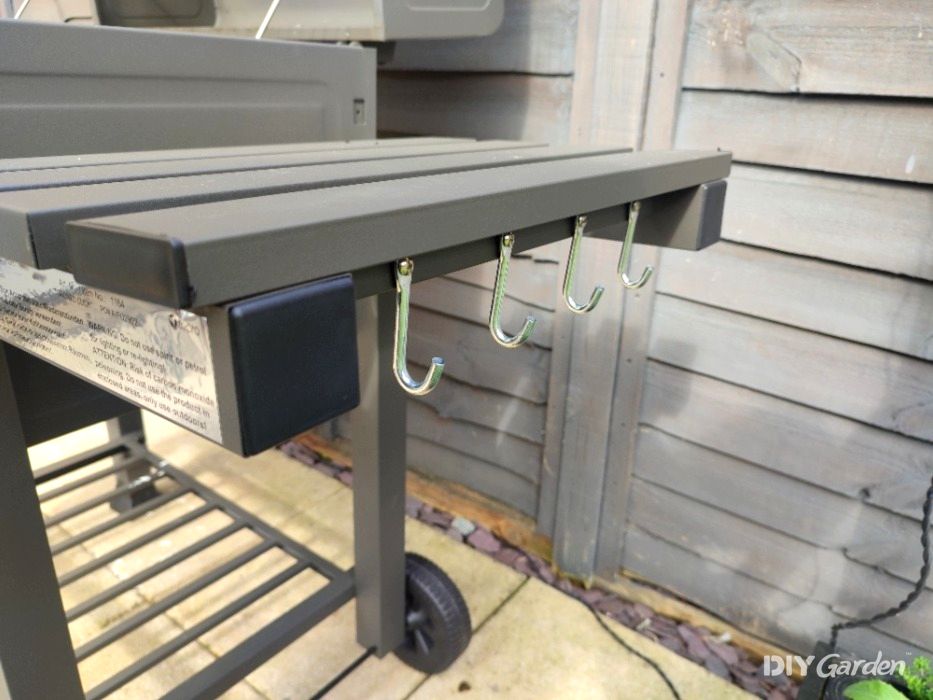 The most useful of these extra features has to be the built-in thermometer, warming rack, and bottle opener.
We referred back to the thermometer frequently to check the progress of the coals, and the warming rack really maximised the available cooking space.
And, let's face it, who doesn't want a bottle opener at arm's length when you're hosting a BBQ?
Furthermore, while we didn't use the inner grid in-lay this time, I appreciate how useful this could be if you had one of Tepro's additional inlays.
Tepro offers various optional inlays at an additional cost, such as:
Vegetable wok
Stainless steel grill pan
Pizza stone inlay
Cast iron pastry inlay
Dutch oven inlay
Chicken rack inlay
This feature drastically improves the versatility of the BBQ.
Not only can you use it to host a traditional BBQ, but you can cook regular everyday evening meals with it, too!
This is perfect for those who love eating outdoors in the warmer months!
When cleaning the BBQ after use, the ash tray easily slid out, making it simple to dispose of the used coals.
The warming rack also just slots in and out of place when you apply inward pressure to the arms, so this was nice and easy to remove and clean.
However, when it came to the cooking grate, we faced some difficulties.
Due to the grid in-lay, the cooking grate has lots of nooks and tight spots for food debris and fat to collect, which meant we needed to give it a really good scrub to get everything off.
After removing the big bits of food debris with a metal tool, we applied a paste of baking soda, white wine vinegar, and a few drops of baking soda.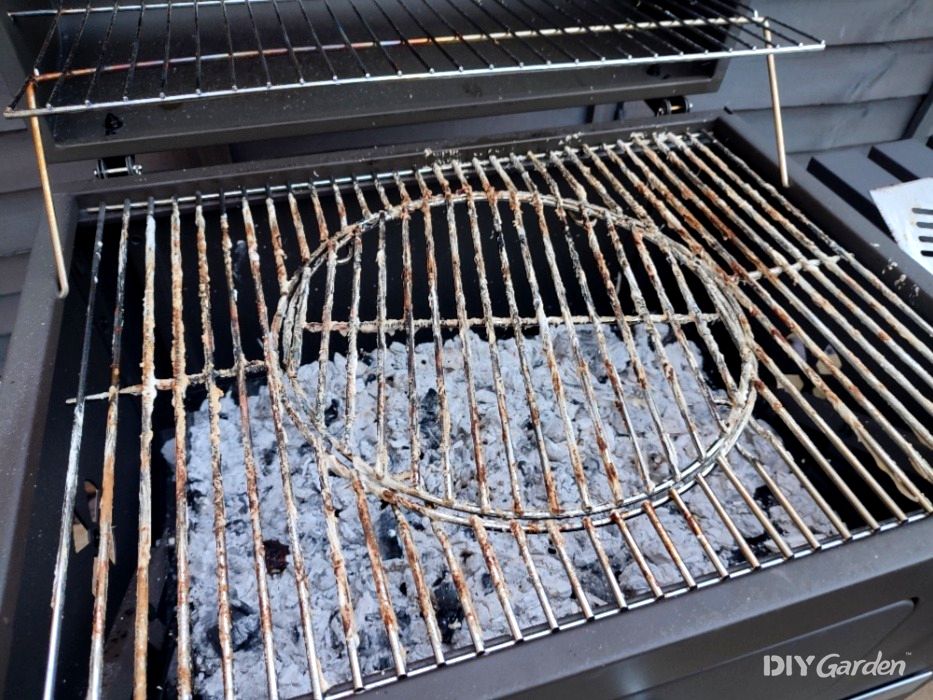 We left this on the grate for 1 hour and then used a sponge to scrub it off. It took around 15 minutes and a lot of elbow grease to clean the grates (including the circular in-lay).
The Tepro Toronto Click Charcoal Barbecue is extremely affordable, considering its numerous handy features, sturdy design, and ease of use.
Temperature control can be a big worry with charcoal BBQs, as inconsistent heat means uneven cooking.
However, the combination of the thermometer, adjustable coal tray, and multiple air vents help provide maximum control that even a first-time Tepro BBQ user like me can quickly grasp!
This quality, in itself, makes this BBQ good value for money.
This BBQ's large grill grate and additional warming rack also give it better value for money, as you can feed large parties without worrying about the BBQ's capacity.
This being said, I would have loved for it to come with a couple of tools – but that's just me being fussy! All in all, the Tepro Toronto Click Barbecue is excellent value for money.
This BBQ has a lot to give. And, although its design isn't perfect, you can't argue with its price tag when you consider all of its additional features.
However, this isn't what sets it apart from other barbecues – it's the Tepro Toronto Click Barbecue's versatility.
The inner grid in-lay makes it a valuable addition to the garden, not just for the odd barbecue during summer but for quiet nights in, too.
This quality has truly won me over, especially as a food and gardening lover!
Overall, I highly recommend this barbecue for any garden, whatever its size or style.
If you found this interesting and want other recommendations for Charcoal BBQs, you'll love our article on The Best Charcoal BBQs of 2023.
Why You Can Trust DIY Garden
At DIY Garden, we believe your trust is earned through our knowledge and transparency. Our team of experts has over 75 years collective experience in the gardening and DIY space. Since the website's creation in 2016 we've tested over 275 products, ensuring our recommendations are based on real experience. We're open about what we've tried and what we've researched, and this is clearly labelled in our product reviews. Every year, we revisit and update our suggestions to include worthy new additions to the market. Our aim is to give you straightforward, honest, and helpful recommendations, so you can confidently choose the best tools and equipment for your projects.
Our Scores:
Ease of Assembly

Design

Manoeuvrability

Ease of Use

Capacity

Features

Ease of Cleaning

Value for Money

Overall
Features:
Grill Size

56 cm x 41.5 cm

Height

107 cm

Weight

26.55 kg

Wheeled?

Yes
About Your Guides
Emma Loker is an avid gardener who loves all things nature-related. She believes in the therapeutic power of nature and the positive impact of gardening on mental health. She writes to encourage others to get outside and immerse themselves in their natural surroundings.

Sarah's role as chief editor at DIY Garden is about more than just making sure we're literally dotting the i's and crossing the t's (although she's a stickler for detail, so it's certainly about that too!). It's about proof-reading, fact-checking and continuously researching everything we publish, ensuring that it adheres to our

editorial standards

, so that everyone can really get the most out of their green space.
You May Be Interested In These Other BBQ Reviews