In this weed killer review, I thoroughly compared speed of results, longevity and value for money for multiple products. After hours of research and testing, I recommend the Roundup Fast Action Weed Killer as the best weed killer on the UK market.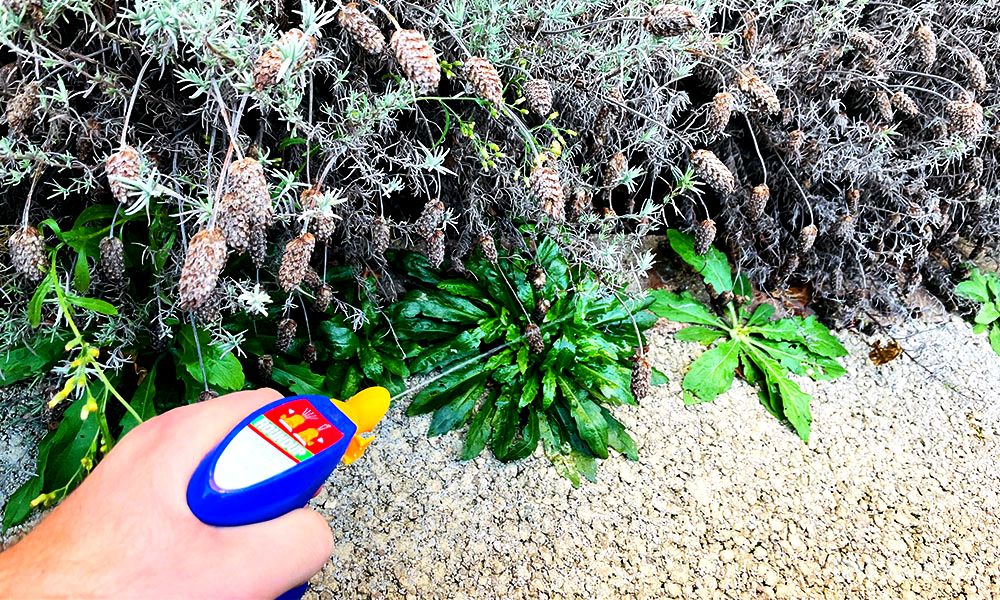 My Top Recommended Weed Killers
How I Tested
Product Tester:
I tested various weed killers to identify the best of the best, so you don't have to. I was looking for the most effective and eco-friendly weed killer, so I conducted a comprehensive test assessing the following factors:
Speed of Results: Ideally, I was looking for fast-acting products that showed results within 24 hours. Any product that achieved this was rated higher. If the product also killed the roots within a 2-week window, this was also deemed highly effective. I marked down any weed killers that took 7 days to show the first signs of success, and those that took even longer received the lowest rating.
Longevity: Any weed killers that needed to be reapplied after rain were significantly marked down, as this doubled the time you'd have to spend on weed killing. Weed killers that killed the entire plant, including the roots, were rated the best, as these are the only products that ensure long-lasting results.
Safety and Environmental Impact: It was important to assess the overall environmental impact of each weed killer as well as the risk to the user's safety. As a result, any product where the nozzle leaked was rated lower, as this risked harm to the gardener using it. Products with excessively harmful chemicals, such as Glyphosate, were marked down, as these pose a risk to wildlife.
Ease of Application: When reviewing ease of application, I deemed any weed killer that came ready-mixed better for the average gardener, as less time will be spent preparing the solution. I also looked for products that came with different attachments – such as a nozzle and hose – to make application easier. Models with additional features, such as a built-in pressure pump and adjustable nozzle settings, were rated highest, as these elements made the product easier to use.
Value for Money: When assessing value for money, I identified how many litres of weed killer you received, the treatment area it covers, and the price point. Products that covered a higher surface area and still retained their effectiveness (for example, a 2 L bottle able to cover over 3000 sqm) were rated higher than those that only covered a smaller surface area for the same – or similar – price. I also assessed the additional features that come with a weed killer, as these products give you better value for money.
My Product Reviews & Opinions
Compare Product Features Here
Use the dropdown to sort the table by the feature that's most important to you.


Our score
Visible Results
Application
Capacity
Treatment Area
Kills The Root?
For Lawns?
Visible Results

1 - 2 days

Application

Pressure sprayer

Capacity

5 L

Treatment Area

150 m²

Kills The Root?

Yes

For Lawns?

No

Visible Results

1 day

Application

Sprayer / watering can

Capacity

2L

Treatment Area

3332m²

Kills The Root?

No

Visible Results

7 days

Application

Sprayer / watering can

Capacity

1L

Treatment Area

1666m²

Kills The Root?

Yes

For Lawns?

No

Visible Results

1 day

Application

Sprayer

Capacity

3L

Treatment Area

50m²

Kills The Root?

Yes

For Lawns?

No

Visible Results

1 day

Application

Sprayer

Capacity

5 L

Treatment Area

18.5 m²

Kills The Root?

Yes

For Lawns?

No

Visible Results

1 day

Application

Sprayer / watering can

Capacity

5L

Treatment Area

240m²

Kills The Root?

Yes

For Lawns?

No

Visible Results

7 days

Application

Sprayer/watering can

Capacity

1 L

Treatment Area

667 m²

Kills The Root?

No

For Lawns?

Yes

Visible Results

1 - 2 days

Application

Sprayer/watering can

Capacity

1 L

Treatment Area

332 m²

Kills The Root?

Yes

For Lawns?

No

Visible Results

7 days

Application

Sprayer / watering can

Capacity

1.2L

Treatment Area

720m²

Kills The Root?

Yes

For Lawns?

No

Visible Results

1 day

Application

Sprayer

Capacity

1.02 L

Treatment Area

60 m²

Kills The Root?

Yes

For Lawns?

No
Tips on Buying Effective Weed Killer
You might want to consider the various types of weed killer before settling on one. If you're targeting weeds on your lawn, the best option will be a selective weed killer that won't harm the grass, only the weeds.
Alternatively, residual weed killers will stop all plants from germinating, and non-selective weed killers will kill everything they encounter

. Therefore, these are best used on patios or highly weed-ridden areas.

A systemic or industrial weed killer will help tackle the hardiest weeds

, such as brambles and briars. Just be warned that they use pretty powerful chemicals. 

The best weed killer will show visible results within 1 – 2 days. My advice is to look for a large capacity that will treat a surface area of at least 100 m² as these will generally offer the best value for money. Prioritise weed killers that kill the entire plant, including the roots, to prevent the weed from re-sprouting

.

Finally, look out for a weed killer that comes with a pressure sprayer to make application easier

. Some weed killers will need diluting which can be time consuming; however, they often work out cheaper.  
I have chosen Roundup Fast Action Weed Killer as the best weed killer, primarily for its effectiveness and ease of use. This non-selective weed killer has a 5 L capacity and doesn't require dilution, spraying straight from the bottle. It will cover a 150 m² treatment area and destroy the weed's entire root network. The sprayer has a jet setting that is capable of reaching 120 cm, protecting your hands and targeting specific weeds.
Why You Can Trust DIY Garden
At DIY Garden, we believe your trust is earned through our knowledge and transparency. Our team of experts has over 75 years collective experience in the gardening and DIY space. Since the website's creation in 2016 we've tested over 275 products, ensuring our recommendations are based on real experience. We're open about what we've tried and what we've researched, and this is clearly labelled in our product reviews. Every year, we revisit and update our suggestions to include worthy new additions to the market. Our aim is to give you straightforward, honest, and helpful recommendations, so you can confidently choose the best tools and equipment for your projects.
How to Choose The Best Weed Killer
Ah dear, time to talk about every gardener's worst nightmare…weeds!
I think we all agree that having the odd weed here and there is par for the course in the garden. However, those pesky plants can spread so rapidly, they easily have the potential to invade entire lawns and flowerbeds.
Forks, trowels and hoes are good to have in the armoury against stubborn weeds. But sometimes you need something more. An effective weed killer can help truly eliminate weeds, keeping your garden looking pristine. Plus, they're not only useful in the battle against common weeds; certain weed killers can get rid of brambles, nettles and thistles as well.
READ NEXT: Where Do Weeds Come From?
The following information will help you work out how to find the best weed killer for your garden:
Different Varieties of Weed Killer
There are a range of weed killers on the market and they attack weeds in different ways:
Selective weed killer is usually safe to use on lawns as it won't kill off the grass. It will only target and kill specific types of plans (eg. weeds). Selective weed killer is normally clearly sold as being lawn safe. Therefore, if a weed killer doesn't mention being safe for lawns, don't use it on grass (unless you don't mind the grass getting scorched).
Non-selective weed killer will kill weeds and any other plant it comes in contact with. It needs to be applied with care to make sure they don't get on any grass or prized plants by accident.
Systemic weed killer has the strength to kill even resistant plants like brambles and briars. Systemic weed killer is applied directly to the plant and absorbed. It travels down to the root, killing the plant from the inside out. It generally works slower than other weed killers, but can be more powerful. It will effectively tackle deep rooted weeds.
Residual weed killer is applied to the soil and prevent seeds from germinating. Whilst it stops weeds from growing, it also tends to stop any other plants from germinating as well. Residual weed killer is long lasting, remaining active in the ground for around 12 months.
Natural weed killer is any weed killer made from natural ingredients. While these tend to be less effective than industrial strength weed killers, they are safer to use on your lawn and kinder to wildlife. More details can be found about the ingredients found in commercial natural weed killers in the "Ingredients in Weed Killers" section below.

Some people also choose to use homemade natural weed killers, using a solution of white vinegar, salt and liquid dish soap.
READ NEXT: How to Stop Weeds Growing in Block Paving
How Weed Killers Work
Weed killers use herbicides to control, limit and stop plant growth.
The actual chemicals vary depending on the type and brand of weed killer, but they tend to work in a combination of the following ways:
Stopping Photosynthesis. Plants need light in order to survive and create food, a process known as photosynthesis. Some weed killers work by stopping the plant's ability to photosynthesise. This will starve the plant and effectively kill weeds.
Stopping Protein Production. Protein production is another essential element of plant growth and health. Some weed killers stop plants from being able to produce proteins. Ultimately this will kill weeds. Glyphosate works this way; however, do your research before using products which contain Glyphosate – is has been shown to have negative effects on health.
Introducing Different Hormones. The plant's hormones dictate its growth. Some weed killers contain plant hormones that, when applied to the plant, confuse the plant's growth system. This will kill weeds as the plant eventually becomes deformed and dies.
Ingredients in Weed Killers
Whilst there are a lot of ingredients that can go into weed killers, some are used more commonly than others.
The ingredients dictate what type of weed killer it is, and often a combination of ingredients are used.
Here we will look at the ingredients of weed killers, based on what type of weed killer they're most commonly used in. There are selective weed killers (only targeting certain plans), non-selective weed killers (not fussy about what plants they kill) and organic weed killers (using ingredients from nature).
Be careful using weed killers around food plants. Many of them are unsafe for use around crops. There are some which are considered to be ok, but you should always do your own research on specific products and read the label carefully.
READ NEXT: How to Clear a Garden Full of Weeds
Ingredients Commonly Found in Selective Weed Killers
These ingredients are used because they specifically target certain types of plants. Therefore, they are often found in selective weed killers as they shouldn't kill of grass or other vegetation that they're not intended for.
Generally, a combination of these ingredients is used to make the weed killer more effective.
Fluroxypyr – specifically targets plants like cleavers and other similarly broad-leafed weeds.
Dicamba – effective against broadleaf weeds like milkweed, as well as woodier plants like brambles.
Mecoprop-p – good at controlling knotweed and clover as well as other broadleaf weeds before they have reached maturity.
Florasalum – effective against dandelions, white clover and daisies before the plants have reached maturity.
Clopyralid – combats tougher weeds like thistles and clovers
MCPA – stands for '2-methyl-4-chlorophenoxyacetic acid' and is used to keep broadleaf weeds like thistle at bay.
Ingredients Commonly Found in Non-Selective Weed Killers
These ingredients are used because they will attack any type of plant. They may be used in different concentrations, with other ingredients as well.
Glyphosate – kills the majority of plants, including perennial grasses, so it's not one that you want to accidentally get on the lawn or flowerbed. It is effective at killing well-established weeds because it works from inside the weed itself. After being absorbed by the leaves and stalk of the weed, glyphosate spreads to the rest of the plant, including the roots. In recent years, it's developed a reputation for being dangerous; however the jury is out on a definitive conclusion. Some studies have found it to be carcinogenic, whilst others consider it safe for humans to use as long as the instructions are followed. Glyphosate is also thought to negatively affect wildlife such as bees and aquatic life. It can stay in the soil for a long time as well.
Flazasulfuron works on weeds when they first start growing, as well as when they are in their 'adolescent' stage. It's absorbed by the roots and then works its way through the rest of the plant.
Ingredients Commonly Found in Organic Weed Killers
Weed killers with organic ingredients can still be strong, and contain harmful ingredients as well. However, organic ingredients are generally considered less damaging for the environment and wildlife.
Pelargonic acid is the most commonly found active ingredient in organic weed killers. It's a naturally occurring acid in geraniums. This acid is generally considered effective at controlling the growth of smaller broadleaf weeds (under 15 cm tall).
Organic weed killers are less likely to stay in the soil, and may be suitable for use near food crop plants. Also, you can often plant into the soil at soon as the weeds are gone, instead of having to wait for the chemicals to leave the soil. (again, check the label of the specific weed killer you're using).
General Weed Prevention
After treating your garden with weed killer, you'll have a clean slate. But how can you stop the vicious cycle of weeds growing back?
Well, prevention is the best cure and there are several tactics you can use to keep weeds away. You might prefer some methods over others, or consider using a combination:
Prevent weed seeds from germinating by using a weed killer that stays in the soil. This will stop weeds from growing, but will also stop any other plants from germinating as well.
Consider mulching. A thick layer of organic mulch can prevent weeds from taking over your garden. This will help the soil retain moisture while also suppressing small weeds.
Use thick weed-control fabric/weed membrane. A weed-control fabric/weed membrane can prevent weeds from growing. It's perfect to use under paths or decking. It allows water, nutrients and air to pass through, while stopping weeds growing. These are generally very easy to lay and offer a cost-effective way to prevent garden weeds. If you want more information about weed membranes and how they can help, check out this page on the best weed membranes.
Don't leave bare soil. Weeds thrive in open spaces in the soil. Plant vegetables, flowers and shrubs close together to minimise open areas where weeds can pop up.
Fertilise grass regularly. This can prevent new weeds from growing on the lawn. Fertilising can help grass build a healthy root system which can choke out weeds, whilst improving the condition and look of your lawn at the same time.
When to Apply Weed Killer
It's important to note that the chemicals in most weed killers are not as effective during warmer temperatures.
This is not necessarily due to any shortcoming of the herbicide itself, but related to how plants absorb moisture. Most plants absorb more moisture in the cool temperatures of the early morning, but stop when temperatures rise in the afternoon.
So, for the best results, apply your weed killer early in the day.
All weed killers have the potential to be washed into other areas through rainwater runoff.
Spraying during windy conditions can also cause the chemicals to spread to areas that you did not intend to treat, killing plants that you wanted to save.
Therefore, you should avoid using weed killer if you know it's going to rain or if it's windy.
Other Methods for Removing Weeds
Using a chemical weed killer may not be everyone's first choice. Sometimes, it becomes the only option, especially if you are up against an overgrown garden of brambles, or persistent weeds that won't stop coming back.
However, there are some other weed-removal options that you can consider, or that you might want to use alongside chemical weed killers:
Some weeds can be killed by simply pouring hot water over them. This can be effective on patios and driveways but will scald grass if used on the lawn.
Use a long-handled weeding tool, or a weeding knife. This makes weeding more a manual process, but there are some effective tools that make the job less backbreaking. You might like to check out this page on the best weeding tools to find out more.
Purchase a weed burner to pinpoint certain weeds. These tools are designed to heat weeds and make their cells burst, causing them to die. They're quite effective, and can stop bigger weeds like dandelions from growing back. If frazzling your weeds to death sounds like something you'd be interested in, you can check out our page on the best weed burners.
Regularly hoe any loose soil to combat small weeds. This can be both a preventative and offensive measure; it discourages weeds from taking root as well as disrupting the growth of new weeds.
Getting rid of weeds without chemicals can be hard work, but it can be done.
Keeping informed about the growing habits of different weeds can help, as you can try to dissuade certain species from growing in your garden.
Weed Killer FAQs
How does weed killer work?
Weed killer uses chemicals (herbicides) to control, limit and stop plant growth. The actual chemicals in the formulation can vary depending on the brand and the type of weed killer in question.
A 'selective weed killer' will contain ingredients that target certain types of weeds. These are often safe for use on grass as their ingredients won't affect it.
A 'non-selective weed killer' will damage any plants that it comes into contact with. They're generally more powerful than selective weed killers, but you need to be careful with their application and make sure they don't get onto any plants you don't want them to.
You should always read the packaging before applying weed killers on or near to to edible plants that you intend to consume. Some weed killers must not be used near crops.
How does non-toxic weed killer work?
A non-toxic weed killer may contain active ingredients such as pelargonic acid and maleic acid hydrazide.
Pelargonic acid breaks down the cell walls of cells inside leaves. The cells then lose their structure and die. It will only work on the green parts of plants, and can therefore be used around trees and under hedges etc.
Maleic acid hydrazide is often used in crop management. It affects the plant's root system and stops them from growing.
Can I make homemade weed killer?
If you're not keen to buy a chemical weed killer, you can try making your own; however, even a homemade weed killer may scorch grass or cause an acid imbalance in the soil.
A popular homemade weed killer combines 5% white vinegar, salt and washing up liquid.
To make this weed killer:
Mix one litre of 5% white vinegar, three tablespoons of salt and three tablespoons of washing up liquid in a spray bottle. Once the salt is dissolved, apply to weeds.