Our
Jackery Portable Power Station Explorer 500

Review

When I started to test out the Jackery Explorer 500, it made me think of one of the more ridiculous uses of power I've experienced in the past. On a tree felling expedition to Scotland a few years ago, the only thing we needed electricity for was charging our phones. It felt completely ridiculous firing up a 2,000 Watt petrol generator with all its noise and emissions, just to top up a little mobile phone.

So, what does this say about the setup I've now got, thanks to a 518 Watt hour portable power station, 100 Watt solar panel array and carry case? They're lighter, more environmentally friendly, better looking, and much simpler to use. So long as you don't expect it to power up anything over 500 Watts, it's an ideal way to take power with you to your next job.

B08RNT5BDT

0850006304820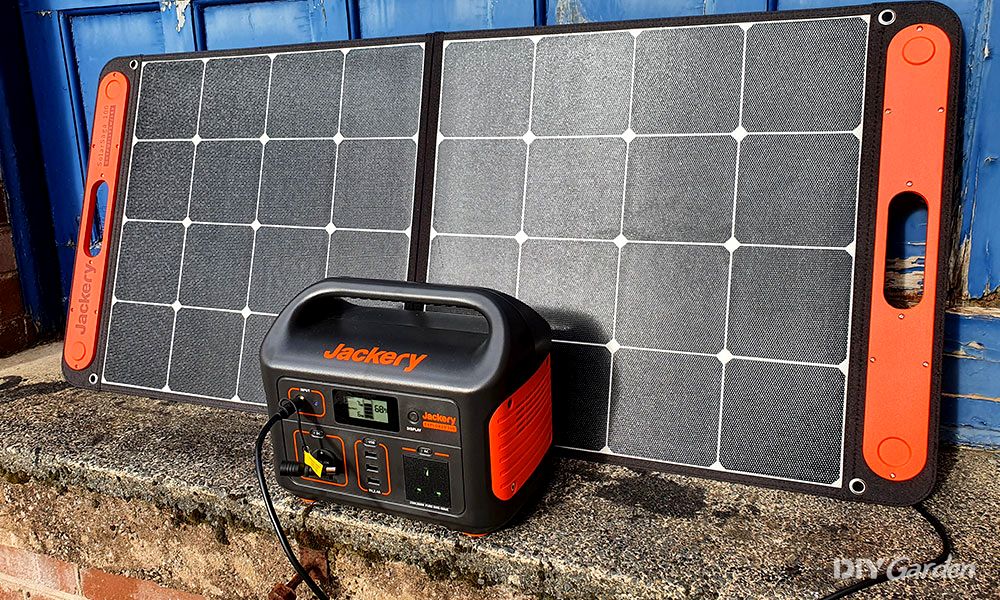 I've had plenty of experience working "off grid" on sites that don't have mains electricity, and ones that haven't allowed 240 Volt corded tools as well. If you're relying on battery powered tools, there's only one thing that's certain, and that's they're going to run flat just when you need them the most.
In steps this absolute marvel of modern Lithium Ion battery technology, the Jackery Explorer 500. It's like one of those power banks you use to charge your phone, but it's got a proper three-pin plug on it. Now it means you can have your power tool batteries on charge wherever you want, as far away from the national grid as you like.
The off-grid capabilities of this big battery don't stop there though. Delivered alongside my Explorer 500 is the Jackery SolarSaga 100, a rugged and highly portable solar panel array that can charge up the power bank in just a few hours, provided there's some sunshine.
Read our product testing methodology here.
How I Tested
I thought the best way to really put this power bank to the test was to plug in a range of different tools into the 3 pin AC input plug and see how it performed. I'm well aware that this power bank is rated up to 500 Watts, with a surge capacity of 100 Watts. However, I'm here to push this kit to the limit, just to see what happens, so you don't have to!
My unscientific approach was to plug in more powerful tools each time until the power bank hit its limit. To further test the output, I plugged in my phone and an outside lantern into the USB ports. The idea was to maximise the output load to see if the battery level went down fast, or if it did anything strange.
Testing out the SolarSaga 100 was pretty straightforward. I pointed it at the sun, or where the sun was supposed to be, in a variety of different weathers and noted down the power of input shown on the LED screen.
The next step was to see roughly how much charge could be added in a certain amount of time in each weather type. I won't pretend it was a particularly scientific experiment, but it was a decent indication of whether the solar panels were a real replacement for good old mains power.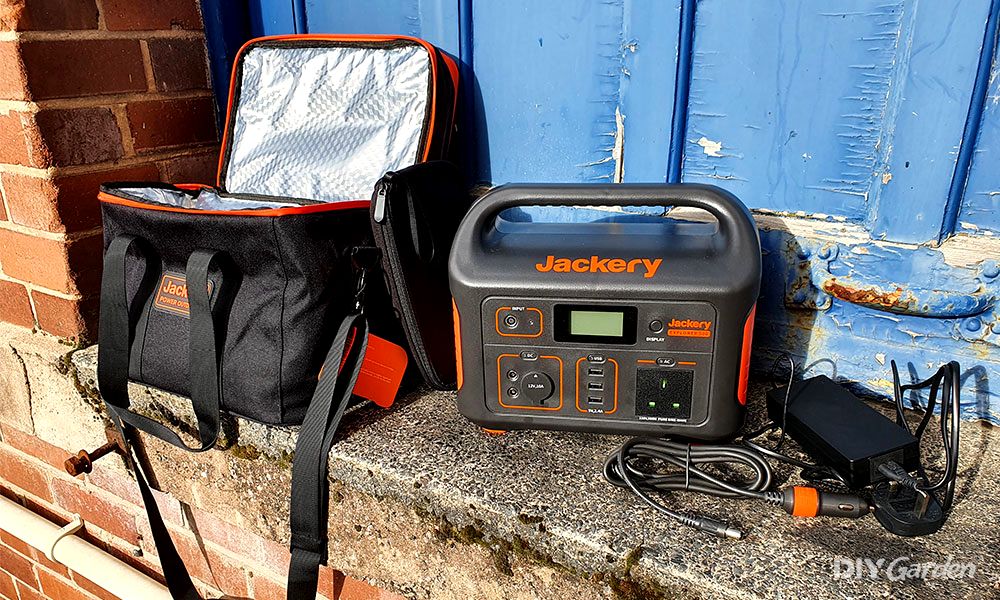 I'm not someone who normally puts too much thought into the unboxing process, but even I was impressed by the packaging that the Jackery Explorer 500 came in. They've obviously put a lot of thought into keeping the power bank safe during transport. It comes packed in a box inside another box with quality black foam padding all around it. I doubt there's much chance of it getting damaged during shipping!
Once I'd opened the many layers of packaging, the portable power station slides gently from the box and reveals the neoprene wetsuit material cable pouch as well. It feels like a premium product already. Nothing was rattling around in the box or stuffed into little plastic pouches. An excellent start!
The Explorer 500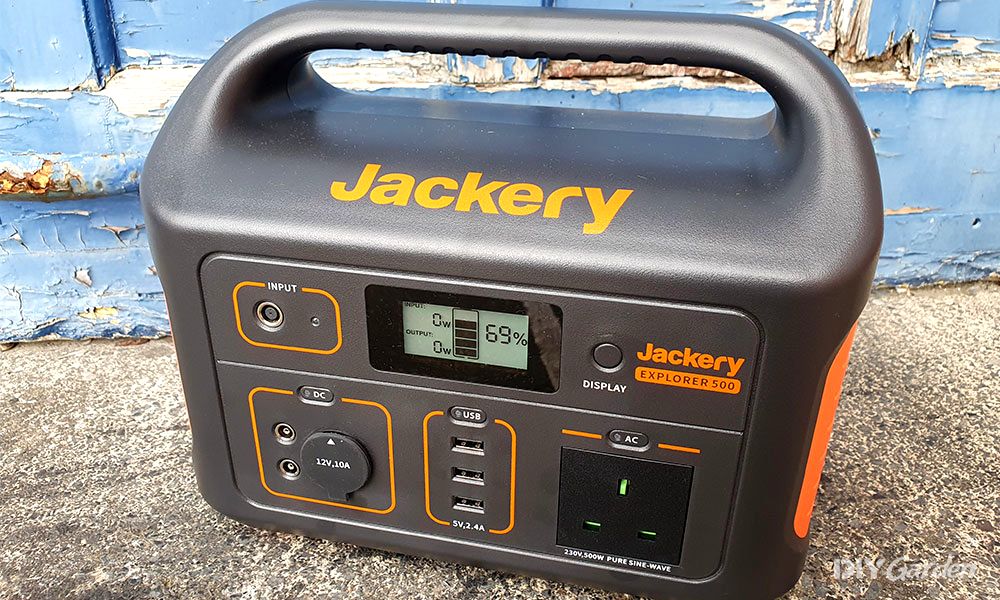 Starting with the look and feel of the Jackery Explorer 500, it's about the size of a four slice toaster with a handle on the top. Decked out in black plastic with orange end caps, it's got a pleasant textured surface and orange rubber feet that stop it from sliding around. The feet go a long way towards keeping this portable power station quiet as well. Weighing in at just over 6 kg, it's not exactly light, but when you consider the big Lithium Ion cells inside putting out an impressive 518 Watt hours, you can forgive it for having a bit of bulk.
The front panel is where the charging magic happens though. You can individually switch between outputs with nice clicky buttons that light up when they're on, and there's a backlit LCD display on there too. The display shows you the percentage of charge in the power bank, the present input and output in Watts, and a handy battery icon with five bars to give a visual representation of the charge level.
To say this power bank is idiot proof is pretty accurate. It's clearly labelled what port means what, so it's hard to get it wrong. First, there's your input connector that receives either the 240 Volt mains cable, or the solar charger. You can also plug the included 12 Volt "cigarette lighter" socket into the input and charge the power bank while you drive your car. A handy option for those long journeys!
Then underneath that and split into three sections are the output ports. Starting on the left is the DC, or Direct Current, output. In this case it's a familiar 12 Volt "cigarette" socket you might find in a car. There are plenty of uses for this type of auxiliary socket, everything from lights to air pumps and mini vacuum cleaners are readily available with this type of socket in mind.
Less obvious are the two DC ports next to the "cigarette" socket. I'm not an electrician, and I've never used this type of connector before! They're DC barrel ports that receive connectors with these precise dimensions: 6.5 x 1.4 mm, for anyone who feels they need to know. You could connect whatever gadget you own to these ports, but I don't have any myself.
In the middle of the unit are three USB ports. These are the standard USB type A ports that almost everyone would recognise (but still try to plug the cable in the wrong way up). One criticism I've got is that a lot of devices these days are changing to USB type C. They're smaller, easier to plug in, and critically, deliver power at a higher current. This isn't a big issue, but technology moves fast, and I don't want this power bank to become obsolete any time soon.
On the right of the unit is what I think makes this the best portable power bank out there right now. You get a standard UK type three-pin plug. It's the same AC current as you'd find all through your house, so you could plug in almost anything you like. I say almost, because as the "500" part of this power bank's name says, you've got a maximum of 500 Watts to play with.
A little bit of a hidden gem is built into the side of the Explorer 500. There's a seriously powerful LED torch for lighting up the dark wherever you need it. Operated with a single button, you press it once for on/off, and if you hold it down it flashes SOS in Morse code! An excellent little extra.
The power bank itself is a heavy built and really solid bit of kit. It certainly feels rugged, there's nothing flimsy about it at all. It feels to me like you could happily take it camping or on a jobsite without worrying it'll fall apart if you look at it too hard.
The screw holes on the handle have nifty rubber bungs in them. it adds to the rugged feel, and I suppose would stop water from getting in? I do have a bit of a gripe with this power bank design though, and that's to do with its true outdoor credentials. For a portable power bank that shouts "power outdoors" on the front in big orange letters, the safety instructions tell a rather different story.
Two that leapt out at me are "keep out of direct sunlight" and "do not charge, use or store the unit… in an area exposed to rain or moisture". I wasn't planning on plugging in my tools in the rain, but I half expected IP54 water and dust intrusion protection. It's not a deal breaker, but if a product is marketed towards people that lead an outdoors lifestyle, then surely it needs to be able to cope in those environments?
Something that really annoyed me about the Explorer's design was the placement of the 3-pin plug socket itself. It's really low down on the front of the power bank. 99% of all standard UK plugs I've ever used have the wires coming out of the bottom, so most plugs I tried out were too close to the floor and bending the cable. I think it's probably something to do with this originally being product aimed at the US market, where plugs and their cables shoot straight out from the wall.
Carrying this power bank around is made easy with the big plastic handle, but I would like to have seen some rubberised overmoulding like you'd find on a combi drill. The rubber screw hole bungs are rubberised, so it would make sense to extend this grippy surface across the entire handle.
The Case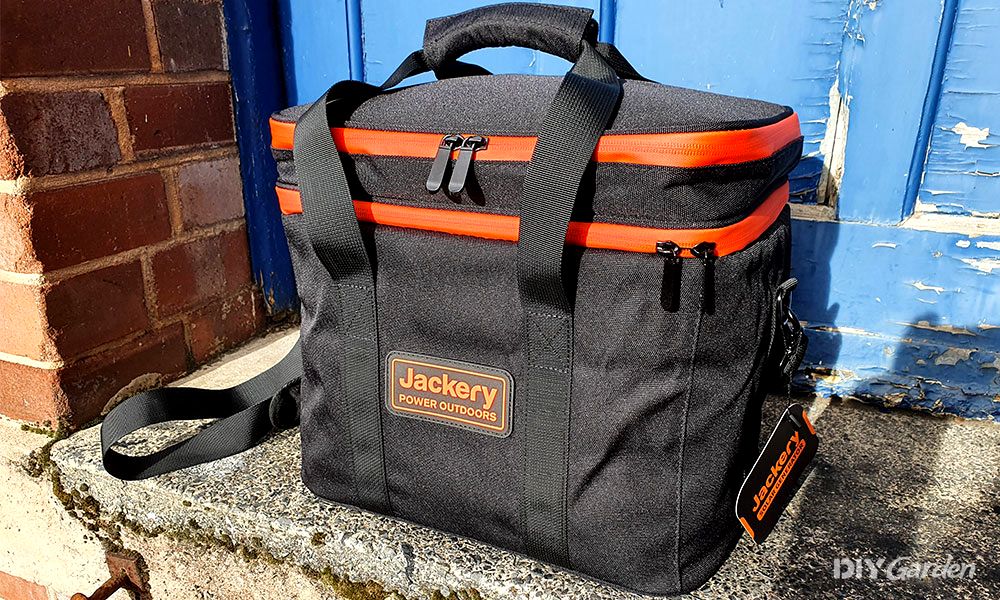 Luckily for me, I don't need to worry about carrying the Explorer around by its handle for long, because I've got the matching carry case as well. This rather handsome looking bag looks and feels a bit like a cooler bag you'd take to the park in the summer.
Dressed up in rugged black EVA (ethylene vinyl acetate) I can't see this bag wearing out any time soon. It's well stitched, the handle webbing looks like it goes all the way round the bag, and there's a sturdy textured plastic bottom for extra durability.
The bag comes with a comfy set of handles that Velcro together and a long shoulder strap complete with shoulder pad. It really makes it easy to stow and carry this heavy beast. I wouldn't want to carry it for long distances otherwise!
The carry bag comes with two separate zipped compartments, one large one for the Explorer 500 itself and a separate zipped section to hold the cable bag and manuals. It certainly feels like a premium product, the Explorer 500 fits the bag perfectly, so it's definitely been purpose built for the task.
The interior of the carry case is an interesting choice of shiny silver with a cubic pattern on it. It reminds me of a cooler bag interior. So much so in fact, that I'm not sure if it's been designed to help regulate the temperature of the power bank inside. I'm not going to try it out purposely, but several users have complained that the bag is not waterproof as the seams are not sealed.
Overall, I think that a case is an essential upgrade for the Explorer 500 power bank. If I didn't have it, it would be a pain to transport over any sort of distance, and without the extra neoprene cable case, the power cords would undoubtably get lost soon.
The problem with the case is that I don't know how much protection it would give the power bank against serious knocks and drops. From my experience, the best protective cases for tools have hard corners and stiff sides that take the impact rather than the equipment inside. It might not be as comfortable to carry, but I would prefer having a case that's more rigid and weatherproof.
The SolarSaga 100
If there's one bit of technology that I truly marvel at, it's PV. Photovoltaic energy, or solar power as it's commonly known, is technology that turns beautiful sunlight into DC electricity that can be stored or used straight away.
The SolarSaga 100 is a portable yet powerful solar panel array consisting of two large 51 x 51 cm square panels that fold together like a big book. Held closed by a pair of strong magnets, there's a handle cut out in the top that makes it easy to carry around. And when I say the magnets are strong, I mean don't get your finger caught between them!
The panels aren't made from brittle glass or some sort of flimsy material, they're constructed from a tough texturised plastic that seems like it's built to last. You can stand the panels up thanks to a fold out kickstand on the back of each side. They're held in place with a system of elasticated straps. Once folded out, the panels sit back at around 45°, so they should make the most of the sunlight. And if you don't like the flip out stands, there are metal grommets on the top corners to hang it up.
The charging cable is stowed in a zip up pouch on the back of one of the panels. Inside is three metres of quality power cable that plugs directly into the Explorer 500 DC input. That gives you plenty of reach to get the panels into position without needing to lug about the power station.
The was a bit of a surprise lurking in this pouch as well. Where the power cable connects to the solar panel is a small orange device that features both a standard USB A port and a new style USB C port. It turns out that you can plug two small devices directly into the solar panel! This is quite an impressive feat, meaning you could charge a phone or some other electronic device without getting the Explorer 500 out of its case. Brilliant!
The Explorer 500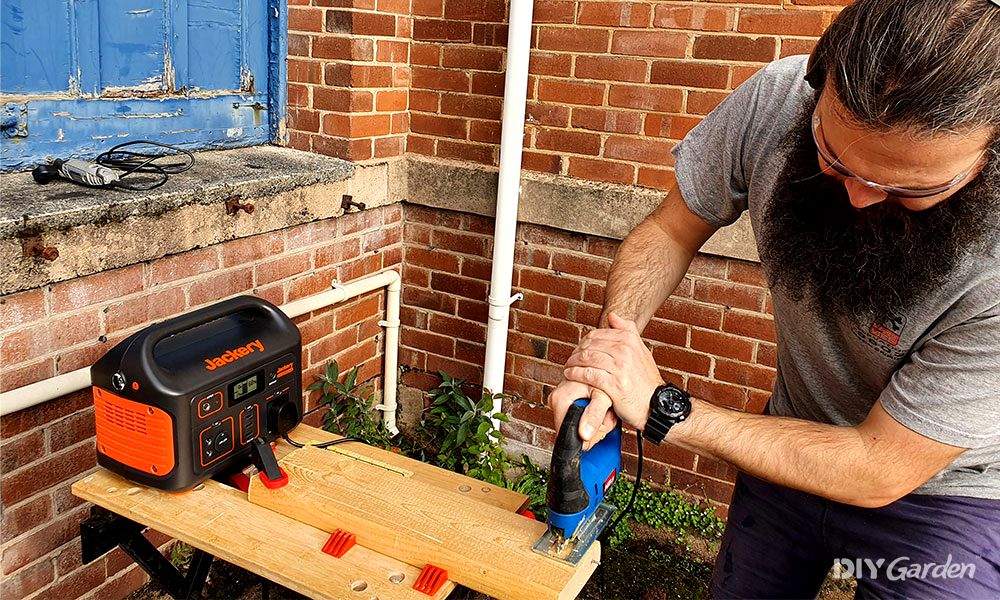 The first test I performed with the Explorer 500 power bank was to plug in the charger for my 18 Volt DeWalt batteries. I've got 3.0 Ah batteries that last well, but if I'm using a power hungry tool like a cordless circular saw they don't last long at all, even with a spare one on hand.
I already knew when I received my Jackery portable power station that this was going to be its main job. When I'm doing any work "off grid", battery capacity is always firmly in the back of my mind. I can't charge my batteries using my car's 12 Volt system, so the Jackery Explorer 500 is an absolute game changer!
You could always have a whole pile of backups or spend wads of cash on the highest Amp hour batteries, but unless you've got a way to plug into a three-pin AC current, you've got problems. So, I was more than happy when I plugged the battery charger into the Explorer 500 and watched the lights start blinking on the charger.
With just the battery charger plugged in it drew around 40 – 43 Watts and kicked on the inverter fan every few minutes. At this rate it would probably run for around eight hours, and seeing as my battery charger is a fast 1 hour charger, that's at least eight batteries on a single charge!
To ramp things up a bit, I plugged my phone into one of the USB ports as well. The phone drew just a little more power from the battery and bumped up the output to 49 – 50 Watts. It's safe to say that I could just keep adding small electricals to the three USB ports and still not see a massive drain on the battery levels. When I'm at the bottom of the garden, in a field, or even in the woods, I just don't need to worry about losing power any time soon. It's a fantastic "off grid" power station.
However, things got a little trickier once I started testing power tools directly in the AC outlet. Seeing as you can only use devices that draw up to 500 Watts, with a 1000 Watt surge, most large equipment is out. My 800 Watt SDS drill, 3,000 Watt garden shredder and 1,200 Watt circular saw are all far too power hungry for this power plant.
I moved down in size to more lightweight handheld tools that the Jackery could happily deal with. My 175 Watt Dremel rotary multi tool plugged in, powered up, and cut through some screws in some scrap wood as if it was plugged into the mains. Even on the top speed setting, it worked exactly as I needed it to. I was impressed!
Next up was a bigger test. I used my small corded 400 Watt jigsaw to make cuts into scrap wood. It worked a charm! I genuinely wasn't expecting it to start up as I thought the initial surge would be too much for the Jackery. The highest output I got was just under 400 Watts when the jigsaw was turned up to full power and being pushed through the timber.
So far so good. The next test was plugging in my 800 Watt SDS drill, just to see what happened. I half expected smoke and sparks and fire to leap out of the Jackery when I pulled the trigger, but the reality was much safer.
If you try overdoing it on the power, the Explorer 500 just turns itself off. So, there's no need to worry about melting the Lithium Ion battery banks if you try to run something too big! Overall, I was really impressed with the power you can get out of the Jackery Explorer 500. As long as you don't try to overwork it, you can use your tools just about anywhere.
The SolarSaga 100
Before I started testing out my new solar panel array, I was a bit concerned that even down here in Devon there's not always a lot of sun in the Autumn. Would there be enough sunshine to charge this whopping great power bank?
Well, I was more than happy when the sun came out and stayed out for an entire afternoon, just in time for me to place the SolarSaga 100 right in a sunny spot. As soon as I plugged the cable into the DC input, it started charging immediately. I kept an eye on the LCD screen as the input increased to around 50 Watts, where it stayed so long as a cloud didn't get in the way.
Within just a few hours I'd added about 20% charge to the power bank! Jackery claim that in full sun it'll take nine hours to achieve a full charge, and I can't argue with those figures. I've since placed the panels in the same spot on a cloudy afternoon as well, and even though it was only drawing a maximum of 20 Watts, I wasn't in a hurry to top off the battery.
What makes this such a thrilling device is that from now on I can charge my power tool batteries using nothing more than clean, green, solar energy from our good old sun. It's an exciting leap forward for me and will really change how I look at working "off grid", and allow me to ditch the dirty petrol generator, at least for most of the time.
One of the clever things about this portable power station is the "pass-through" technology, meaning that you can use the power as you're charging, unlike some other PV systems. What it means to you and me is that you can just leave the SolarSaga 100 plugged into the Explorer 500. It'll be getting a bit of extra charge even while you're using it to charge your tool batteries!
One of the great things about being in the great outdoors is the silence and peace you get when you're away from the hustle of city life. I'm usually breaking that silence with power tools and loud music anyway, so a bit of noise isn't going to disturb me.
If all you're going to plug in to the Explorer 500 are low current drawing devices like phone chargers, this portable power station is all but silent most of the time. The onboard inverter that changes the stored DC power into AC that you need to power up a three-pin plug does make some noise though. It's only an internal fan, so it's not exactly loud. It maxed out at 43 dB on my sound meter phone app, which is roughly equivalent to the noise found in a library!
My own experience with "off grid" power systems are limited to petrol generators. Although they're much more powerful machines, they're also incredibly loud and much smellier than this Lithium Ion beauty.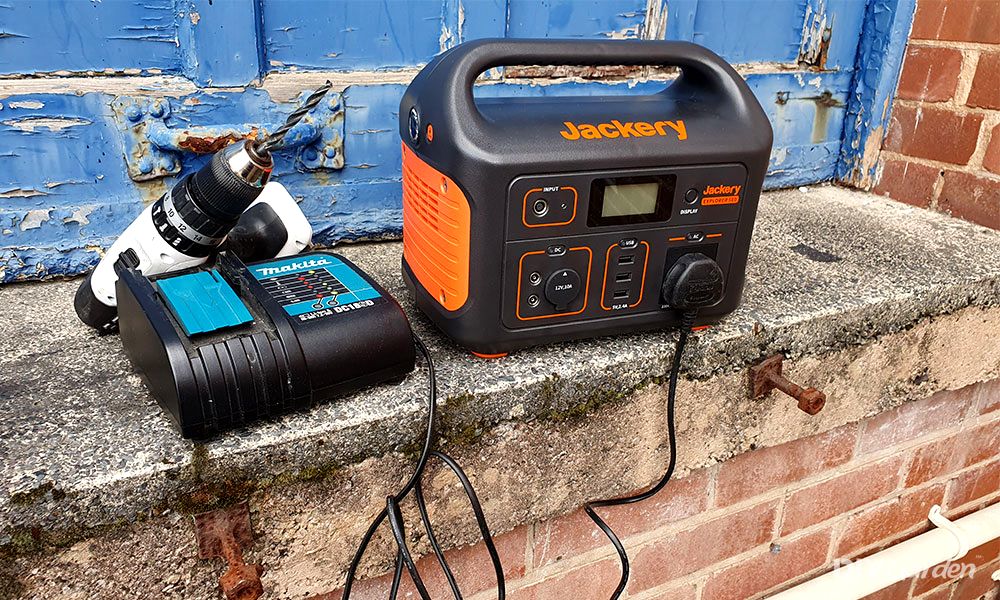 This isn't a cheap setup. For the price of the Explorer 500, SolarSaga 100 and carry case, you could buy a huge petrol generator that puts out thousands of Watts of power, and have enough money left over to fuel it for quite a while.
However, I think this is a much more elegant, planet friendly, quiet, and intelligent solution for using my garden power tools away from the national grid. Most of my go-to tools are 18 Volt battery powered anyway, which the Explorer 500 can charge many times over without needing a top up.
If you commit to using the SolarSaga 100 to top off your batteries, then you're getting free power from the sun anyway. Over time you might save yourself a few pennies that way as well! It's not going to recoup the initial spend on this equipment, but it does a job that's hard to achieve any other way.
When I started to test out the Jackery Explorer 500, it made me think of one of the more ridiculous uses of power I've experienced in the past. On a tree felling expedition to Scotland a few years ago, the only thing we needed electricity for was charging our phones. It felt completely ridiculous firing up a 2,000 Watt petrol generator with all its noise and emissions, just to top up a little mobile phone.
So, what does this say about the setup I've now got, thanks to a 518 Watt hour portable power station, 100 Watt solar panel array and carry case? They're lighter, more environmentally friendly, better looking, and much simpler to use. So long as you don't expect it to power up anything over 500 Watts, it's an ideal way to take power with you to your next job.
Why You Can Trust DIY Garden
At DIY Garden, we believe your trust is earned through our knowledge and transparency. Our team of experts has over 75 years collective experience in the gardening and DIY space. Since the website's creation in 2016 we've tested over 275 products, ensuring our recommendations are based on real experience. We're open about what we've tried and what we've researched, and this is clearly labelled in our product reviews. Every year, we revisit and update our suggestions to include worthy new additions to the market. Our aim is to give you straightforward, honest, and helpful recommendations, so you can confidently choose the best tools and equipment for your projects.
About Your Guides
Harry Duncton is a jack of all trades with experience ranging from carpentry and furniture restoration to tree surgery and gardening. Happiest when found in his shed, he hopes his daughter will find a passion for making things as well.

Sarah's role as chief editor at DIY Garden is about more than just making sure we're literally dotting the i's and crossing the t's (although she's a stickler for detail, so it's certainly about that too!). It's about proof-reading, fact-checking and continuously researching everything we publish, ensuring that it adheres to our

editorial standards

, so that everyone can really get the most out of their green space.