If you want to begin your foray into DIY but know not where to start then by far and away the most obvious place is with a cordless power drill. This super versatile tool solves a myriad of household DIY problems literally at the flick of a switch.
The two most popular options are the drill driver and combi drill. But which one should you choose? Let's take a look….
What is a Drill Driver?
The Drill Driver was invented by Black and Decker in 1961 and is one of the most popular power tools on the market today. Essentially it is a basic cordless rotary drill with an added function for (screw) driving. It allows you to combine speed (used for drilling holes) and torque (twisting force required for turning) using the settings on its torque control ring, to give you the power and accuracy you need when driving screws.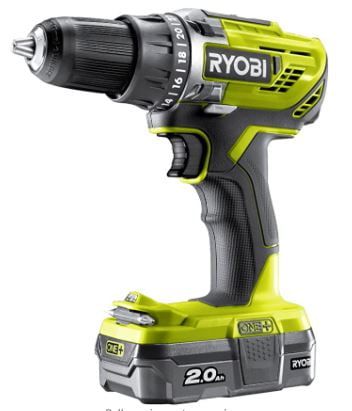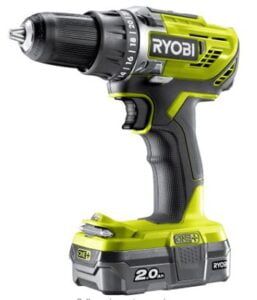 What are Drill Drivers Used For?
Drill drivers are best suited for drilling into softer material such as wood, plastic, veneer and metal, where it uses its 'rotary' mode, and putting screws into soft materials, where it uses its 'driving' mode. This is all controlled by how tightly you pull the trigger and what torque setting you use.
So if you're putting up shelves, hanging pictures, assembling cabinets, cupboards or flat-pack, drilling holes in MDF, particleboard or aluminium, go for a drill driver.
You can also extend the drill driver's use because as well as accepting standard drill and driver bits, it's chuck accepts a wide range of other accessories such as woodworking gadgets, sanders and hole saws, so there are really endless projects you can get stuck into.
What Drill Driver Specification Should You Look For?
The battery setup is the first thing you should consider. some drill drivers have batteries that slot into the unit itself and others have batteries that clip into its base. The shape and weight of a battery contribute significantly to the tool's look and feel. Most drill drivers these days come with Lithium-Ion batteries – the old ones used to come with NiCad batteries which made them heavier. Battery power for drill drivers is usually 12 or 18 Volts. Battery capacity is usually 1.5 to 2 Ah across all voltages – anything more than this would add unnecessary weight. It goes without saying that a battery charger is a must and the battery charging time is a significant factor for many, particularly if there is only one battery around. Anything with a 'fast', 'quick' or 'rapid' charge option is good, meaning that 70-80% of the charge should be restored in under 30 minutes.
One of the main features to look for in a drill driver is a torque control ring – this has a number of pre-set torque settings – drill drivers can have from 10 – 24 settings, including a drill setting for pilot holes. Using the correct setting allows you to gauge and then drive to the exact depth of hole, accounting for both the size of the screw and the toughness of the material. If you are not sure how to do this you can always experiment with the torque settings in scrap material first. The best drill drivers can deliver between 30-40 Nm of torque.
More expensive versions come with 'autostop' clutches that automatically calculate the correct torque and therefore prevent over tightening and potentially damaging the screw, work surface or both, without you having to experiment with the torque settings.
These days more and more drill drivers come with 2 gears so you can take on a wider range of projects. Whilst single-geared versions deliver drill speeds of up to 700-800 rpm, a 2nd gear can deliver up to 1,500-2,000 rpm.
The chuck is also an important feature. All variations come with a ⅜" or ½" (10 mm or 13 mm) 3-jawed chuck. A ⅜" chuck is perfectly acceptable for most projects, whilst more expensive drill drivers tend to have ½" chucks. For drilling holes wider than the diameter of the chuck you can always purchase tapered bits. The 3 jaws accommodate both drill bits with their round shanks and hexagonal bits (used for screw driving). Most chucks are made of plastic, are single-sleeved (meaning the chuck can be operated with one hand), and keyless so it is very easy to swap between bits and the many accessories that are available.
An electric brake and forward/ reverse rotation should be standard on any drill driver these days. The electric brake stops the drill from rotating as soon as you release the trigger.
What Drill Driver 'Nice to Have' Features Should You Look For?
A built-in spirit level is a very handy feature, allowing you to line up the drill at the correct angle before drilling a hole or driving a screw.
Integrated LED work lights are commonplace on drill drivers, and can have up to 3 set at different positions on the drill.
Rotating bit boxes are useful too, often securing 12 bits in a separate sleeve adjacent to the chuck.
And on the battery a fuel gauge tells you how much charge is remaining, very useful if you only have one battery and a limited amount of time to complete the job.
Finally if you are looking to go up market these next two features should be on your list. They usually come together.
A brushless motor and an all metal transmission are signs of a high quality cordless tool that is built to last. With the all metal transmission you are getting higher quality components that wear less. With a brushless motor you get increased efficiency due to its modified components and a small electronic sensor/controller in its motor that eliminates friction and delivers more power.
What Shouldn't a Drill Driver Be Used For?
The drill driver can handle many day to day tasks but is not designed and built for heavy duty work, such as drilling into masonry or concrete or driving large bolts, even if you do have more specialist bits at your disposal for those tasks. There are other tools that can perform that kind of work much more efficiently, notably the combi drill (aka cordless hammer drill, see below), a corded percussion drill, an SDS rotary drill and an impact driver (for driving large bolts).
What is a Combi Drill?
The combi drill is a drill driver with an additional hammer (percussion) function that for drilling into masonry or concrete. It is therefore more versatile than a drill driver, but also heavier and more expensive. It is also known as a hammer drill driver.
The combi drill offers the same convenience and functionality of a drill driver, including torque control settings, but now has an additional 'hammer' setting on the control ring to adjust the bpm (beats per minute) delivered when hammering.
Combi drills are therefore more of a hybrid solution for everyday drilling, driving and hammering tasks.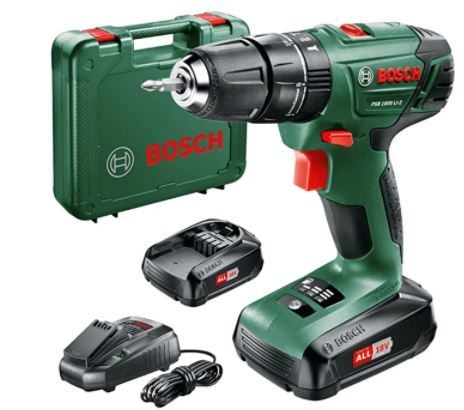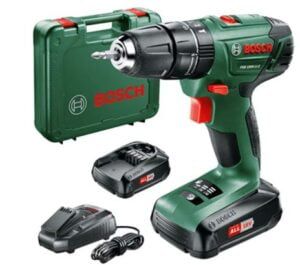 The popular Bosch PSB 1800 LI-2 Combi Drill Kit
What is a Combi Drill Used For?
Whereas the drill driver is fine for drilling into softer materials such as wood, plastic and some metals, you are going to need something more robust to drill into denser materials such as brick, masonry, concrete, rock or stone. This is where the combi drill comes in.
How Does a Combi Drill Work?
When the hammer action is selected and the trigger is depressed the drill starts rotating and the motor engages a clutch and ratchet mechanism that vibrates the drill bit up and down over a tiny distance, but at many thousands of beats per minute, in order to penetrate hard material.
Although some force is applied to the drilling action by the weight of the tool alone you may need to actively apply more pressure depending on the depth you are drilling and the resistance of the material. Using the side handle and therefore 2 hands allows you to exert this pressure in the most comfortable way. When you don't want to hammer you can simply turn off the hammer mode so the drill behaves like a traditional drill (driver).
You should always use masonry drill bits rather than standard drill bits when using the hammer action, as the bit is stronger and the 2 'wings' on the bit force the drilled coarse waste material back up the hole thus keeping the drilling target clean. Also if you were to use standard drill bits they would get hot quickly, go blunt very easily, and eventually break when encountering the tougher material.
What Combi Drill Specification Should You Look For?
You should be looking for all the features you get with a drill driver plus the hammer function. But a major consideration now is the size and therefore weight of the battery plus the extra weight of the hammer motor. A combi drill can weigh over 5 lbs with a larger battery (they typically come with 12, 18 or 20 Volt and up to 3.0 Ah capacity) so you need to be quite careful making your choice.
Two speed gearboxes are the norm with combi drills and most no-load speeds range between 4-500 and 1,500-1,800 rpm for the 2 gears. Equivalent beats per minute values for the hammer action are typically 8-10,000 bpm and 20-30,000 bpm.
What Combi Drill 'Nice to Have' Features Should You Look For?
Some drills offer 3 speed gearboxes these days – not essential by any means but handy for regular users. Also more and more manufacturers offer brushless motors (for greater reliability and longevity) if you have extra cash to spend.
Don't forget the depth gauge too!
What Shouldn't a Combi Drill Be Used For?
Although these tools are suitable for most general purpose drilling into more resistant material there are some cases where they won't be so efficient…
If you are going to be using the hammer action for long periods of time then just the weight of the tool and the force you'll have to apply will begin to take a toll on you physically!
Also these tools are designed to drill holes to a maximum diameter of ½" (although you can go wider with a shanked bit).
So for more intense work or drilling larger holes into dense material there is a better tool out there – the Rotary Hammer (SDS) drill. It is designed specifically for more heavy duty tasks and can absorb impact much more efficiently, but it is significantly more expensive.
Conclusion
So there you have it – all the information you need to set yourself up with what should be one of the first occupants of your toolbox. Your power drill will pay back its purchase cost many times over!