In this ride on toy review, I thoroughly compared design, fun factor, safety and value for money for multiple products. After hours of research and testing, I recommend the Step2 Up & Down Roller Coaster for Kids as the best ride on toy on the UK market.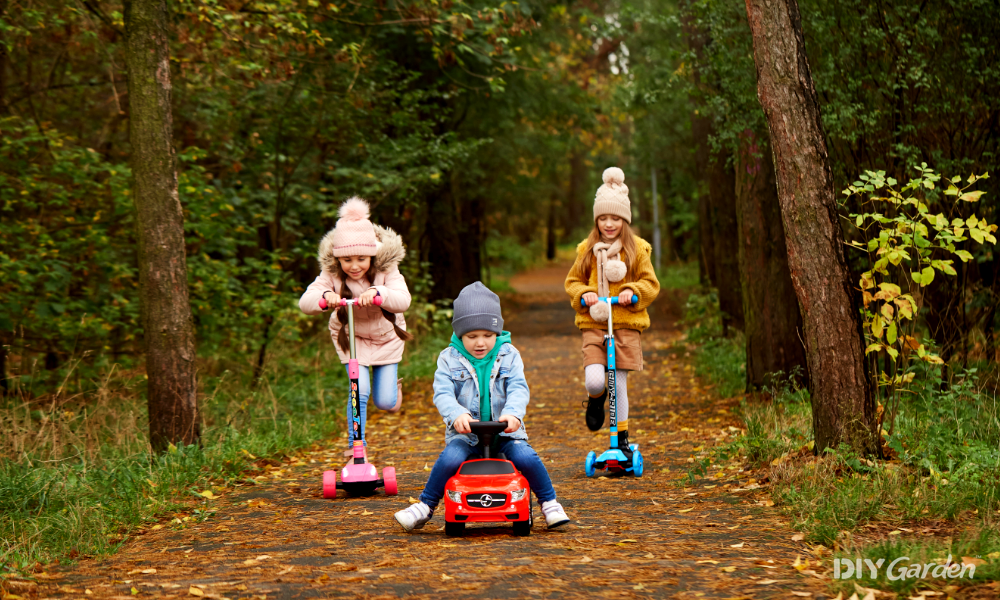 My Top Recommended Ride On Toys
My Top Recommendation Based on Real-world Testing
Other Ride On Toys Worth Considering
Compare Product Features Here
Use the dropdown to sort the table by the feature that's most important to you.


Our score
Age Range
Assembly?
Weight
Dimensions
Tips for Buying Kids Ride on Toys
The first thing to think about is the

age of the child

, coupled with the age the toy has been designed for. It is essential to buy a toy suitable for your child's development level.

Check for

safety features

– especially if your ride on toys are electric. Safety features include seat belts, an adjustable speed and brakes.

Ride on toys need to be both

stable

and

durable

. Those made with sturdy materials will last longer. Plastic is lightweight, weather resistant and usually very affordable.

Finally, ensure the toy is comfortable

for your child. Grippy handlebars or an adjustable seat will ensure the toy is comfy for your child even as they grow.
Why You Can Trust DIY Garden
At DIY Garden, we believe your trust is earned through our knowledge and transparency. Our team of experts has over 75 years collective experience in the gardening and DIY space. Since the website's creation in 2016 we've tested over 275 products, ensuring our recommendations are based on real experience. We're open about what we've tried and what we've researched, and this is clearly labelled in our product reviews. Every year, we revisit and update our suggestions to include worthy new additions to the market. Our aim is to give you straightforward, honest, and helpful recommendations, so you can confidently choose the best tools and equipment for your projects.
How to Choose The Best Ride on Toys for Kids
Ride on toys offer a great way to keep your children entertained and active, while also helping them to develop their motor skills. 
But there's a huge range of ride on toys on the market to suit an enormous range of ages, and finding the best one for your child can be tricky. 
To help you out, I've put together a guide for the best ride-on toys for kids. 
Age Range
The most important thing to consider is the age of the child. It's essential that the toy is suitable for your child's age and development level. 
Basic ride on toys can be suitable for children above the age of around 6 months, while larger toys with more features can usually accommodate children from the age 2 to 5 or 6. 
It's important that your child doesn't grow out of their new toy too quickly, or it may be a waste of money! You're better off purchasing a toy that'll entertain your child for a few years, even if it means they have to grow into it before they can fully enjoy it. 
Keep an eye on the weight capacity! Some toys have a weight capacity as low as 20 kg. Exceeding this will make the toy much less safe. 
Manoeuvrability
It's important to consider how easy the toy is to manoeuvre, as well as which surfaces it can be used on. 
Toys that can be pushed along with your child's legs will help develop leg strength and coordination. These tend to be very easy to manoeuvre, while those with a steering wheel will ensure your child can navigate obstacles. 
Other ride ons have pedals. This is a great introduction to a real bicycle, although these tend to be best for older children. 
Weight and Portability
Most ride on toys are made from plastic, which thankfully makes them very lightweight. However, it's still worth thinking about where you will store your child's new toy, and how easy it is to get it into storage. 
While ride on toys for younger children can weigh just a couple of kilograms, those designed for older kids can weigh up to 10 kg. If your toy is on the heavier side, ensure it's still easy to transport. 
You could also think about whether you'll want to take the toy anywhere with you. If you fancy taking it to the beach, park or on trips away, ensure it can fit in the boot of your car. 
Indoor and Outdoor Use Suitability
Most ride on toys can be used both indoor and out, but larger toys may only be suitable for your garden. 
Those that can be used both indoors and out can be used year-round, which makes them better value for money. 
If you've got a large indoor space, there's no reason why your toys can't be used inside. 
Ride on Toy FAQs
What age can kids start using ride on toys? 
There is no hard and fast rule for when kids can start using ride on toys, especially because ride on toys are designed for a whole range of ages. 
Most children should be able to start using ride on toys from the age of 6 months providing they are closely supervised. At this age, toys such as small push along cars can help develop balance, coordination and motor skills. 
As children grow and develop, more advanced ride on toys can be purchased.
Ensure your children are supervised at all times, and encourage them to wear both helmets and other protective gear. 
What's the best way to store ride on toys over winter? 
Ride on toys can degrade if they are left out in very bad weather. The stickers may rub off, and the colours may fade. They are also very lightweight, so strong winds could cause them to blow into your neighbour's garden! 
You should ideally store your toys undercover in winter. Either move them inside, or store them in a garage or shed.