You want garden furniture that's comfy and cosy. You want it to last a while and not require constant TLC. Am I right?
PE rattan, or polyethylene resin rattan, is a synthetic version of natural rattan. Here, we explore the perks and downfalls of purchasing PE rattan garden furniture and give you tips on distinguishing between real and fake.
Natural or Synthetic: What Do I Choose?
With PE rattan, you get the look without compromising on structural integrity. Natural rattan is prone to rot. When exposed to the UK conditions of often constant rain, it quickly begins to degrade. It's not cost-effective and will start to look shabby in no time at all. PE rattan, on the other hand, is solid and durable. It doesn't break down, come rain or shine.
And you can rest easy knowing you're not hurting the planet with this one. PE rattan is recyclable. So soak up the sun in your comfy PE rattan outdoor furniture!
Synthetic rattan is no fuss. It requires very little maintenance, with no intervention needed in spring or summer and only the occasional wipe-down in winter and autumn. This can't be said for natural rattan, unfortunately.
Due to its susceptibility to degradation, natural rattan requires constant TLC; you'll need a vacuum or brush to remove any debris, a toothbrush to get in the gaps, and a bucket of warm soapy water. All the soapy suds need to be removed, and then the furniture should be allowed to dry fully. Sounds like too much work to me.
But the natural alternative is lightweight and flexible and gives that natural look and feel. So, it's not all bad.
Choosing Top-Notch Garden Furniture
Buying PE rattan furniture isn't always straightforward. There are knock-offs and cheap fakes which you should look out for.
But how do you tell the difference? Well, there are five simple checks you can do to identify a fake:
Examine the weave
Check the colour
Ask about guarantee
Inspect the feet
Look out for "KD"
Examine The Weave
If the weaving's dodgy in places, chances are it's a cheap knock-off. If the weave isn't looking its best in the shop, how do you think it'll look in your garden? Go for PE rattan furniture with a straight rather than a diagonal weave. It's tougher and more weather-resistant.
Although the price tag can be alluring, paying slightly more will guarantee longer-lasting furniture.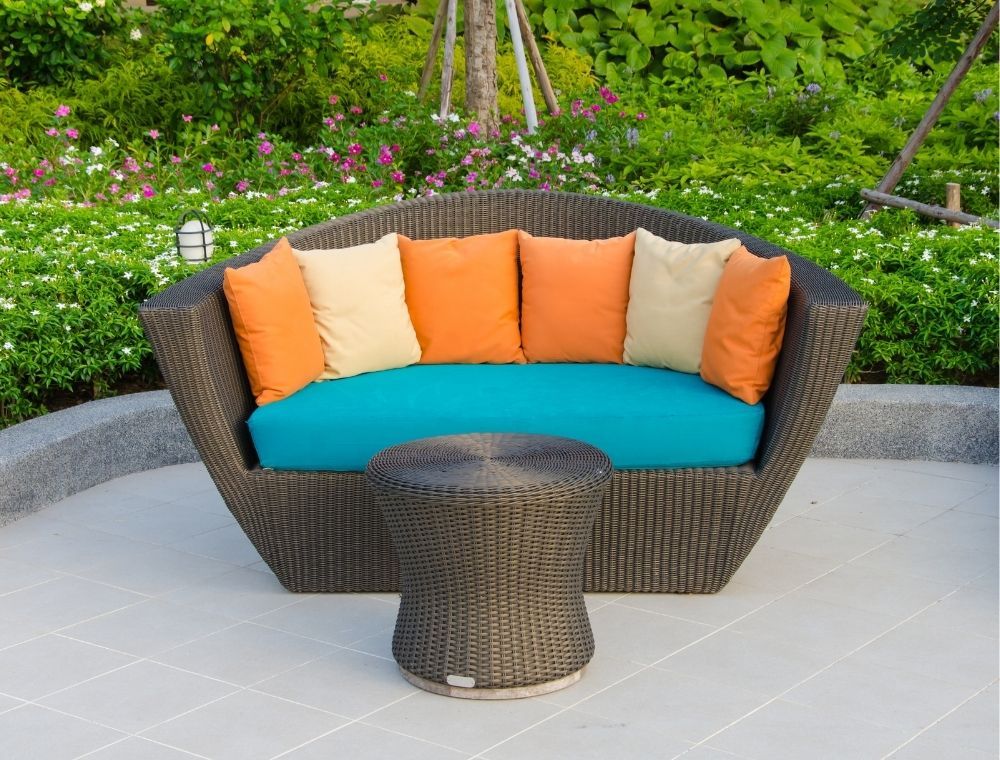 Check The Colour
Take a good look over the rattan furniture. If there are any scratches, you'll be able to see the colour of the material underneath. Genuine PE rattan will be a solid colour throughout; it's made this way so it can be easily repaired and scratches don't show up so much.
If it's a cheap alternative, the material will likely be a bright colour, so any damage will stick out like a sore thumb and won't be so rescuable.
Ask About Guarantee
Genuine PE rattan typically comes with a good, lengthy guarantee. If you're questioning whether the furniture is real or fake, this is a great way to check. As PE rattan furniture is meant to stand the test of time, shops shouldn't be worried about giving an extended guarantee.
If you see a guarantee of just a year, be wary. Companies will reduce the guarantee if their furniture quickly degrades. Instead, choose furniture with a guarantee of 5 years plus.
Inspect The Feet
If you're spending a little more, you'll be partly paying for the feet. More expensive PE rattan typically has solid, stainless steel feet. This material is used because it's exceptionally hardy – it lasts a long time and isn't prone to rust.
Cheaper versions won't splash out on the feet. Often, stainless steel will be replaced with rubber. So watch out for that.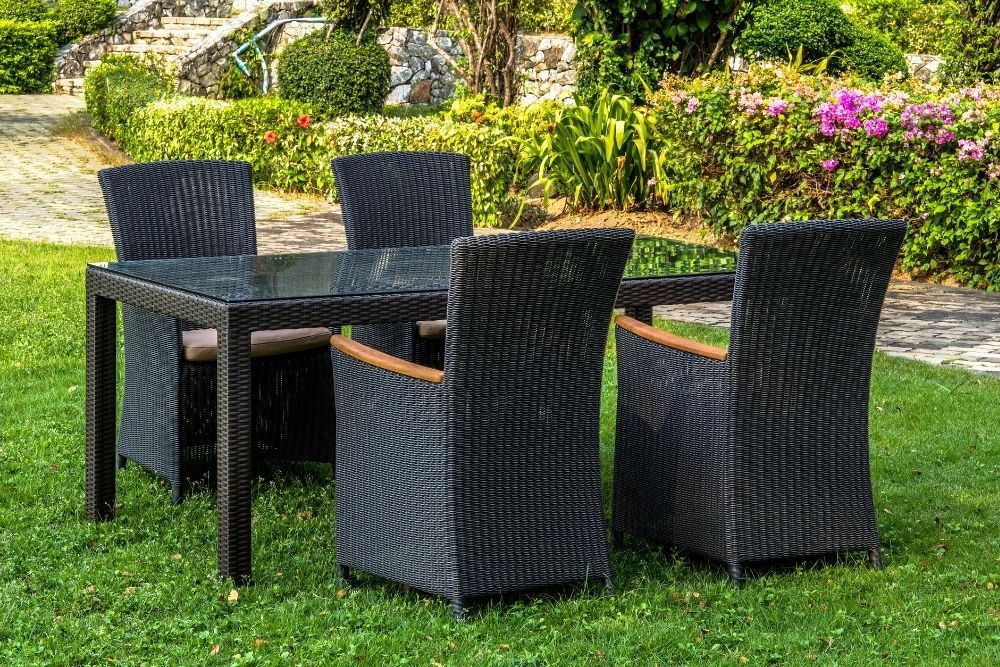 Look Out for "KD"
If you see "KD" advertised anywhere for PE rattan furniture, walk away. "KD" stands for "knocked down," meaning you'll have to assemble the furniture yourself. That's not an issue for all furniture, but it's not ideal for outdoor furniture that has to deal with Britain's extreme weather.
Yes, it's cheaper, but flat-packed furniture usually isn't as structurally sound and will deteriorate quicker. It's not so easy on the eyes, either!
Lounge in Style
Now you know what to look out for, go and get yourself some genuine PE rattan furniture. Although natural rattan is lightweight and flexible, it won't hold up against our temperamental weather conditions. PE rattan is a synthetic alternative that makes up for where natural rattan lacks. It's fully recyclable, and you can keep your precious time because it requires very little care!