We're all spending a lot more time at home than ever before and it's high time us men gave ourselves a space to call our own. Whether it's for relaxing, watching a film or making a favourite drink, this is our guide to making the ultimate man cave.
Technical
If you want to turn your man cave dreams into reality, you need to think about temperature, sound and power before you start dragging in a pool table. You can skip all of this if you want, but it's vital if you want to enjoy your man cave all year round.
Thermal Insulation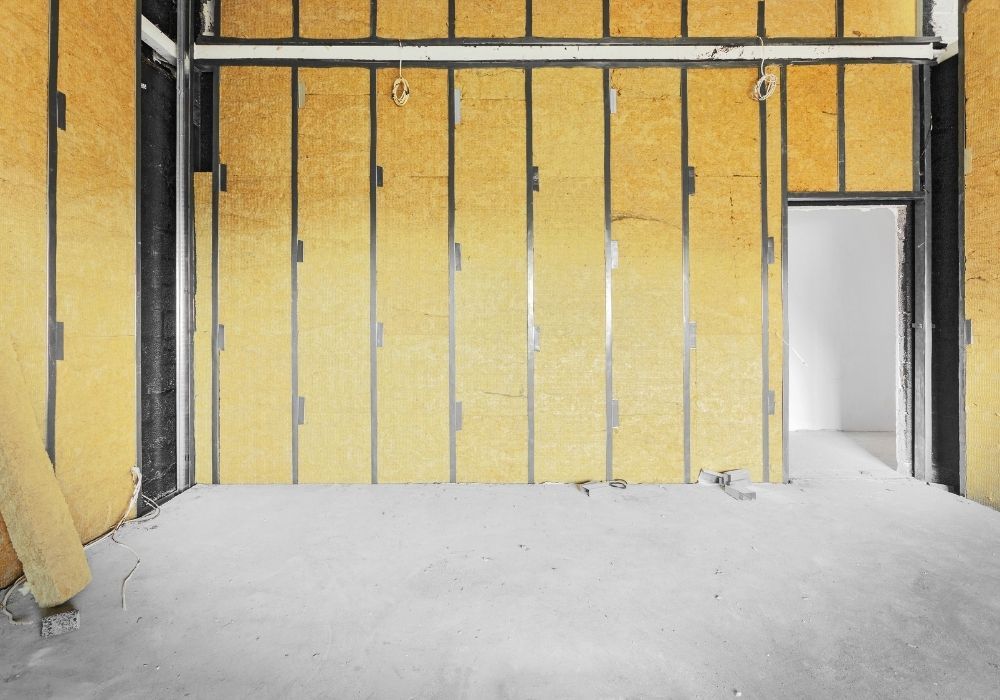 There's no point kitting out your garage with armchairs and a widescreen TV if it's freezing cold in the winter and roasting hot in the summer. Don't skip insulation if you want a comfortable space to relax in.
Garages aren't built with comfort in mind- generally they're of a single brick or concrete construction with a roof that won't trap the heat in either. Check out our guide to fully insulating your garage against the elements, but we'll go over the main points here:
Insulate your doors. The classic up-and-over garage door is a thermal nightmare. Use weather stripping around the edges to stop draughts and self-adhesive insulation boards or foil insulation on the door itself. Hanging a heavy curtain across your door is another way to help keep the heat in.
Insulate your roof. Adding PIR insulation boards in between your roof joists and taping the joins with foil tape is the best way to stop the warm air inside your garage from leaking out the roof. If you've got a flat roof, you can add PIR boards to the ceiling for a similar effect.
Insulate your walls. If you're on a budget you can batten out your walls with furring strips and use foil insulation to help trap in warm air, but the most effective solution for warm walls is with PIR boards or rockwool.
Insulate your floor. Laying down floor insulation will seal your garage and help you easily regulate the temperature all year round. Rubber flooring does a good job if you don't mind an industrial look, but a man cave with underlay and carpet is both luxurious and well-insulated.
Soundproofing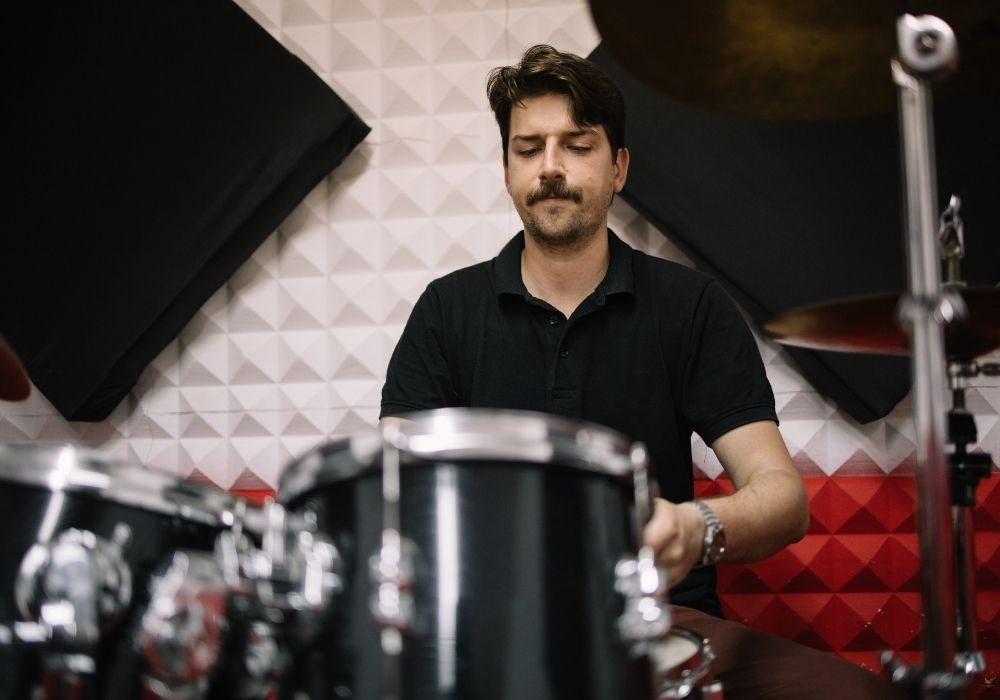 Making noise is all part of kicking back in your man cave- but loud action films, a noisy poker night or practising your drum solos aren't going to make you popular with your neighbours. The benefits of soundproofing work both ways as well, an acoustically insulated room will block out the sound of traffic or noisy neighbours as well.
Soundproofing your garage door is no easy task, the same gaps that let in draughts of air leak sound waves as well. Sealing around the edges with weather stripping is vital, so long as you can still open the door afterwards.
To soundproof the bulk of the door, look for mass loaded vinyl (MLV). It comes in a roll that you can cut to shape and glue to the door. It's important to check the specs of your garage door to make sure the mechanism can cope with the extra weight though, because it's a seriously heavy product.
Soundproofing your walls takes planning if you want to stop sound from leaking out. Even a small gap can ruin your hard work, so make sure you seal around things like power sockets and light switches with expanding foam or acoustic tape.
To soundproof your walls, ceiling and floor you can use MLV again. Installing it is easy- you can nail it or even staple it into place. Several thicknesses are available depending on how far you want to go to deaden the sound.
Once you've installed a layer of MLV, you can layer whatever flooring or wall covering you want on top.
Creative
Now that you've dealt with heat loss and soundproofing, it's time to personalise your man cave. It's your own space to show off your personality, so why settle for boring plasterboard walls?
Theme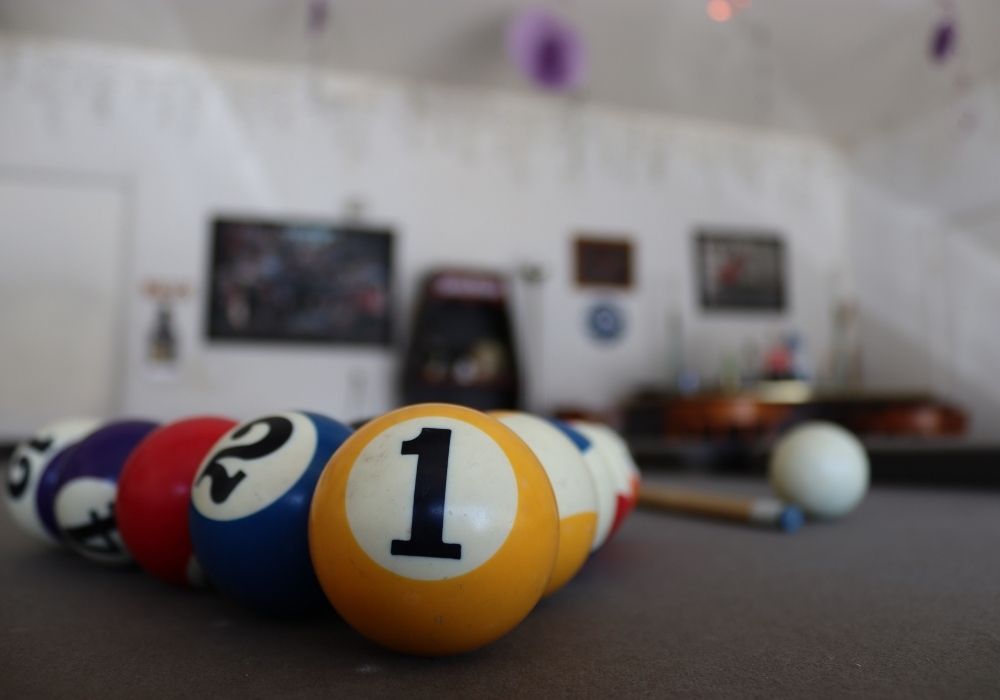 Choosing a theme for your man cave is a good idea. Not only will it add to the feeling of escape when you walk through the door, but it makes choosing the decorations and furniture a bit easier too. Here are a few of our favourites:
Your very own pub is easy to recreate- just add wood panelling, bar stools and a dartboard
A sports themed man cave decorated in team colours, with sports equipment on the walls and a row of TVs for showing multiple games at once
A sophisticated study themed man cave with bookshelves, soft lighting and wood panels
A gaming den complete with poker table, arcade cabinets and huge flatscreen TV
A home cinema with a popcorn machine, huge sound system and movie posters on the walls
Decorating
For a rustic cabin look on a budget, pallet wood is readily available and usually free if you know where to look. Avoid any pallets stamped MB though, as they've been treated with nasty chemicals.
Attach vertical wooden battens to the walls that are centred to the length of your pallet slats and nail them into place. Stagger each row by half a slat and you'll create an authentic woodsman's hideaway. Gently sand the slats and paint them with a coat of polyurethane to bring out their natural colours.
Want a wood-panelled poker room without spending a fortune? Get some self-adhesive strips of MDF and create your own. Cut them to length, lay them out in a grid and paint them for an instant luxury look that will rival a casino.
If you don't fancy timber cladding, you can create a striking feature wall with a wall mural. Useful for covering large wall spaces with just about any picture you can think of. You can even get them custom made from your own photos.
Bare brick walls in your garage man cave are a recipe for cold and damp. If you want the New York loft effect with added comfort, try out brick effect panels. Pick the style that suits you, whether it's traditional brick, dry stone walling or tiles, trim them to size and stick them to the wall.
Furniture
Your man cave should be comfortable. If you're planning on watching hours of football or playing your favourite computer games until dawn, you need comfortable chairs that won't hurt your back.
The classic La-Z-Boy reclining armchair is the ultimate in comfort, but if you're on a budget then comfy second-hand furniture is available for next to nothing at your local furniture charity shop or online marketplace.
For gadget lovers
Upgrading your sound system and flatscreen TV is your job, but what about controlling your entire man cave with your voice? Changing the lighting, turning on the heating and controlling the music without having to get up isn't just a dream, it's easy.
Smart switches and smart plugs connected to your Amazon Alexa or Google Smart Home can be used to power just about anything you like, leaving you to feel like a king in your kingdom. You can even put voice-controlled locks on the doors if your hands are full of snacks and drinks.
Unwinding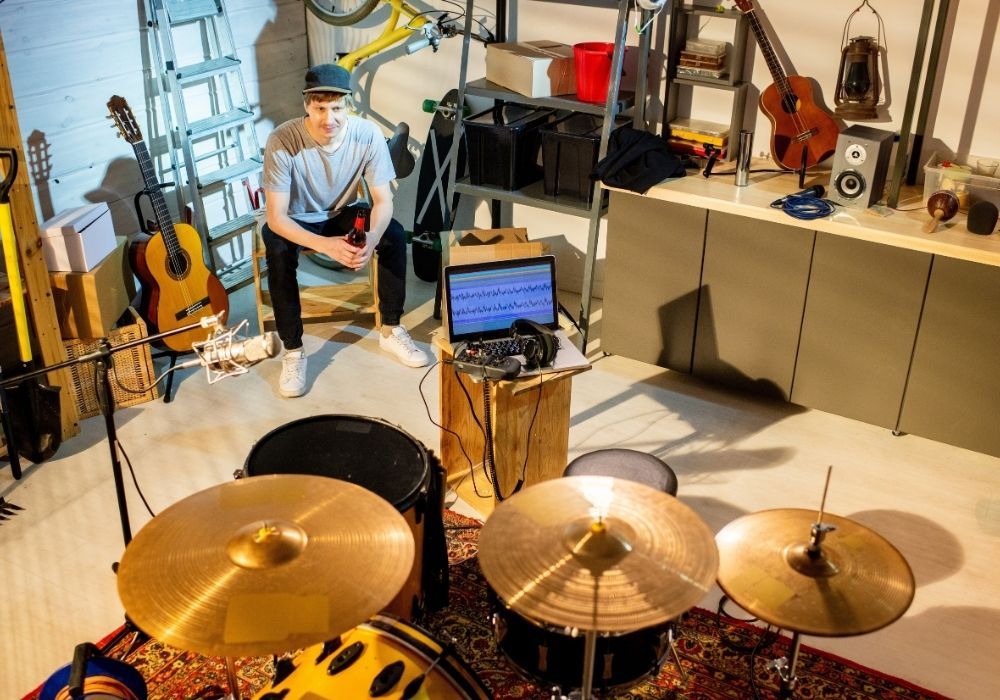 Relaxing with a glass full of something you like after a hard day is probably the reason you built a man cave in the first place. Buy a home bar kit, build one yourself or upcycle an old chest of drawers.
For an authentic look, get a glass-fronted fridge, personalised beer mats and a retro jukebox. You'll wonder why you ever paid pub prices in the first place.
If you're not into drinking alcohol, you can fulfil your dreams of making the perfect cup of coffee with an espresso machine, or just plug in a kettle and stock up on biscuits.
Storage
Shelves are a pain to put up and aren't exactly exciting. Swap boring brackets for budget-friendly wooden ammunition cases or wine boxes mounted on the wall. If you want an industrial style set of shelves, use iron pipes and scaffolding boards to hold all your souvenirs.
Outdoors
If your man cave is at the bottom of the garden, you can make the most of summer evenings by opening the doors wide and getting some fresh air. If you put your home bar on casters, you can roll it out on the patio, or buy yourself a barbecue smoker to impress your friends with your pit skills.
Conclusion
If you're prepared to put in the effort and make some smart design choices, then creating a man cave from a boring old garage is the best way to get the most out of your home. Staying in just got interesting!