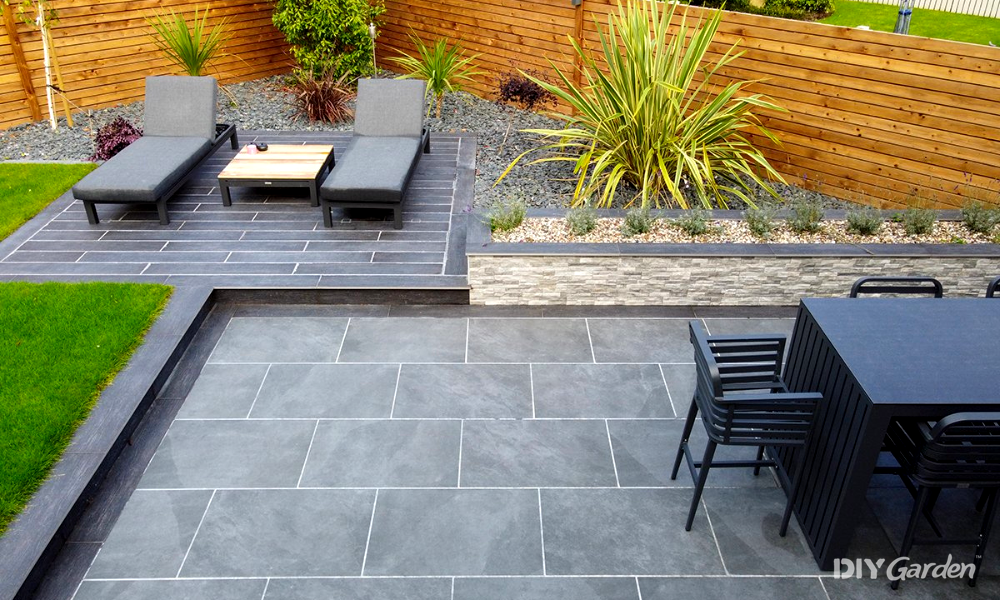 Triangle-shaped gardens can be difficult to work with at the best of times, but they become even more of a challenge if the space that you're dealing with is on the small side.
Don't worry – you don't have to resign yourself to living with harsh angles or awkward corners forever. Instead, read on and prepare to be inspired as we share some of our favourite ways to use space wisely when you have a triangular garden!
1. Small Triangle Garden With Pool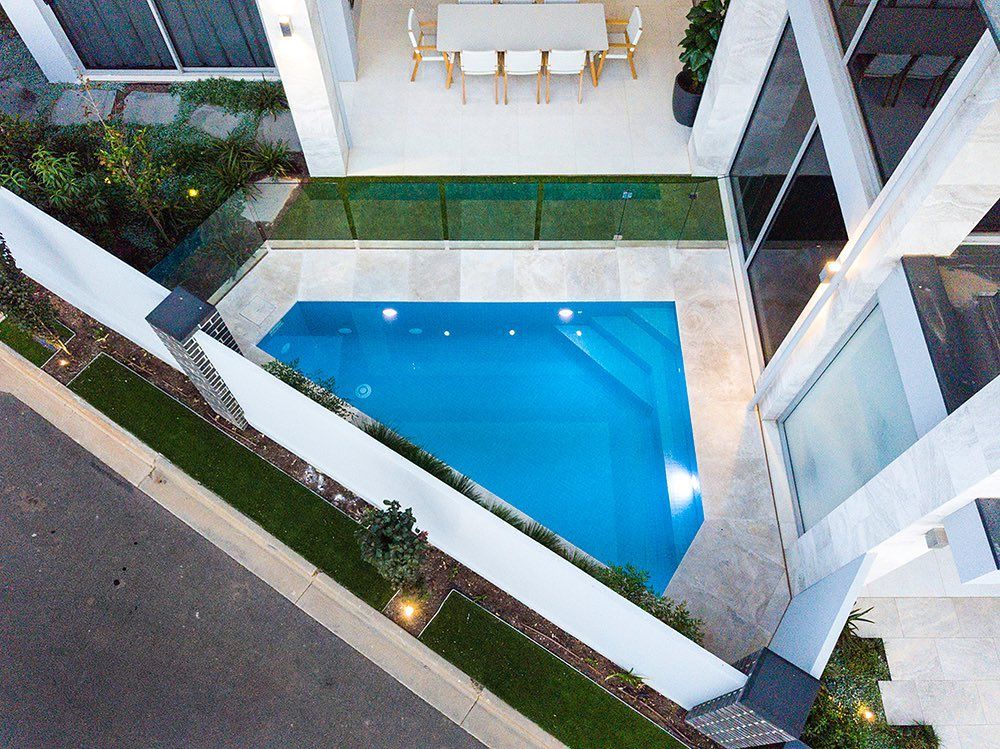 elitepoolsandlandscapes
Give your outdoor space a pop of colour along with a touch of luxury with a triangular-shaped pool. Rather than hiding the unique shape of the garden, this design embraces it with smaller triangles within the boundary triangle. The splash of greenery to the side, combined with the quaintness of the stepping stone paving slabs, helps to soften all of those lines.
2. Small Triangle Garden With Shed Focal Point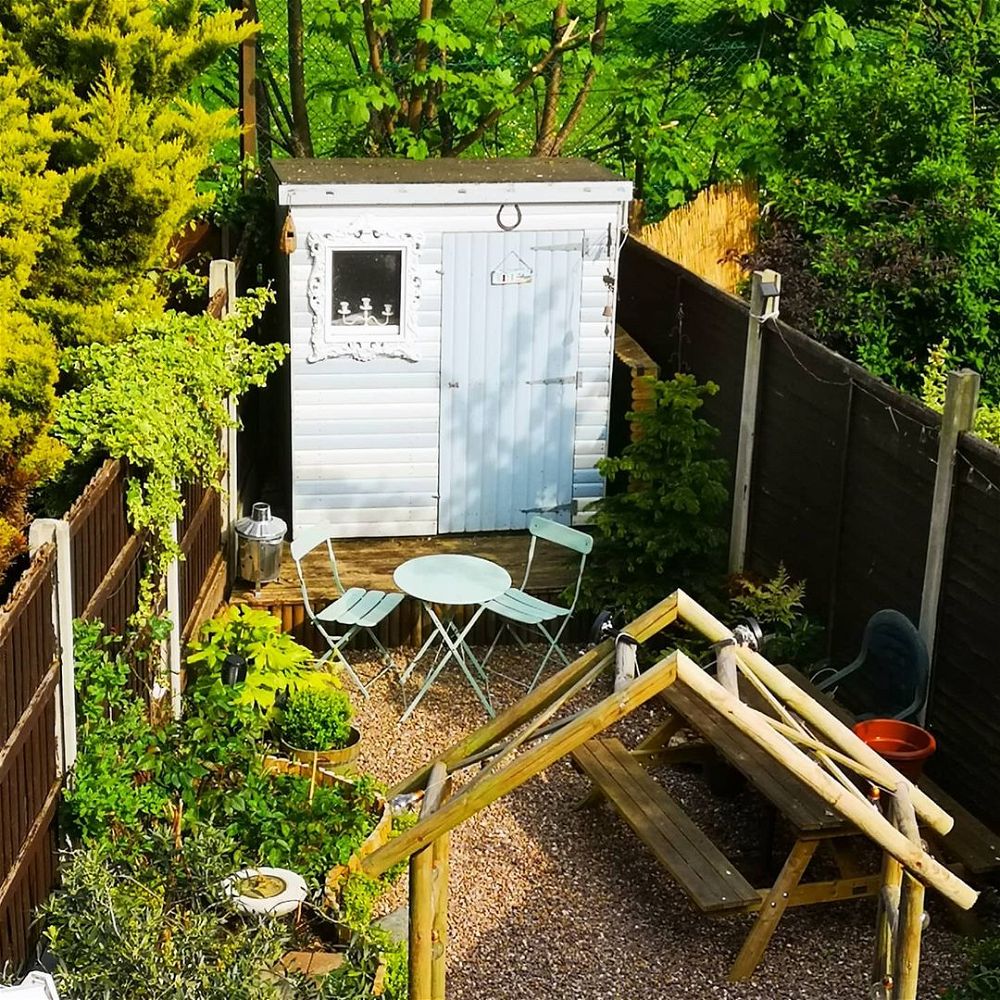 joyfulfluff
This is a great way to hide the sharpest corner of your triangular garden – with a wide garden shed. Any similarly shaped structure would work, so long as it's tall enough to cover the entirety of that corner. Again, with light colours, levels, and different textures, this garden provides a relaxing oasis.
3. Beautiful Triangular Pergola & Seating Area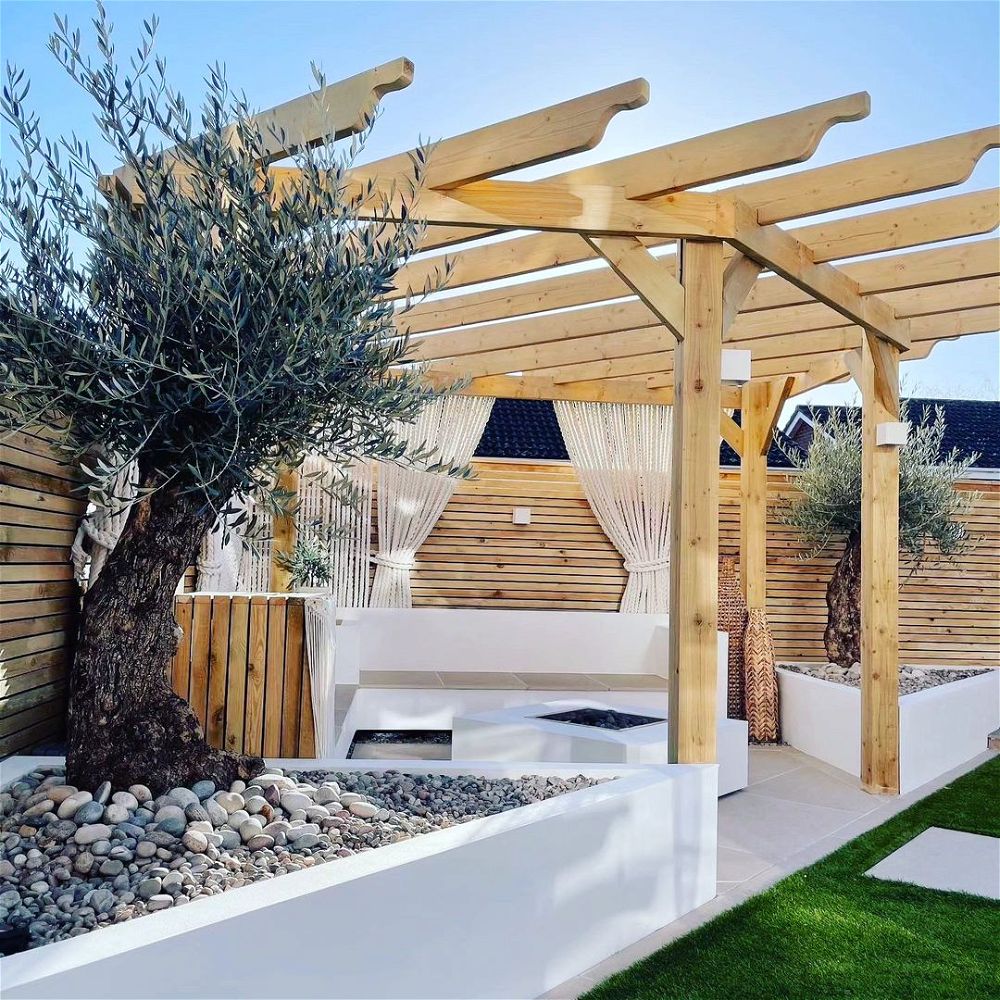 greengenielandscapes
This garden wins on so many fronts! With the clever use of a pergola and some garden furniture, this design completely hides the hard angle created by its boundaries. Adding levels helps to make the space appear larger while the light colours brighten everything up beautifully.
4. Triangle Garden With Dining Area & Beds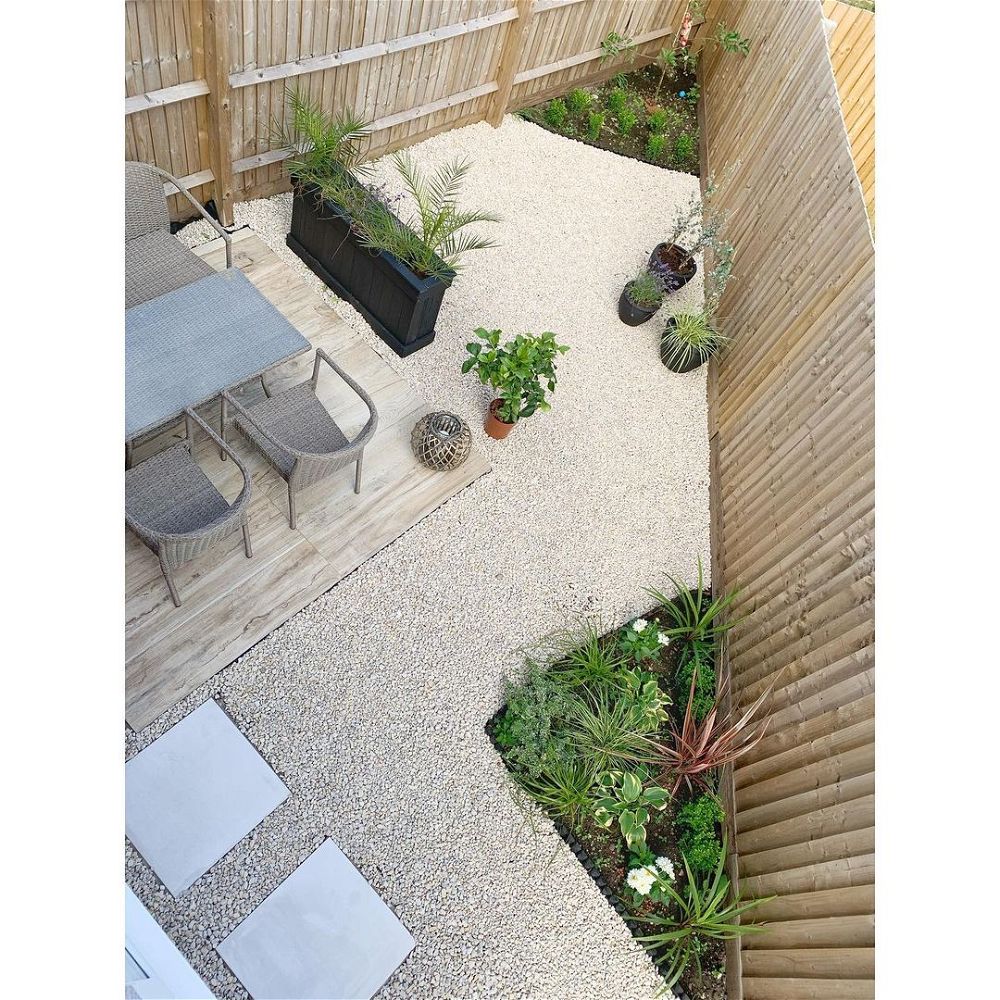 hanburysweethom
This space makes use of a popular design trick for dealing with triangular gardens – creating new shapes within those boundaries, which breaks the garden up and disguises harsh lines. The contrast in textures here – between the plants, the gravel, the paving slabs, the wooden decking, and the fencing – really helps to draw the eye in.
5. Triangle Garden With Smart Brick Fence Posts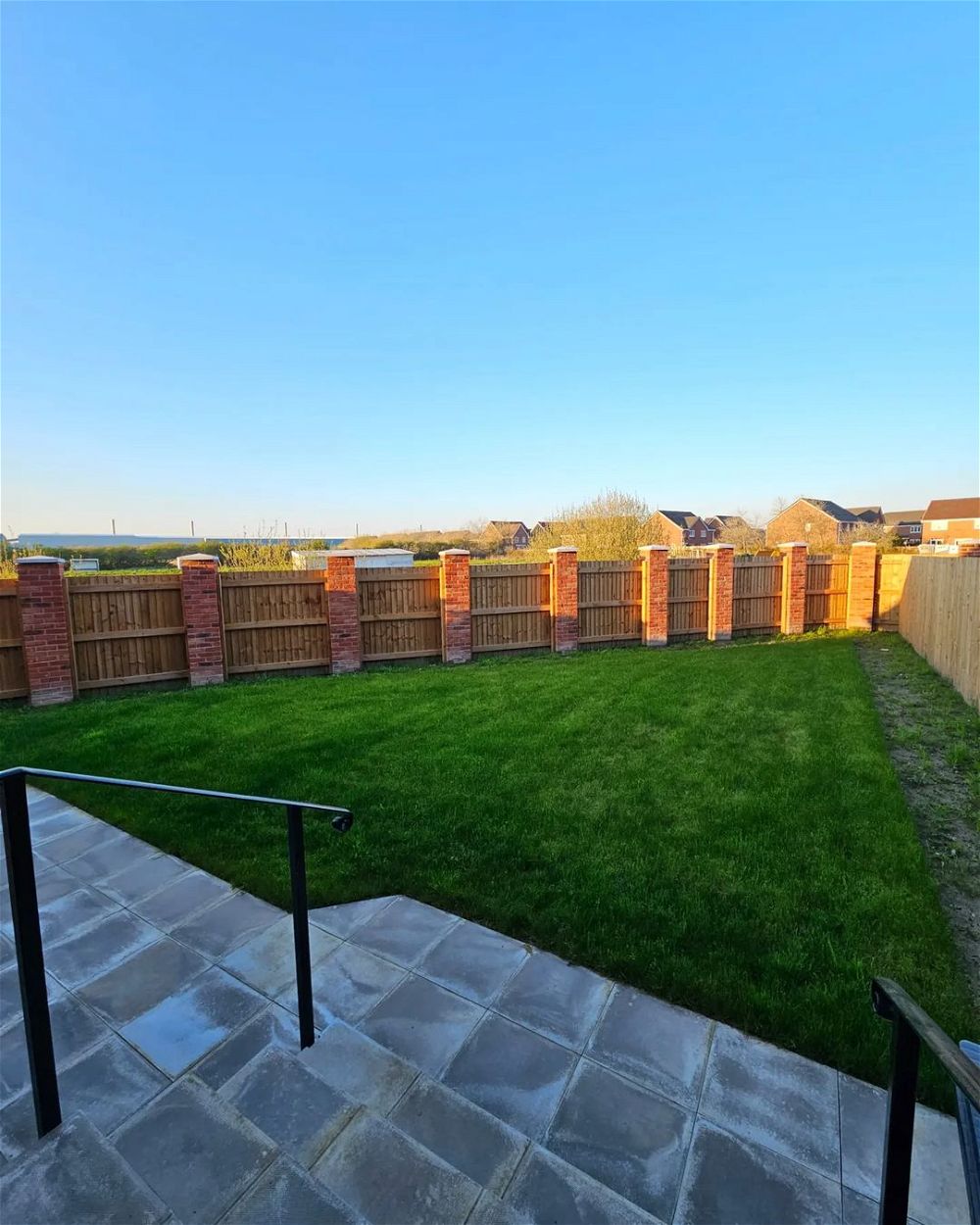 inside.our.lune
Texture is everything when it comes to manipulating and enhancing how light bounces around a garden, and this space has plenty of it! The brick fence is the highlight – its stylishly striking aesthetic adds an extra touch of elegance to this garden.
6. Triangular Garden Path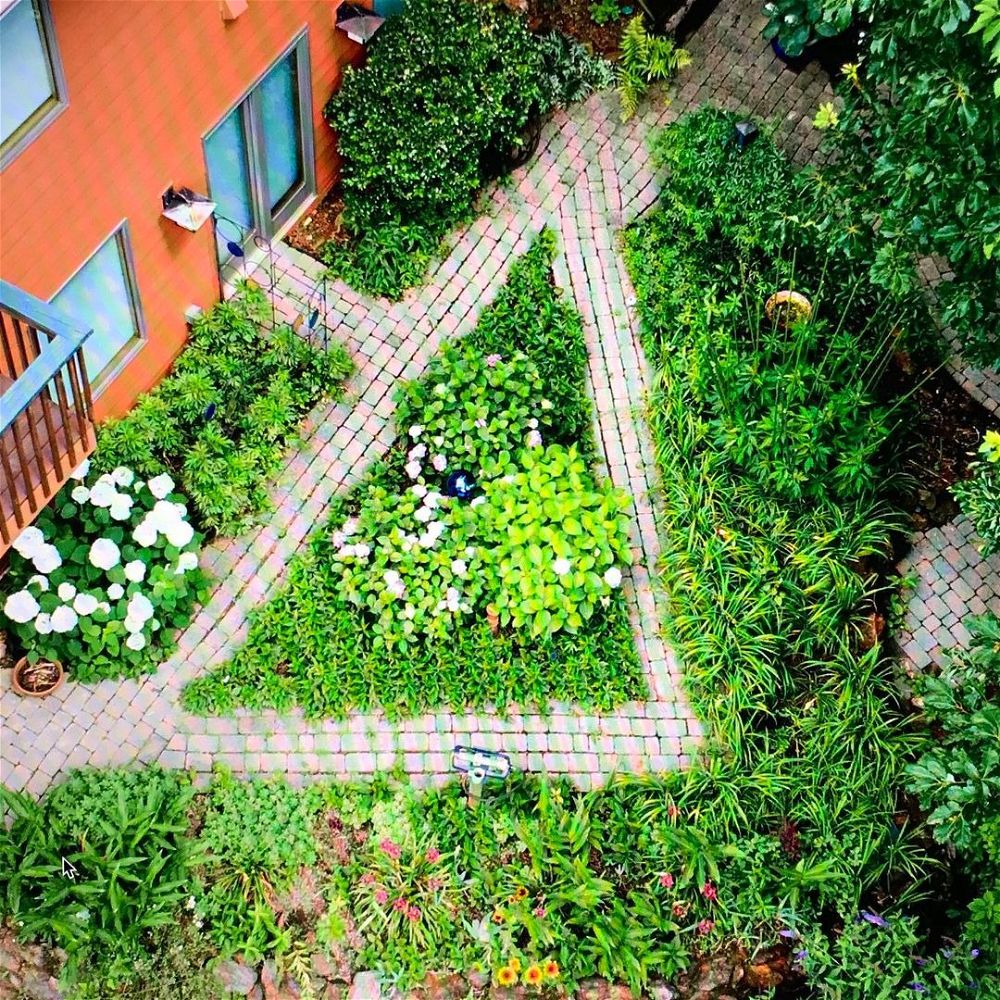 gardenclouds
A path is a great way to add structure to a garden, giving it a whole new focal point. Embrace your garden's quirky triangular boundaries by mimicking the shape in path form. Choose a path material that enhances the ambience you're going for – circular stepping stones would be great for a playful, cottage garden feel while brick paving would give you something more defined and robust.
7. Triangular Lawn to Arched Path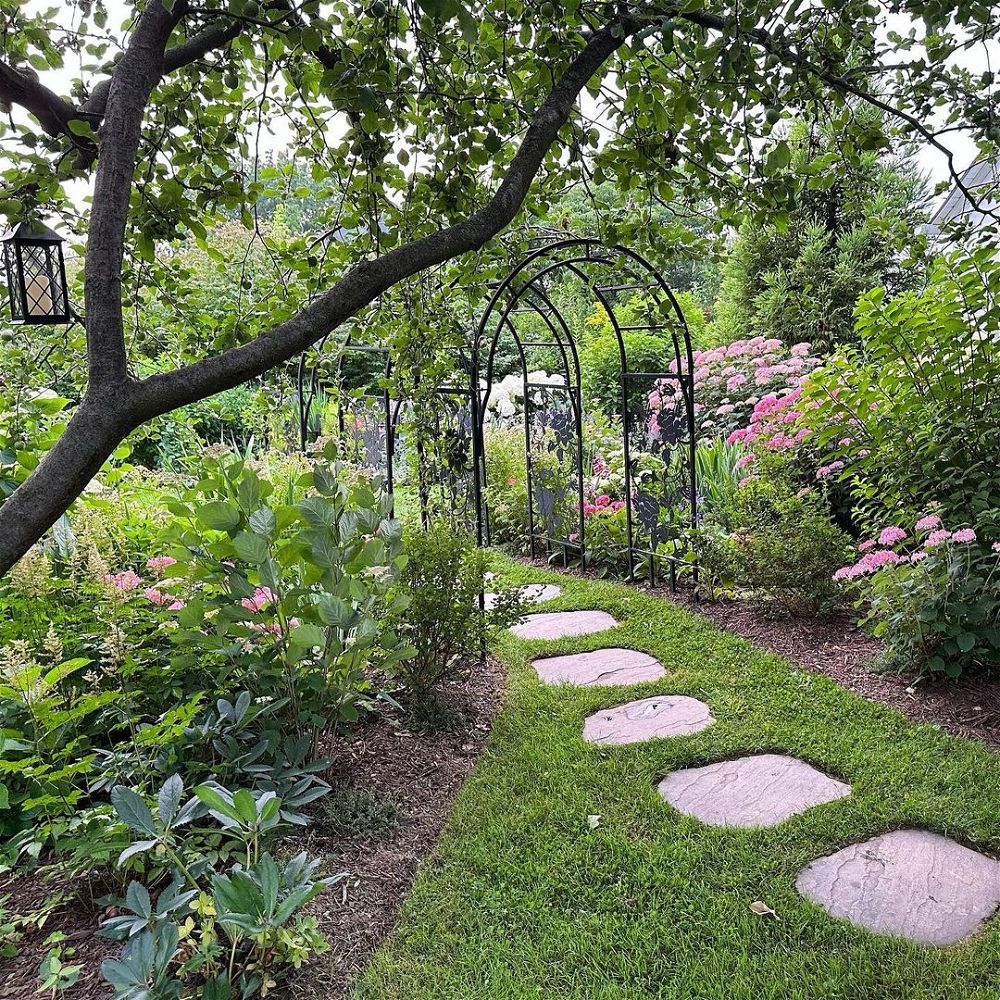 northlawnflowerfarm
Lining a narrow garden with curved beds packed with lush plants immediately adds a sense of romance to a garden. The stepping stones that dot this triangular lawn disappear under arches that provide a roundness to what would have otherwise been a tight and angular space.
How do you make a small triangular garden look bigger?
To make a small triangular garden look bigger, try to create different zones and focal points to break up harsh lines. Avoid large and bulky plants but experiment with adding different textures in. Light-coloured garden furniture can also help to make a small garden look larger.
What can I do with an awkward corner in my garden?
When dealing with an awkward corner in your garden, consider giving any fences surrounding that corner a fresh lick of paint to brighten the area up. Garden furniture can also help to turn a drab corner into a cosy nook.