Our
Einhell GC-HH 9048 Electric Long Reach Hedge Trimmer

Review

There are a few aspects to this hedge trimmer that may prove to be deal-breakers for some people; its weight and its noise level, for example. However, if you're comfortable handling a heavier machine and would like a hedge trimmer that's capable of tackling thin and thick branches on both hedges and mature trees, then the Einhell GC-HH 9048 Electric Long Reach Hedge Trimmer would be a great choice. Don't feel dubious about its lower-than-average price – this hedge trimmer really does excel when it comes to power and performance!

B01A5Y4IXU

4006825607772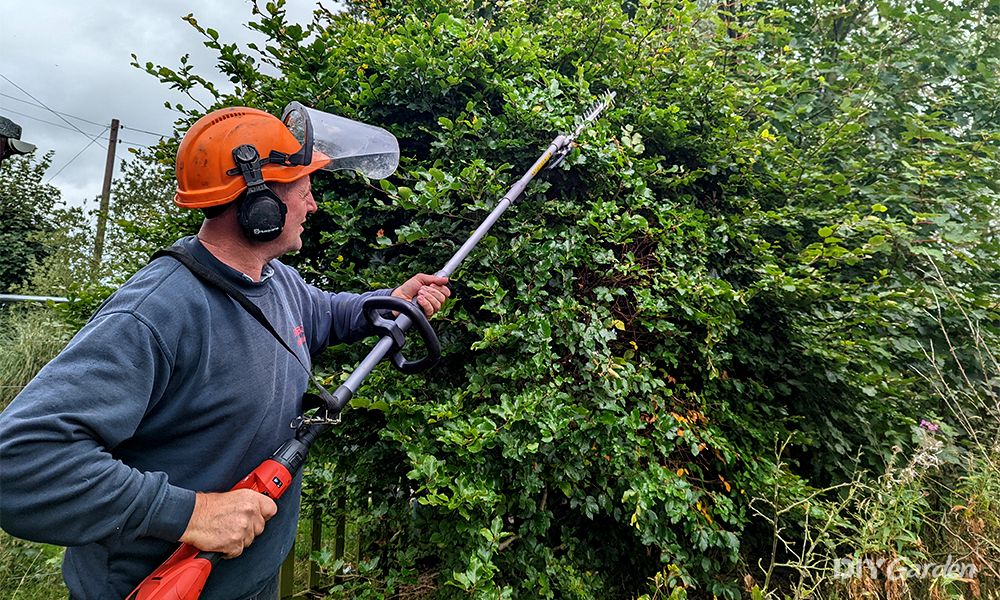 A German power tool manufacturer that has now made a name for itself all over the world, Einhell is a brand that I'm very familiar with. I've used several of their products in the past and they usually tend to be high-quality, reliable, and effective. When it comes to the Einhell GC-HH 9048 Electric Long Reach Hedge Trimmer, the brand promises that this product showcases "German design at its best", so I was looking forward to seeing how it tackled the overgrown hedges in my garden.
Read our product testing methodology here.
How I Tested
With this hedge trimmer being powered by mains electricity, I chose to use it on the hedges and trees located within 10m of my outdoor electric sockets. This included a section of a very overgrown beech hedge with thick branches that should have been cut back three years ago!
I was also hoping that this machine's extra power would enable me to cut back some tall sycamore and plum trees. These are tasks that I would usually use a pole saw for, so I was curious to see if this hedge trimmer would be able to do that job instead. After all, it's always handy having one single tool that does multiple tasks, rather than having to constantly switch tools!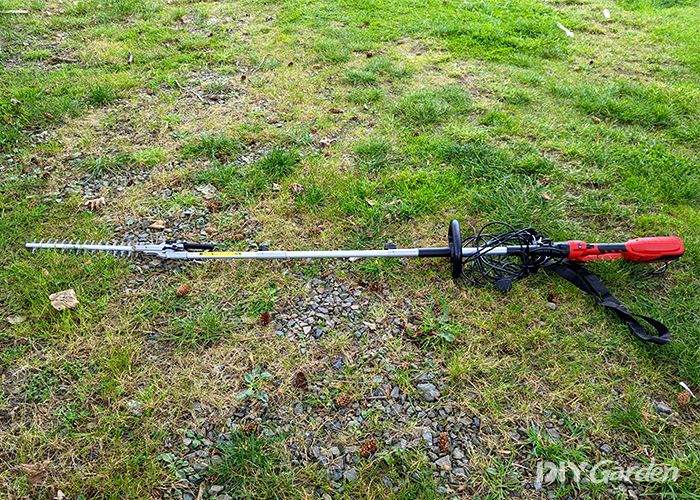 Based on the design alone, it's easy to see why someone would choose to purchase this hedge trimmer. For starters, its laser cut, diamond ground, steel blade is fantastic quality – it looks and feels stronger and sharper than the blades on the cordless hedge trimmers that I tested. That said, it's not quite as long. Although the blade may technically be 48cm long, its cutting length is shorter at 41cm, making it the shortest blade of the five hedge trimmers that I reviewed.
However, that's not necessarily a bad thing, as it means that the machine feels more balanced when you hold it. This is helped by the fact that it can be used with or without its extension pole – some other hedge trimmers don't give you the option of removing the middle piece.
The seven positions that the head of this machine rotates to also add to its versatility, as does the twisting rear handle. The D-handle that comes with this hedge trimmer is adjustable too. This is quite an important feature, as some hedge trimmers don't even come with a D-handle.
In terms of reach, add the extension pole in and this hedge trimmer stretches out to 2.6m long. As mentioned, it can be used without the extension too, which shortens it down to 2.1m.
Unlike some of the other electric garden tools that I've used in the past, this one comes with a lengthy cable. 10m gives you a fair bit of room to work with if your hedges are located near to a power socket. If they're not, an extension lead will enable you to cover more distance. It's worth mentioning that Einhell has also kindly provided two plugs with this machine – a 3-pin and a 2-pin.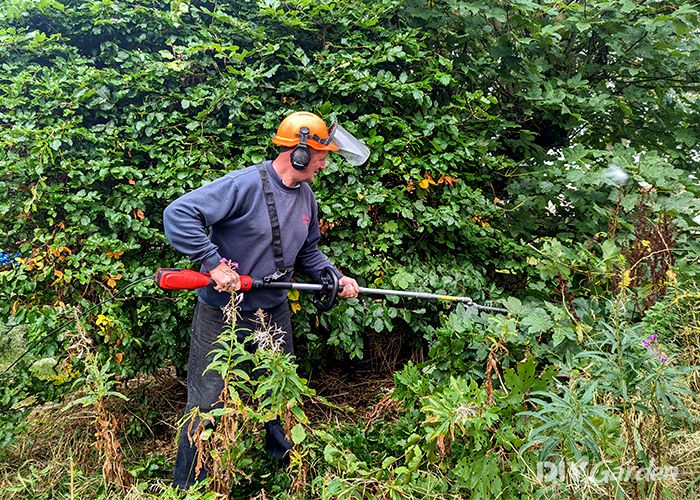 When it comes to performance, this Einhell hedge trimmer more than shines. It's much heavier duty than the cordless models that I tested, meaning that it's able to effortlessly whizz through thicker branches.
This is helped by the blade's 20mm tooth spacing. In theory, this should allow you to cut through branches that are 2cm thick, but I found that it handled thicker branches just as well. Not only did it slice through the thicker branches of an overgrown beech hedge that other hedge trimmers struggled with, but it was also able to take down branches from tall sycamore and plum trees.
The downside to having a heavy duty hedge trimmer is the fact that they tend to be heavier in weight. This one weighs in at 5.1kg, making it one of the heaviest of the hedge trimmers that I tested. The shoulder strap slightly lightens the load and the adjustable D-handle helps with balance. However, your arms will still end up taking most of the weight, making long hedge trimming sessions feel pretty tiring.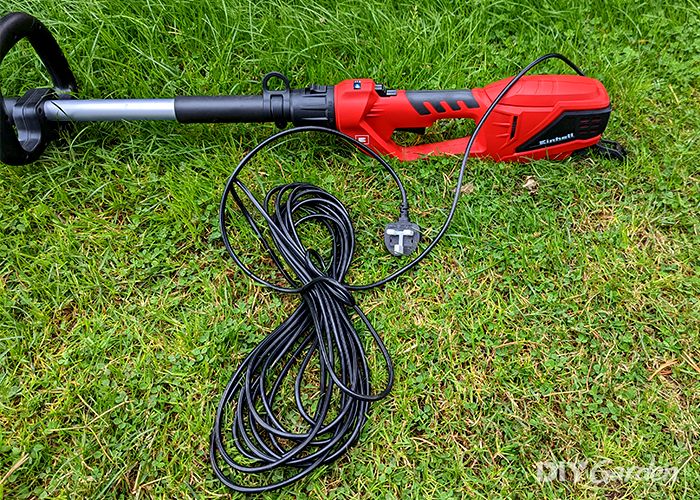 Electric garden tools are usually more powerful than cordless models. So, I was expecting this hedge trimmer to be more powerful than the cordless ones that I tested, and I was right.
As soon as you turn the machine on, you can feel that it really means business. At 240V/900W, you can't even compare this motor to the 18V or even 40V cordless models – this one more than takes the lead.
Einhell claims that this machine delivers 2000 cuts per minute. While this wasn't something that I could really test out myself, I would be inclined to believe them based on how quickly this hedge trimmer was able to get the job done when compared to others.
While the extra power provided by this Einhell hedge trimmer is definitely an advantage, this comes with one major downside; the machine is incredibly loud.
Not only will ear defenders be needed, even if you're only using it for short periods of time, but, if you have neighbours nearby, you'll also need to time your hedge trimming sessions so as not to disturb them – they'll more than likely be able to hear this machine from within their homes.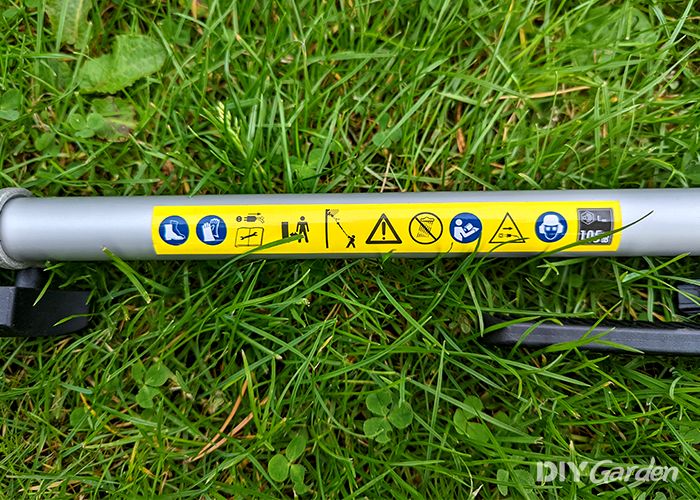 In terms of safety features, this Einhell hedge trimmer comes with all of the standards. It has a dead man's switch to prevent anyone from accidentally turning the machine on, a plastic guard that slides over the blade, and plenty of safety stickers dotted around it.
It also comes with a shoulder strap, which is definitely needed for a machine that weighs 5.1kg. However, I was surprised to see that the shoulder strap had a quick-release clasp. I couldn't work out why this was, and the fact that I might accidentally open up the strap while working, which could cause the machine to drop, did play on my mind while I was using it.
Another downside to the shoulder strap was that it simply wasn't very good. It didn't really help with how heavy this machine felt. Lighter hedge trimmers may be able to get away with a standard-style shoulder strap, but this one would have benefited from a strap that was better designed to take the weight.
When using an electric garden tool, you always have to be mindful of where the cable is – after all, you don't want to accidentally slice through it. Unfortunately, Einhell chose to go with black for this machine's cable, making it difficult to spot in long grass. A brighter colour would have instantly made using this machine much safer.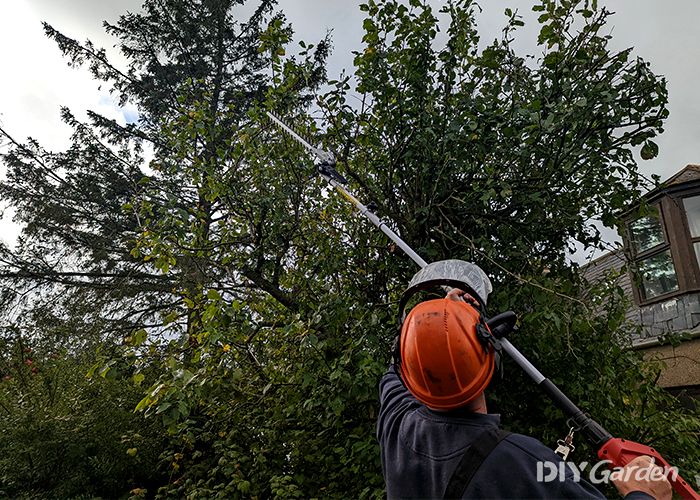 Although this hedge trimmer may have a couple of minor flaws, these are very easy to overlook once you see the machine's price. This was the cheapest of the hedge trimmers that I tested, yet it was also the most powerful, and one of the most versatile. With that in mind, it offers fantastic value for money.
There are a few aspects to this hedge trimmer that may prove to be deal-breakers for some people; its weight and its noise level, for example. However, if you're comfortable handling a heavier machine and would like a hedge trimmer that's capable of tackling thin and thick branches on both hedges and mature trees, then the Einhell GC-HH 9048 Electric Long Reach Hedge Trimmer would be a great choice. Don't feel dubious about its lower-than-average price – this hedge trimmer really does excel when it comes to power and performance!
Why You Can Trust DIY Garden
At DIY Garden, we believe your trust is earned through our knowledge and transparency. Our team of experts has over 75 years collective experience in the gardening and DIY space. Since the website's creation in 2016 we've tested over 275 products, ensuring our recommendations are based on real experience. We're open about what we've tried and what we've researched, and this is clearly labelled in our product reviews. Every year, we revisit and update our suggestions to include worthy new additions to the market. Our aim is to give you straightforward, honest, and helpful recommendations, so you can confidently choose the best tools and equipment for your projects.
Our Scores:
Design

Performance

Power

Noise

Safety

Value for Money

Overall
Features:
Max. Width

20 mm

Max. Pole Length

2.6 m

Weight

5.1 kg

Power

240 V

Blade Length

48 cm

Shoulder Strap

Yes

Safety Trigger

Yes
About Your Guides
Derek Smith has been farming all of his life, and is an professional landscape gardener with over 22 years experience. He owns a 25-acre farm in Aberdeenshire with a focus on self-sufficiency, living off the land, and working with nature.

Sarah's role as chief editor at DIY Garden is about more than just making sure we're literally dotting the i's and crossing the t's (although she's a stickler for detail, so it's certainly about that too!). It's about proof-reading, fact-checking and continuously researching everything we publish, ensuring that it adheres to our

editorial standards

, so that everyone can really get the most out of their green space.
You May Be Interested In These Other Hedge Trimmer Reviews