Our
Yard Force 20V Cordless Pole Hedge Trimmer

Review

Overall, this trimmer has surprised me. I won't pretend that I knew the name Yard Force before testing out this trimmer, and to be honest I wasn't excited when I opened the cardboard box. My first impression was that it was too light and would probably be flimsy, but I'm glad that I've been proven wrong.

The lightweight construction actually works in its favour. It makes it so much easier to work with than some of the heavier duty pole trimmers I've tested out. The fully adjustable front "D" handle makes it extremely easy to manoeuvre, and the smaller motor stops it from being too top heavy.

The only glaring error that Yard Force have made is leaving out a shoulder strap. Once you've learned the technique, a strap gives you a lot more leverage, especially when fully extended. Otherwise, using this trimmer has been a positive experience. Being able to fold it up and store it on a hook works in its favour as well.

If you're only planning to use a pole trimmer for light, occasional maintenance jobs around the garden and you don't want to overspend, this is the one for you. The build quality might not be the best in the market but provided you don't push it too hard; this lightweight pole trimmer is just right.

B07KXLXQKN

6939500725738

Best for small gardens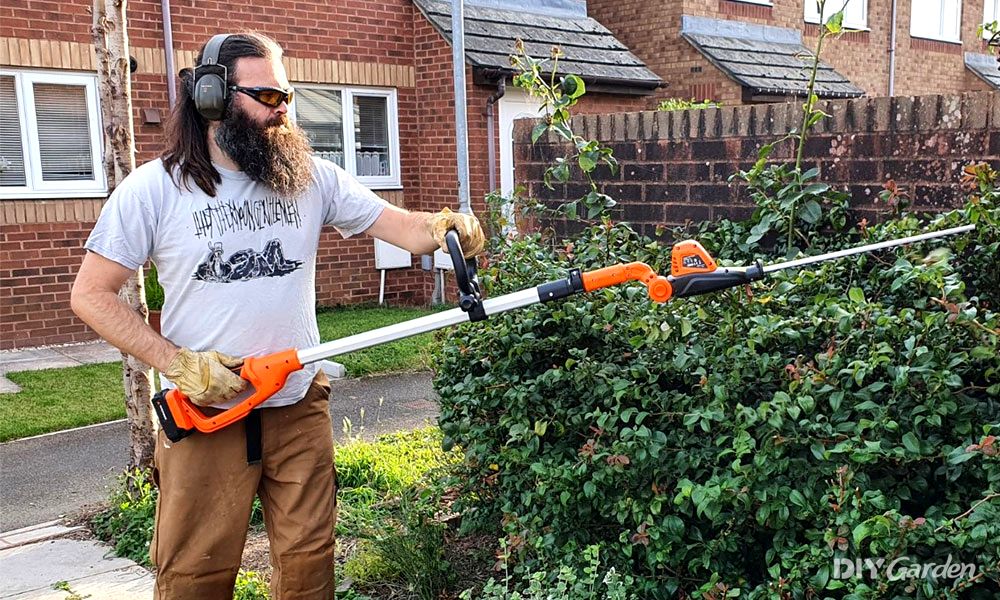 Yard Force specialise in making quality equipment to keep your garden in great condition. Their range of tools stretch from heavy duty 40 Volt electric chainsaws and petrol lawnmowers to cordless pressure washers and this incredible 20 Volt pole hedge trimmer. It's super lightweight, amazingly easy to handle and can deal with thicker branches than you might first think. It's an affordable tool, but for the price you need to deal with some flimsy components.
Read our product testing methodology here.
How I Tested
Although I could tell on first impression that this wasn't the heaviest duty hedge pole trimmer out there, I thought I would test it to the limit anyway. I thought that if it could perform as well as the premium trimmers I'd tested, then why overspend?
The first big test I put it through was on an enormous and overgrown red cedar bush on my friend's farm. It was high up on a wall, so the extension pole was used straight away. The trimmer dealt neatly with the foliage, although I needed to change the angle on the cutting head often to get an even finish. The big front handle made it easy to manoeuvre the blade, even at that distance, but it would have been even more effective if it had a shoulder strap to brace against.
The next test was back in my own front garden and a tangled mess of wild rose, quince, and something else I haven't worked what it is! It had massively overgrown over the summer, so I used the Yard Force trimmer in "short mode" to try and tame it all. When the pole is retracted, it's probably the easiest trimmer to handle. It's not heavy and the trusty "D" handle means you can get it at the right angle every time.
The blades struggled on the thicker bits of quince branch, but they're tough stuff to deal with anyway. It was a case of trim the bits you can, then force it through the tough stuff. It was slower going than the hefty Ryobi trimmer, but also a lot lighter and easier to manage.
Since then, I've found that the Yard Force is my "go to" pole trimmer when I fancy shaping a few bits and pieces in the garden. It might not be the most powerful, but it's probably the most convenient. You don't need to assemble any parts and it's hanging on a hook in my shed, ready to go.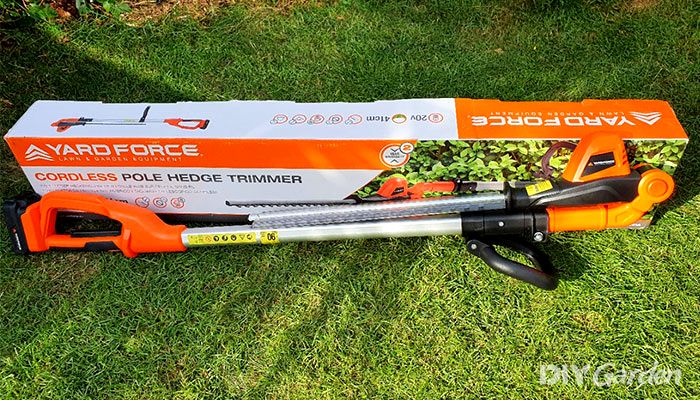 The first thing I noticed when I unpacked this pole trimmer was the weight. It just feels so light in the hand! Having tested out a several pole trimmers by now, a light one can make all the difference, especially when fully extended.
The cutting head can be adjusted through 135° and comes with 10 different positive stops, but that's not the clever bit. If you hold on to the locking button, the entire cutting head folds down to meet the pole.
Why is this important though? This is the only pole trimmer I've used that doesn't come in multiple pieces. It's a one-piece unit that can be hung up when not in use. It makes a huge difference when it comes to transporting and storing the pole trimmer. You simply fold it up and walk to the next bit of garden that needs a tidy.
The benefits don't stop there. Like one of the more expensive pole trimmers I evaluated, the Bosch Universal HedgePole 18, the trimmer extends from inside itself. That means there aren't extra bits to lose or lug around with you. It also takes up a lot less space in the shed than other pole trimmers. Plus, you don't need to put it down to change the length, just undo the lever and let the front piece slide out.
Another marvellous feature of this pole trimmer is the front handle. It's a chunky ABS type plastic "D" shaped handle. It's not rubberised, but it's grippy enough when you've got gloves on. Yard Force have been clever with their design of it as well. You can adjust both the angle of the handle and its position along the tubular shaft with a single adjustment knob. When you combine the light overall weight and this huge front handle, it's a dream to manoeuvre.
This is where we come to the big problem. I can't quite work out why Yard Force haven't included a shoulder strap? It's a simple feature included on almost every other pole trimmer I can find for sale. Handling the trimmer in "short mode" is a doddle, but I got used to using the strap for leverage with other pole trimmers when extended. With the Yard Force trimmer, you're relying on upper body strength alone to trim high bushes and the tops of hedges.
The other thing that might let this pole trimmer down in the long run is the build quality. The plastic used to make the case doesn't feel premium. By the time I had tested out the trimmer a few times there were nicks and scratches on the case already. It's an outdoor tool so they're to be expected, but I don't know how long it's going to last with heavy usage.
There's a bit of movement between the two sides of the orange plastic handle casing as well. Over time, this could become a weak point. If you're likely to treat this trimmer roughly like I did, it's not going to last forever. It's perfectly fine for light garden work though. If all you're doing is an annual trim of bushes and trees, I'm sure it'll fare well.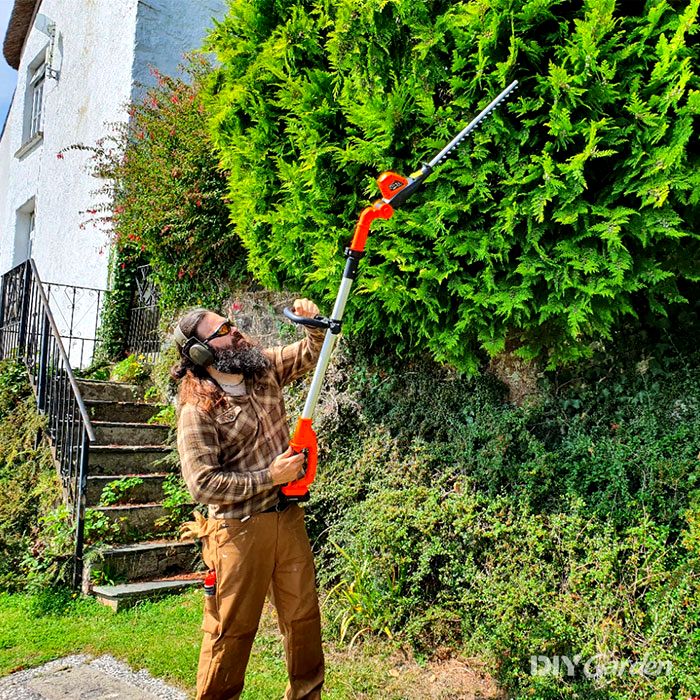 As I found out, this pole trimmer makes short work of decorative bushes such as privet and myrtle. The light weight and easy handling make it ideal for shaping. The extending pole is held in place with a simple cam lever, which means you can easily change lengths on the fly.
Changing the angle of the cutting head is a piece of cake too. You press in the two large orange buttons and adjust the angle accordingly. It wobbles around a bit, but so do most pole trimmers I've tested out. Like the rest of the tool, it's not the sturdiest thing, but only time and use will tell if it easily breaks.
You get a rated 1400 strokes per minute (spm) no load speed, which isn't the fastest but still puts the more expensive Ryobi RPT184520 to shame. The 41 cm blade isn't the biggest in class either, but it's not much smaller than the competition. You can reach just under 2 m un-extended and add another 56 cm when fully extended. It's not got the biggest reach, but it's more convenient to use than pole trimmers with separate extension poles.
There's a 14 mm tooth gap so it can cut, in theory anyway, branches up to that size. The tooth shape is rounded and less aggressive than some of the other trimmers I've used. I wouldn't want to push it too hard on thick branches all the time, but it can cut through while the blades are still sharp, at least.
I'm not sure why Yard Force have coated the blade with a black finish, as it scratches off quite easily. I also noticed the sharpened cutting teeth were taking a bit of a battering after not much use. I'm not sure how long they'll stay sharp for with normal usage.
One of the best ways to keep the cutting blade clean and safe when it's not in use is with a decent blade guard. Unfortunately, the one supplied with this pole trimmer isn't! It's made of a thin transparent plastic that is annoyingly difficult to feed onto the end of the blade. I don't know how long it's going to last, and seeing as it's transparent, could easily get lost in a pile of cuttings.
Compared with some of the other pole trimmers I've tested out, this one has a tiny little motor. It's part of the reason it's so light, but I was also worried it would be underpowered. From my experience using it around the garden it's not underpowered at all!
I performed the same test on this tool as any of the other trimmers I have tested out. I found a branch that would just about fit in the teeth of the trimmer and jammed it in. I pulled the trigger, and although it worked the motor hard, it chewed through the branch. The cut wasn't the cleanest, but it did the job.
I was impressed, but after working (or was it overworking?) the little trimmer, I noticed a steep 10% drop in battery power. It confirms my suspicions that this isn't a heavy duty trimmer for huge bushes and big gardens. Luckily, Yard Force reckon the included charger will get you back to 100% in just 60 minutes. Enough time to rest your arms for the next trimming job.
The power itself comes from a 20 Volt battery system. Manufactured by Samsung, it should be a reliable powerplant under the bonnet of this garden tool. On a side note, though, 20 Volt isn't any more powerful than 18 Volt. All 18 Volt batteries charge to 20 Volts maximum before being in a usable state. So, it's not any more powerful than the other 18 Volt trimmers I've tested out.
Here's another clever little feature that Yard Force have included on their battery: a digital charge percentage readout. I've never seen this on a power tool before! Compared with the three or four dots you'll find on premium brands like Makita, this is a revelation. You simply press the button on the front of the battery, and it displays the percentage charge left. Now I know precisely how much juice is left in the tank, not a mean feat for a budget friendly bit of kit.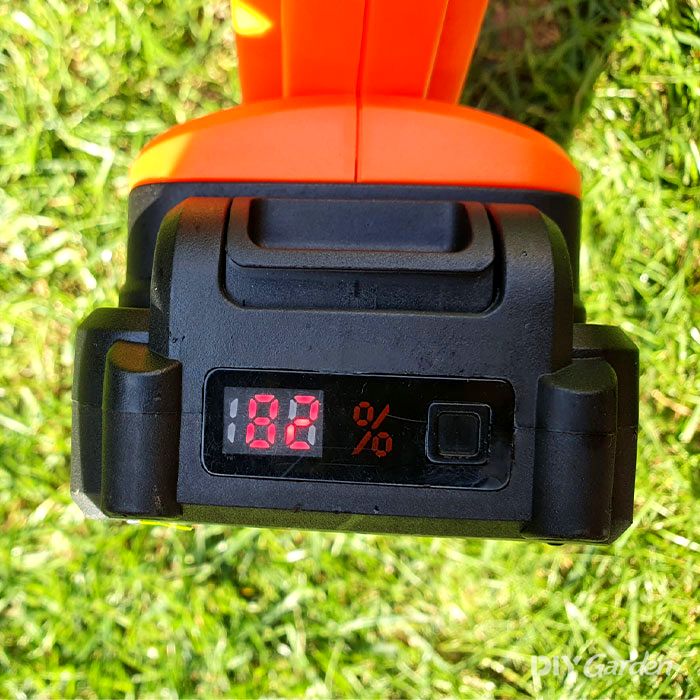 This pole trimmer is rated to put out 90 dB. That's equal to a hair dryer on full speed, so it should be loud but not overpowering. I'm not even sure it's that loud. I always use ear defenders when working with power tools, but I'm sure you could get away with this quiet machine. It's an inoffensive noise as well, not too high revving like a drill or saw might be.
I'm happy to say that this isn't the sort of power tool that will ruin the relationship you have with your neighbours! You could happily trim away at your garden, and so long as it's not 2am no one's going to complain.
A clever safety feature I discovered on this pole trimmer is an auto safety cut off. When you fold the trimmer in half for transport or storage, you can't accidentally turn it on with the trigger. It's a handy feature simply because that's when the blade is nearest to your hand or arm!
When you're using the pole trimmer in retracted or extended modes, the moving blades are out of reach of your hands or feet. That should make it safe for the operator, but always make sure there's no one else around when you're working.
As for safety instructions, the trimmer comes with a comprehensive manual that you should read closely. Whenever you're working with power tools, having the correct personal protective equipment (PPE) is essential of course. Proper safety glasses, sturdy and close fitting clothes, ear defenders, gloves and safety boots are crucial.
I honestly think this is hedge pole trimmer is remarkably good value for money! I've tested out trimmers that are more than double the price, like the Bosch Universal Hedge Pole 18, and the Yard Force holds its own! It might not be quite as durable or powerful, but for gardeners on a budget, it's just the right price.
Overall, this trimmer has surprised me. I won't pretend that I knew the name Yard Force before testing out this trimmer, and to be honest I wasn't excited when I opened the cardboard box. My first impression was that it was too light and would probably be flimsy, but I'm glad that I've been proven wrong.
The lightweight construction actually works in its favour. It makes it so much easier to work with than some of the heavier duty pole trimmers I've tested out. The fully adjustable front "D" handle makes it extremely easy to manoeuvre, and the smaller motor stops it from being too top heavy.
The only glaring error that Yard Force have made is leaving out a shoulder strap. Once you've learned the technique, a strap gives you a lot more leverage, especially when fully extended. Otherwise, using this trimmer has been a positive experience. Being able to fold it up and store it on a hook works in its favour as well.
If you're only planning to use a pole trimmer for light, occasional maintenance jobs around the garden and you don't want to overspend, this is the one for you. The build quality might not be the best in the market but provided you don't push it too hard; this lightweight pole trimmer is just right.
Why You Can Trust DIY Garden
At DIY Garden, we believe your trust is earned through our knowledge and transparency. Our team of experts has over 75 years collective experience in the gardening and DIY space. Since the website's creation in 2016 we've tested over 275 products, ensuring our recommendations are based on real experience. We're open about what we've tried and what we've researched, and this is clearly labelled in our product reviews. Every year, we revisit and update our suggestions to include worthy new additions to the market. Our aim is to give you straightforward, honest, and helpful recommendations, so you can confidently choose the best tools and equipment for your projects.
Yard Force 20V Cordless Pole Hedge Trimmer Price Comparison
Price History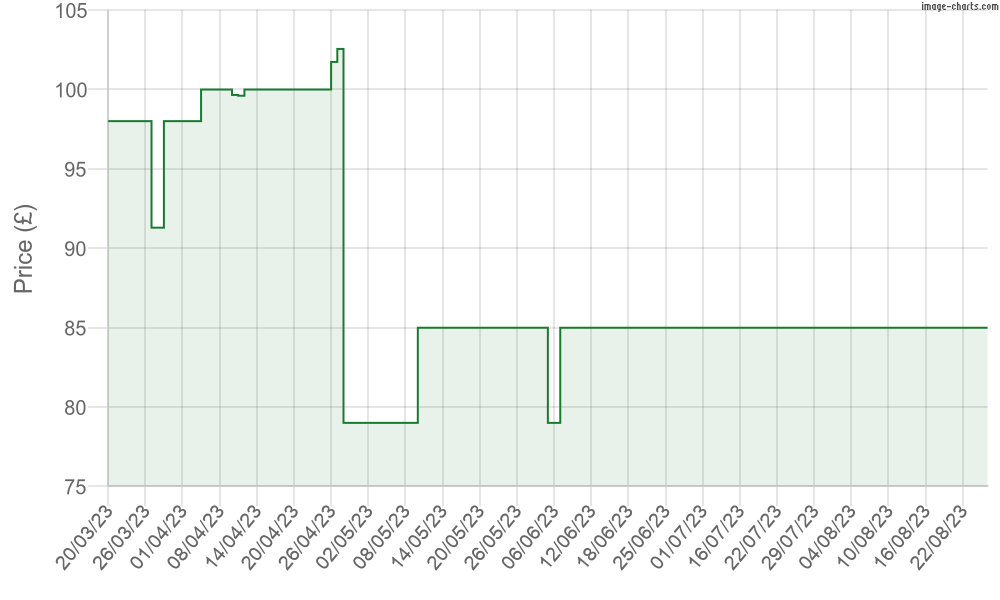 Our Scores:
Design

Performance

Power

Noise

Safety

Value for Money

Overall
Features:
Max. Width

14 mm

Max. Pole Length

2.56m

Weight

3.8 kg

Run Time

40 mins

Charging Time

60 mins

Power

20 V

Rotation Degrees

135°

Blade Length

41 cm

Shoulder Strap

No

Safety Trigger

Yes

Battery Included

Yes
About Your Guides
Harry Duncton is a jack of all trades with experience ranging from carpentry and furniture restoration to tree surgery and gardening. Happiest when found in his shed, he hopes his daughter will find a passion for making things as well.

Sarah's role as chief editor at DIY Garden is about more than just making sure we're literally dotting the i's and crossing the t's (although she's a stickler for detail, so it's certainly about that too!). It's about proof-reading, fact-checking and continuously researching everything we publish, ensuring that it adheres to our

editorial standards

, so that everyone can really get the most out of their green space.
You May Be Interested In These Other Hedge Trimmer Reviews