Our
Hozelock 2595 Auto Reel

Review

If you want to wash your car without walking for miles with buckets of water, 40 metres of tough garden hose is a great idea. What wouldn't be great is having to tidy it all up afterwards! I like this hose reel because it takes away my least favourite job, picking up the wet and gritty hose and putting it away once I'm done with it.

For me, at least, it makes this premium priced hose reel worth the money. It's probably the best way to store 40 metres of hose. It's kept out of damaging sunlight, and it's ready to use whenever I need it. It's a shame that it doesn't come with premium metal connectors but seeing as I can upgrade to those if I need to, I really don't mind.

If you're looking for one of the best retractable garden hoses on the market today, I wouldn't hesitate to recommend the Hozelock Auto Reel. Now that it's firmly attached to the side of my house, it's going to save me a lot of effort and help me keep my garden looking great and producing plenty of veg.

B0046REBS0

5010646053082,5010646959636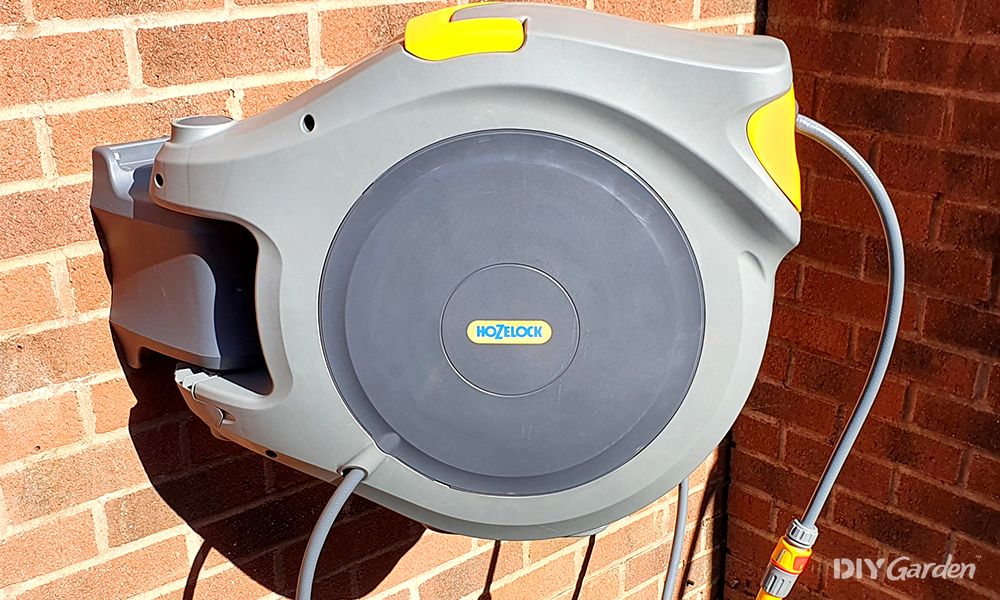 Putting this Auto Reel on the wall isn't too big of a job. If you're confident enough to use a hammer drill, and you've got the right safety gear, it shouldn't take more than half an hour to get the bracket on the wall. You'll need a drill with hammer function, a spirit level, a decent screwdriver and a hammer for putting in the wall plugs properly.
One of the best things about the Hozelock assembly process is found on the cardboard packaging itself. Clearly printed on one of the inside flaps is a drilling template. Simply cut it off and tape it to the wall where you want the hose reel to go. I made sure the template was straight with my spirit level, then drilled straight through the marks and into the brick wall behind.
This template method saves a lot of time, measuring, and head scratching. Just make sure to consult the manual for the correct positioning of the hose reel on your wall. It's a pretty big thing. It swings out to 65 cm on either side, so make sure you've got ample room to work with.
Here's my first warning to anyone putting this hose reel on their wall. For some reason, Hozelock require a 7 mm masonry drill bit to make the correct size hole in the wall for the included plug. It's an awkward size bit that doesn't feature in many basic drill bit sets, or at least none of the ones I had to hand! One quick, but annoying, trip to my local tool shop, and I could get on with the rest of the job.
Putting the Auto Reel on the wall wasn't too difficult, but I'd probably use better quality screws. The ones supplied were far too soft and I came dangerously close to stripping out the head of one of them when fixing the bracket to the wall. This is a problem shared with more than a few other users as well.
My advice is to use a brand new Phillips head (not PoziDriv) screwdriver bit, go slowly and apply plenty of force into the wall. Driving the screws in once they're close to the wall became quite awkward as well, and I ended up using a stubby right-angle ratchet screwdriver to finish them off. If you're going to use a regular screwdriver, make sure the shank is long enough to get right in there.
Once the bracket was on the wall, the rest of the install was straightforward. To get at the internal hose fitting, I popped the side cover off the hose reel with a plastic spudger tool. The plastic cover is quite soft, and I wanted to avoid marking it with a metal screwdriver. If you go gently, you could get away with a regular screwdriver though.
The manual does a reasonable job of showing you how to connect everything up from here on. The diagrams could be a bit bigger and more user friendly, but if you take your time, you'll get the job done.
You need to attach the hose connectors to the hose yourself. The hose is heavy duty and rather stiff, so Hozelock recommend soaking the ends in hot water for 30 seconds to soften them up. I found you can get the same results if you squash the hose between your thumb and forefinger several times. It makes the rubber more pliable and gives your hands some exercise! Once they're fed on, simply tighten down the lock nuts and you're ready to go. Remember to feed the locking nut on to the hose before you attach the end as well.
All the fittings are included to connect the hose reel to your outside tap. They're plastic pieces but seem sturdy enough. I noticed a bit of a drip coming from my tap connector though, so I swapped it for the brass one I already had. Apart from that, there were no leaks and it was an easy install process overall.
Once your hoses are attached and you check you've got enough clearance, it's simply a case of lifting the hose reel onto the wall bracket. It's not too heavy, but Hozelock have included a chunky yellow handle on the top to make it a bit easier.
Hozelock have had more than 60 years of experience designing and manufacturing the best garden hoses and reels. In fact, they invented the plastic hose connector, so they definitely know their business.
I've owned several different types of hose and reel in the past, and they all end up as a soggy tangle of pipes when you're done with them. Reeling in a 40 metre hose with a creaking plastic handle is a thankless task, and those expanding hoses don't last for long before they're full of holes.
Hozelock have successfully created a hose reel that ticks all the boxes for me and my garden. There's more than enough hose to reach the far corners of my back and front garden. I don't need to worry about manually winding the hose back in when I'm done, and I've got somewhere to keep it out of the sun and rain when it's not in use.
One of the problems that Hozelock have solved is how to make sure the hose is always feeding out of the reel in a straight line. To avoid kinks and tangles, and to make the reeling action smooth, the hose reel can swing through 180° on its wall bracket. If you've used hose reels without this feature, you'll know how easily they topple over. It's a real benefit.
The type of hose you get with the Auto Reel is standard UK size ½" or 13 mm in metric. It's light grey and feels particularly well made to me. It's tough and not easy to kink, even when it's not filled with water. Hozelock have used a heavy gauge, three-layer system that's robust but still flexible enough. I have a feeling that it'll last for a very long time.
Don't worry about having to stop the hose from reeling you in with it though, because the Auto Reel features an automatic brake as well. If you pull the hose out and then let go, the brake engages. This allows you to spray to your heart's content without it disappearing back up the garden. When you want to release the brake, give the hose a gentle tug and walk it back to the reel. It's a smooth action as well, it doesn't feel like it wants to pull your arm off!
The plastic spray nozzle on the end doesn't come with all the different patterns you get with a proper spray gun, but it's enough for most gardening jobs. When you twist the yellow nozzle it ranges from a fine mist to a powerful stream, and you can even shut it off without needing to go back to your wall tap.
Even though Hozelock invented the plastic hose connector, I think I prefer my brass tap fittings. The ones that come with this set are probably fine, but you can tighten down a metal tap connector snugly without worrying it will crack. There's a reason why Hozelock sell a "Pro" range of metal tap connectors, after all.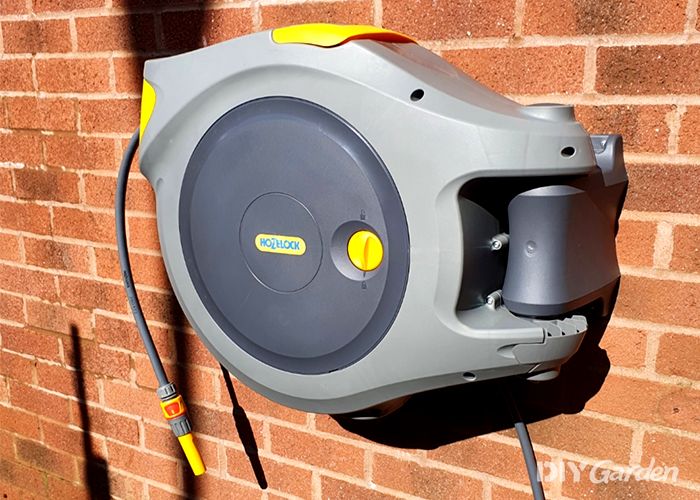 The Auto Reel garden hose is probably one of the biggest improvements to garden hose design that I can think of. Watering your garden or filling a paddling pool is made easy with a long garden hose but putting the same long garden hose back again is a real pain.
If you don't have a hose reel, you've got an annoying coil of hose to hang up somewhere when you're not using it. Even if you've got a standard hose reel, you'll spend ages winding it back up and making sure it doesn't end up tangled and messy. This just isn't the case with this garden hose.
So, I think the Auto Reel feature on this hose is a really special piece of kit. Not only does it reel back in, but it even lays the hose for you. What they mean by laying it is spreading the hose evenly from side to side to avoid it bunching up on either edge of the reel. You can see the hose laying arm inside the case when it reels back in. This side to side motion ensures that the hose won't get tangled inside the reel and never come out again.
Another feature of this hose I like is the child safety lock. If you want to keep little hands from playing with the hose, you can lock it off with the turn of a dial. This yellow switch is found on the side of the hose reel and should make sure that no one can fiddle with the hose when you're not looking.
If you're worried that someone might steal your hose reel, you can even lock it to the wall bracket. The underside of the hose reel section slides out and can be locked with a padlock. Taking the hose off the wall to move it or store in the shed over winter is just as easy too.
This is an incredibly practical solution for anyone who wants to water their garden or wash their car on a regular basis. A self-tidying and thoroughly robust hose and reel, all held in a protective case. What's not to like?
Above all, the price of this Auto Reel garden hose should be measured by how much time and effort it saves you. I've bought the cheapest expanding hoses in the past, but they've lasted for less than a year and there's no easy way to store them between uses.
This marvellous hose reel solves both these problems, but it doesn't come cheap. The triple layer hose won't kink, and it's built to last, but it's many times more expensive than a basic garden hose system. Unless you're a keen gardener or you really like washing your car, it's a lot to shell out for convenience.
I love the fact that this hose puts itself away and is kept out of the elements with minimal effort on my part. It's easy to grab off the wall and it comes with everything I need to water both my front and back gardens. Without buying any extra accessories, I can blast the dirt off my cars using a powerful jet, or gently soak my vegetable beds with a fine mist of water.
Several other reviews of this hose pipe and reel have complained about the plastic bits and pieces found on it. I was a bit disappointed by the slightly flimsy internal hose connector, and the plastic tap connectors aren't brilliant, but it's still a good system for the money.
You can swap out plastic connectors for metal ones down the line, and upgrade the spray nozzle to a proper gun, but I don't think it's necessary, at least to start with. I can't say what this hose and reel will look like in a year's time, but I suspect that it'll still be in one piece and working as it's supposed to. Even though this is a relatively expensive way to water your garden, I think the Auto Reel function makes it worth the money to a busy DIY gardener.
If you want to wash your car without walking for miles with buckets of water, 40 metres of tough garden hose is a great idea. What wouldn't be great is having to tidy it all up afterwards! I like this hose reel because it takes away my least favourite job, picking up the wet and gritty hose and putting it away once I'm done with it.
For me, at least, it makes this premium priced hose reel worth the money. It's probably the best way to store 40 metres of hose. It's kept out of damaging sunlight, and it's ready to use whenever I need it. It's a shame that it doesn't come with premium metal connectors but seeing as I can upgrade to those if I need to, I really don't mind.
If you're looking for one of the best retractable garden hoses on the market today, I wouldn't hesitate to recommend the Hozelock Auto Reel. Now that it's firmly attached to the side of my house, it's going to save me a lot of effort and help me keep my garden looking great and producing plenty of veg.
Why You Can Trust DIY Garden
At DIY Garden, we believe your trust is earned through our knowledge and transparency. Our team of experts has over 75 years collective experience in the gardening and DIY space. Since the website's creation in 2016 we've tested over 275 products, ensuring our recommendations are based on real experience. We're open about what we've tried and what we've researched, and this is clearly labelled in our product reviews. Every year, we revisit and update our suggestions to include worthy new additions to the market. Our aim is to give you straightforward, honest, and helpful recommendations, so you can confidently choose the best tools and equipment for your projects.
Hozelock 2595 Auto Reel Price Comparison
Price History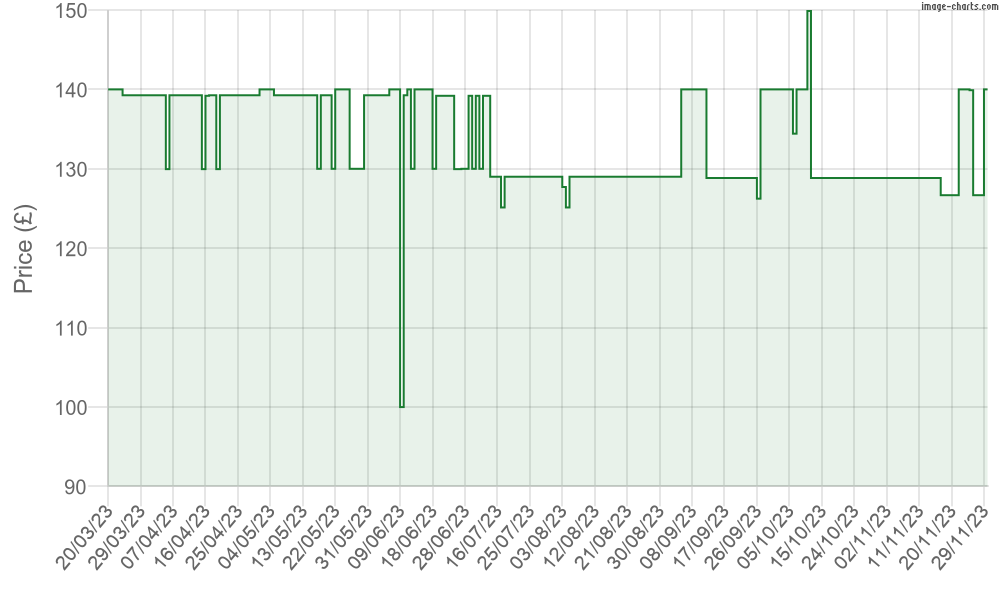 About Your Guides
Clive Harris is the creator of DIY Garden and a professional landscape gardening consultant with over 6 years experience. In his spare time he enjoys testing the latest gardening equipment and sharing his experiences here on the site. And of course, he absolutely loves his garden and spends many happy hours outside each week growing, mowing, and having fun with his three kids.

Harry Duncton is a jack of all trades with experience ranging from carpentry and furniture restoration to tree surgery and gardening. Happiest when found in his shed, he hopes his daughter will find a passion for making things as well.

Sarah's role as chief editor at DIY Garden is about more than just making sure we're literally dotting the i's and crossing the t's (although she's a stickler for detail, so it's certainly about that too!). It's about proof-reading, fact-checking and continuously researching everything we publish, ensuring that it adheres to our

editorial standards

, so that everyone can really get the most out of their green space.