The lawn is often the largest area of our garden. However, although it takes up the most space, we don't always give it the amount of time and care that it deserves.
It's easy to see why – lawn care can be a little dull compared to growing tasty veggies and planning brightly-coloured borders. But, neglecting the lawn can lead to problems throughout the year. An unhealthy lawn can turn yellow over the summer and become a mud-bath in the winter. Not the most appealing place to spend time!
Unfortunately, there's no way around it – if you want a good looking lawn, you've got to invest some time in it. However, we're not talking about putting in a major shift either – a few days each month can make a real difference.
I've created this monthly guide to lawn care so that you've got everything you need to know in one place. But, don't panic – it's not going to be too labour intensive. I'll give you the basics and then the option for a bit more if you can fit it in!
Keep reading to find out what to do with your lawn, and when, to make it the most enjoyable space possible for you and your family.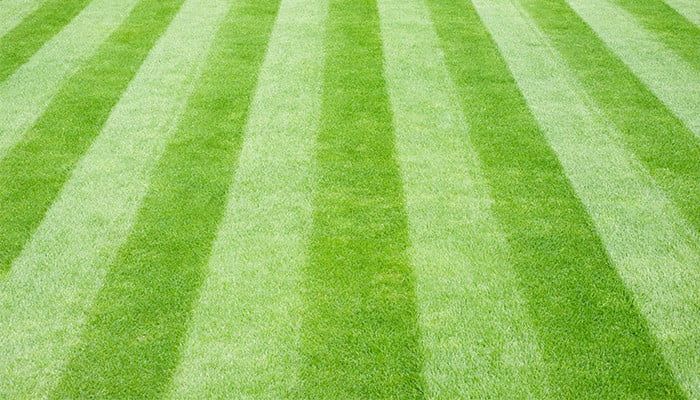 January
It can be a little bleak out there in January, so don't worry – I'm not going to suggest you spend hours tending to your lawn!
If you didn't get that last cut in before the wet weather descended back in late autumn, it's possible your grass is rotting and looking muddy. Don't walk over it unless absolutely necessary, and don't cut it yet.
You can brush off the leaves if it's absolutely covered, but leave a few so the worms can drag them down into the soil and provide some great fertilisation for free. Anything that encourages worms is great news for the soil – we talk more about the amazing benefits of worms in our article on worm casts.
Also, in January, why not throw out a few seeds out for the frozen, bedraggled birds too? At least something can enjoy the lawn! Plus, your new winged friends may hang around in springtime, nesting in your hedge and raising some baby birds. If you want more tips on encouraging birds into the garden, we've written a separate advice page on attracting interesting bird species.
February
It's still pretty cold. That wet lawn is now freezing but at least the white frosty covering is a change from the bare, wet mud. Again, try to avoid walking on the grass as much as possible – it will cause unnecessary stress to the grass and it won't have the strength to recover as easily during the cold months.
February is a good month to start getting your tools ready because March will be all systems go. You might want to consider servicing your lawn mower so that's it doesn't pack up on you when you need it most. Come March, we'll be revving up those engines and groaning in unison as we kneel down to clip those lawn edges.
Keep your eyes peeled for signs of life this month, such as catkins and tree blossom, because a sudden increase in warmth can boost the garden.
If we do get some warm weather in February, the grass may dry out a little. This is a good time to use a wide rake and start to gently loosen the moss and dead grass thatch in the lawn. This gives the living grass room to breathe, soak up the sun and drain properly.
If the ground is dry, you can also use an aerator on the lawn in February. If you don't have an "official" aerator, you can simply use a garden fork to prick holes in the grass and let air in. This stimulates grass roots and lets nutrients soak through.
March
All right, now we're getting somewhere! This is when the real work starts.
The arrival of spring, and the onset of drier, warmer weather (hopefully!) means your grass will start to grow. If you haven't already done so, rake it over to remove debris and aerate it.
The first cut should be done in March, but don't cut it too short. If you can, adjust your mower blades. Put them on the highest setting and just take the grass tops off or it may go brown or yellow. I recommend checking out our guide to grass cutting height if you want to know a bit more!
A maximum of two cuts is usually all that's required in March – let's take it steady to begin with! Also, if you can tidy up the edges, with a lawn edger or strimmer, it'll save a bigger job later on.
Now is a good time to feed your lawn. Choose a quality lawn feed and follow the packet instructions carefully – don't overdo it! As is often the case, you can have too much of a good thing. Feeding your lawn increases its vigour and toughness, and helps prevent weeds or moss from getting established. As it happens, we've recommended some of the best lawn feeds for spring to help give grass a boost.
Next – do you have weeds and bare patches? March is a good time sort those out too. Dig away any weeds or rough, coarse grass and put down some new grass seed. If there's a lot of coarse grass, you may have some weed grass growing which will require a bit of additional work. Take a look at our informative weed grass article if you're not sure.
Given that March is a great month for sowing grass seed, let's recap the grass sowing process:
Break up the soil surface and rake it smooth.
Break out any lumps and remove the stones – this groundwork is important as it'll make a big difference to the final lawn.
Read the sowing instructions – you'll need less seed than you think! A reasonable amount is 15g for a square metre. You can use a lawn spreader to prevent too much seed getting concentrated in one spot.
Rake the seeds in.
You can press the seeds down or leave them – experts disagree on the best method. I've grown grass both ways and it doesn't seem to make a difference.
You should see new growth within two weeks.
Water the seeds if there's no rain, but use a watering can or a fine spray hose to avoid dislodging them – a sprinkler system can also work well when it comes to looking after grass seed.
Only mow the grass when it's gained a good amount of growth and only use the highest blade setting. Take a look at our guide to caring for newly planted grass seed for more details on when to mow for the first time.
Be gentle and try to avoid walking on the new grass this year.
If you have problems with cats or birds, you'll need to use some protective netting. If you do this, keep an eye out for trapped wildlife. Hedgehogs in particular may snuffle through the freshly dug earth for worms and then get their prickles caught in the net. Check daily, every morning.
Re-seeding your lawn is the cheapest way to patch it up, but it's undeniably time consuming. If you can't wait – buy some turf.
If you do decide to buy turf, I've got a tip for you: only buy turf first thing in the morning – some garden centres have a tendency to leave turf rolls out all day in the baking sun. When you get turf home, lay it straight away on forked and raked soil. Tread it down gently and water every day for a week.
April

We should be blessed with some warm sun in April, so keep your grass under control – don't let a meadow start growing! In a beautifully warm April, the lawn might need mowing once a week, but usually fortnightly is sufficient. It's time to lower the blades on your mower too. If you haven't got a mower with adjustable cutting heights, you might like to check out our top recommended lawn mowers – many of them offer a good range of cuts.
If you didn't feed or re-seed the lawn last month, do so now. It makes a big difference particularly if a hot summer is the horizon.
By April you'll be able to see if you have moss. There are several types of moss and they all crowd out your grass giving it an uneven colour.
Mossy lawns feel springy to walk on. I will confess I quite like a mossy lawn because it cuts down on watering, but it's not very hardwearing for kids and doesn't look so good as well kept grass does. Removing moss improves the drainage and vigour of the remaining grass, so you may decide you want it gone.
There are several ways to deal with moss if you want to get rid of it. You can rake or scarify the grass to pull up moss. We've written an in-depth guide to scarifying if you'd like to learn more. Scarifying can make the lawn look pretty torn up just after use, but you can re-seed on clear soil to create a brand new lawn in no time. Follow a good scarifying aftercare plan and your lawn will soon recover.
You can also use a moss killer product if you don't fancy all that hard work. Follow the instructions carefully and keep your kids and pets away from treated areas.
May
Once May rolls round, mowing becomes a weekly job (some say twice a week, but do we really have time for that?).
Raking before you mow will make a big difference to the quality of your grass. If you don't have time for this, don't worry. But if you can fit it in, it's worth doing. Pay particular attention to clover and weed strewn areas.
Don't forget to pay the lawn edges some attention. This final touch often pulls everything together. In fact, if the in-laws are dropping by and you don't have time to mow the whole lawn, just do the edges for a more polished look. Pick up the grass clippings and flick soil back onto the border. No-one will ever know.
June
June is the time to feed your lawn again if it's still looking sorry for itself. You should leave two months between lawn feeds to avoid killing the grass with too much nitrate.
Keep up that weekly mowing. It's a boring job for sure, but you can make it quicker and less dismal with a decent lawnmower and long handled-edging shears.
You may need to water your grass if it's been baking hot, especially any areas that are newly planted.
Use enough water so that it soaks into the soil. Water running off the dry soil is of no use and tends to teach your grass that shallow surface roots are the best, when in fact you need long reaching roots that can find their own moisture.
July
My top tip for July is to take a deckchair outside at least once a week to admire your lawn (told you this wouldn't all be hard work!). This is a job that could easily take all morning if you do it properly…!
Otherwise, keep mowing, watering and aerating. If it's really hot you should lift the mower blades to keep some length on the grass as this avoids soil-scorch and brown patches.
August
Mow once a week during August. If you have a lawn mower with a mulching feature (what is mulch?), you can leave the mulched clippings on the lawn, but don't allow them to build up. If it's still really hot and the ground is baked, mulched clippings will help the lawn retain moisture.
Brown patches may start to appear in August and that means watering is essential. The best time to water anything is during the early morning or evening before the sun gets too hot and evaporates the water. Leave off frequent mowing if it hasn't rained in a while because longer grass preserves moisture.
If cracks appear in the earth, fill them with a mixture of sharp sand and soil.
September
Towards the end of September you can begin to decrease how often you mow the lawn. Grass needs some length to protect it from the colder weather that's looming. Raise the blades of your mower and cut every 1 – 2 weeks weeks. If you can't adjust the blades, mow fortnightly at most.
October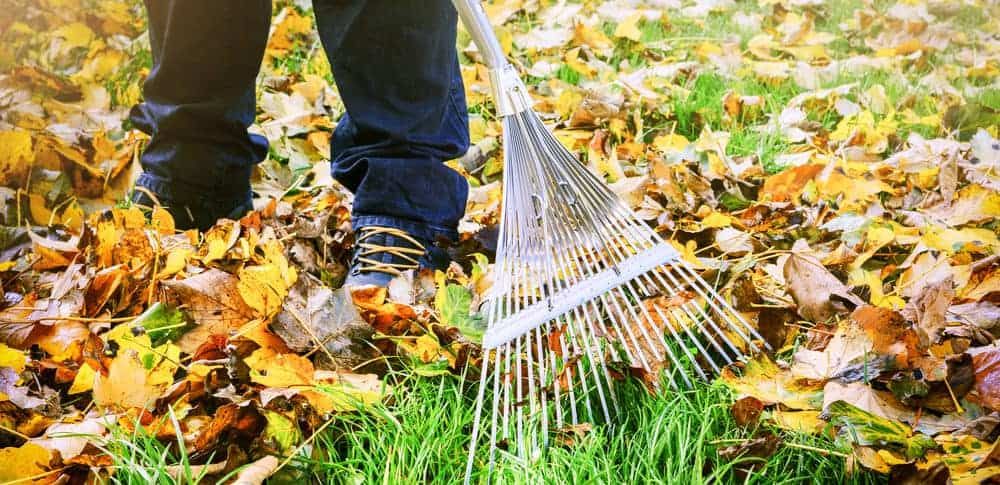 It time to start raking out the thatch again, aerate and fill any cracks with soil and sharp sand. If you have bare patches of lawn, October is another good time to sow seeds. There are specific fertilisers that can be used in autumn/winter, you may decide to investigate these if your lawn needs a little extra help.
If you are thinking about springtime, try planting bulbs in the lawn such as mini daffodils. They look great in early February when they push up out of the soil and provide some much needed colour. Just make sure to plant bulbs before any frost sets in – they need to grow some roots before it gets frosty.
Mow around the bulbs. Then, when they've finished mow over them. Experts say you should let the leaves die back of their own accord, but I mow mine over each year after the flowers have faded and they always come back for more – try and see, they are plenty cheap enough.
November
At the start of November you may get a few mows in before the rain starts in earnest. I'd recommend not allowing the grass to get too long because it'll rot in the winter rain. Keep an eye on the forecast so you can cut the grass on a dry day.
Brush in the worm casts and rake up leaves if there's an excess. If clearing the leaves is taking ages, we've written a helpful page with tips for quickly clearing leaves from the lawn.
December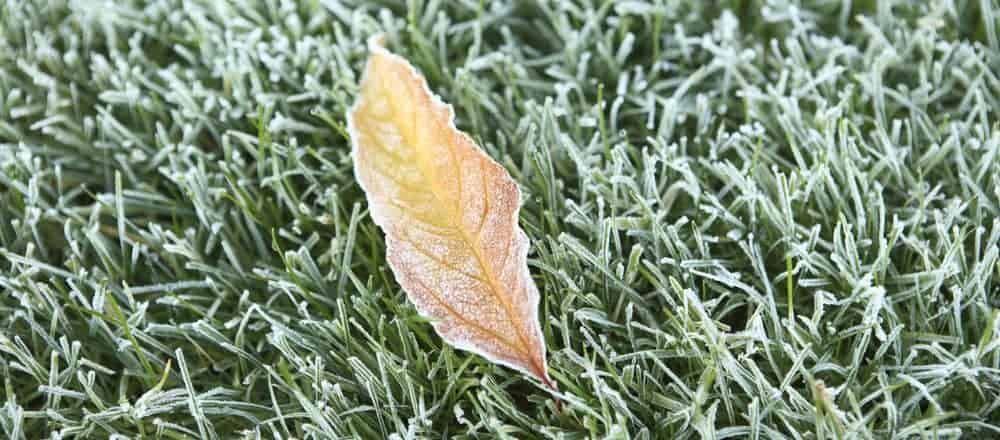 There's not much to do now, but try to keep excessive leaves from smothering the grass and don't walk on the lawn too regularly if you can avoid it. During winter, this can easily cause stress and damage to the grass.
December is a good time to clean your tools, change or sharpen lawn mower blades and oil down any shears, edging tools or clippers. Why not put any new bits that you might need on your Christmas list!
General Lawn Tips and Tricks
What does scarify mean?
It might sound a bit frightening, but scarifying is actually nothing to be afraid of. Scarifying means raking out the moss, dead grass and debris entangled in your grass. I recommend checking out our article on what scarifiers do.
How to stop dog pee turning the grass yellow
If you spot it peeing on the grass, pour some water over the urine spot. This can help prevent yellow patches.
How to fix collapsed border edges
If your border edges are looking slack, take a spade, cut out a square and then turn it around. The ragged edge quickly backfills and you'll have a sharp edge to your border. Tread it in and water. Just like magic!
How to choose the right grass seed
High-traffic areas need a hardwearing mix with some ryegrass. Also, if you've got a shady lawn look for a shade tolerant mix (we've recommend some grass seed for shady areas if this sounds like your garden!). Otherwise, if only you walk over your grass occasionally and there's sunshine and shade, pretty much anything will do.
It's a good idea to choose grass seed mix that has at least two types of seed mixed in – this way you won't be putting all your eggs in one basket!
Looking to quickly jazz up your lawn?
My top tip, if you want to jazz up your lawn, is to plant some herbs in it.
You can whizz over these with the lawn mower and it creates an amazing scent. Creeping red thyme is my favourite. I have little pockets of it in the lawn and in patio cracks. Don't plant mint in your garden though, because it's a rampant warlord and you'll never be rid of it. If you like mint put some in a pot so its roots are contained.
One Final Tinsy Request
If you have space in your garden, think about leaving an area of uncut grass for our wildlife.
Studies show that wildlife thrives in longer grass and patches of wildflowers are an essential source of nectar for our pollinators. The more ways we can find to protect our bees, the better!
Long grass also makes the perfect hideaway for beetles, slugs and snails. This can also benefit frogs, toads and hedgehogs. You might even think about building a little bug hotel to make your garden a real haven.
Pop a shallow, heavy bowl of water in the longer grass to create a mini eco-system. It'll be less work than building a pond (although, if you are considering a pond, these 28 Garden Pond Ideas are sure to get you inspired!).
Conclusion
So, there you have it! Everything you need to know about how to treat your lawn throughout the year to get the most out of it. Maintaining a healthy lawn doesn't have to be unnecessarily hard work as long as you keep on top of doing the little tasks. Now, go out and enjoy your beautiful garden!