Our
LawnMaster 24V 34cm Cordless Lawnmower

Review

All in all, the Lawnmaster 24V 34cm Cordless Lawn Mower is a fantastic machine for small to medium gardens. I would even go so far as to recommend it for larger lawns too if you plan on mulching rather than collecting the grass. It works quickly, efficiently, and neatly, leaving a beautiful-looking lawn behind. It may be a cordless machine, but don't let this fool you into thinking that it isn't powerful – the Lawnmaster 24V 34cm Cordless Lawn Mower is just as capable as many of the petrol-powered models out there, yet it's so much more lightweight and easy to use.

B08XY65MZC

6939349517082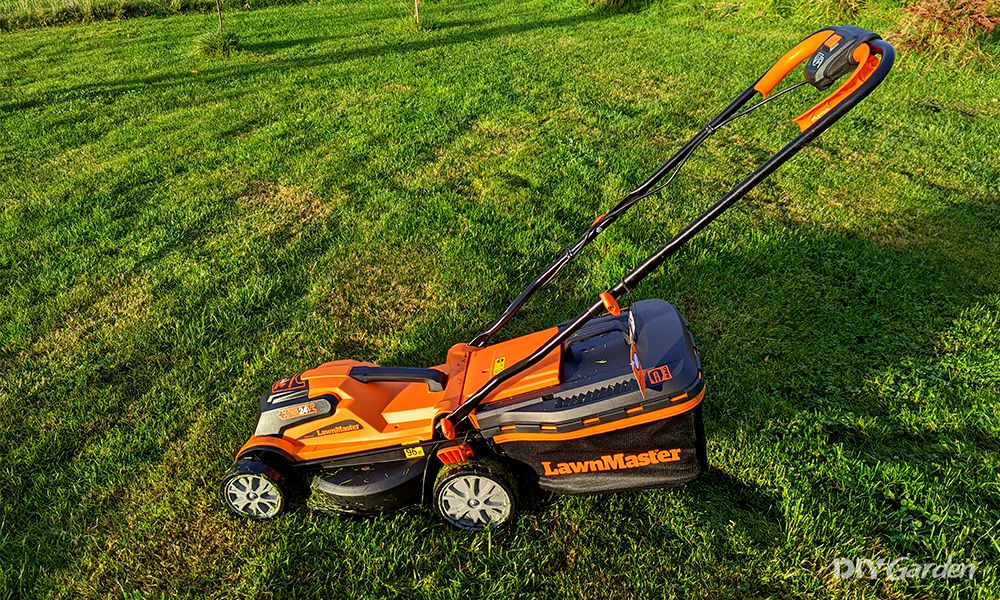 Designed for small to medium gardens, the Lawnmaster 24V 34cm Cordless Lawn Mower promises a beautiful finish with each and every cut. It's manufactured by Cleva, a brand that specializes in high-quality garden machinery, so I was excited to see how it would hold up to its competition.
Read our product testing methodology here.
How I Tested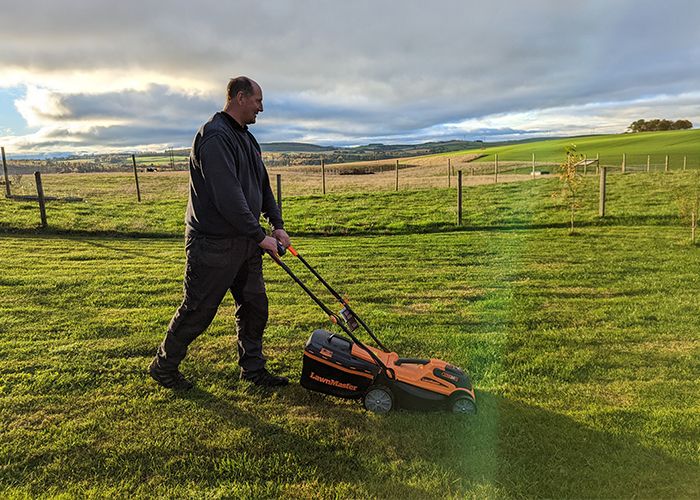 Working as a landscaper means that I've used my fair share of lawn mowers over the years, but none of them have been cordless. So, as a lifelong user of petrol lawn mowers, I was intrigued to see how this machine would fare in different conditions, meaning cutting dry, wet, short, and long grass.
To test this out, I put the lawn mower to work on different areas of my farm. From my large, regularly maintained lawn (keeping in mind that this machine hasn't been designed for big gardens) to the various grassy areas surrounding hedges and large shrubs, I picked a diverse selection of five different spots to find out how powerful and versatile this lawn mower really was.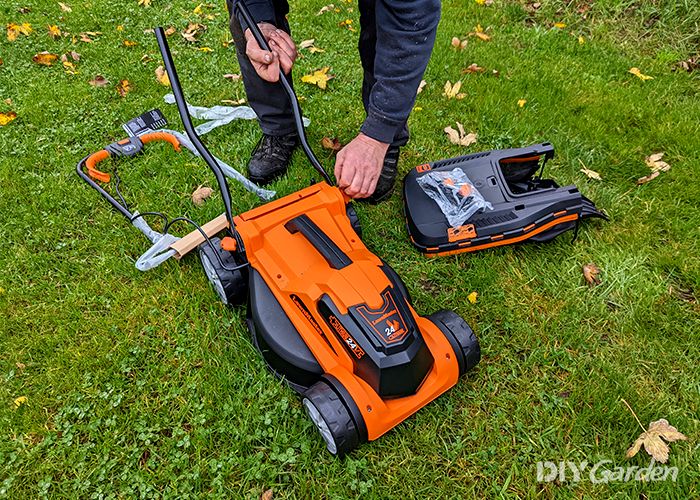 Some lawn mowers can be pretty tedious to assemble, but this one took less than 10 minutes. The instructions are straightforward and easy to follow, although if, like me, you've put together various lawn mowers in the past, then you likely won't need them.
You start by slotting in the lower handles, followed by the upper handle. The bolts that you need to secure them in place are provided and they're easy to fix into position using just your hands – no tools necessary. Once you've done this, you can then pick from two different handle height settings – I went with the tallest.
The grass collection bag is already assembled, which saves quite a few minutes of assembly time compared to some other lawn mowers – this can be quite a fiddly task! Simply slot this into the lawn mower (you'll need to remove the mulching plug first, which was already inserted into mine), insert the battery into the front of the machine, connect it up with the orange key, and you're good to go!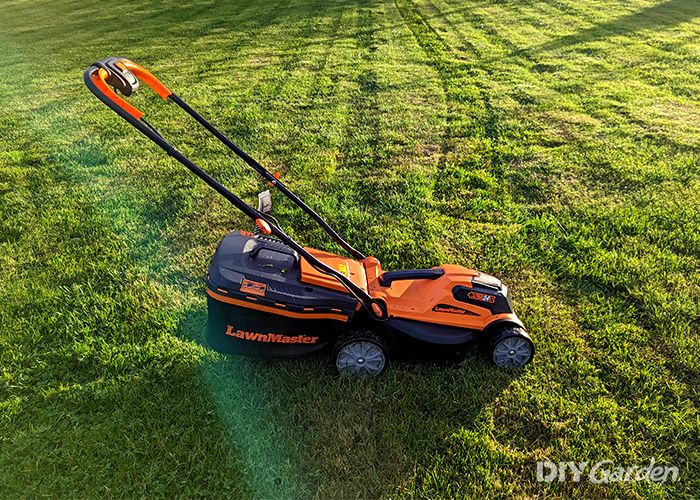 The first thing that stood out to me when looking at the fully assembled lawn mower (other than its attention-grabbing black and orange colour palette), was its size – it's much smaller than most of the other lawn mowers that I've used in the past. However, that's not necessarily a bad thing, as many people find standard-sized lawn mowers to be a little bulky.
Constructed from alloy steel and plastic, this lawn mower does feel a little flimsy at first. This led me to take a closer look at all of its fittings and joints, but they're all beautifully crafted and look as though they'll withstand a fair bit of wear and tear. The carbon steel blade is impressive too – this is probably the best blade material as it ensures strength and accuracy.
The 32-litre grass collection bag provided with this mower is a little small for my liking. However, so long as it properly packs the grass in, this shouldn't cause any issues.
While those are all pretty standard design features, there are a couple of extras incorporated into this lawn mower that add a thoughtful touch. The first was how it has been designed with two trigger arms, rather than just one – this is purely to make the lawn mower more comfortable to use.
You'll also notice a bright orange rear roller underneath the lawn mower. If you're hoping for a neatly striped garden each time you cut the grass, then a rear roller is exactly what you need.
Since the average lawn mower spends more time sitting in a shed than actually working, it's good to see that Cleva has designed this one in a way that makes storage convenient. The handles fold down to leave you with a relatively flat and compact unit that can be stored upright to take up less room, and the bag is collapsible as well.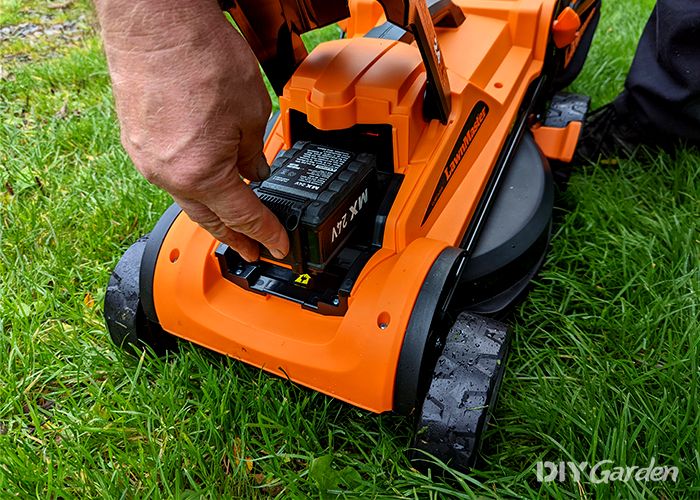 Although you only need a single 24V battery to power this lawn mower, Cleva provides two 4aH batteries with each machine. This enables you to have one charging while the other is in use, which will extend your overall cutting time.
It takes an hour to charge each battery, with the runtime varying depending on how hard you're making the machine work. Cleva estimates a continuous runtime of about 30 minutes in average conditions. Mine lasted for about 40-45 minutes, but this included starting and stopping a few times. Each battery sports four LED lights that display how much power is left – simply lift up the front of the lawn mower and press the button on the battery to check this.
What helps to add to each battery's runtime is the intelligent power control that accompanies this lawn mower's brushless motor. This basically adjusts the amount of power released by the battery based on your grass conditions. You can literally hear the change in power when you move the lawn mower from short to long grass – it almost sounds like a car changing gears.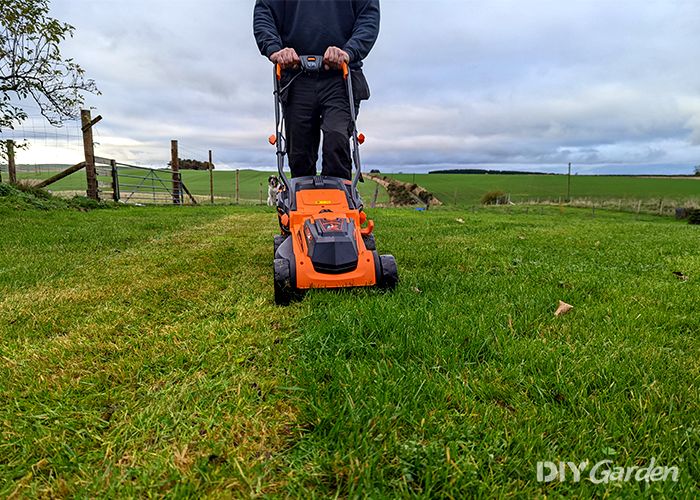 To thoroughly test this lawn mower's performance, I used it in both wet and dry conditions on various grass lengths:
Wet Grass
The first time I tested this lawn mower out was in the afternoon, after a night of heavy rain. As a result, the grass was a little wetter than I would have liked, although this can be quite a common occurrence in NE Scotland!
Many petrol mowers struggle with wet grass, so I was expecting this cordless model to be the same. However, I was proved wrong – even on the wettest areas of my lawn, the mower cut the grass beautifully and threw it deep into the collection basket.
This meant that the basket was able to fill up properly before the indicator on the basket flapped shut. To be fair, this is something that you would expect every lawn mower to do, but it's surprising how many of them don't throw the grass in far enough, requiring you to empty the basket even when there's still a good amount of unused space in there.
The only very small flaw was that wet grass quickly gathers around the mower's blade. However, a quick wipe clears this away and, ideally, you shouldn't really be cutting wet grass anyway!
Dry Grass
After a couple of days of dry weather, I tested the mower out again. I was already impressed at its performance on wet grass, but became even more so once I had used it on dry grass.
It cut the lawn beautifully, happily purring away as it did so, without needing to adjust its power much.
The grass didn't clog up around the blade like it did when it was wet, and the mower filled the basket just as efficiently.
After tackling my lawn, I moved on to the longer grass that surrounds the various shrubs and hedges around my farm. Again, it cut everything down well, although it did require some extra power on the thicker patches of long grass. In order to make things a little easier on the machine, I worked on these areas in two stages – the first cut was on a higher setting, followed by a second cut on a lower setting. There's a tag attached to the lawn mower with a measurement guide that explains whether or not you should cut the grass in one go or split the job into two runs, which makes this easy to figure out if you're not familiar with lawn mowers.
The Rear Roller
I was pleasantly surprised to see that this lawn mower came with a rear roller – most of the push mowers that I have used in the past don't have this function. The purpose of the rear roller is to flatten the grass after you've cut it. This then affects how the light bounces off of that line, which leaves the lawn with neat-looking stripes.
With some lawn mowers, the stripes are very obvious. However, with this one, they're much more subtle. In my opinion, this is because there isn't enough weight behind the lawn mower to really push that roller down. That said, it still left the lawn looking stripier compared to a lawn mower without a rear roller.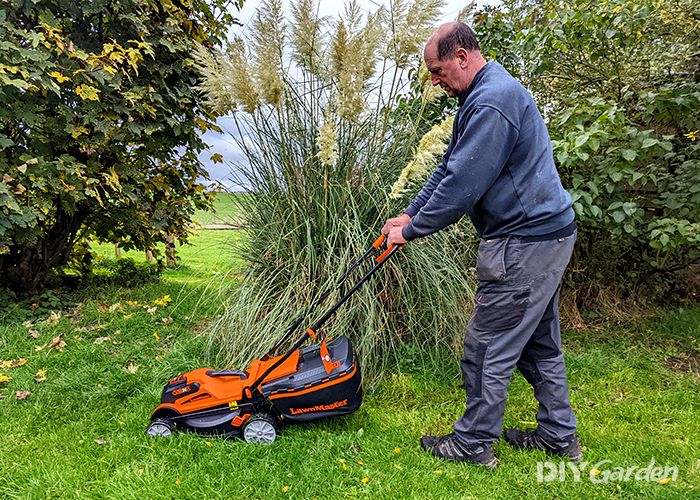 Manoeuvrability is so important when it comes to lawn mowers, especially when you're using a push mower that isn't self-propelled. This means that, rather than driving itself over a lawn with the push of a button, you need to physically push the machine yourself.
Fortunately, Cleva designed this lawn mower to be extremely lightweight. Official figures put it at 11.4kg, but it genuinely feels much lighter than this. In fact, thanks to the carry handle at the top of the unit, you can easily pick this lawn mower up with one hand to move it around, which can sometimes be easier than pushing it when transporting it over rough ground or up/down steps.
Manoeuvring the mower while it's in use is very easy too. Its small size means that you can easily squeeze it through tight gaps in between trees, as well as underneath low branches. When walking up and down your lawn with it, it pivots beautifully, enabling you to keep it running when turning corners, rather than having to stop and restart.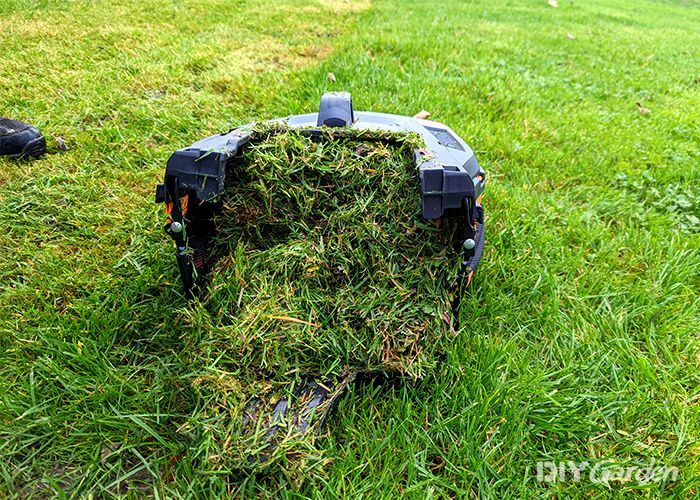 There are a few key features offered by this lawn mower that really set it apart from its competition. The first is the adjustable cutting height. Sure, most lawn mowers come with this function, but the fact that you only need to pull one lever to change the height of all four wheels (rather than having separate levers for the front and back wheels) is very convenient. There are five different height settings to choose from, ranging from 20mm to 70mm.
As I mentioned earlier, handle height can be adjusted too. Being tall, I often have to stoop when using certain push mowers, but I didn't have that problem with this one.
This lawn mower comes with a 34cm cutting width, which is partly why it has been designated for small to medium (rather than large) gardens. However, thanks to its mulching feature, which means that you don't need to keep stopping to empty the grass collection bag, it's capable on larger lawns too. You may need to walk up and down a bit more compared to using a wider lawn mower, but this machine works quickly, so you wouldn't end up spending too much more time on the job.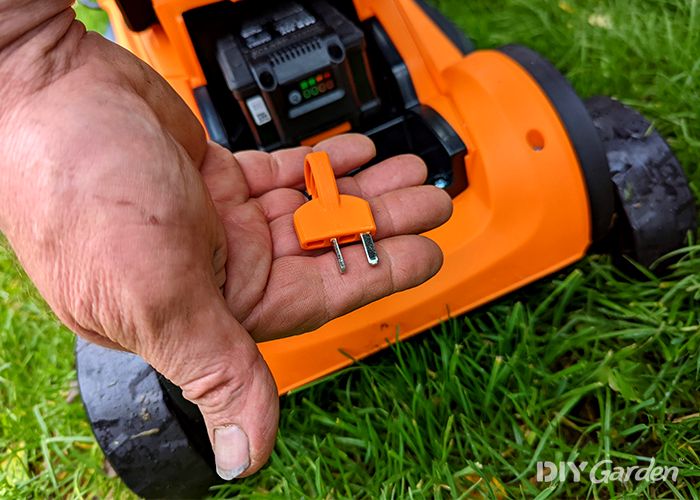 Some safety features are pretty standard when it comes to lawn mowers. Just about all of them will have safety stickers plastered somewhere on the unit, along with a dead man's switch. This encompasses a button that you need to press before you're able to pull the trigger arms back, which prevents anyone from accidentally starting the machine.
However, when it comes to preventing accidental use, Cleva has taken things a step further by also adding in a safety key/child lock. It's a small orange key that you connect to the battery after inserting it. Disconnect the key and, even with the battery in, the lawn mower won't start – ideal if you have young kids!
It's also worth mentioning that this lawn mower is definitely on the quiet side – it's probably one of the quietest lawn mowers that I have ever used. You won't need to worry about ear protection when using this machine, even when working for long periods.
At first glance, this lawn mower may seem a little costly, especially when compared to some of the budget petrol-powered models on the market. However, don't forget that it comes with two batteries, plus a fast charger. Price these up individually and the lawn mower itself actually comes in at a very reasonable cost.
The fact that it's such a capable little machine adds a great deal of value too. As I mentioned earlier, many budget petrol lawn mowers struggle to cope with long, wet grass, but the Lawnmaster didn't have that issue. In this case, you really are paying for top quality.
I also appreciate the two year manufacturer's guarantee that comes with this lawn mower. It not only applies to the machine itself, but also to the batteries.
All in all, the Lawnmaster 24V 34cm Cordless Lawn Mower is a fantastic machine for small to medium gardens. I would even go so far as to recommend it for larger lawns too if you plan on mulching rather than collecting the grass. It works quickly, efficiently, and neatly, leaving a beautiful-looking lawn behind. It may be a cordless machine, but don't let this fool you into thinking that it isn't powerful – the Lawnmaster 24V 34cm Cordless Lawn Mower is just as capable as many of the petrol-powered models out there, yet it's so much more lightweight and easy to use.
Why You Can Trust DIY Garden
At DIY Garden, we believe your trust is earned through our knowledge and transparency. Our team of experts has over 75 years collective experience in the gardening and DIY space. Since the website's creation in 2016 we've tested over 275 products, ensuring our recommendations are based on real experience. We're open about what we've tried and what we've researched, and this is clearly labelled in our product reviews. Every year, we revisit and update our suggestions to include worthy new additions to the market. Our aim is to give you straightforward, honest, and helpful recommendations, so you can confidently choose the best tools and equipment for your projects.
Our Scores:
Assembly Ease

Design

Power

Performance

Manoeuvrability

Features

Safety

Value for Money

Overall
Features:
Lawn Size

Small to Medium

Power

24V

Cutting Width

34cm

Cutting Heights

20mm-70mm

Collection Bag

32L

Weight

11.4kg
About Your Guides
Derek Smith has been farming all of his life, and is an professional landscape gardener with over 22 years experience. He owns a 25-acre farm in Aberdeenshire with a focus on self-sufficiency, living off the land, and working with nature.

Sarah's role as chief editor at DIY Garden is about more than just making sure we're literally dotting the i's and crossing the t's (although she's a stickler for detail, so it's certainly about that too!). It's about proof-reading, fact-checking and continuously researching everything we publish, ensuring that it adheres to our

editorial standards

, so that everyone can really get the most out of their green space.
You May Be Interested In These Other Lawn Mower Reviews