Sun-loving plants are easy to find – there's an abundance of them. But shade lovers? You have to hunt those down! Well, search no longer. This article presents the 30 best climbing plants for shade available.
Best Climbers for Shade
This section is for the ultimate shade-loving plants – the ones that can handle anything you throw at them. They're hardy, low-maintenance, and perfect for a novice or busy gardener!
Your north- and east-facing walls will never have known such beauty!
1. Rose 'Wedding Day'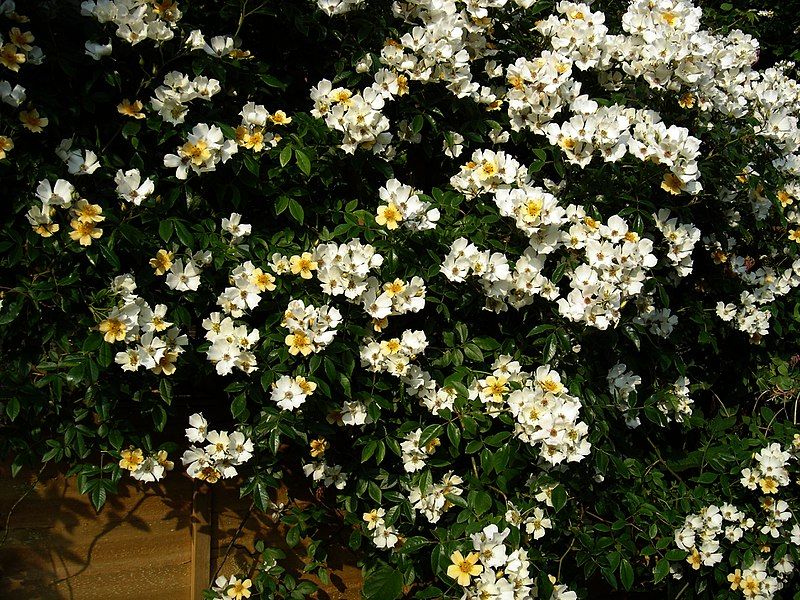 Scientific name: Rosa 'Wedding Day'
This aromatic rambling Rose bears pure white blooms adorned with contrasting yellow stamens. Rose 'Wedding Day' loves a shaded wall or fence, either in full or partial shade. It thrives even in nutrient-poor soil and will spread quickly, so ensure you give this plant some room to grow!
2. Rose 'Rambling Rector'
Scientific name: Rosa 'Rambling Rector'
This is another shade-loving rambling Rose variety. It's the top choice for fragrance as its profusion of creamy-white flower clusters is intensely aromatic. The red hips that appear after the blooms are a hit among local bird species.
3. Common Ivy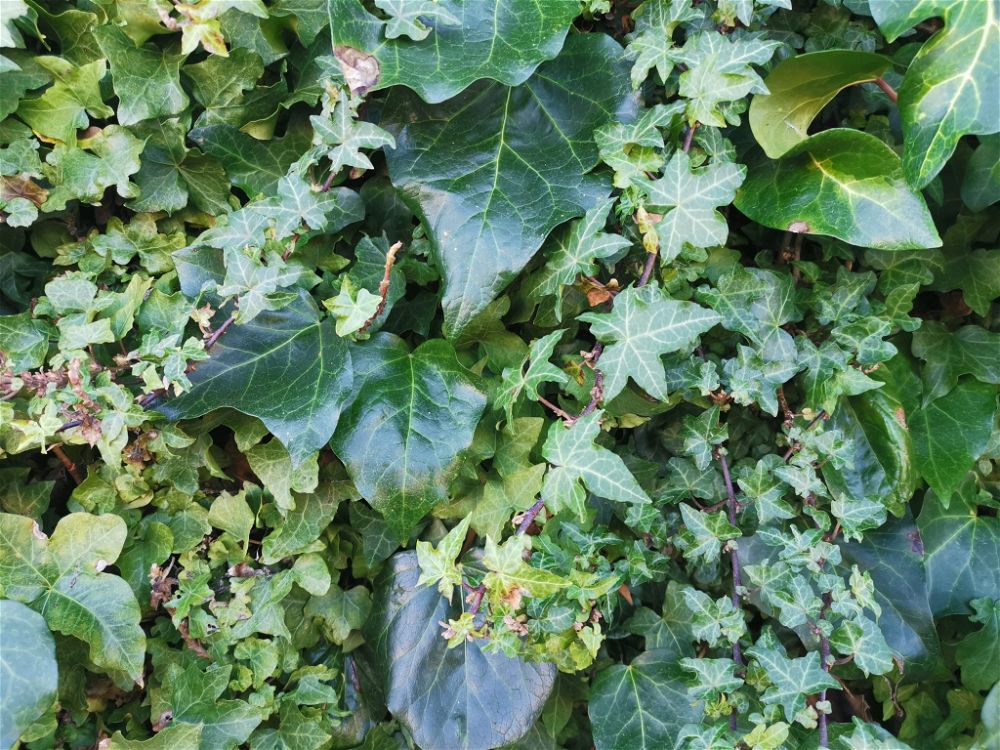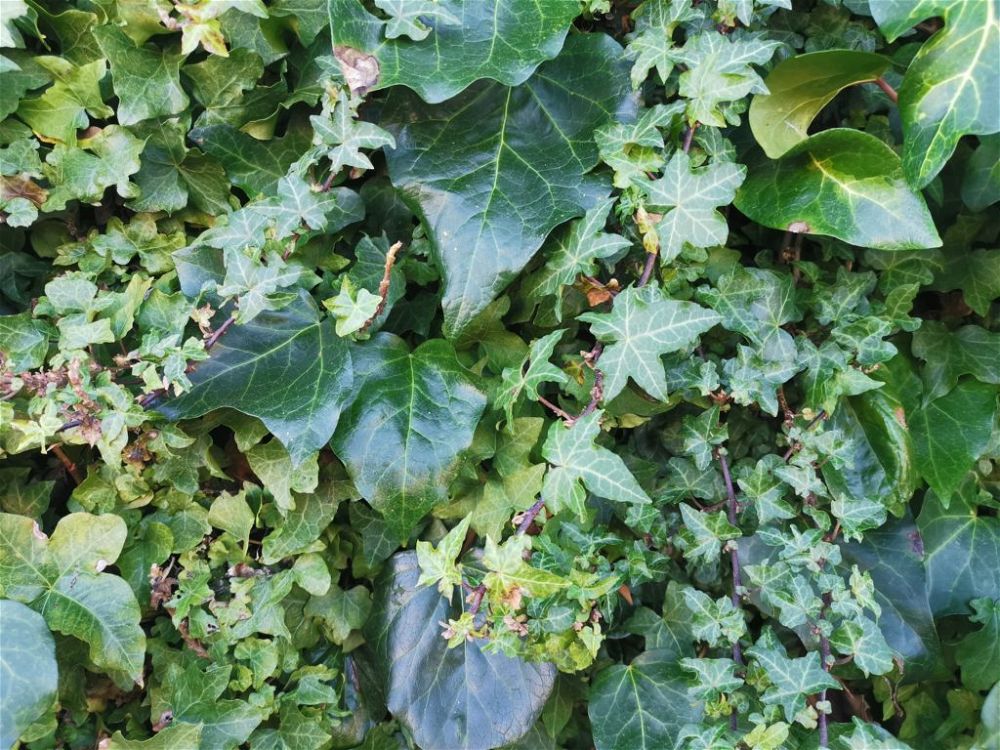 Scientific name: Hedera helix
Common Ivy is one of the best evergreen climbers for shade. It isn't a fussy plant – it can handle most conditions you throw at it, including super shady spots. You can place this plant along any vertical surface as it climbs easily using aerial rootlets.
Ivy draws attention from wildlife species far and wide, including birds, bats, insects, and small mammals.
4. Virginia Creeper
Scientific name: Parthenocissus quinquefolia
Opt for Virginia Creeper if you want a climber with an ever-changing appearance. When it's warm, this plant's leaves are green, but as the weather gets colder, the leaves transform into an array of reds and oranges. Virginia Creeper is a low-maintenance plant that needs little intervention on your part.
5. Chocolate Vine
Scientific name: Akebia quinata
With Chocolate Vine, there's much to admire. This climber's dark purple blooms provide intense colouration and aroma. Although settling this plant can be challenging, it's almost unstoppable once it gets going. You'll need to keep an eye on it at this point and trim it back when necessary!
6. Austrian Clematis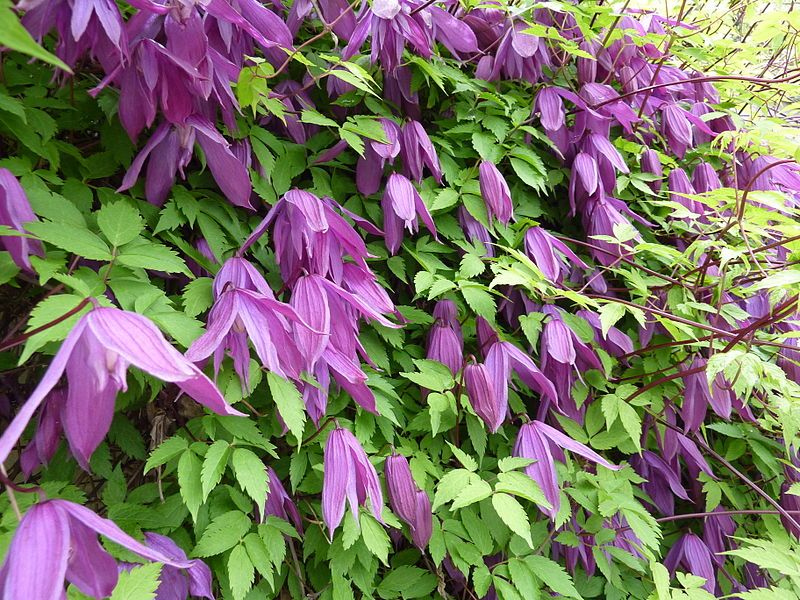 Scientific name: Clematis alpina
Don't let Austrian Clematis' delicate appearance fool you – it handles shade and cold temperatures with style. This plant will climb up a trellis or pergola or descend down a fence, displaying an avalanche of downward-facing purple blooms during spring. If you're lucky, you may get a second flurry of flowers in mid to late summer.
7. Cotoneaster
Scientific name: Cotoneaster
Cotoneaster is a group of shrubs known for the abundance of red berries they showcase. You can train some species, such as Cotoneaster frigidus and Cotoneaster 'Cornubia', to climb a shaded wall. This adds a bit of colour to an otherwise useless shady spot.
8. Japanese Quince 'Crimson and Gold'
Scientific name: Chaenomeles x superba 'Crimson and Gold'
Japanese Quince 'Crimson and Gold' is a hardy plant at its finest. This highly resilient shrub loves to be propped against a north-facing wall in nutrient-rich or poor soil. Crimson and Gold's pretty pink, spring-flowering blossom is replaced by aromatic, edible fruit.
9. Japanese Climbing Hydrangea
Scientific name: Hydrangea anomala 'Petiolaris'
Many Climbing Hydrangea species are well-suited to shade, but one of the most prominent is Hydrangea anomala 'Petiolaris'. This is a self-clinging climber that doesn't need support. Its golden-yellow foliage puts on quite the display during autumn, and its white, lacey flowers steal the show in summer.
10. Climbing Hydrangea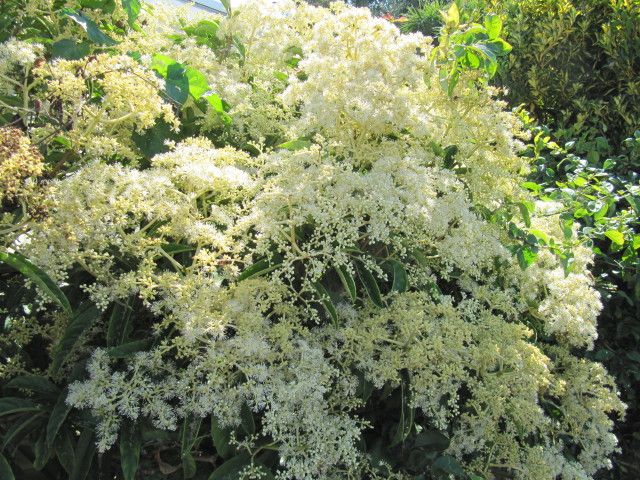 Scientific name: Pileostegia viburnoides
This Hydrangea variety has delicate white flowers in summer and verdant green leaves that stay put all year round. This plant takes a little while to get going but will grow profusely once it's established. It'll reach a maximum height of 20ft.
11. Persian Ivy
Scientific name: Hedera colchica
Persian Ivy is a favourite among insects – they find the autumn-flowering white blooms simply irresistible. Like the Common Ivy, this plant is extremely hardy, withstanding various conditions, including shade and dry soil. This vigorous climber tends to take over, so ensure you keep it in check.
12. Hall's Japanese Honeysuckle
Scientific name: Lonicera japonica 'Halliana'
Hall's Japanese Honeysuckle has many admirable characteristics – gardeners love its floral scent, birds enjoy the berries, and pollinators go nuts for the nectar and pollen. This evergreen climber boasts glossy green leaves and tube-shaped blooms, transforming from subtle white to off-yellow. It reaches the lofty height of 32ft in its lifetime.
13. Henry's Honeysuckle
Scientific name: Lonicera henryii
Although similar to Hall's Japanese Honeysuckle in many ways, the flowers are where Henry's Honeysuckle differs. It shows off eye-catching, two-toned blooms – red-purple petals adorned with yellow centres. Henry's Honeysuckle loves sheltered, shady walls and easily grows up any trellis or pergola.
14. Rose 'Danse de Feu'
Scientific name: Rosa 'Danse de Feu'
Rose 'Danse de Feu' means 'dance of fire,' and it's easy to see why. Its vibrant double blossoms are a striking red shade that becomes more fierce as the blooms age. If that weren't enough, the plant is also peppered with verdant green foliage, providing a stark contrast in colouration to its fiery flowers.
15. Rose 'Alberic Barbier'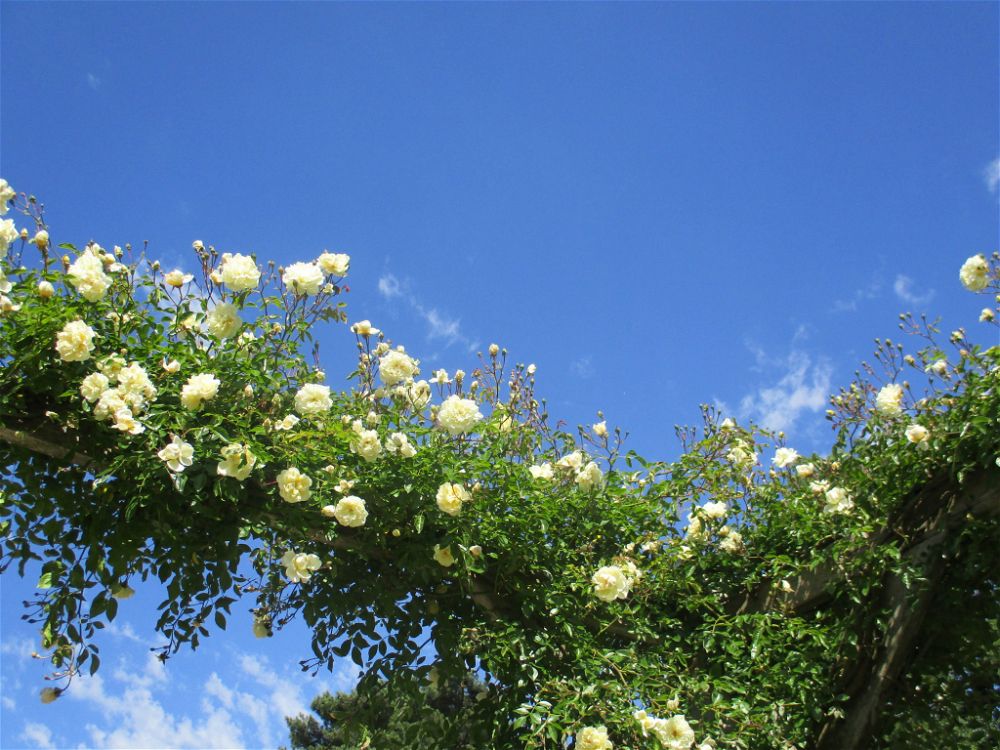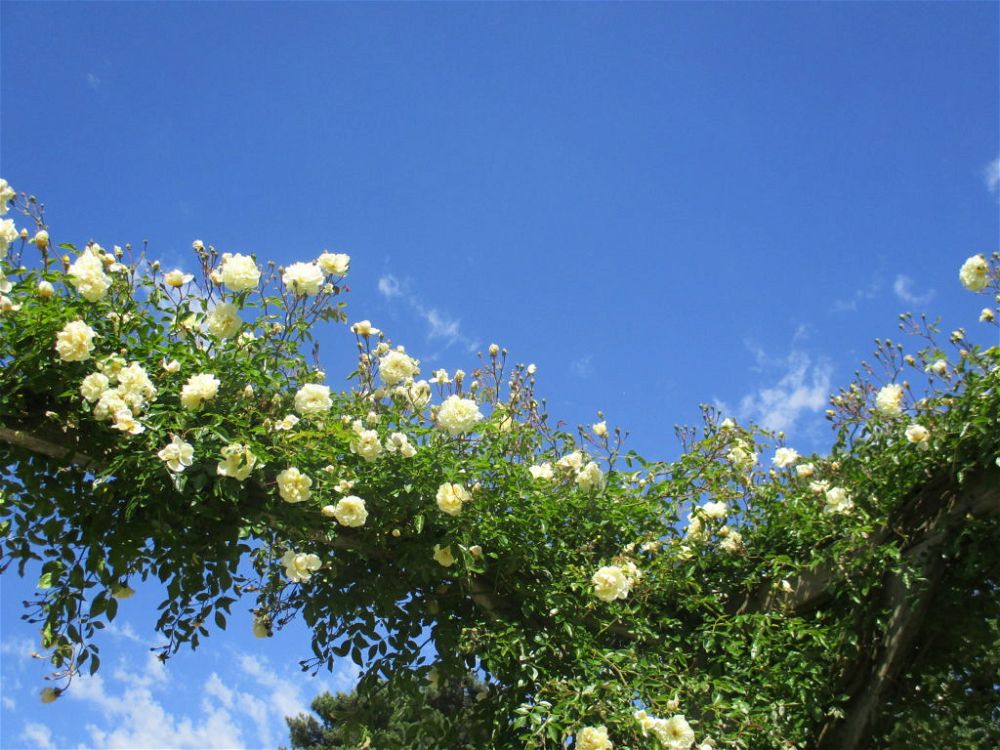 Scientific name: Rosa 'Alberic Barbier'
This is an older rambling Rose variety, but no less exceptional. It sports billowing white blossoms that grow two to a stem. Rose 'Alberic Barbier' first flowers in early summer but will bloom again if you cut it back. It's a tall variety, reaching up to 25ft!
16. Clematis 'Nelly Moser'
Scientific name: Clematis 'Nelly Moser'
Clematis 'Nelly Moser' is most admired for its decorative blooms – pale pink petals embellished with a crimson stripe and lilac sepals. Sun bleaches this plant's blooms, so it's best to keep it in a shaded spot. Place your Nelly Moser up a pergola or arch to see it at its finest.
17. Firethorn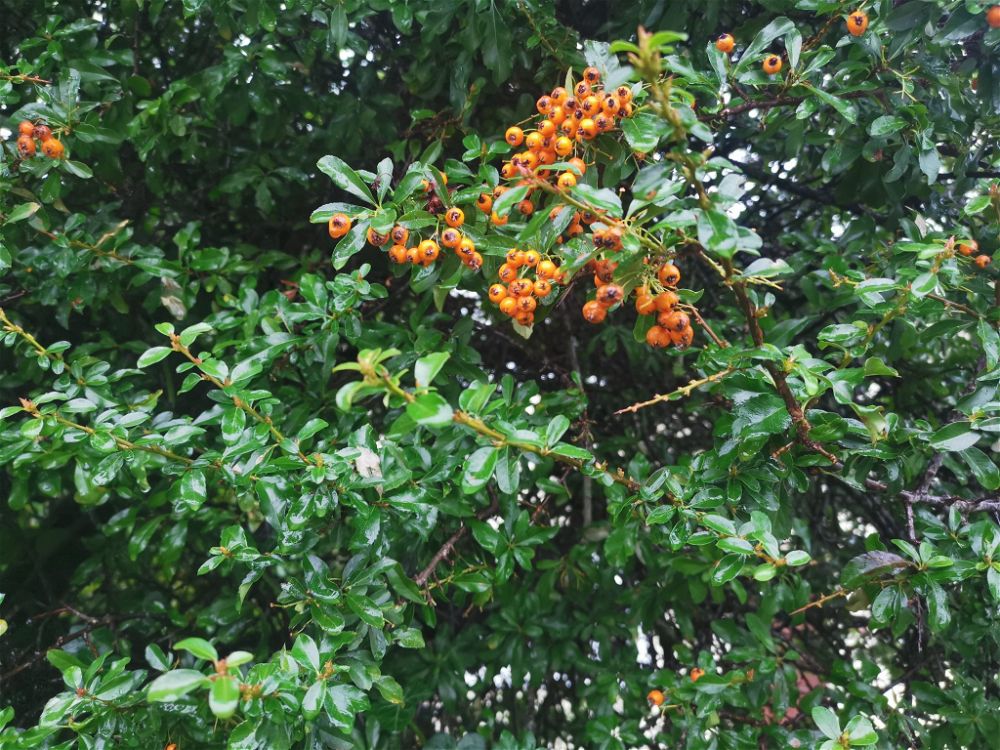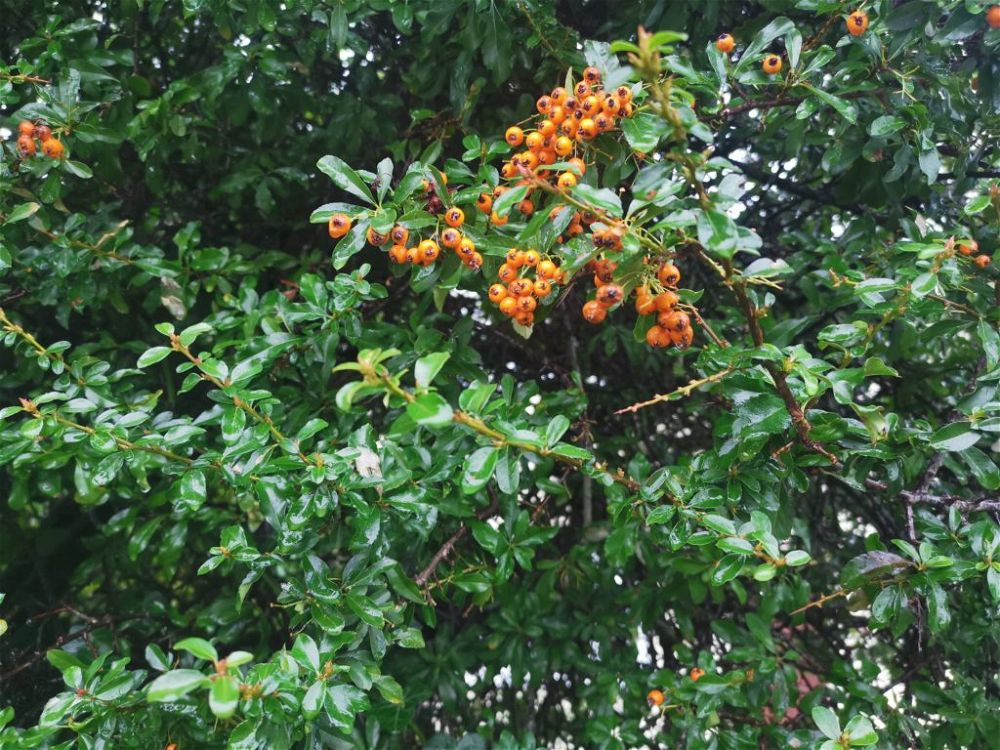 Scientific name: Pyracantha
Firethorn is a group of attractive climbing shrubs. The stems are smothered in berries of vivid shades during winter, either red, orange, or yellow depending on the variety. Firethorn species are integral to wildlife as they provide nesting sites for birds and food for bees.
18. Winter Jasmine
Scientific name: Jasminum nudiflorum
Winter Jasmine frequently flowers in early January, far earlier than many other plant species. Although this variety isn't scented like its relatives, its cheerful yellow blooms are sure to get you out of your Seasonal Affective Disorder slump. It grows to 10ft tall and is partial to full shade or limited sunlight.
Partial Shade Loving Climbers
The plants below will cope well in partial shade but may begin to struggle if they've got no access to sunlight at all. For these plants, a little sunlight means a lot!
1. Chinese Virginia Creeper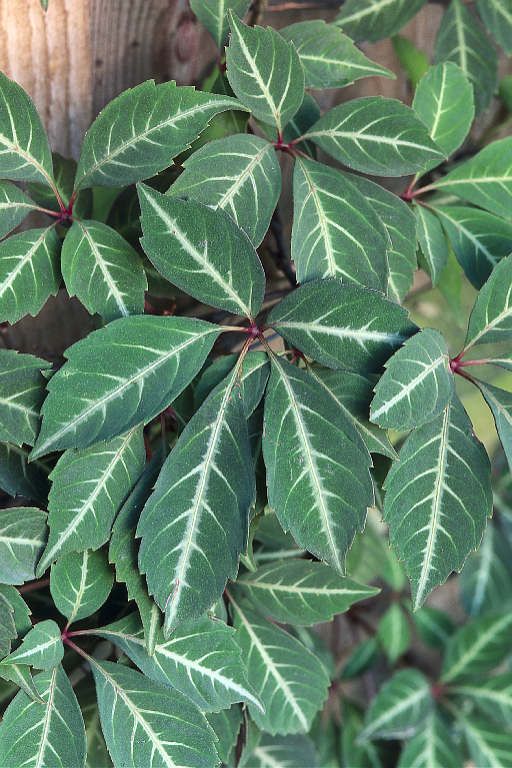 Scientific name: Parthenocissus henryana
Although not as fast-growing as other Virginia Creeper species, the Chinese Virginia Creeper is perfect for a secluded, shady space in a smaller garden. It'll benefit from a bit of sun, as this will encourage the leaves' crimson colour in winter. But if you're happy with the leaves staying green, it's an excellent evergreen climbing option.
2. Japanese Quince 'Moerloosei'
Scientific name: Chaenomeles speciosa 'Moerloosei'
Japanese Quince 'Moerloosei''s bare stems are embellished with sophisticated creamy white flowers in spring. This plant prefers some sun but won't be phased by a bit of shade. Moerloosei loses its leaves in autumn, so you may have to think again if considering this plant as a privacy screen.
3. Honeysuckle 'Serotina'
Scientific name: Lonicera periclymenum 'Serotina'
Honeysuckle 'Serotina' is a fast grower that reaches 20ft tall. This shade-loving plant is a vigorous, shrubby climber that produces intensely aromatic tubular flowers. These blooms are predominately white in colour but sport vibrant red stripes.
4. Star Jasmine
Scientific name: Trachelospernum jasminoides
Star Jasmine packs a punch with a profusion of sweet-scented star-shaped blooms. This aroma is so attractive that it's extracted for use in perfume and other scented products. Star Jasmine doesn't mind shade, but it will suffer without any sun at all!
5. Oriental Bittersweet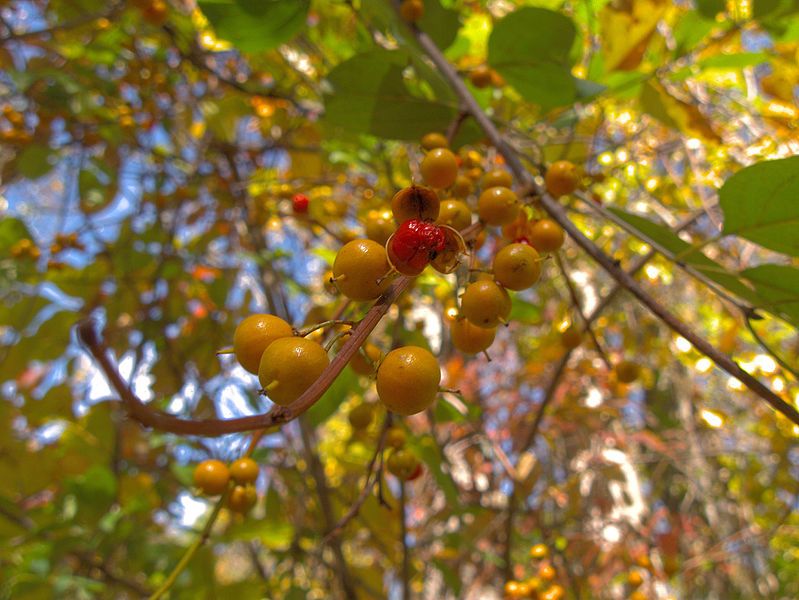 Scientific name: Celastrus orbiculatus
Oriental Bittersweet's foliage changes colour with the seasons. Its leaves are green for the most part but transform to a butter-yellow shade during autumn. This plant favours dappled shade and, if kept happy, will grow up to 40ft tall. But this could take up to 20 years!
6. Purple Clematis
Scientific name: Clematis viticella
This hardy climber bears bright purple blooms in summer and autumn. Pop it in a container or place it up against a wall; it'll thrive either way! It'll keep its foliage for most of the year but drop its leaves in winter, so it won't provide you with year-round coverage like some other climbing options.
7. Chile Lantern Tree
Scientific name: Crinodendron hookerianum
Chile Lantern Tree's name alludes to its distinctive flowers – lantern-like crimson blossoms that smother the plant during spring and autumn. It adds an exotic feel to any garden, bringing a burst of intense colour when the blooms reveal themselves. It grows up to 20ft tall and 16ft wide.
8. Durand's Clematis
Scientific name: Clematis x durandii
Durand's Clematis is one of the most adored of all Clematis species. It produces flowers with paper-thin indigo petals and stand-out yellow centres. The blooms stick around from early summer right until early autumn. While Durand's Clematis loves having shady feet, it prefers to keep its head in the sun.
9. Japanese Quince 'Pink Lady'
Scientific name: Chaenomeles x superba 'Pink Lady'
Japanese Quince 'Pink Lady' produces a plethora of pink that draws all eyes. The blooms then give way to tiny fragrant fruit, green-yellow in colour. This Quince variety manages well in nutrient-poor soil and partial shade. Its thorny stems make it an excellent protective barrier between your's and your neighbours' gardens.
10. Armand Clematis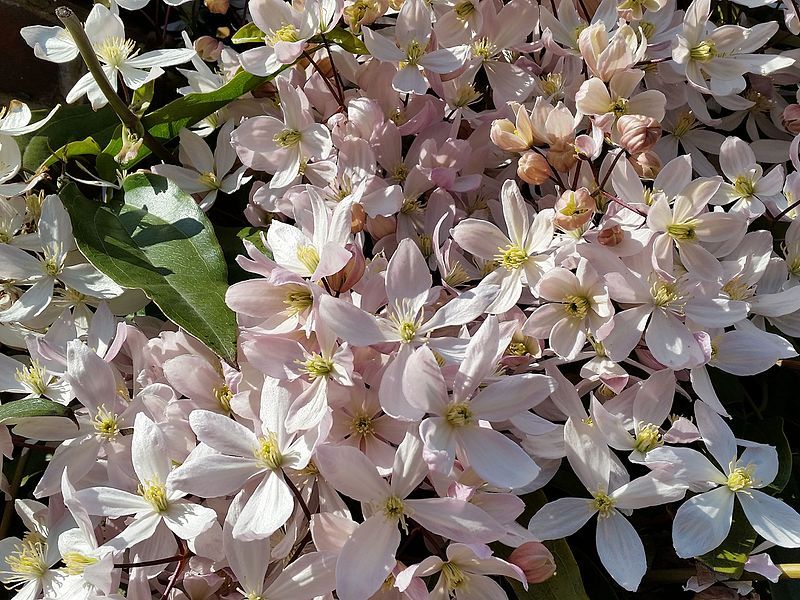 Scientific name: Clematis armandii
Armand Clematis is another Clematis species favouring partial shade or full sun. It's an evergreen that will quickly mount a fence, wall, or trellis and grow up to 20ft tall.
This plant is very poisonous to humans, causing severe stomach irritation if ingested and dermatitis upon direct contact with skin, so keep away from your children and pets!
11. Mountain Clematis
Scientific name: Clematis montana
Mountain Clematis can handle light shade, but no more than that. Try growing this Clematis variety up a fence so the top of the plant still has access to a little bit of sunlight. This plant sports white flowers from the end of spring to early summer.
12. Potato Vine
Scientific name: Solanum laxum
Potato Vine is a little unpredictable – it produces white flowers in spring, but these can also appear at other times of the year, sporadically. This climber grows to 16ft tall and favours partial over full shade.
Get Your Climbing Plants for Shaded Spots
It's not easy trying to snazz up your garden's shadiest spots. They're dark and often end up looking slightly forlorn. But those days are over! Armed with this list of 30 shade-loving plants, you're set to make your garden's shady spaces spectacular!