Our
Karcher K7 Premium Smart Control Home Pressure Washer

Review

If the price of this pressure washer is putting you off, then have a think about what you really need. Sure, it offers 180 bar of pressure, but the majority of home and garden cleaning tasks can be carried out to a high level with less. You may want to save a bit of money and go for something like the Karcher K5 instead, which also wins when it comes to versatility.

However, if power is what you're after, then the Karcher K7 Premium Smart Control Home Pressure Washer is worth splashing out on. Other home pressure washers don't even come close to competing with this machine's heavy-duty capabilities, making this model a no-brainer if you have any intensive cleaning jobs planned!

B08R659D28

4054278786582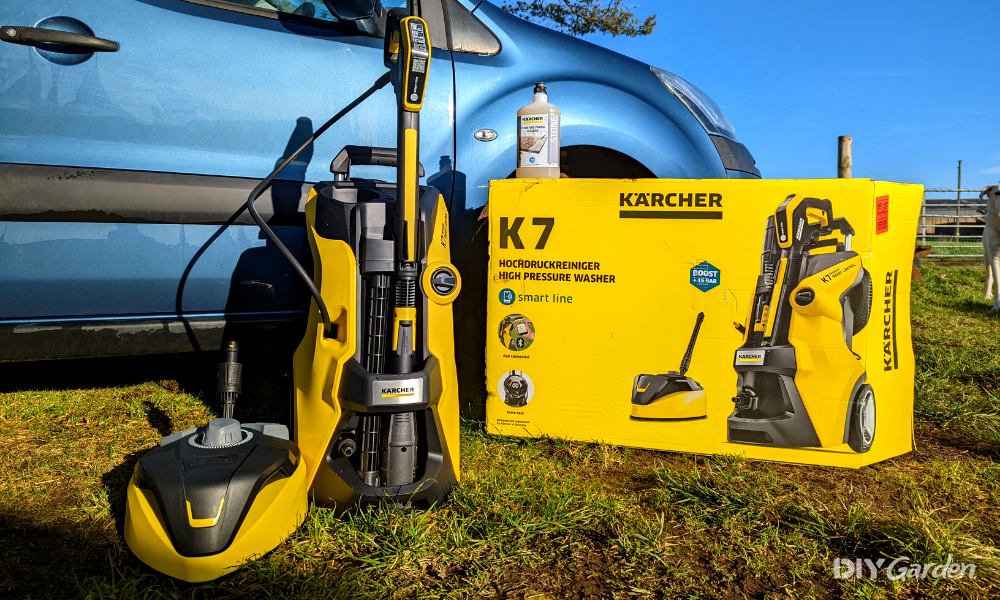 When it comes to high-quality pressure washers, Karcher's reputation is unrivalled. The brand now has a wide range of different models available, with the Karcher K7 Premium Smart Control Home Pressure Washer considered to be one of their highest-end machines. After having used a few other Karcher models, I was eager to see how this one would perform. It certainly sounds a cut above the rest, so I put it to the test to find out more about its cleaning capabilities.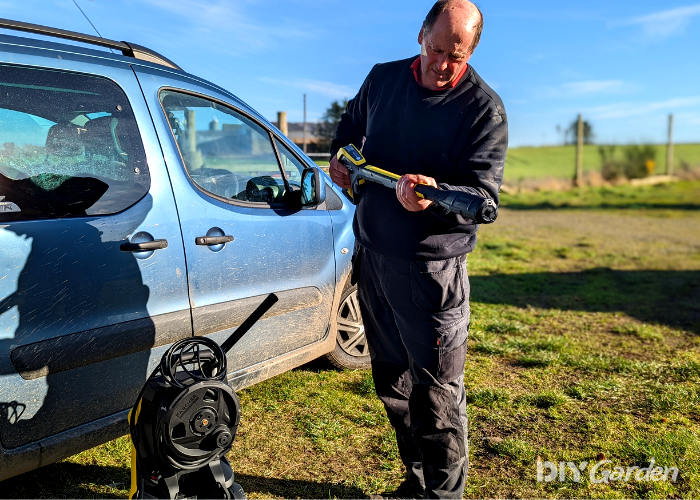 Most of the pressure washers that I have used in the past have required a fair bit of assembly, including Karcher models. So, when lifting the K7 out of its box, I was pleasantly surprised to find that most of it was already assembled.
All you need to do is connect up the trigger gun to the hose, before slotting the lance into the gun. Then, fit in the accessories net, hook up your water supply (the pressure washer comes with a garden tap adaptor), and you're ready to go!
It only takes a couple of minutes from unboxing this product to being able to use it, which, in my eyes, is a big advantage!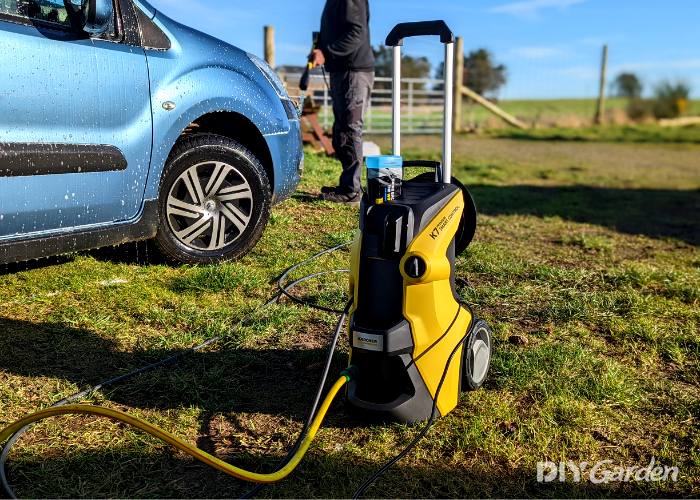 The first thing that struck me about this pressure washer was how substantial it feels. It's much sturdier and heavier than most other home pressure washers, which means that it also feels significantly stronger.
This pressure washer is fitted with a 10m steel-reinforced hose, as well as a hose reel that sits at the back of the unit. Unfortunately, it doesn't come with a reel or hooks for the power cable, although I appreciated its 5m length – it's long enough to keep your electricity supply well away from any water.
Just like the Karcher K5 that I recently tested, this pressure washer comes with Karcher's Plug n Clean detergent system. This allows you to simply insert a bottle of detergent (it needs to be one of Karcher's bottles in order for it to properly fit into the provided slot), after which the machine will draw the soap in and mix it through with water for you.
Again, just like the K5, the K7 also comes with a water filter (it's already installed) and an LCD trigger gun. However, this time, the gun sports two buttons that can be used to adjust pressure.
One final design feature worth pointing out is the suction hose, which allows you to use the pressure washer with a bucket of water, rather than a tap. It's a clever feature that not all pressure washers come with, and it could very well be a make or break for those who don't have an outdoor water supply.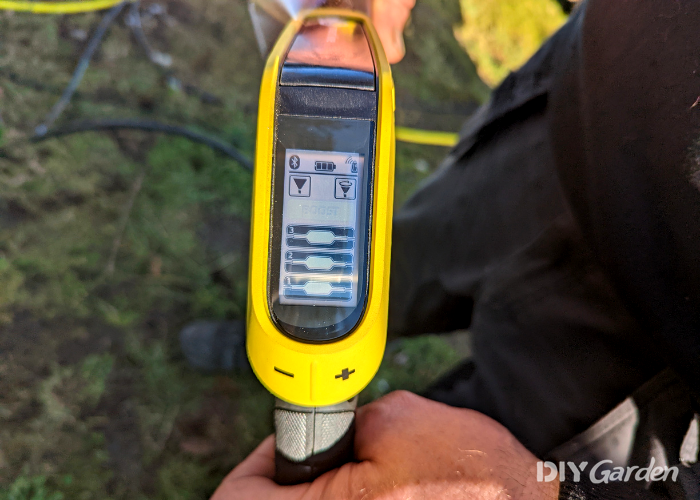 Most home pressure washers offer a maximum of 140-150 bar. However, the Karcher K7 takes things a step further with a pressure range of 20-180 bar. You can definitely feel the extra power when using the machine, although whether or not this extra pressure is actually needed for most home tasks is another matter.
That said, although 180 bar may be its maximum, this pressure washer provides a little less than that when you have it on its strongest setting. However, it comes with a boost function that you can use to give yourself an extra 15 bar of pressure whenever you're struggling with stubborn dirt, which is very useful.
Of course, with heavy-duty power comes a louder motor. While I couldn't find any official figures to back this up, the K7 certainly sounds noisier than some of the other pressure washers I've used in the past. If you have neighbours nearby, they'll definitely be able to hear this machine running.
On the plus side, the motor that Karcher has used for this pressure washer is water-cooled as opposed to air-cooled. This is a key feature if you know that you'll be using your pressure washer for long periods of time, as it will save the motor from overheating.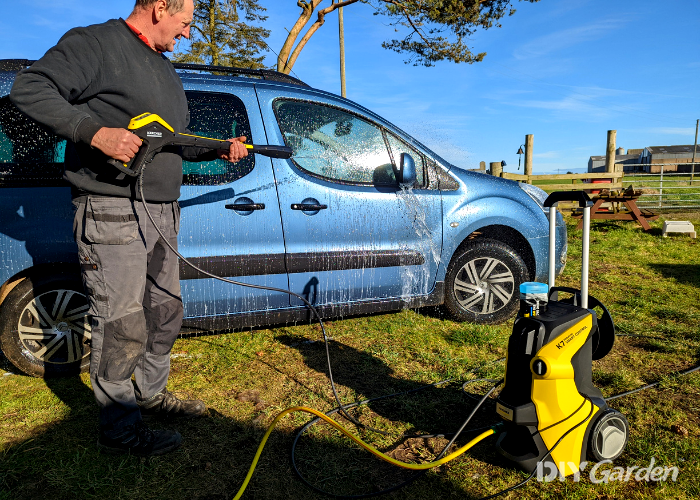 With all of that extra power behind it, it's hardly surprising that this pressure washer did a fantastic job!
I used it to clean a car that hadn't been washed for several months. I started off with the flat jet setting on the 3-in-1 lance, before switching to the dirt blaster to remove a few deeply embedded chunks of mud.
Since this is a home pressure washer, rather than one designed for cars, it didn't come with any extra car-related accessories. Fortunately, I already had a bottle of Karcher's car shampoo, so I slotted this in to the Plug n Clean detergent system and twisted the lance over to its detergent setting.
This system performs beautifully. It's much easier than using a separate detergent bottle, and you can also adjust the ratio at which the machine mixes the shampoo with water, meaning that you can decide how soapy or watery you want the detergent to be.
The lack of a brush to give my car a good scrub was a little disappointing, but the boost setting helped to make up for this by providing extra power whenever I was working on stubborn stains.
All in all, excellent performance – this is definitely one of the best home pressure washers that I have ever used.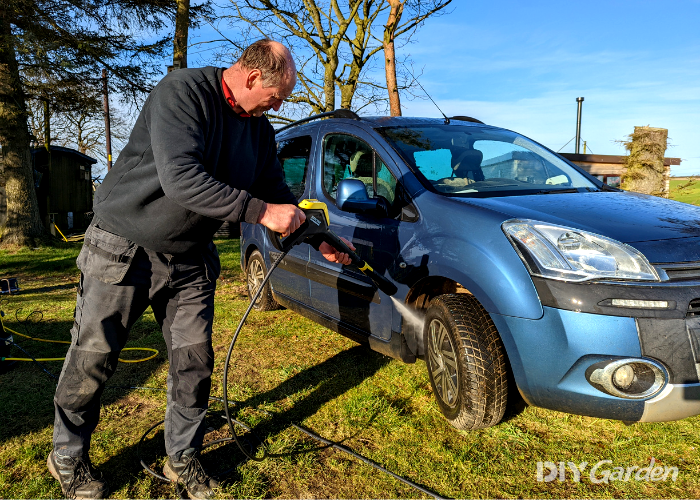 It's clear that Karcher has strived to make this pressure washer as easy to use as possible. With its large and sturdy wheels, along with its telescopic handle, this machine has great manoeuvrability. This is just as well since it weighs 17.76 kg when it's empty, which would be difficult for some to lift. Its weight increases when the machine has water running through it.
On the plus side, this pressure washer's weight helps to keep it steady while it's in use. There was no danger of it toppling over, even if the hose was accidentally tugged on. That said, the hose is long enough that you can easily work your way around a car without having to yank on the main unit, and the fact that the hose didn't kink or coil was a big bonus.
The LCD display, along with the bluetooth connectivity, is another feature that Karcher has put into place to make this pressure washer easy to use. The fact that you can control pressure using the two buttons on the trigger gun is definitely handy, with the LCD screen showing you the current pressure that you're using.
However, the bluetooth connection seems like more of a gimmick. Initially, I wasn't sure what the point of this was, but I connected it up to my phone to see what all of the fuss was about. Turns out, it gives you the option to control pressure from your phone, rather than from the trigger gun itself, although I can't see why anyone would ever need to do this when they already have the gun sitting in their hand! It's impressively high-tech but, in my opinion, it's not needed.
On the other hand, the pressure washer's wind-up hose reel is a feature that truly does make the machine easier to use. It may not be an essential but it helps to keep excess hose out of the way, not only saving you from tripping up on it but also making storage a breeze. This pressure washer has an accessories net too, so that you can fit all of your accessories onto the main unit rather than having to store them separately.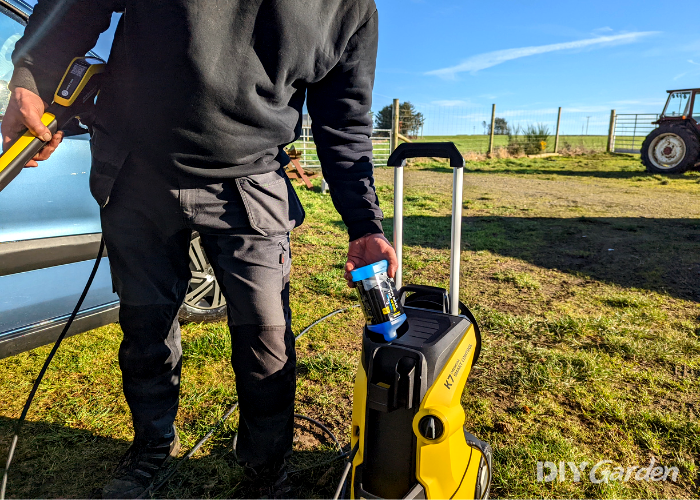 As I mentioned earlier, the K7 has been designed for home, rather than car, use. I still used it on my car and it got the job done just as well as, if not better than, many of the car-specific pressure washers that I've used in the past. However, there's no denying that the lack of car-related cleaning accessories slightly lets this pressure washer down in the versatility department.
That said, it does come with a patio cleaning attachment, along with a 1 litre bottle of patio cleaning detergent. While I didn't have any suitable hard surfaces to test this out on, the attachment itself is robust and fairly large, meaning that it'll clean a patio thoroughly yet quickly, which adds to its range of uses.
The fact that this machine has a suction hose helps too. It means that you can use your pressure washer pretty much anywhere that you can transport water to since you're not limited to only using a tap.
Even better, this pressure washer can be used with hot water as well. In fact, it'll function with water that's up to 60°C in temperature, which is hotter than any other pressure washer I've used (most can only tolerate 40°C, although many pressure washers can't handle any heat at all).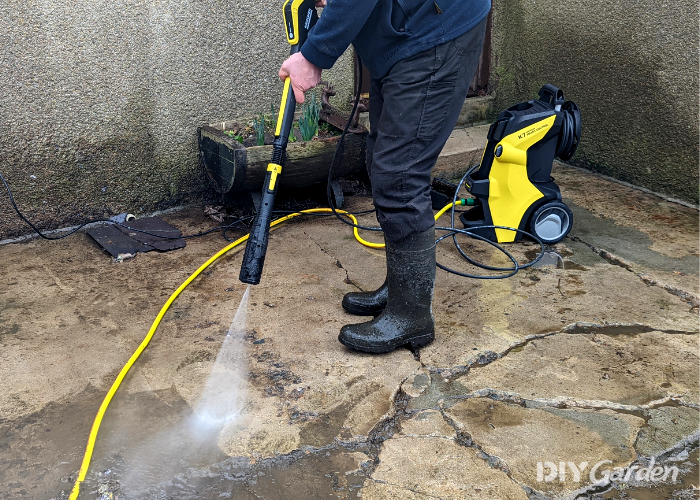 This is one of Karcher's most expensive home pressure washers. Not only does it cost more than their other domestic models, but it's also priced above competing models from other brands.
The way I see it, this higher price is justified by this machine's power. You'll struggle to find a home pressure washer that offers 180 bar for a lower price. It takes the machine out of the domestic realm and into the heavy-duty category, yet it costs significantly less than a professional model.
With this pressure washer, you're also paying more for its technology. With its smart LCD display and bluetooth connectivity, this is the most high-tech pressure washer that I've used. Is it worth paying more for? In some ways, yes. Being able to adjust the pressure using the gun helps you to get the job done with more finesse. However, the bluetooth feature wasn't useful in the slightest. I would imagine that most people would happily go without this in exchange for a slight drop in price!
The lack of included accessories was disappointing too, especially when you take this product's price into consideration. While this won't be an issue if you already own extra Karcher accessories, having to purchase them separately only adds to the overall cost of this pressure washer.
That said, the fact that Karcher offers a 4 year guarantee for this machine, including the hose, helps to sweeten the deal!
If the price of this pressure washer is putting you off, then have a think about what you really need. Sure, it offers 180 bar of pressure, but the majority of home and garden cleaning tasks can be carried out to a high level with less. You may want to save a bit of money and go for something like the Karcher K5 instead, which also wins when it comes to versatility.
However, if power is what you're after, then the Karcher K7 Premium Smart Control Home Pressure Washer is worth splashing out on. Other home pressure washers don't even come close to competing with this machine's heavy-duty capabilities, making this model a no-brainer if you have any intensive cleaning jobs planned!
Why You Can Trust DIY Garden
At DIY Garden, we believe your trust is earned through our knowledge and transparency. Our team of experts has over 75 years collective experience in the gardening and DIY space. Since the website's creation in 2016 we've tested over 275 products, ensuring our recommendations are based on real experience. We're open about what we've tried and what we've researched, and this is clearly labelled in our product reviews. Every year, we revisit and update our suggestions to include worthy new additions to the market. Our aim is to give you straightforward, honest, and helpful recommendations, so you can confidently choose the best tools and equipment for your projects.
Karcher K7 Premium Smart Control Home Pressure Washer Price Comparison
Price History
Our Scores:
Assembly

Design

Power

Performance

Ease of Use

Versatility

Value for Money

Overall
Features:
Water Pressure

180 bars

Flow Rate

550 l/h

Motor Power

2800W

Hose Length

10m

Weight

17.7kg
About Your Guides
Derek Smith has been farming all of his life, and is an professional landscape gardener with over 22 years experience. He owns a 25-acre farm in Aberdeenshire with a focus on self-sufficiency, living off the land, and working with nature.

Sarah's role as chief editor at DIY Garden is about more than just making sure we're literally dotting the i's and crossing the t's (although she's a stickler for detail, so it's certainly about that too!). It's about proof-reading, fact-checking and continuously researching everything we publish, ensuring that it adheres to our

editorial standards

, so that everyone can really get the most out of their green space.
You May Be Interested In These Other Pressure Washer Reviews