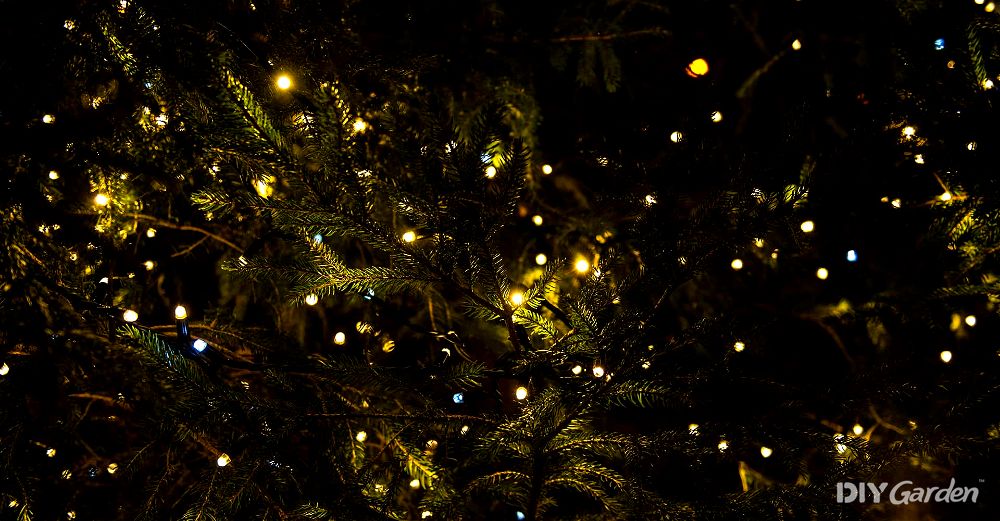 Elegant Christmas Garden Ideas
Take your winter garden from boring to blissful this festive season with some simple yet effective DIY projects for the garden!
Winter is an in-between time for gardens. Short days and poor light mean that even the brightest of shrubs and perennials still look dreary and lifeless, especially in the lead-up to Christmas when the trees are bare and temperatures are freezing.
However, with a sprinkling of festive inspiration and some sheer determination, you can transform your garden into a winter wonderland using materials you already have lying around.
1. Christmas Planters and Hanging Baskets
Put those leftover planters and hanging baskets to good use by creating some cheery holiday displays. Simply fill with garland (or use real life spruce sprigs if you have access to a tree) and dress it up with colourful baubles, artificial poinsettia flowers, cones, holly sprigs and anything else that gives you that warm fuzzy yuletide feeling. The great thing about these is that you can add as much or as little as you like! Add a string of outdoor fairy lights for extra flair.
READ NEXT: 16 Best Plants for Winter Hanging Baskets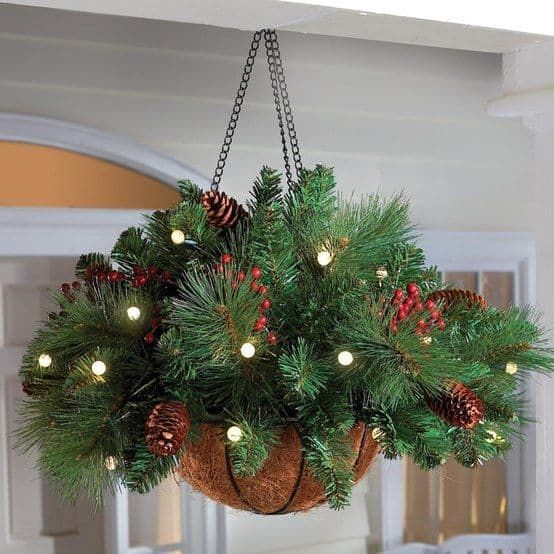 2. Rustic Reindeer
There's no need to spend a small fortune on a rattan Rudolph for your garden this year! Build your very own handmade reindeer family with some birch logs and branches. All you need is a large log for the body, a smaller one for the head and some branches to fashion the neck and legs. Finish off with some coal for eyes, twigs for antlers and a pine cone for the tail. Give them some extra style with a bright red scarf or ribbon.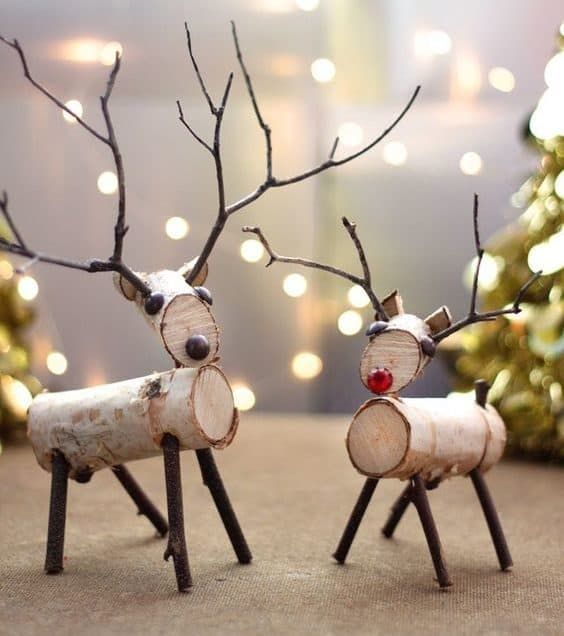 3. Hanging Chandeliers
Here's another great idea for those out-of-commission hanging baskets! Fix 2 hanging baskets together to form a ball using cable ties or gardening wire. Jazz it up with some silver or gold spray paint and wrap a string of outdoor fairy lights around the sphere in different directions. Hang from your porch or hanging hooks. Voila! Your very own fairy light globe!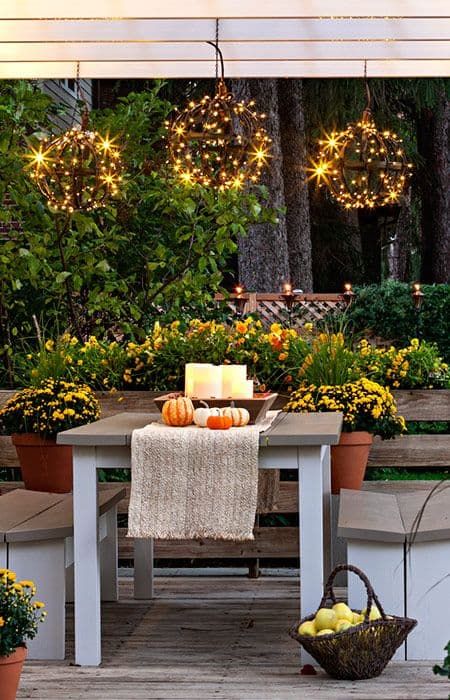 4. Christmas Fairy Lights
Of course, if you're not craftily inclined or you're stuck for time, a simple string of fairy lights will add some festive cheer to anything from hedges, shrubs and trees to doorways and pre-bought wreaths or garlands. Lights are a brilliant tool for creating quick and easy displays. Throw together some pine cones and spruce sprigs on a burner plate and a string of lights will make it a festive delight! Just make sure your lights are suitable for outdoor use for safety. Outdoor Christmas lights come as mains powered, battery-powered or solar-powered.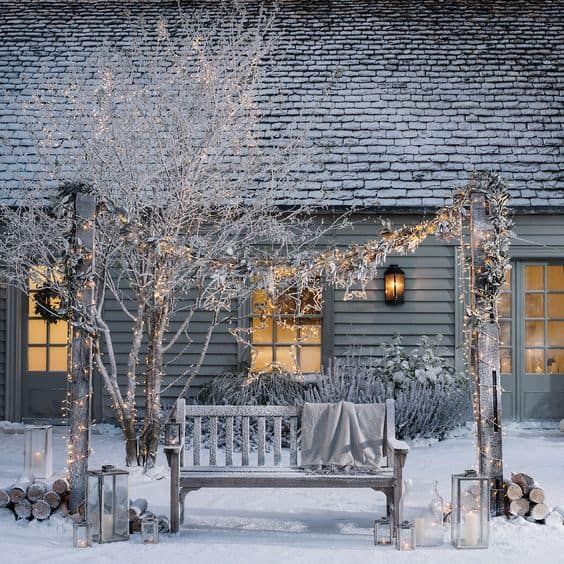 5. Festive Fountains
Add some Christmas cheer to your fountain with some trailing garland and artificial mistletoe. Add some more sparkle with some baubles and cones. Or if you prefer a simple, striking look, float some artificial poinsettia flowers in the water.
If you have a fountain or water feature that's no longer in use, you can go a step further and add some outdoor fairy lights for an extra magical touch.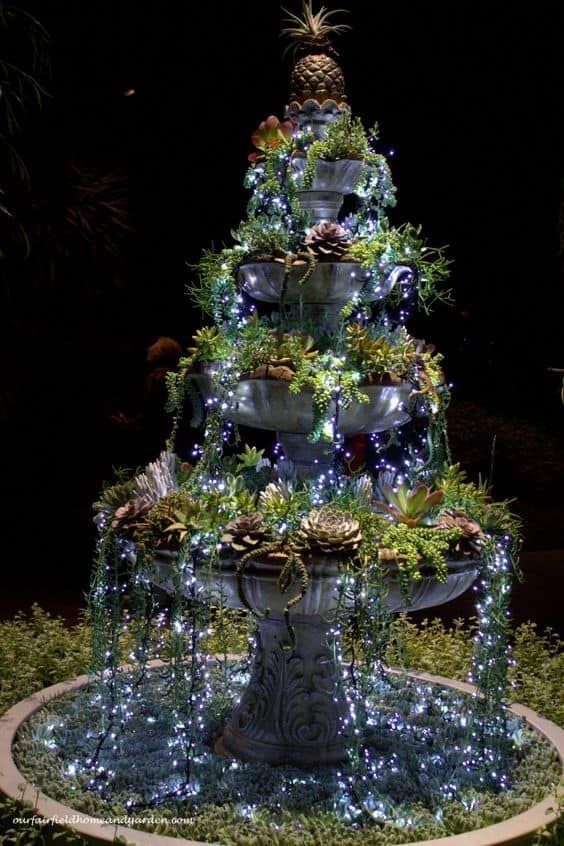 6. Trees, Trees, Trees
Christmas isn't all about spruce trees! Jolly up any tree in your garden with a string of fairy lights. For a stunning effect, you can buy oversized baubles designed for hanging on outdoor trees.
If you're not lucky enough to have a tree in your garden, why not improvise with a driftwood tree made from different lengths of branches or pallet wood? Add as many decorations and lights as you want, or even get your paintbrushes out to make your tree a true showstopper.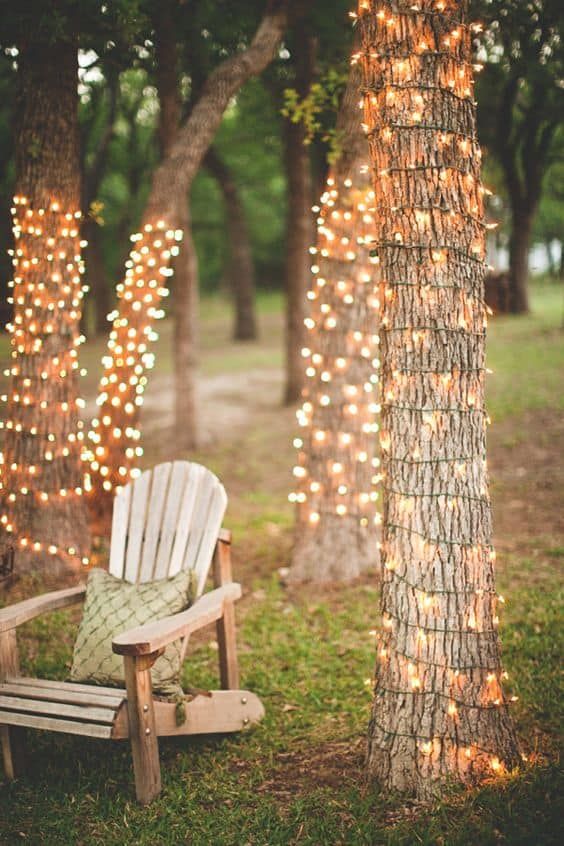 7. Lanterns
Lanterns are an extremely versatile addition to your winter garden. Something as effortless as adding a string of fairy lights to a clear glass lantern can have a huge impact to your garden or porch during the long winter evenings. If you have more time on your hands you can add garland, holly and baubles to your lantern. Or if you're a dab hand at crafting, you can use a lantern as a setting for a Christmas scene with artificial snow and little snowmen or Santa figurines.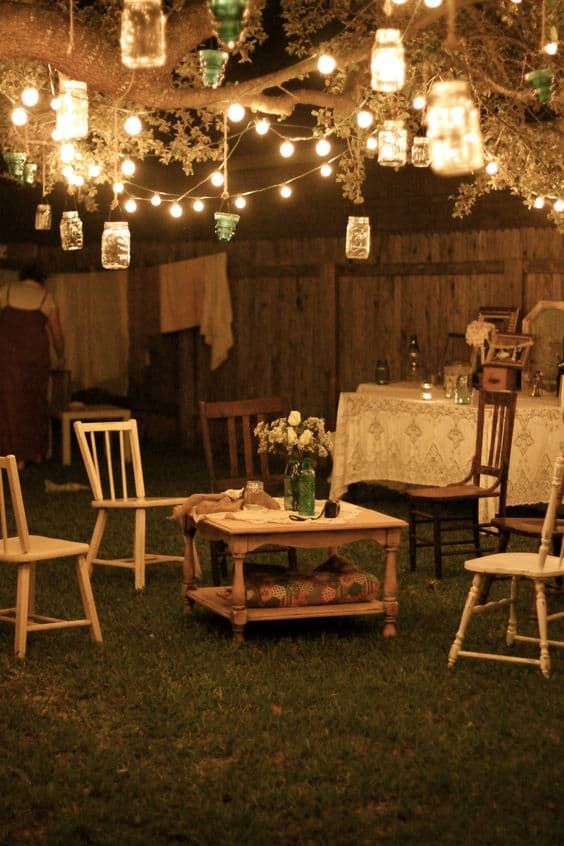 Decorating your garden for Christmas may sound like an expensive, time-consuming task but as you can see, with a bit of inspiration you can handcraft your very own festive features with minimal effort and expense.
Happy decorating!