Bicycles are brilliant- they're convenient ways to travel that keep you fit as well. Storing them, however, is a pain. They can't stand up on their own, they take up space and they always seem to be in the way. You need to get some decent bicycle storage.
Bike storage systems for your garage can be divided into two main categories: Fixed and free-standing.
Free-standing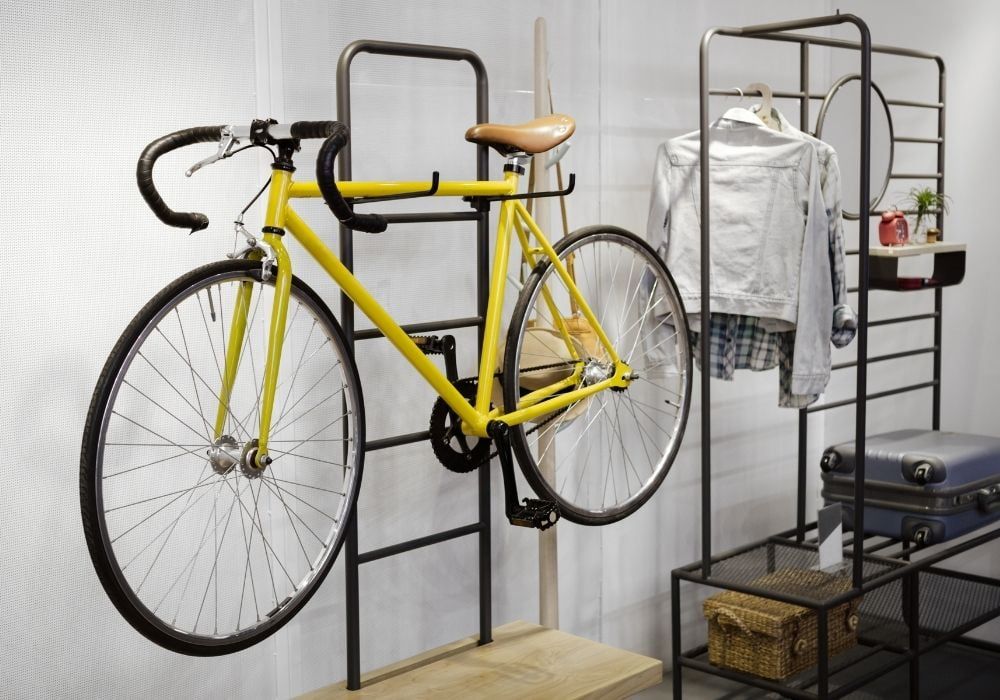 This type of bike storage is ideal if you live in rented accommodation and you can't put holes in the walls, or your walls aren't strong enough to hold heavy bikes safely.
1. Bicycle work stand
If you're a serious biker, you'll already have a bicycle work stand for when you need to change a tire or work on the chain. Use it to lift your bike and keep it safe without spending an extra penny.
2. Gravity racks
Gravity racks are simple frames that lean against a wall and use the weight of your bicycle to hold everything in place. Rubber feet stop them slipping and soft bumpers stop the walls from getting scratched. Not the most solid bicycle stand type, unfortunately.
3. Double gravity racks
Double gravity racks are the same thing, but you can stack two bicycles on top of each other to make the most of the space.
4. Free-standing bike rack
A free-standing bike rack works the same way as the ones you see out on the street. Built on a sturdy base, you just roll your front wheel into the holder and off you go. You can bolt them into the floor or find ones with rubber feet for indoor use.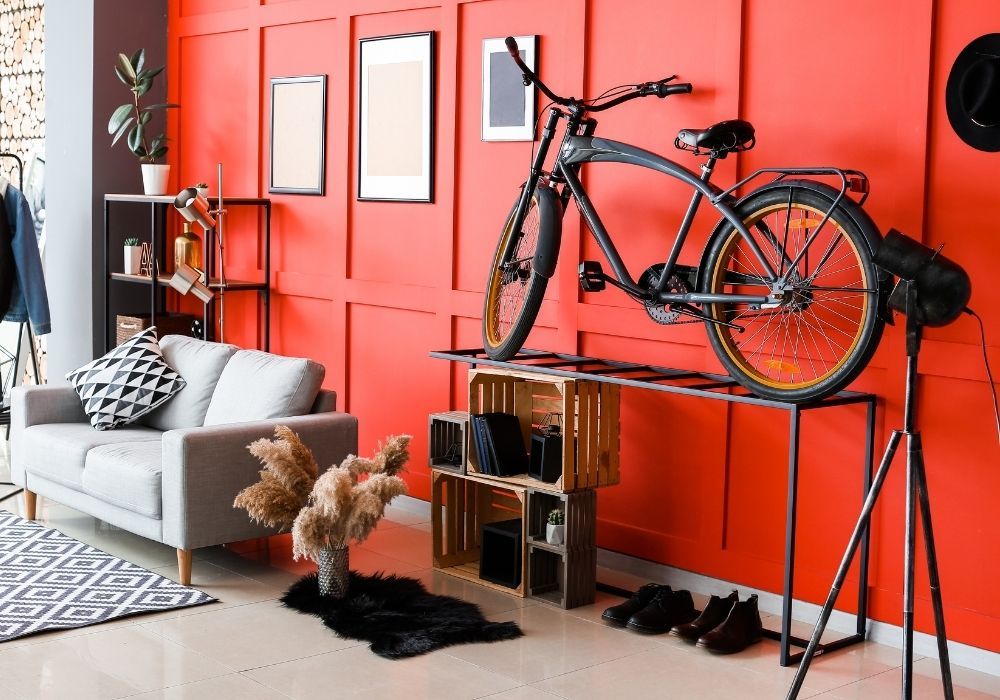 5. Bicycle storage furniture
Bicycle storage furniture is a whole category of clever solutions for keeping bikes in small places. Instead of hiding it away, you make your bicycle a focal point and get some extra drawers at the same time. Most of them look like TV stands with slots in the top that grip your bicycle wheels.
6. Vertical bike storage
Working in a similar way to those over the door coat hooks, vertical bike storage lets you stash your bike behind any solid door. You can get an extra plate to stop your rear wheel from scuffing the bottom of the door as well.
7. DIY bike storage furniture
Make your own bicycle storage furniture by getting a cabinet or sturdy table, measuring the width of your wheels, and cutting rectangular holes in the top to hold your bike's wheels. That way, you can choose whatever cabinet you like and give it another purpose.
8. Floor to ceiling bicycle rack
A floor to ceiling bicycle rack uses an extendable pole to wedge itself firmly wherever you need it. Telescoping bike stands have a clever sliding hook system- they grab hold of your bike's frame and allow you to push it up to the ceiling. Some floor to ceiling poles can take up to four bikes, but make sure you're in contact with a ceiling stud to avoid a disaster.
9. Bicycle trees
Bicycle trees don't have the same wow factor as a telescopic pole, but if you need a solid base to hold several bikes, they're convenient and easy to fold away too.
10. Bicycle cover
Keeping your bicycle outdoors isn't ideal, but if you must, get a free-standing bicycle cover. Constructed like a small tent, it'll keep your bike out of the elements and, crucially, away from prying eyes.
11. Outdoor stores
Built just like a garden shed, but at 2/3 of the height, outdoor stores are perfect for bicycles that can't come inside with you. They add an extra layer of security and weather proofing too. For ultimate security, sink a ground anchor in and chain your pride and joy to it inside.
Fixed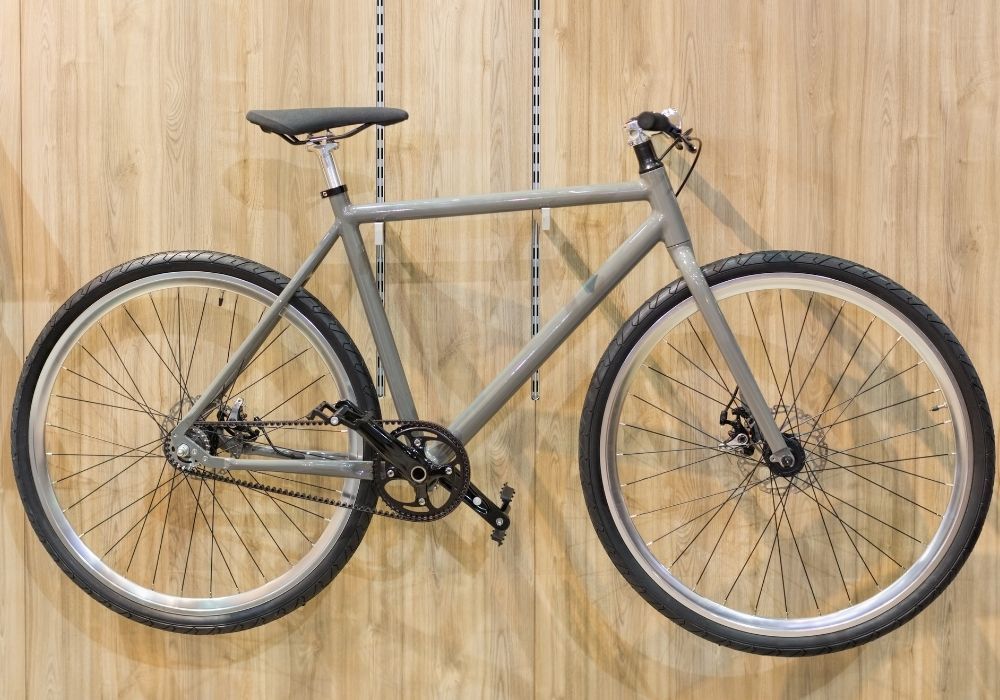 If you're allowed to drill into your walls or ceiling, you're spoiled for choice when it comes to the best fixed bicycle storage.
12. Bicycle storage hanger
Kicking off with our favourite secure bicycle storage hanger, the brilliant Hiplok AIRLOK combines the three things we previously thought weren't possible- a sturdy, lockable hanger that also looks great on the wall.
13. Bicycle shelf
Make the most of your wall space with a bicycle shelf. They're available in different styles and finishes but work the same way- there's storage underneath to hang your bike and shelf space on top for all your favourite bike accessories.
14. Bicycle hook
Rubberised hooks are the simplest way to fix a bike to a wall without scratching it. You could go for a specialist bicycle hook or save your money and buy a basic storage hook. It does the same thing. You'll have to heave your bicycle up there every time you store it though.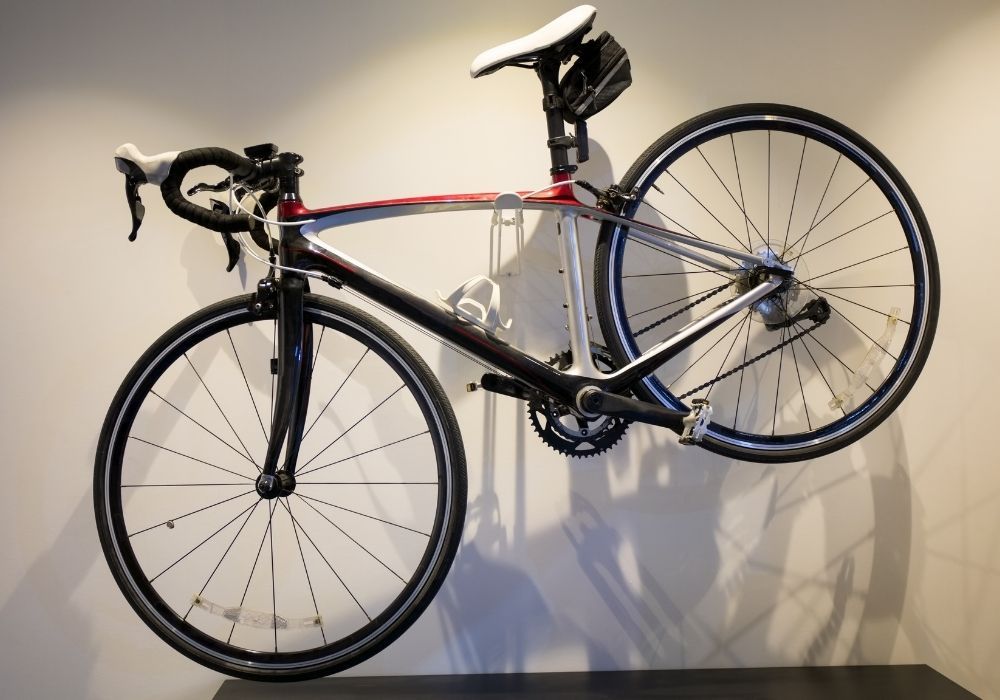 15. Wall-mounted bicycle rack
There's a seemingly endless variety of wall-mounted bicycle racks to suit every taste and budget, but they all do a similar thing- hold your frame on the wall. If you can screw them firmly into a wall stud or brick wall, they'll hold even a heavy mountain bike without any trouble.
16. Bicycle clips
Bicycle clips used to be those things you strapped to your trousers to stop them getting caught in the chain- now they're a clever way to clamp your wheel to the wall. Just make sure you buy the right size to fit your wheel.
17. Bike lifter
If the only space you have is above your head, the best option is a bike lifter. Using a clever cable and pulley system, you can hoist your bicycle up to the rafters when you don't need it.
18. Ground anchor
Forced to store your bike outside? Create your own miniature bike rack with a ground anchor. They can be drilled into concrete or brick and provide you with a tamper-proof fixing to secure your bike almost anywhere.
19. Drop handlebars
For a cool DIY solution to hanging your bike on the wall, mount a set of drop handlebars on a piece of timber and screw it into the wall- the curved handlebars make excellent hooks that won't scratch your frame.
20. Flat bike lift
When you're completely strapped for space and even the headroom is limited, you need a flat bike lift. It's a ceiling mounted bike lift that grabs your bike and uses hydro-pneumatic power to lift it up flat to the roof.
Conclusion
Whether you need free-standing bicycle storage for a rented flat or fixed storage to save some space in your garage, there are plenty of options to choose from. They're so handy you might end up buying another bicycle, just so you can stow it away.