Our
Einhell GC-CT Cordless Grass Strimmer

Review

I didn't have high hopes for the Einhell GC CT Grass Srimmer, purely because it made use of plastic blades rather than cable. However, it proved me wrong – it's just as capable as those that use cables, even more so in some ways. This is an ideal strimmer for keeping small to medium sized gardens tidy. It'll even cope with heavier usage on occasion, although it would be worth purchasing a larger battery for this. It does everything that Einhell promises, plus more, making it a bargain in my eyes!

B08LQHKBNT

4006825654332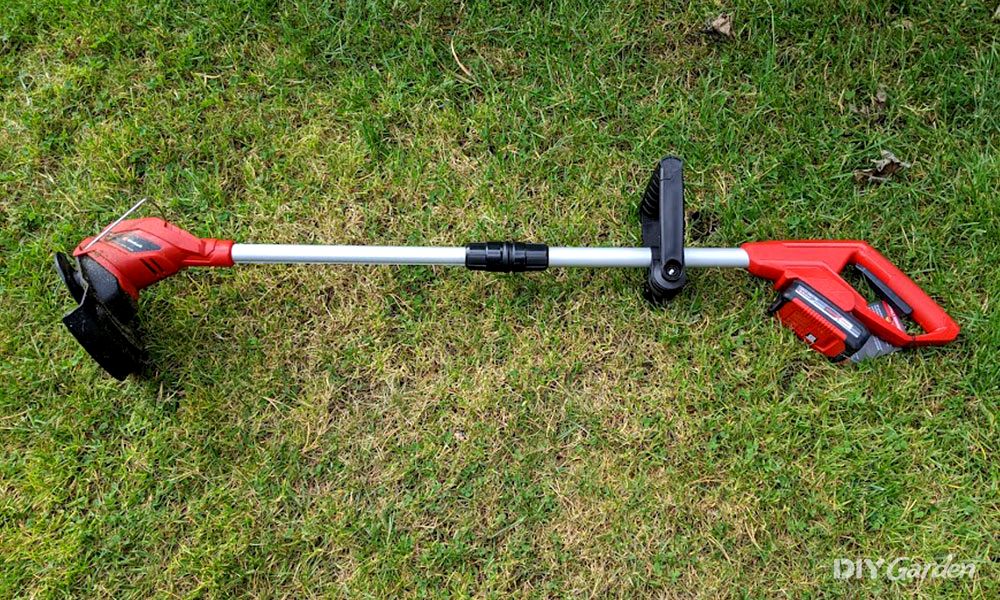 One of the world's most popular brands for state-of-the-art home and garden tools, Einhell is based in Germany, yet has a fanbase all over the globe. With such a strong reputation behind the brand, I had high hopes for the Einhell GC CT Grass Strimmer.
Read our product testing methodology here.
How I Tested
The Einhell GC CT Grass Srimmer was designed to tidy up light weeds around the garden, as well as lawn edges. So, I decided to test the strimmer on both long grass and weedy borders. However, I wanted to see just how much this strimmer could handle, so I also picked a very wild strip of my farm (packed full of dense and thick vegetation that hadn't been strimmed for over a year) to test the strimmer on.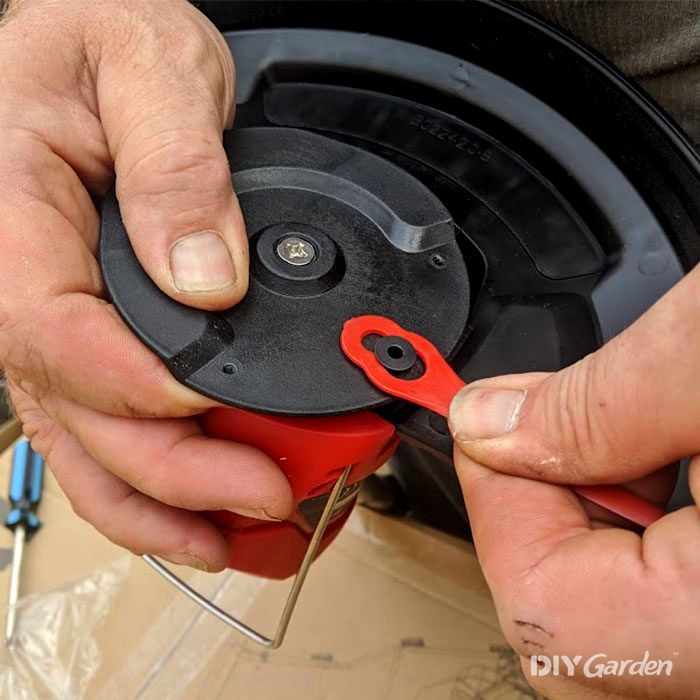 There wasn't too much assembly required with this strimmer. I attached the handle first (it's worth noting that Einhell refers to this as an "additional handle", even though it's a pretty standard feature among all garden strimmers) by fitting a bolt through the centre. You'll need a Philips screwdriver to do this.
Next up, click the guard in, and then use the screw provided to attach a blade to the strimmer. The strimmer only uses one blade at a time, and this is easy to put in. The flower guard also clips in without any difficulties.
All in all, assembly was simple and took about 10 minutes.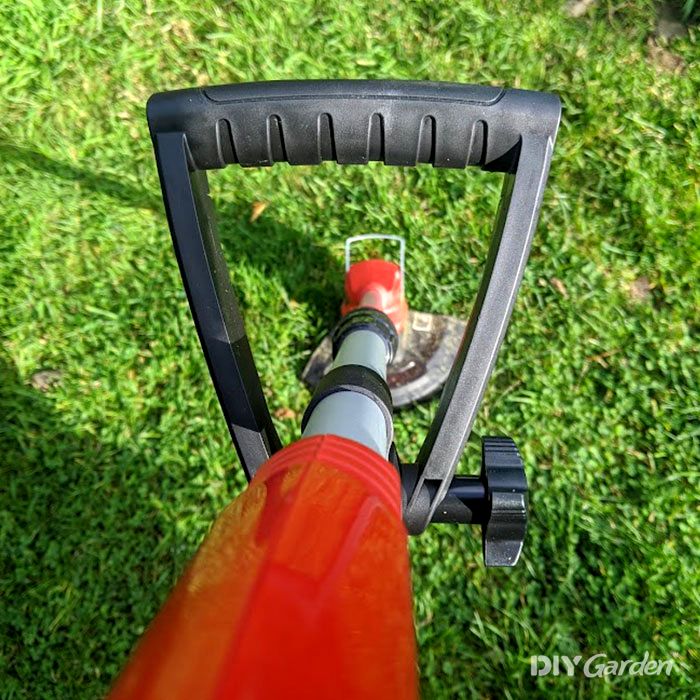 The red, silver, and black colour scheme of this Einhell strimmer fits in with Einhell's branding, while also giving the strimmer a modern yet professional look.
At first glance, it looks and feels like a quality machine, especially considering that it's made from plastic. I was happy to see that it had a telescopic shaft – being tall, I often find that cordless strimmers aren't long enough. It also has a cutting width of 24cm, which is pretty standard across other similar models.
Just like the other strimmers I tested, this one comes with a flower guard to save you from strimming your plants. This easily clips on and off, so you don't need to use it.
I have to admit that I was a little disappointed that this strimmer had been designed to cut with plastic blades, rather than cable. Seeing the blades themselves didn't help – they look very small and flimsy. I've never been a fan of plastic blade strimmers due to how often the blades need to be replaced, and I was initially doubtful that this Einhell model would be able to change my mind on that.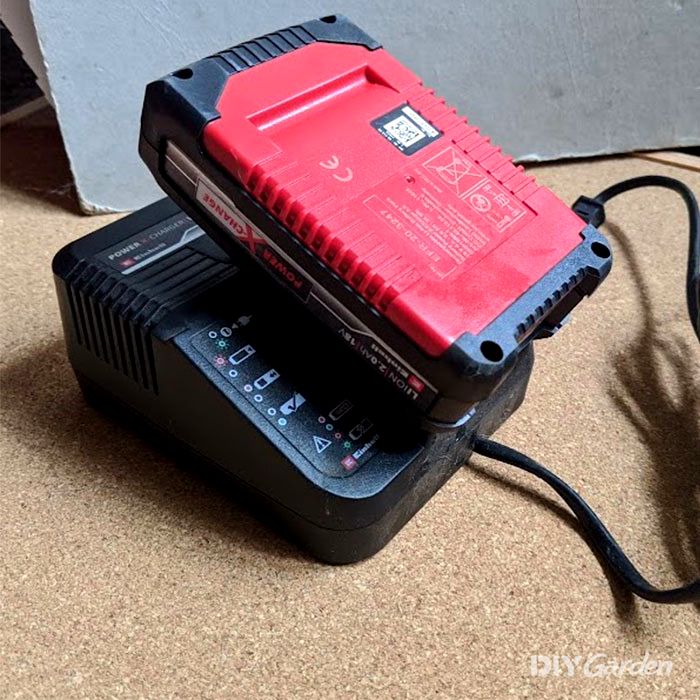 Although the Einhell GC CT Grass Srimmer that I have came with one 2.0Ah battery, you do also have the option of purchasing the unit on its own. This is because all Einhell Power X-Change batteries are interchangeable – if you already own other battery-operated Einhell tools, then those batteries should work on this strimmer too.
Charging
It takes just under two hours to fully charge the 2.0Ah battery that comes with this strimmer. That's one of the longest charging times of all of the 2.0Ah strimmer batteries I tested. In comparison, the 2.0Ah battery that comes with the WORX cordless strimmer charges in just 45 minutes.
However, on the plus side, the battery has been designed with 3 LED lights so that you can see how much life it has in it. This is not only useful when charging, but also when strimming.
Battery Life
The 2.0Ah battery lasts for about 55 minutes in this Einhell strimmer, which gave me the longest running time of all the strimmers tested. However, if this isn't enough for you, then consider a larger battery. Einhell recommends their 6.0Ah battery, which should give you 180 minutes of strimming time.
As mentioned, there's an LED indicator on the battery that'll give you an idea as to how long you can keep strimming for. However, unlike with other similar batteries, you can't just glance down to check the lights. Instead, you need to remove the battery from the strimmer to be able to see the indicator. While this is a little inconvenient (compared to the Bosch cordless trimmer, for example, where you can just glance down to check battery life), it's still better than a battery that doesn't have LED indicators in the first place (and many don't!).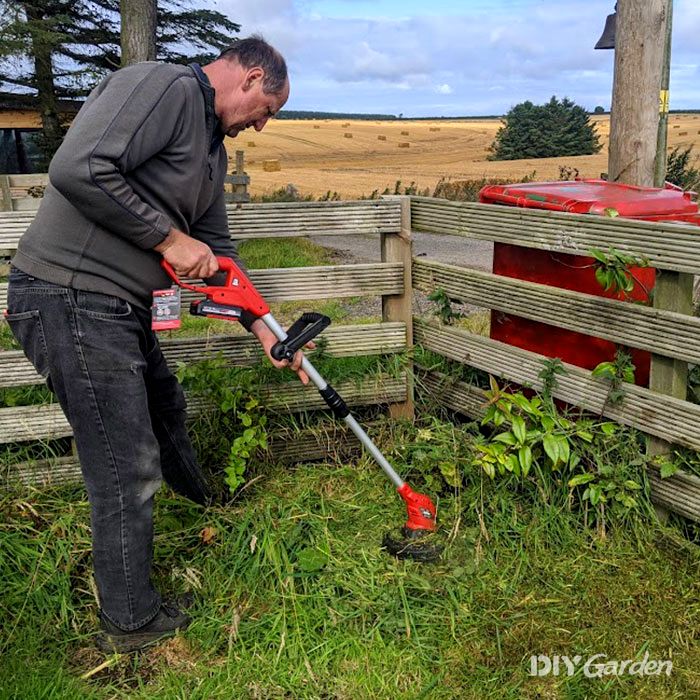 I started by using the Einhell GC CT Grass Srimmer on long grass. As expected, it handled this without any issues, leaving behind a clean cut. So, I then moved on to weedy borders. The dominant weeds here were docks and nettles, both of which this strimmer easily coped with. Since this strimmer is fitted with plastic blades instead of cable, I didn't expect its performance to match up to the other strimmers I tested. However, it worked just as well.
I then took the strimmer over to a wilder area of my farm. The dock stems here were a good few inches thick, interspersed with more nettles, willowherb, brambles, thick clumps of long grass, and a variety of other weeds. Keep in mind that this strimmer isn't designed for such heavy work, yet it handled it far better than I expected.
Thick vegetation needs to be cut back in stages – start with the top, then strim the middle, then cut them back at their base. If you try to cut thick weeds back with one single swipe, the blade doesn't break, but the weeds are left standing.
I pushed the strimmer pretty far before the blade finally broke. A stubborn and extra-strong dock was the culprit. However, even with half of the blade snapped off, the strimmer could still be used – you just need to stand closer to the vegetation than you usually would. One quick tip: don't touch the blade after it has been strimming, even if it breaks – it's very hot!
I also did some strimming around my pebble-covered driveway. Again, I expected the blade to quickly snap if it hit large stones or my wooden fence, but it held strong against both.
Although I didn't need to use the flower guard around my lawn, I gave it a try and it worked perfectly.
The Einhell GC CT Grass Strimmer is extremely easy to use. At 1.77kg, it's a lightweight tool. You can use it for its full 45-minute charge without it feeling heavy or cumbersome. If you go with a larger battery, your arms may start to feel tired after a couple of hours of continuous use, but it's still one of the lightest strimmers I have ever used.
As mentioned, it takes a lot to break a blade. However, when that does happen, it doesn't take long to clip a new blade in.
The one aspect of this strimmer that made it a little uncomfortable for me to use was its height. Yes, it has an extendable shaft, but, sadly, even when extended all the way, the strimmer is still on the small side for someone who is as tall as myself. I had to stoop a little to use it, so did end up wasting a bit of time taking breaks to stretch my back.
This isn't a particularly noisy strimmer. Yes, it does make some noise, just as all strimmers do, but it wasn't loud enough to require ear defenders.
If you have close neighbours, the strimmer isn't loud enough to cause much of a disturbance, even when used for extended periods of time.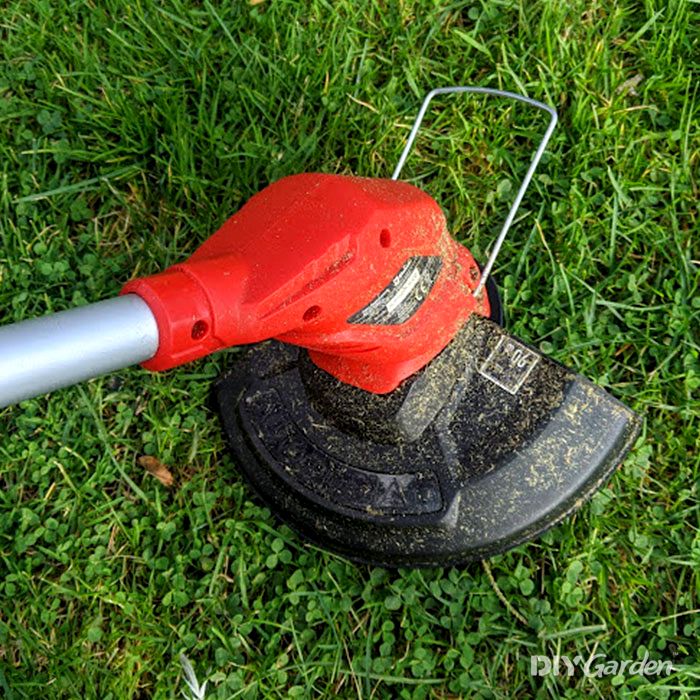 Just like all of the other strimmers that I tested, the Einhell GC CT Grass Srimmer has a plastic guard at its base that protects you from its blades.
However, its safety features pretty much stop there. Many other strimmers, from the cheaper Terratek to the pricier Bosch, have a button that you need to press when pulling the trigger. This is an important safety aspect – it prevents you, or anyone else, from accidentally turning the strimmer on. This Einhell strimmer doesn't have that.
On a more positive note, I was pleased with how safe it was to use this strimmer around stones. Rather than throwing any stones up towards me, it threw them away from me. That said, wearing eye protection would still be recommended.
I usually stand behind the phrase "you get what you pay for". However, when it comes to the Einhell GC CT Grass Strimmer, I'd say that you actually get more than what you pay for.
It costs less than most of the other strimmers I tested, yet it performs just as well. The fact that it comes with 20 plastic blades is another bonus. Considering that the blades don't break very easily, this 20 will last for a very long time.
I didn't have high hopes for the Einhell GC CT Grass Srimmer, purely because it made use of plastic blades rather than cable. However, it proved me wrong – it's just as capable as those that use cables, even more so in some ways. This is an ideal strimmer for keeping small to medium sized gardens tidy. It'll even cope with heavier usage on occasion, although it would be worth purchasing a larger battery for this. It does everything that Einhell promises, plus more, making it a bargain in my eyes!
Why You Can Trust DIY Garden
At DIY Garden, we believe your trust is earned through our knowledge and transparency. Our team of experts has over 75 years collective experience in the gardening and DIY space. Since the website's creation in 2016 we've tested over 275 products, ensuring our recommendations are based on real experience. We're open about what we've tried and what we've researched, and this is clearly labelled in our product reviews. Every year, we revisit and update our suggestions to include worthy new additions to the market. Our aim is to give you straightforward, honest, and helpful recommendations, so you can confidently choose the best tools and equipment for your projects.
Our Scores:
Ease of Assembly

Design

Battery

Performance

Ease of Use

Noise

Safety

Value for Money

Overall
Features:
Weight

1.77kg

Cutting Width

24cm

Battery Included

Yes

Charging Time

120 mins

Running Time

55 mins

Battery

2.0 Ah Lithium-ion

Power

18V

Max. Speed

8500 RPM

Noise

85dB

Telescopic Shaft

Yes
About Your Guides
Derek Smith has been farming all of his life, and is an professional landscape gardener with over 22 years experience. He owns a 25-acre farm in Aberdeenshire with a focus on self-sufficiency, living off the land, and working with nature.

Sarah's role as chief editor at DIY Garden is about more than just making sure we're literally dotting the i's and crossing the t's (although she's a stickler for detail, so it's certainly about that too!). It's about proof-reading, fact-checking and continuously researching everything we publish, ensuring that it adheres to our

editorial standards

, so that everyone can really get the most out of their green space.
You May Be Interested In These Other Strimmer Reviews