I've researched and compared the best garden swing seats on the UK market. My top recommendation is the SORARA Garden Swing Chair.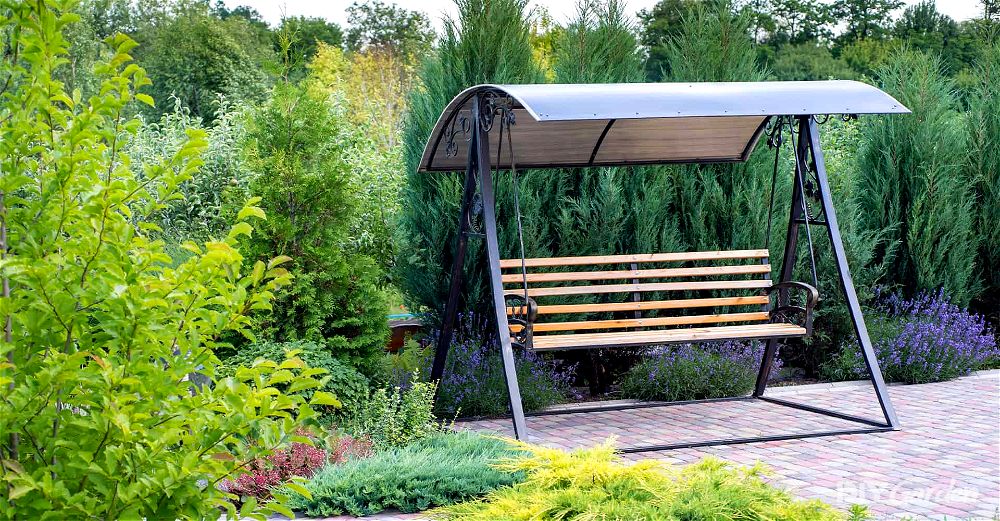 My Top Recommended Garden Swing Seats
My Product Reviews & Opinions
Compare Product Features Here
Use the dropdown to sort the table by the feature that's most important to you.


Our score
No. of Seats
Material
Dimensions
Capacity
Weight
UV Protection?
Tips For Buying a Garden Swing Seat
For two people, look for a garden swing seat between 160 – 170 wide. This will provide comfortable seating for two whilst still being suitable for smaller gardens.
If you want a three-person model, choose a swinging chair with a width of at least 190 cm

. These larger swing seats are suitable for medium/large patios, gardens and decks.

A weight capacity of 200 kg will generally be suitable for two adults

. However, the seat will generally need a capacity of 240 kg or above to comfortably accommodate three people.

Construction material is important to consider. Powder-coated steel is a good low-maintenance, durable option

. It can be left out year-round and is generally light enough to easily move around the garden. For a traditional-looking seat that blends into the natural surroundings, opt for a wooden frame. Be aware that wood will need treating annually.

If you choose wood, the best garden swing chairs will be made from pressure-treated, FSC-certified timber

.

Cushions will make the swinging chair more comfortable

. Look for options made from polyester or Oxford fabric as these will be easy to wipe down and won't get too waterlogged if left out in the odd shower.

For maximum comfort, you'll want to look for cushions that are over 5 cm thick

. These will protect you from feeling the bar underneath the seat.

 
When it comes to the best garden swing seat, my top recommendation for a medium garden is the three-person SORARA Garden Swing Chair. This comfortable swing seat has thick, padded cushions and a strong metal frame with an impressive 380 kg weight capacity. The attached canopy can be tilted, to easily keep the sun out of your eyes whilst sitting. Plus, there are foldable drinks trays at each side.
Why You Can Trust DIY Garden
At DIY Garden, we believe your trust is earned through our knowledge and transparency. Our team of experts has over 75 years collective experience in the gardening and DIY space. Since the website's creation in 2016 we've tested over 275 products, ensuring our recommendations are based on real experience. We're open about what we've tried and what we've researched, and this is clearly labelled in our product reviews. Every year, we revisit and update our suggestions to include worthy new additions to the market. Our aim is to give you straightforward, honest, and helpful recommendations, so you can confidently choose the best tools and equipment for your projects.
How to Choose The Best Garden Swing Seat
The best garden swing chairs will add a bit more interest to the garden compared to just a standard bench.
They're often a bit more fun and welcoming, and it's not uncommon to find seats that have canopies built in as well.
You'll have a lot of choice when it comes to garden swing chairs. There are options which are more upright, as well as those that offer the possibility to recline. But all of them provide that enjoyable, relaxing  'weightless' feeling.
If you're on the look out for the best garden swing set, the following information should give you a good idea of what to look out for (as well as what to avoid!).
Finding a Design to Suit Your Garden
There are a lot of different garden swing chairs available. It's impossible to say which is the best; many things will come down to personal taste and the design of your outdoor space.
However, here's a run down of some of the different designs and features available, so you can decide what to look for:
Number of Seats
Garden swing chairs are not always limited to just two people.
The classic designs are generally suited to two adults, but there are models which can seat up to four people or more.
There are also smaller swing seats, like hanging rattan egg chairs, that seat just one person.
Of course, a unit with more seats will be larger and more difficult to 1) find space for in the garden, and 2) store away for winter. They can also be more expensive too. But if you have a larger family, or like to entertain, they could be a great option.
The main thing to watch out for is the weight limit on the swing seat. Some units have much higher maximum capacities than others, and it's best not to presume that just because a there are four seats, any four people can sit down.
More information on weight capacity can be found in the section below titled 'Swing Seat Weight Capacity'.
Protective Canopies
Most swing seats have some form of canopy; however, not all canopies are created equal.
Some of the best garden swing seats have adjustable canopies. These can be positioned as needed to offer maximum shade from the sun throughout the day. This isn't a feature that is available on all swing seats, but might be useful if get a lot of sun in your garden.
Most of the time, canopies are made from showerproof polyester. They may also be made from wood, if the swing seat has a wooden frame.
A polyester canopy will offer more protection from sun and rain than a slatted wooden canopy, but may suffer damage in windy conditions.
Fortunately, they are usually held on by Velcro and easy to remove.
Some of the best garden swing chairs will have fabric canopies that offer a level of SPF protection. This will actively block UV rays instead of just creating shade (which can still let UV rays through).
Upright or Reclining Swing Seats
Some swing seats are best described as swinging benches – upright, structured and straight forward. If correct posture is important to you, and you like having a straight backrest, these will likely be the best garden swing chairs for you to choose.
Other designs give you the possibility to recline and rest your legs up. With these options you can either sit with your legs out straight, or crossed-legged. Some people prefer this more relaxed seating position, but it's not comfortable for everyone.
Additional Features
These are a couple of the 'extra' features which can feature on swing seats, you might want to look out for them if they sound appealing to you:
Headrests
Arm rests
Drinks trays
Cushions
Rubber feet (so that it won't slip on a hard surface)
READ NEXT: The Best Zero Gravity Garden Chairs
Swing Seat Weight Capacity
Some swing seats have surprising low weight allowances so it's always a good idea to check with the manufacturer before you make a purchase, just to be 100% sure.
It's best to not presume that a swing seat can take more weight just because it seems to have been designed for more people.
Some three-seat swing seats may have as low a weight capacity as 200 kg. If this weight is divided evenly between three people sitting on the seat, it would mean that each individual's weight should not exceed 66 kg.
It's quite common for an adult to weigh over 66 kg, so this is something to bear in mind when shopping for garden furniture.
Other three-seat swing seats can have higher weight capacities of 300 kg+. These are the best garden swing chairs for seating three people because they offer a lot more freedom in terms of who can sit down.
Even if a swing seat seems to 'withstand' more than its recommended capacity, exceeding the limit can result in wear and damage and should be avoided.
READ NEXT: The Best Recliner Garden Chairs
Wooden or Metal Swing Seats
Most commonly, swing seats are made with either steel or wooden frames.
Both materials are good for garden furniture. They're strong and fare well in bad weather.
For most people, it is often a matter of aesthetics as to whether they choose wood or steel. Steel frames generally require no maintenance, whereas wooden frames will likely require treating annually with a sealant to stop moisture getting in.
If the steel is powder coated, it should be durable and relatively rust resistant. However, it's still important to keep metal swing seats dry and under a waterproof cover when not in use in order to prolong their life.
If you choose a wooden frame, go for wood that has been pressure treated and is FSC certified. Pressure treated wood is usually guaranteed against rot and insect infestations for several years. FSC certified wood has been responsibly sourced, and is therefore generally considered better for the environment. It comes from a forest that has been approved and confirmed to meet high environmental and social standards and is cut down in a way that is not damaging to the natural habitat of animals. For this reason, it's good to look out for in garden furniture.
READ NEXT: The Best Garden Storage Benches
Garden Swing Seat FAQs
How should I protect my garden swing seat during the winter months?
If possible, you should store garden swing chairs away over winter.
If your swing seat is too large to store, you can buy a cover to protect it from wet weather. If you can't find one to fit your model, you can usually cover garden swing chairs with tarpaulin through the winter months. Using bungee cords is one way to help keep tarpaulin in place.
Ideally you want the hanging chair to be dry before you cover it, to stop moisture getting trapped underneath the waterproof layer.
You should also make sure your garden swing seat is protected from wind. They can get damaged if they blow over. Either move your garden swing seat to a sheltered area or secure it with ground anchors or heavy-duty pegs.
Wind can also damage the fabric canopy of a swing seat. If yours has a canopy made from fabric, you should either remove it or cover it if the weather gets bad.
If you have a wooden swing seat, you should treat it yearly with a couple of coats of teak oil or a waterproof sealer.
Where should I put my swing seat?
You can place your swing seat in any outdoor space – either on your patio or your lawn.
If you buy a steel-framed swing seat make sure that it has rubber stoppers on the ends of the legs. This will stop it slipping on paving.
You could even place a swing seat in a conservatory, or move it inside just for the winter months.
If possible, put it somewhere that is sheltered from strong winds so that it won't blow over easily.
Should I clean my swing seat?
If you have a wooden swing seat, you should clean it with a sponge and warm, soapy water. This is especially important to do before storing it away over winter. If you don't clean wooden garden furniture, mould may spread and grow over the winter months. Avoid using a pressure washer as this could damage the wood and spread any mould spores.
To clean a steel swing seat you can use a gentle pressure washer or a sponge and warm, soapy water . It's always better to opt for the gentler cleaning option first as this will cause less damage. It may well be all that's required anyway.