In this hanging rattan egg chair review, I thoroughly compared assembly ease, design, comfort, stability and value for money for multiple products. After hours of research and testing, I recommend the Yaheetech Rattan Swinging Egg Chair as the best hanging rattan egg chair on the UK market.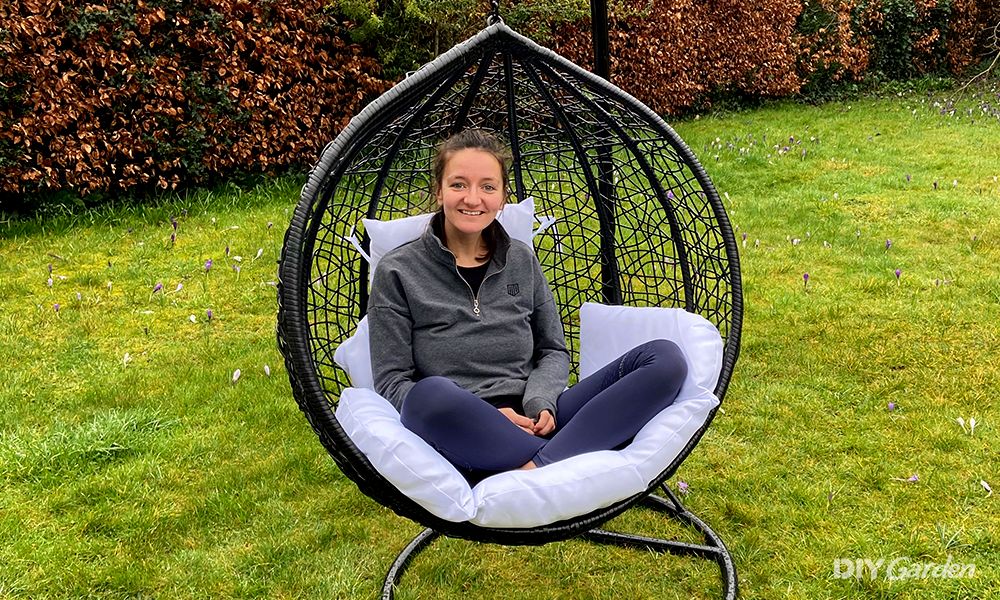 My Top Recommended Hanging Rattan Egg Chairs
My Top Recommendation Based on Real-world Testing
Other Hanging Rattan Egg Chairs Worth Considering
Compare Product Features Here
Use the dropdown to sort the table by the feature that's most important to you.


Our score
Weight Capacity
Height
Cushions Included
Cover Included
Water Resistant
UV Resistant
Weight Capacity

150 kg

Height

196 cm

Cushions Included

Yes

Cover Included

Yes

Water Resistant

Yes

UV Resistant

Yes

Weight Capacity

240 kg

Height

195 cm

Cushions Included

Yes

Cover Included

No

Water Resistant

Yes

UV Resistant

Yes

Weight Capacity

100 kg

Height

194.5 cm

Cushions Included

Yes

Cover Included

No

Water Resistant

Yes

UV Resistant

Not listed

Weight Capacity

120 kg

Height

196 cm

Cushions Included

Yes

Cover Included

Yes

Water Resistant

Yes

UV Resistant

Yes
Tips For Buying a Hanging Rattan Egg Chair
A hanging egg chair is one of life's simple pleasures. When it comes to design, neutral colours look great in a minimalist garden, but there are also vibrant patterns and unique shapes available for a bolder look.
Hanging egg chairs can take up a fair amount of space; the narrowest egg chairs are around 95 cm wide (including the frame)

. These egg chairs are best if you haven't got a lot of room, or the doorways and passageways in your home are quite tight.

For larger spaces, you could even consider a two-person hanging egg chair

.

Look for an egg chair that allows you to adjust the length of the hanging chain.

This will allow both taller and shorter users to sit comfortably. If the egg chair has an adjustable chain, the height can usually be altered by around 10 cm.

Naturally, the egg chair's weight capacity will be one of the most important considerations. A hanging egg chair with a capacity of around 150 kg will be suitable for most adults

. However, if this weight is likely to be exceeded, choose an egg chair with a capacity closer to 200 kg just to be safe. Be aware that some hanging egg chairs may have a lower weight capacity – down to 100 kg.

Egg chairs can often be used both indoors and out. If you're planning on keeping your hanging egg chair outside, you should ensure it's made from weather resistant PE rattan with a stainless steel frame

. It can also help to use a waterproof cover as well. 
I've compared and tested some of the UK's best hanging egg chairs and the Yaheetech Rattan Swinging Egg Chair claims the top spot. It's a modern egg chair, made from durable weather-resistant materials, with a large, comfortable cushion included.
Why You Can Trust DIY Garden
At DIY Garden, we believe your trust is earned through our knowledge and transparency. Our team of experts has over 75 years collective experience in the gardening and DIY space. Since the website's creation in 2016 we've tested over 275 products, ensuring our recommendations are based on real experience. We're open about what we've tried and what we've researched, and this is clearly labelled in our product reviews. Every year, we revisit and update our suggestions to include worthy new additions to the market. Our aim is to give you straightforward, honest, and helpful recommendations, so you can confidently choose the best tools and equipment for your projects.
How to Choose The Best Hanging Rattan Egg Chair
Hanging egg chairs are a timelessly stylish addition to any garden.
With a gentle swing, a comfortable cushion and a sturdy base, they offer the perfect spot to sit and enjoy your morning coffee or an evening G&T – ideal!
Hanging egg chairs are great for small spaces; compact enough to nestle into a small corner of your garden or balcony. The best hanging egg chair will be weather resistant and able to be left outside year-round.
Not sure what to look for when it comes to these awesome chairs? These handy pointers will help you make an informed decision:
Different Designs
Your hanging egg chair can be as wacky or as understated as you like.
If you have a traditional or minimalist garden, you may choose to opt for natural colours and materials. On hanging egg chairs these tend to look quite understated yet stylish, and won't be an undesired focal point in the garden.
If you're after something a bit louder, hanging egg chairs also come in vibrant patterns, bold colours, and more unique shapes. This could be an excellent option if you're looking for a great place to sit and also want to make a bright statement.
The rattan weave pattern can differ from egg chair to egg chair, some are more of a classic weave whereas others may have a lattice or other pattern. Ultimately this comes down to personal preference, but do keep an eye on how flat the weave is – it can be uncomfortable if it is too raised and digs in.
Finally, you will notice that some egg chairs are more enclosed than others. This is something to bear in mind as you look for the best egg chair for your garden, patio or balcony – you may wish to be hidden away or be able to be a bit more sociable!
READ NEXT: The Best Zero Gravity Chair
Choosing the Right Size
Egg chairs are usually built to accommodate 1 or 2 people.
If you have a larger garden, a bigger egg chair will look great. Plus, you'll have the luxury of buying a 2-person chair if that's something you're interested in.
If you've only got a small space like a patio or balcony, you'll want en egg chair that's more compact so that it can tuck into a corner. If you're limited on space, take some measurements before making your purchase, and check them against the product specifications – egg chairs are extremely relaxing, but they may not be as relaxing if you're tearing your hair out trying to work out how to fit it on the balcony!
Type of Material
The rattan used to make garden furniture is often made of PE plastic. This helps it be weather resistant and low maintenance.
This 'rattan' generally makes up the body of the egg chair, while steel is most often used for the base and frame. These are both very durable and generally weather resistant, although you will need to keep an eye out for rust.
PE rattan is easy to wipe clean, but if your egg chair comes with cushions ensure the covers are machine washable – especially if you have kids!
READ NEXT: Best Garden Recliner Chair
Maximum Weight Capacity
Weight capacity is something to bear in mind when buying a hanging egg chair.
Good quality rattan egg chairs will hold around 100 kg. While this will seat most adults, it is unlikely to last if you regularly have more than 2 people sitting on it.
Bear in mind that if you are at the top end of the weight capacity of your hanging egg chair, the chair may not last so long.
Ease of Assembly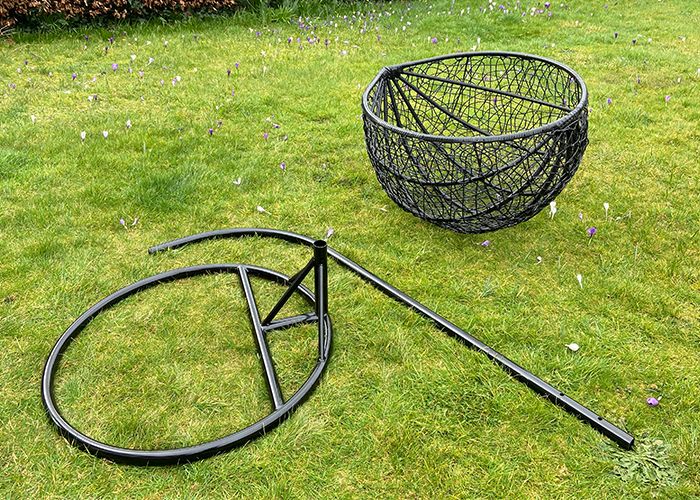 Most hanging egg chairs are very easy to assemble, often with just a couple of parts needing to be slotted together. If you're not confident at DIY, look for an egg chair that either arrives fully assembled or is specifically designed for easy assembly.
A helpful tip: sometimes the smaller fittings arrive tucked into one of the tubes – so if you can't find them straight away that may be where they are!