Our
SORARA ROMA Basic Cantilever Parasol

Review

It doesn't really matter what you need a parasol for – chances are that the SORARA ROMA Cantilever Parasol will be able to meet your requirements. It's well-sized, incredibly versatile, constructed from high-quality materials, and has been thoughtfully designed – for what it costs, you're really not going to find anything better!

B073GWYZL4

8719189103854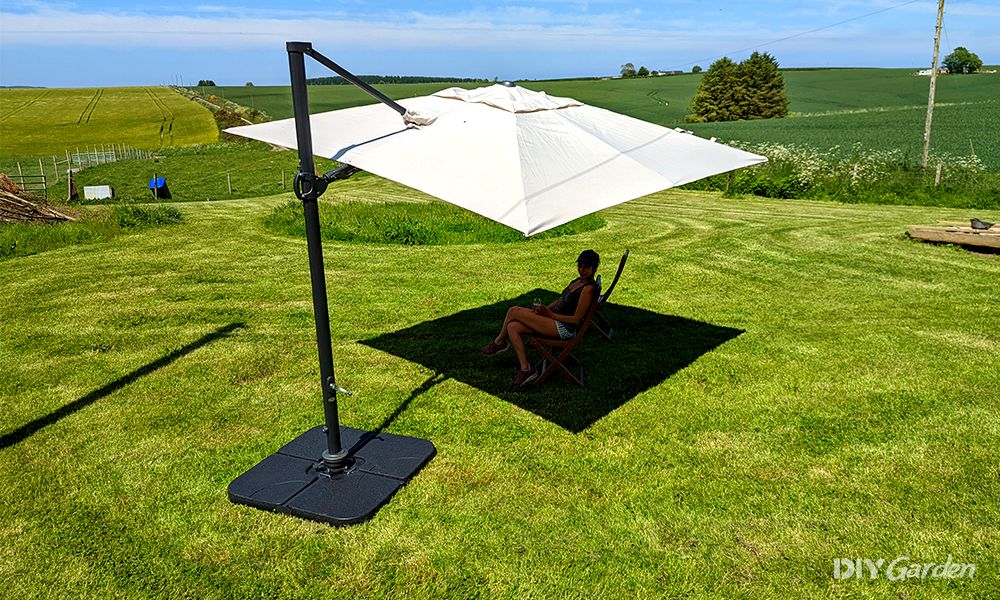 SORARA is a Dutch company that's known for producing high-quality outdoor living products. The SORARA ROMA Cantilever Parasol is one of their bestsellers – if you've been looking for a new cantilever parasol, it's easy to see why this one would catch your eye. Promising the utmost in quality, design, and functionality, I decided to put this product to the test to find out just how good it really is.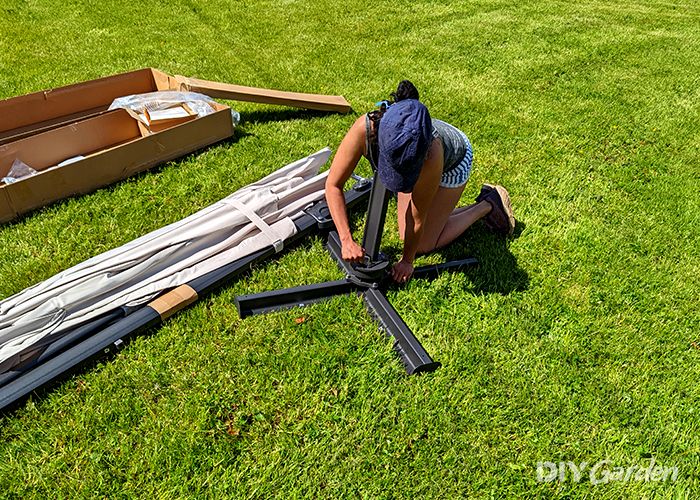 There's a small amount of assembly involved when initially setting this parasol up. However, once you have everything put together, you won't need to re-assemble it each time you use it (unless you have to take it apart for winter storage).
Although this parasol doesn't come with a base, it's easy enough to purchase one separately. Mine came in four parts – I filled each one with water and then simply fitted them together.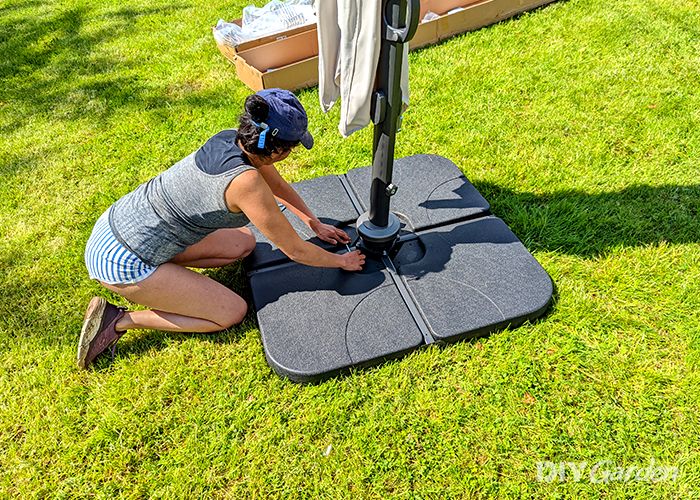 Once you've done that, you then attach the parasol to the base, which requires just eight screws in total. These are provided, along with the Allen key that you'll need to use them. The instructions are clear and easy to follow, meaning that the whole process takes less than ten minutes. While it could potentially be a one-person job, it's definitely much easier if you have two people on hand for the initial setup.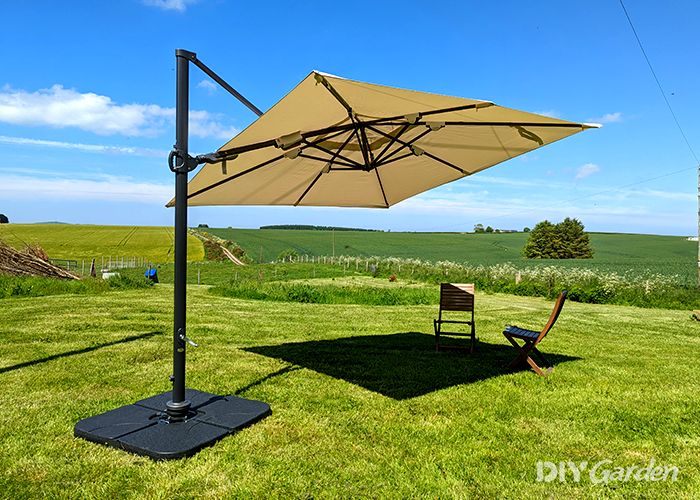 It's evident that plenty of thought has been put into the design of this parasol. Unlike some of the others on the market, this one looks sturdy and high-quality. Its size is fantastic – at 250cm x 300cm, there is plenty of room underneath, which makes it so versatile. Whether you're hosting a garden dinner party or need some summertime shade for your kids to play underneath, this parasol provides a very spacious shelter.
Another feature that sets this parasol apart from the others on the market is the way in which its pole has been positioned. It sits to the side of the canopy, meaning that you can make full use of the space underneath without the pole getting in the way.
The canvas is made from a heavy 250g/m² polyester. Thanks to its UV-blocking layer, it's able to offer SPF 50+ protection from the sun, making it ideal for the hot summer months. The aluminium used for the pole and frame has been powder-coated, which will help with its weather resistance.
Some parasols can be cumbersome to use, but this one was the complete opposite. As I mentioned earlier, once you've set the parasol up for the first time, you won't need to keep doing this. Instead, simply crank the canvas down and slide a cover over the top.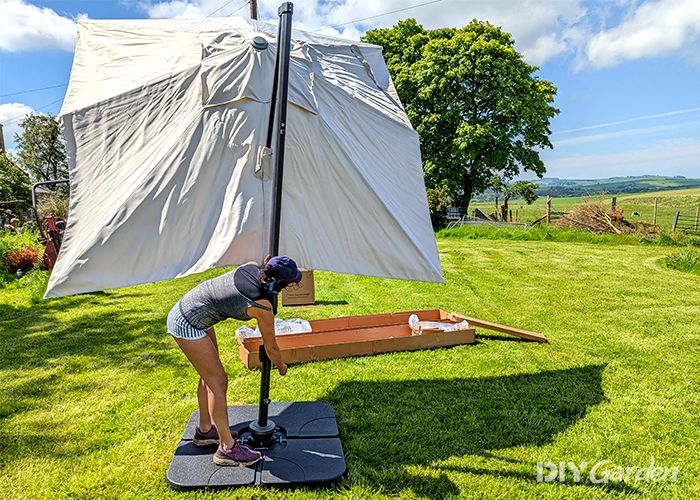 The cover can be purchased separately, and I would highly recommend doing so. It enables you to leave the parasol outside in position. This way, whenever you want to use it, all you need to do is lift the cover off and crank the lever to open up the canopy. It really couldn't be any easier!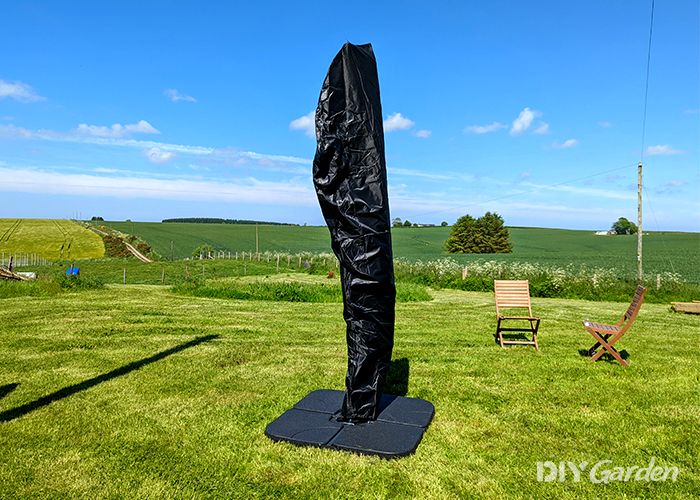 This parasol comes with a few different adjustment options. The first enables you to swivel the pole around, and this is done by using your foot to push down on a lever at the base of the pole. This means that once your parasol is in position, you'll be able to use the full 360-degree space around it as you please, rather than having the canopy only pointing in one direction. The foot lever leaves your hands free to swivel the pole, which makes this adjustment safe and easy.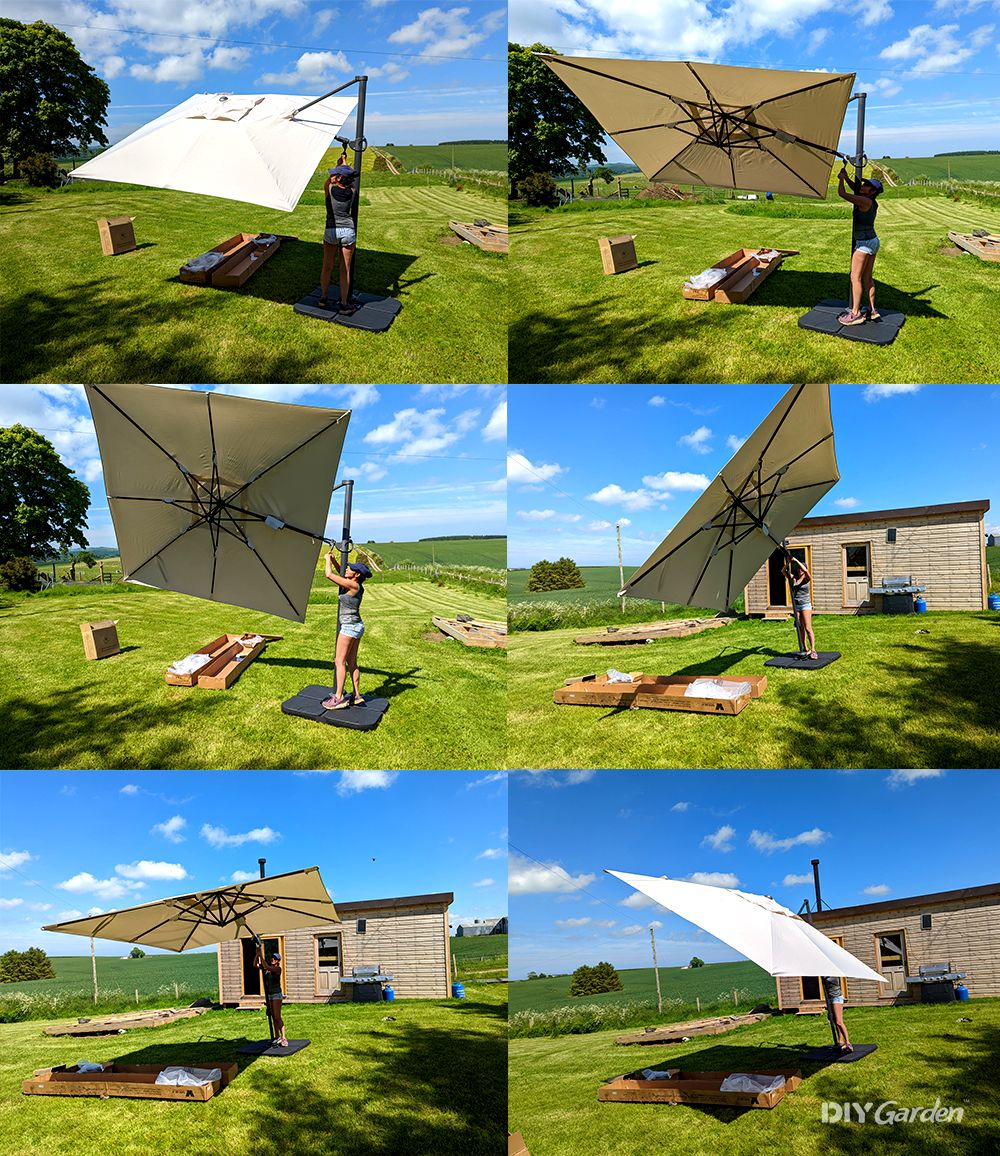 There's another lever mechanism that allows you to adjust the height of the canvas, as well as one that lets you change the angle. All of these features enable you to keep the parasol in one place while still enjoying full protection from the sun's changing positions throughout the day. Even better, they're all easy to operate with one hand.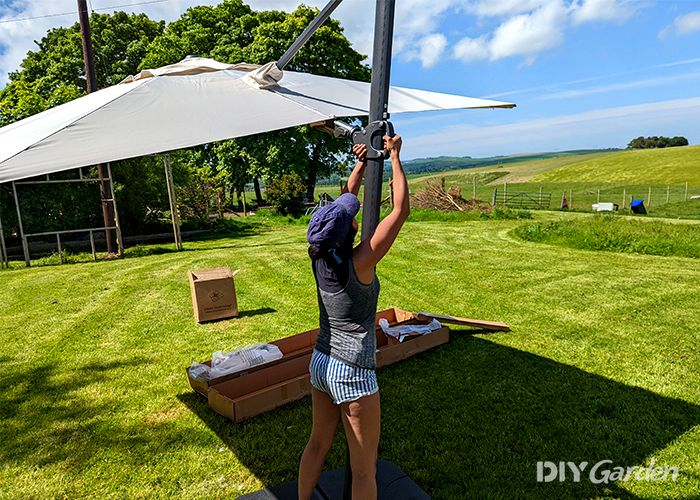 How stable this parasol is will depend on the base weights that you're using to hold it steady. The base that I had was designed specifically for this parasol, so everything fit together well. Each of the four base pieces can be filled with water or sand. I used water but sand is heavier and will give you a total base weight of over 70kg, which is more than enough to hold the parasol in place, even in bad weather.
I set my parasol up in a very exposed spot on my windy Scottish farm. While it did feel a little rocky each time I made an adjustment to the canopy's angle, the parasol held strong and steady otherwise.
If you decide not to purchase the accompanying base, then you still have a couple of options when it comes to keeping the parasol stable. The first would be to make your own base – this would give you the option of using heavier materials, but it would be quite a time-consuming process. Alternatively, since there are small holes at the base of the pole, you could use long screws to attach the parasol to decking or a patio.
This parasol comes in at a mid-range price yet offers the utmost when it comes to quality and design features. For this reason, I would say that it provides excellent value for money.
The only downside is the fact that the base and the cover need to be purchased separately, which adds to the overall price that you're paying. However, do a little price comparison online and you'll find that, even with those extra costs, you're still getting a great deal for what is an amazing product.
It doesn't really matter what you need a parasol for – chances are that the SORARA ROMA Cantilever Parasol will be able to meet your requirements. It's well-sized, incredibly versatile, constructed from high-quality materials, and has been thoughtfully designed – for what it costs, you're really not going to find anything better!
Why You Can Trust DIY Garden
At DIY Garden, we believe your trust is earned through our knowledge and transparency. Our team of experts has over 75 years collective experience in the gardening and DIY space. Since the website's creation in 2016 we've tested over 275 products, ensuring our recommendations are based on real experience. We're open about what we've tried and what we've researched, and this is clearly labelled in our product reviews. Every year, we revisit and update our suggestions to include worthy new additions to the market. Our aim is to give you straightforward, honest, and helpful recommendations, so you can confidently choose the best tools and equipment for your projects.
SORARA ROMA Basic Cantilever Parasol Price Comparison
Price History
About Your Guides
Clive Harris is the creator of DIY Garden and a professional landscape gardening consultant with over 6 years experience. In his spare time he enjoys testing the latest gardening equipment and sharing his experiences here on the site. And of course, he absolutely loves his garden and spends many happy hours outside each week growing, mowing, and having fun with his three kids.

Alina Jumabhoy has spent several years learning about, and experimenting with, different organic growing techniques at various gardens and farms around the country. Fuelled by her quest for self-sufficiency, she's now putting that information to good use on her own rural farm.

Sarah's role as chief editor at DIY Garden is about more than just making sure we're literally dotting the i's and crossing the t's (although she's a stickler for detail, so it's certainly about that too!). It's about proof-reading, fact-checking and continuously researching everything we publish, ensuring that it adheres to our

editorial standards

, so that everyone can really get the most out of their green space.
You May Be Interested In These Other Furniture Reviews