In this cantilever parasol review, I thoroughly compared design, stability, ease of use, adjustment ease, assembly ease and value for money for multiple products. After hours of research and testing, I recommend the Sorara Roma Cantilever Parasol as the best cantilever parasol on the UK market.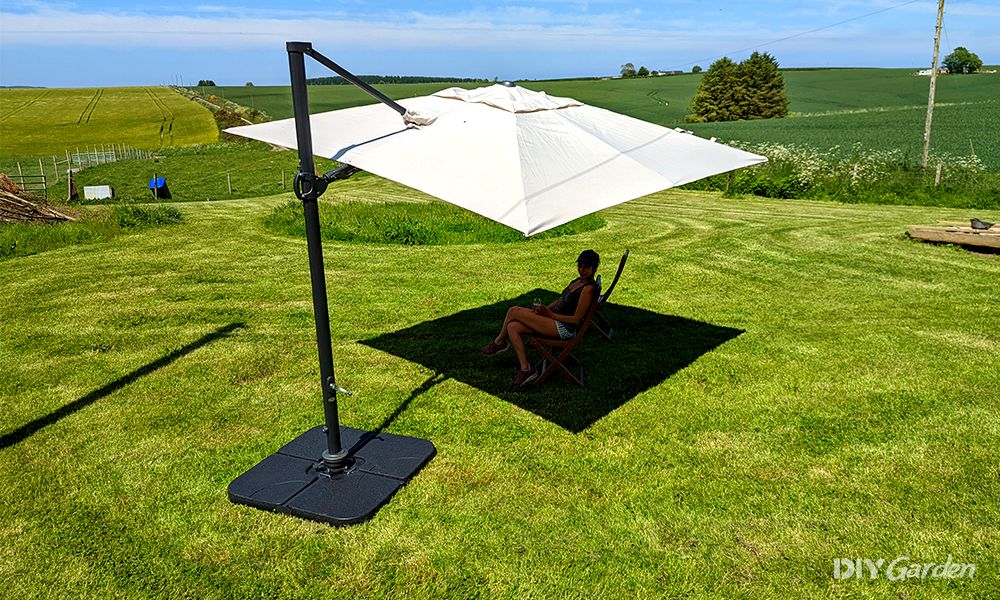 My Top Recommended Cantilever Parasols
My Top Recommendation Based on Real-world Testing
Other Cantilever Parasols Worth Considering
Compare Product Features Here
Use the dropdown to sort the table by the feature that's most important to you.


Our score
Canopy Size
Height
Weight
Number of Ribs
Canopy Material
Base Material
Water Resistant
Weights Included
Cover Provided
UV Resistant
Tips For Buying a Cantilever Parasol
If you're working from home, a cantilever parasol will let you take the office outside during summertime. The best cantilever parasols have adjustable angle mechanisms, offering shade from the sun no matter its position in the sky. These parasols will also keep you covered during weekend lunches, and protect the kids as they play outside.
You'll want to look for a model with UV protection, with a rating of at least UPF 30+. Consider a parasol that offers UPF 50+ if you want increased protection for your family

. Most parasol canopies are made from heavyweight polyester, and you should

aim for a polyester that is minimum 180 g/m²

.

Ensure the frame is made from rust-resistant steel, and ideally look for a model with a water-resistant canopy

. Although these parasols will predominantly be used during fair weather, sudden downpours are never off the cards!

In terms of size, you'll find that a large canopy measuring 2.5 x 3 m is enough to cover a six-person dining table

. A smaller 2 x 2 m parasol will comfortably cover two deckchairs. If you're short on floor space in the garden, opt for a wall-mounted parasol. Alternatively, the real benefit of a free-standing cantilever parasol is that it can be moved around as desired.

You'll need base weights to keep your parasol secure.

These don't always come included, but it's more practical if they do. Base weights are best filled with sand, although water is also an option. Alternatively, you could use sandbags.
Why You Can Trust DIY Garden
At DIY Garden, we believe your trust is earned through our knowledge and transparency. Our team of experts has over 75 years collective experience in the gardening and DIY space. Since the website's creation in 2016 we've tested over 275 products, ensuring our recommendations are based on real experience. We're open about what we've tried and what we've researched, and this is clearly labelled in our product reviews. Every year, we revisit and update our suggestions to include worthy new additions to the market. Our aim is to give you straightforward, honest, and helpful recommendations, so you can confidently choose the best tools and equipment for your projects.
How to Choose The Best Cantilever Parasol
Cantilever parasols are a great, versatile option for creating shade in the garden.
They have a multitude of uses: providing shade over picnic tables, sun loungers or even paddling pools for the little ones.
So, if you're looking for an effective garden parasol which works well when up, but can also be easily stored, you should get yourself a cantilever parasol.
The following tips will help you make an informed purchase.
What Size Cantilever Parasol is Best?
The best cantilever parasol for you is, of course, the one which will fit in the space you have available.
There are three main considerations when purchasing one of these cantilever parasols:
How much space do you have on your patio/in your garden?
How much shade coverage do you need?
How much storage space do you have?
The majority of the best cantilever parasols that I have reviewed in this list have a 3 m canopy. This is quite common, and is a generous size. It gives enough shade for several people to sit comfortably under. Of course, if you can angle the canopy, you can create a longer shadow and more shade, which is a plus.
Bigger and smaller canopies are also available.
READ NEXT: How to Measure a Parasol Canopy
Sometimes the parasol height will vary, and it may or may not be extendable. Keep an eye on the product specifications to see how tall the cantilever parasols you are thinking about buying are. It goes without saying, but it's always best to check measurements before buying (and not when trying to squeeze your new parasol into your shed!). If you're wondering where to place your parasol, check out these tips on positioning your cantilever parasol.
When it comes to finding a parasol to fit your garden space, you have a couple of options. Most of the best cantilever parasols in this list are free standing. As a result, they take up some (but not much!) floor space. That said, there is another way: the Norfolk Leisure Cantilever Parasol attaches to the wall, thus taking up no floor at all. This is a great space-saving move if you're a bit short on ground area.
For more information about what size parasol to buy, check out our Parasol Size Guide.
Should You Buy a 'Set' or Just a Cantilever Parasol?
Cantilever Parasols are great for protecting us from the sun in hot weather. This much we know. But, of course, we're also aware that the weather in the UK isn't always reliably fair.
When buying a parasol, it's necessary to consider how to protect it from the weather. This normally includes buying a cover, to protect your canopy from wind damage and fading; and some weights. These are added to the parasol base and stop it blowing over.
These items can be bought separately, or, if you buy your parasol as part of a 'set', like the Jarder Libra Parasol Set, you'll get them all together.
The benefit of buying a set is that these items can be quite expensive when bought separately. Therefore, a set can help keep costs low. Furthermore, if you buy these items separately, you have to go to the extra effort of making sure they all fit your parasol correctly. In a set, compatibility is ensured.
That said, when you buy a set, you have to take what you're given. Purchasing a set may mean that you don't have as many colour options as when buying items separately. Equally, you have to be careful that the items are not of lower quality because they are being sold together. It's a good idea to check reviews to find this out.
Look Out for UV Protection
Keeping safe in the sun is generally the number one reason to buy a parasol. With keeping cool as a close second.
The problem is, that just because you're in the shade, doesn't necessarily mean you're protected from the sun's harmful UV rays.
When a parasol's canopy does not have UV protection, the sun's rays could still be harming your skin through the umbrella.
Making sure that the cantilever parasol you are thinking about buying has UPF protection is important. It's something to look out for especially if you sit outside a lot or have young children.
READ NEXT: How to Clean Your Garden Parasol
What Functions to Look For
Cantilever Parasols can be surprisingly multi-functional.
Firstly, the basics: look out for a crank mechanism. This will make it easy to raise and lower your parasol. A smooth, robust mechanism will do wonders.
Secondly, a canopy that has the ability to 'tilt', and can be adjusted, will make it easier to block the sun at any angle. This is especially helpful if you want to spend long periods outside throughout the day; you can keep up with the changing angle of the sun.
Lastly, if you're interested in having a parasol with an added 'wow' factor, you may want to look out for one with features like lights inside the canopy. This can create a really special ambiance and can be a great way to make use of your parasol even when night draws in. You can also put lights inside the parasol yourself.
READ NEXT: How To Stop Your Parasol Blowing Over
Cantilever Parasol FAQs
What weight base will I need to use with my cantilever parasol?
The following table offers a rough guide to recommended parasol base weights
| | |
| --- | --- |
| Parasol Size | Base Weight |
| 2 m | 60 kg |
| 2 m, 2.1 m and 2.3 m | 60 – 65 kg |
| 2.5 m and 2.7 m | 65 – 70 kg |
| 3 m and 3 m x 2 m | 70 – 80 kg |
| 3m x 4m | 100 kg |
| 4 m+ | 100 kg+ |
Can I leave my cantilever parasol out all night and in all weather?
To get the best out of your cantilever parasol it is wise to lower the canopy and use a protective cover at night and during adverse weather conditions. This will protect the canopy from damage and from fading. During the winter months, it is best to store your parasol in a dry place such as a garage or shed as this will protect the metal parts from rust and corrosion.
How can I keep my cantilever parasol secure?
Cantilever parasols tend to have a relatively secure stand and base (unless you've bought a wall-attaching parasol, of course!). That said, they will need to be secured if it is windy.
It's advisable to place your parasol on firm, flat ground if you want it to be really secure. Cantilever parasols will work on grass, but the uneven ground will likely make them unsteady. Concrete is more appropriate terrain.
Purchase a weighted base to make sure your parasol doesn't topple or blow around in the wind.
How do I close my cantilever parasol?
Garden parasols vary and you should refer to your manufacturer's handbook, but here is some general advice:
Unsure the canopy is not tilted
Turn the crank handle counter-clockwise
With your other hand, gently support the main frame bracket as it comes down
When the canopy is fully closed, stop turning the crank
Affix cover if using one
Do cantilever parasols move in the wind?
Yes, all cantilever parasols will sway in the wind to a certain extent. If yours is swaying a little too much, you can attach wind stabilisers to provide extra anchor points. If it's your parasol's pole that's spinning in the wind, then you'll need to weigh this down more – most parasols will have an accompanying base that will hold the pole steady.
How long do cantilever parasols last?
Cheaper, low-quality cantilever parasols won't last for very long – you'll be lucky if you get one season's use out of them. However, go for a higher-quality model and it could easily last you for several years, even with daily use.
How do I stop my cantilever parasol from spinning?
There are a few things that you can do to stop your cantilever parasol from spinning, such as:
Make sure that the locking mechanism is functioning properly. If your parasol doesn't have one, then it could be worth installing one

Use bungee cords to secure the pole to a stationary object, like a fence

Use a different base (find one that has been designed for your parasol)

Screw the base to decking or a patio

Give the base extra weights for added stability – sandbags or concrete blocks should work
How much wind is too much for a cantilever parasol?
This depends on the cantilever parasol that you're using. Models that are fitted with wind stabiliser bars should be able to withstand a steady wind of up to 30mph. However, a standard parasol without the extra wind support will only be able to hold up to gusts of around 20mph.
Start typing and press enter to search