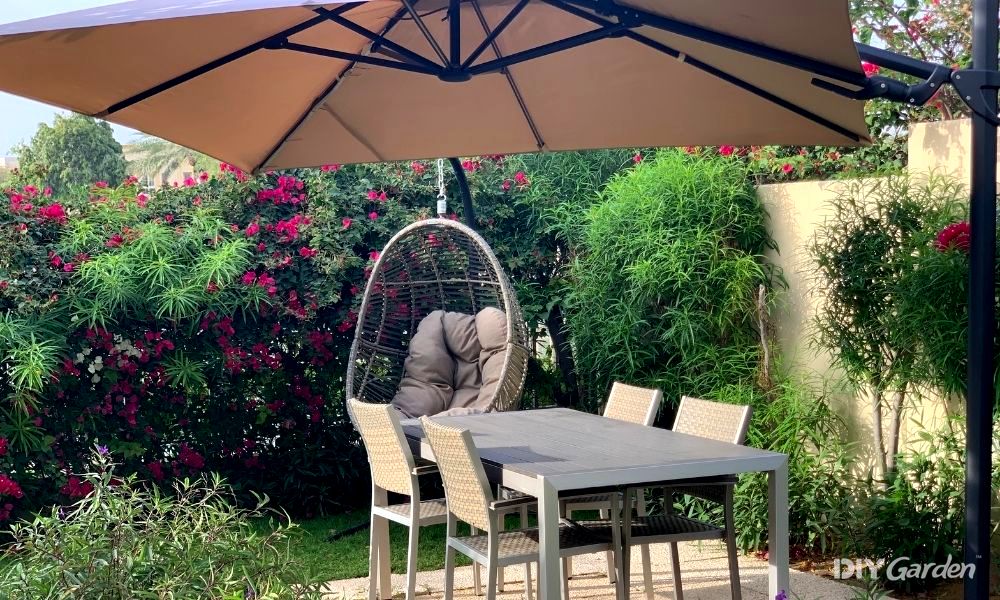 Sitting under the parasol on a scorching hot day. Sounds like a dream, huh? But, knowing our UK weather, we'll be more frequently graced with the presence of wind.
Parasols and wind aren't always best friends – a strong gust can blow your parasol right over. Below, you'll find many ways to stop this from happening, so you can go on enjoying the shade without fear of your parasol tumbling away.
1. Keep the Base Firmly on the Ground
Check that your parasol's base is sturdy and stable. A foundation that's not firmly on the ground will tip; there are no two ways about it. You don't want your base to be tilted or unsteady because a big gust of wind will blow it straight over.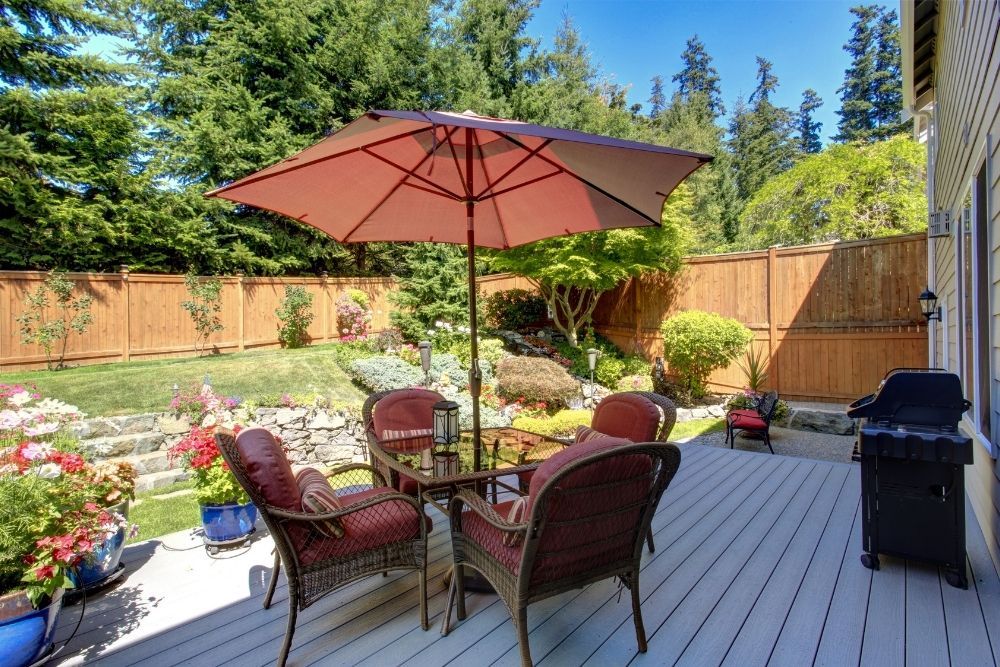 2. Weigh it Down with Sandbags
Parasols that don't have a heavy base are likely to be blown over. They don't have enough weight to keep them down. So, add some weight!
If you're not swimming in cash, DIY sandbags could be an excellent option for you. You can create DIY sandbags and just place them on your parasol's base. Or you could simply buy weight bags that fit snuggly around the pole.

3. Kit Your Base Out with Breeze Blocks
Breeze Blocks are another cheap and cheerful option. Just place the Breeze Block under your base and insert your parasol's pole in the Breeze Block's hole before putting it in the base.
I know what you're thinking – ugly! But Breeze Blocks can be painted any colour you want, so why not bring a pop of colour to your parasol?

4. Fashion Your Own Weighty Base
Looking for a more weighty base? Why not add some gravel? Remove the parasol from its original base and place it in another container. Then, fill this up with gravel, and you've created your own base!
Not just a weighty solution, but an attractive one, too!
5. Give Lead Bags a Go
Lead bags are a go-to for a small but heavy base solution. They're unobtrusive, so won't draw your guest's attention, but they'll do the job of keeping your base firmly on the ground!

6. Use a Table to Keep it Secure
You could scrap the idea of a base altogether and use a table instead! A wide range of tables features a hole in the middle for parasols. The weight of the table helps to keep the parasol securely in place.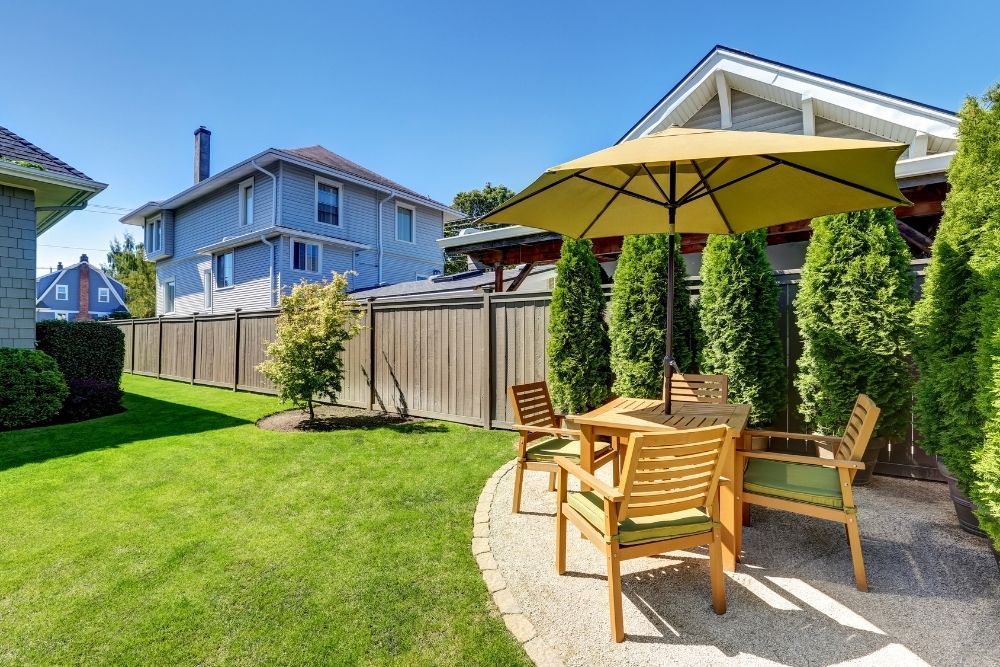 7. Get a Lighter Umbrella
Instead of buying a heavier base or spending a good few quid on a table, just buy a lighter umbrella! This is much easier to carry and cheaper too!
It's all about the centre of gravity – a light umbrella will reduce the parasol's centre of gravity, making it less likely to tumble.

READ NEXT: Sorara Roma Cantilever Parasol Review
8. Consider Construction Materials
So, we know that centre of gravity is fundamental. Another way to reduce the weight of your umbrella is to change the construction materials from heavy to more lightweight. For example, a wooden pole instead of an aluminium one.
But, don't do it if you think changing the materials will make the umbrella weaker!
9. Invest in a Tall Stand
Tall stands prevent the parasol from blowing over because they secure more of the pole. This increases the parasol's strength and reduces its susceptibility to gusts of wind.
10. Reduce the Canopy

A canopy that's smaller in size is less likely to blow over because it catches less force from the wind. A small canopy will still shade you just like a large canopy, but you won't have to chase it across the garden on windy days!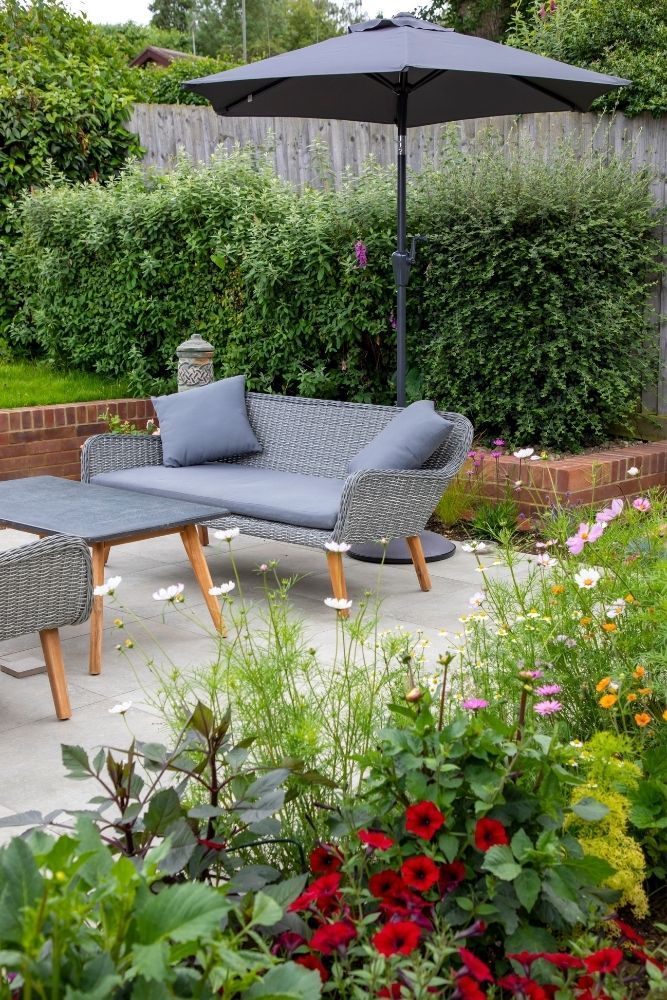 11. Check the Angle of Your Umbrella
The angle of your parasol matters. If you position your parasol, so the top of the umbrella faces the wind, the wind may actually hold your parasol down!
But if you place the underside of the parasol's umbrella towards the wind, the wind will get underneath it and blow it over.
If your parasol just sits upright, you don't need to worry about the angle at all!
12. Replace Water with Sand in Hollow Bases
Did your parasol come with instructions to add water to the base? Many of them do; this is to stop the parasol from falling over!
But there's something even more effective than water…sand! Replace water with sand for a much heavier and, therefore, sturdier base.

13. Secure it to the Floor
You know your parasol isn't going to go anywhere if it's secured to the floor. Save yourself the worry and fix it using a ground anchor, spike, or weight.
When it comes to battling with the wind, it's 1 – 0 to you!

14. Get a Wide Base
If you'd prefer not to get a big chunky base and want something slim and sophisticated, this could be the option for you! A broader base is better. A wide base benefits from added surface area and stability.
15. Get a Heavier Base
But if you don't mind something chunky, go for a whopper of a base with a lot of weight to it. This will stop the wind from knocking your parasol over and prevent any arguments of where it's best to have the parasol! With that weight, no one will want to move it!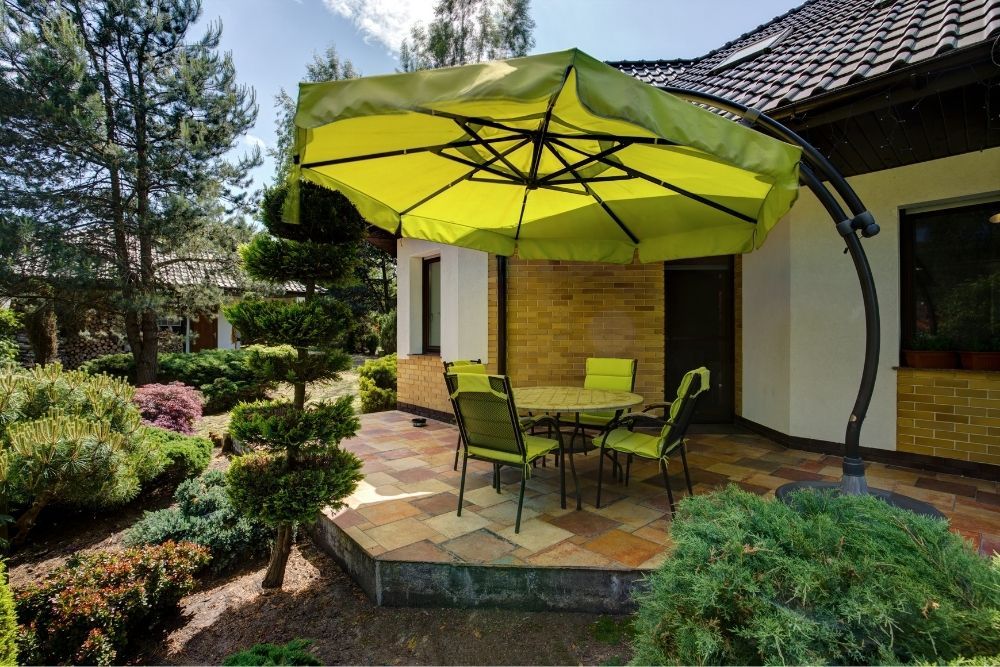 16. Ensure the Umbrella Pole Doesn't Wobble
If your parasol's base doesn't fit snuggly with the pole, it's bound to blow over. A parasol pole that wobbles in the base is not secure. This makes it weaker and more likely to be blown over by the wind.
Ensure you get the correct-sized base that your pole fits perfectly into.

17. Cement the Pole into the Ground
If you don't ever plan on moving your parasol, how about cementing it to the ground? It most certainly isn't going to go anywhere then!
Cement the pole to the ground just as you would a fence post. Make a hole that's 1/3 of the pole's length and 30cm in diameter. Then, just fill it with cement and place your parasol pole inside!
Be sure to check the pole is level at this point; otherwise, you'll have a wonky parasol!
18. Buy a Smaller Umbrella
Smaller umbrellas don't catch the wind as much, so they're not as susceptible to its mighty force. But, a small umbrella does have the drawback of offering less essential shade on hot summer days.
19. Add Vents to Your Umbrella
If you're not willing to compromise on the size of your umbrella, why not add vents to your existing one? Vents allow the wind to pass through, which stops it from trying to take the umbrella with it!
Take it to a tailor as they're bound to be able to help, or get yourself a new umbrella altogether.
20. Replace Your Cantilever Parasol
Having cantilever umbrella wind problems? It's no surprise – having the base at the side makes it much easier for the wind to tip it and blow it over. The whole design depends on balance, you see!
Replace your cantilever parasol with a centre post one to prevent it from disappearing in the wind!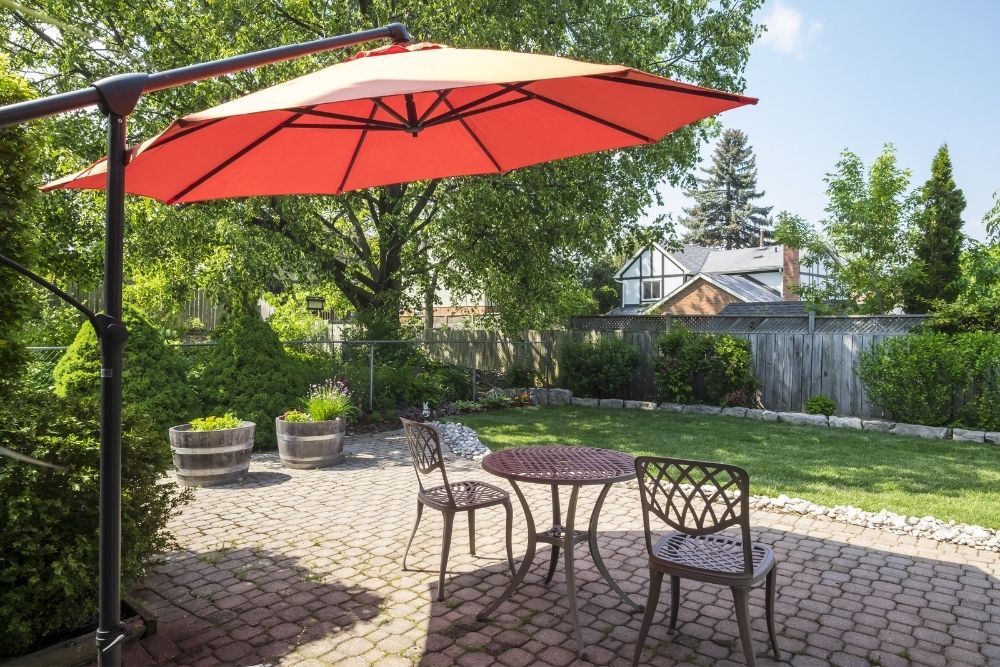 21. Add an Umbrella Wind Stabilizer
Buy an umbrella wind stabilizer if you can't bear the thought of getting rid of your cantilever parasol! These attach to the parasol, giving it added stability and preventing the pesky wind from doing what it does best!

22. Close the Umbrella When Not in Use
You're looking in your garden at your beautiful parasol. You turn away, then look back, and it's blown halfway across your garden. That blasted wind!
To stop this from happening, simply close the umbrella when you're not using it. If the umbrella isn't up, there's not as much surface area for the wind to grab hold of.
23. Check Your Base and Umbrella Were Made For Each Other
Were your umbrella and base made for each other, or did you put odd bits together? The benefit of buying a parasol all-in-one is that the components were made specifically for each other.
The base will have the right-sized hole for the pole, and hopefully, the umbrella and base weight will be the correct ratio!

24. Alter the Umbrella Ribs
Is the issue a weak umbrella? Some umbrellas come with flimsy ribs that aren't made to withstand the UK's strong winds. Luckily, you can buy all different kinds of ribs.
So, just replace your weak ones with someone stronger! Fibreglass ribs are your best bet, but aluminium works well too!
If you'd rather have an option that's au naturel, go for eucalyptus wood. It's strong, durable, and won't be phased by a windy day!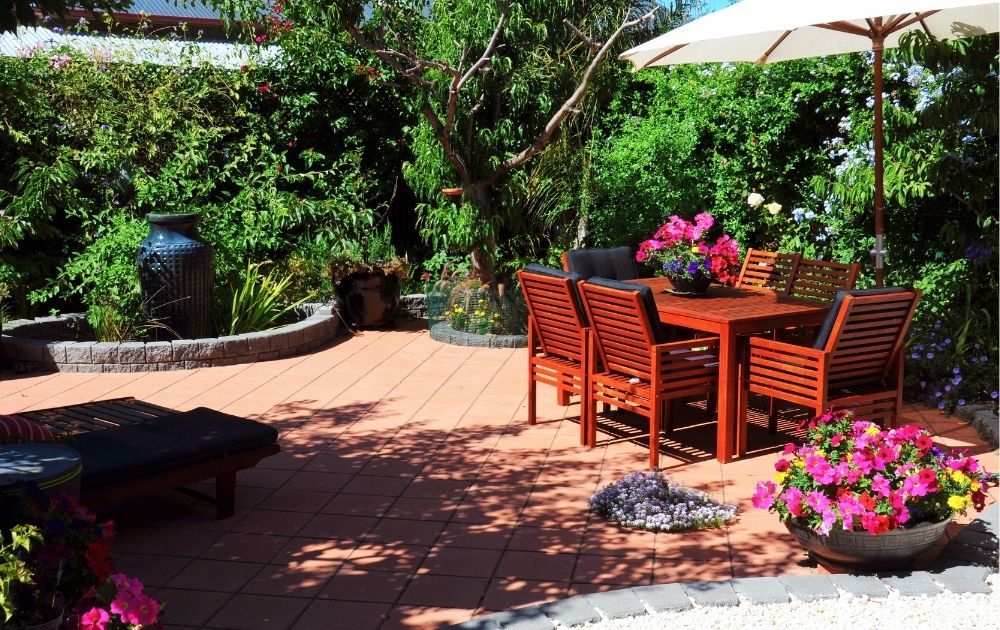 25. Block Out the Wind
You don't need to take any of the above measures if you can get rid of the wind altogether! But, this is easier said than done. The question is, how to block wind on patios?
It's time to get creative! How about giving a hedge a go or a windbreaker? It doesn't even have to be a natural hedge; there are many artificial options nowadays!
Alternatively, you could add in a fence or a privacy screen, or maybe some tall potted plants will do?
Solve Your Parasol Problems
Troubles in parasol paradise? It's ok, we've got you! With the 25 problem-solvers in this article, you're bound to have found at least one way to keep your parasol firmly planted on the ground.
Will it be out with the old and in with the new? Replacing your current parasol with a sturdier, weightier alternative or a lighter or vented umbrella? Or will you DIY your current parasol to the max with heavy materials like sandbags or gravel?
As long as your parasol blowing around your garden is a distant memory, it doesn't matter what you choose!