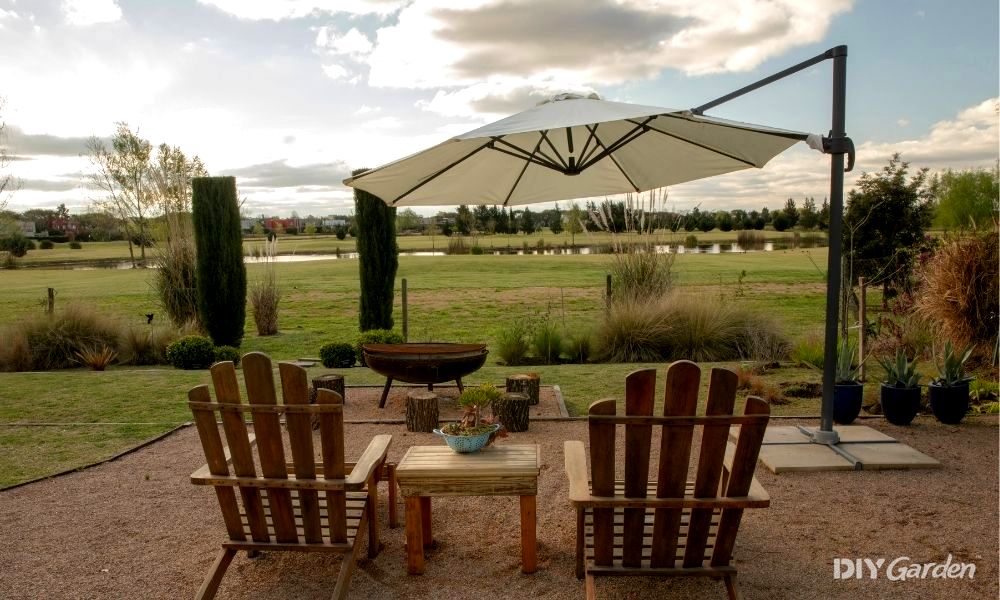 Centre post parasols are a thing of the past. The cantilever parasol has come to replace them! It's bigger, it's better, and it gets rid of that damn pole that always gets in the way!
But what is a cantilever parasol? And how do they work? We'll address these all-important questions in this article and discuss whether they're worth your money!
Why Would You Want a Parasol?
Parasols come in handy in multiple ways. They shade you when it's sunny, protecting you from those harmful UV rays, and they keep you dry when you want to sit out on a rainy day.
They'll act as a well-needed windbreak when it's blustery, and they'll protect you from falling leaves in an autumnal breeze.
When you're entertaining, a cantilever parasol provides a space to keep drinks and food cool. It takes the stress out of hosting because regardless of what the unpredictable UK weather throws at you, you'll be able to keep your guests warm and dry outside!
Who could ask for more?
What is a Cantilever Parasol?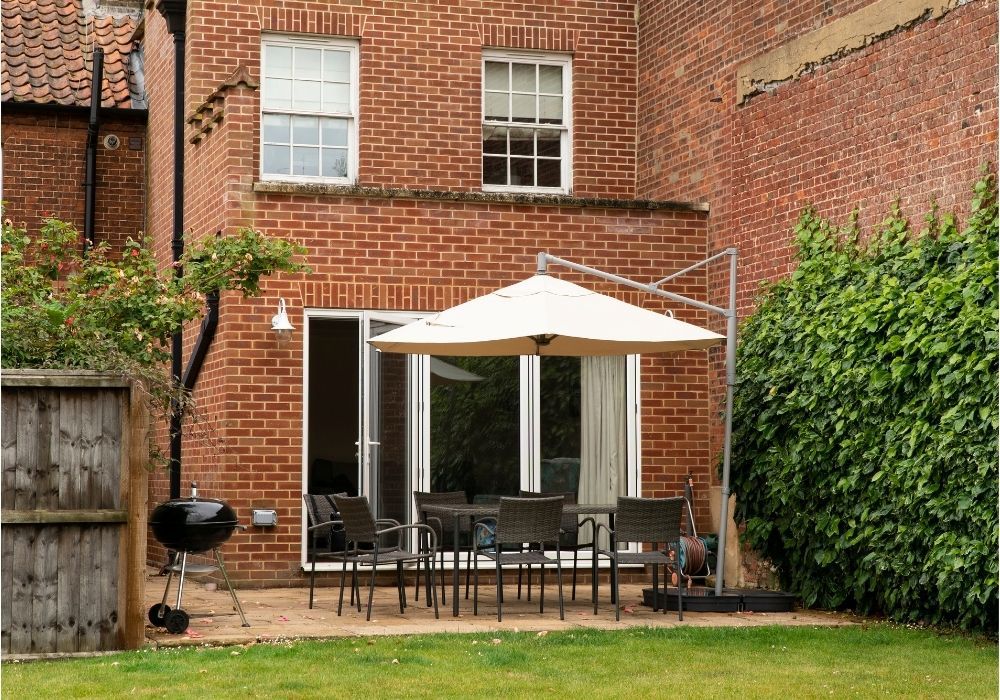 I'm sure you're aware that centre post parasols have their pole smack-bang in the centre of the umbrella. This means you have to place your seating around this awkwardly-positioned pole.
Don't even think about talking to the person opposite you, because when you look at them, all you'll see is the parasol's pole!
The cantilever parasol was created to rid your life of this annoyance. Cantilever parasols are much like centre post parasols in their components – they have a weighted base, a vertical pole, and an umbrella.
But cantilever parasols also feature a second pole, and this is where it gets interesting.
How Does a Cantilever Parasol Work?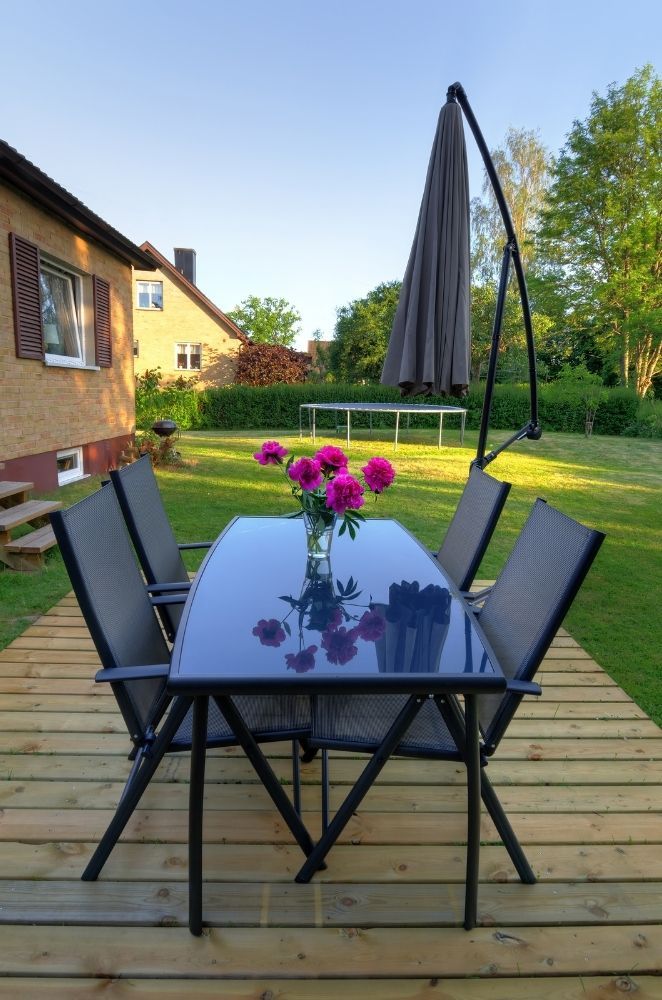 The cantilever parasol base sits at the side rather than in the centre. The umbrella is angled to hang over the area you wish to protect.
They're made up of two poles, the standard vertical pole that's stuck in the base, securing the parasol to the ground, and a second pole connecting the vertical post to the umbrella.
Adding the second pole gives the parasol an adjustable element – the umbrella can be moved in different directions.
This provides protection from wind, rain, and sun without preventing you from looking out into your garden or at the person opposite you. And you don't have to keep the umbrella in just one position!
How to Tilt a Cantilever Parasol
Cantilever parasols can be tilted to meet your needs. They can tilt from left to right, forwards or backwards, and can be rotated 360°.
To tilt the cantilever parasol, use the handle on the side of the vertical pole. It's better to be safe than sorry, so follow the directions in the parasol's instruction pack to ensure you're doing it correctly.
Are Cantilever Parasols Any Good?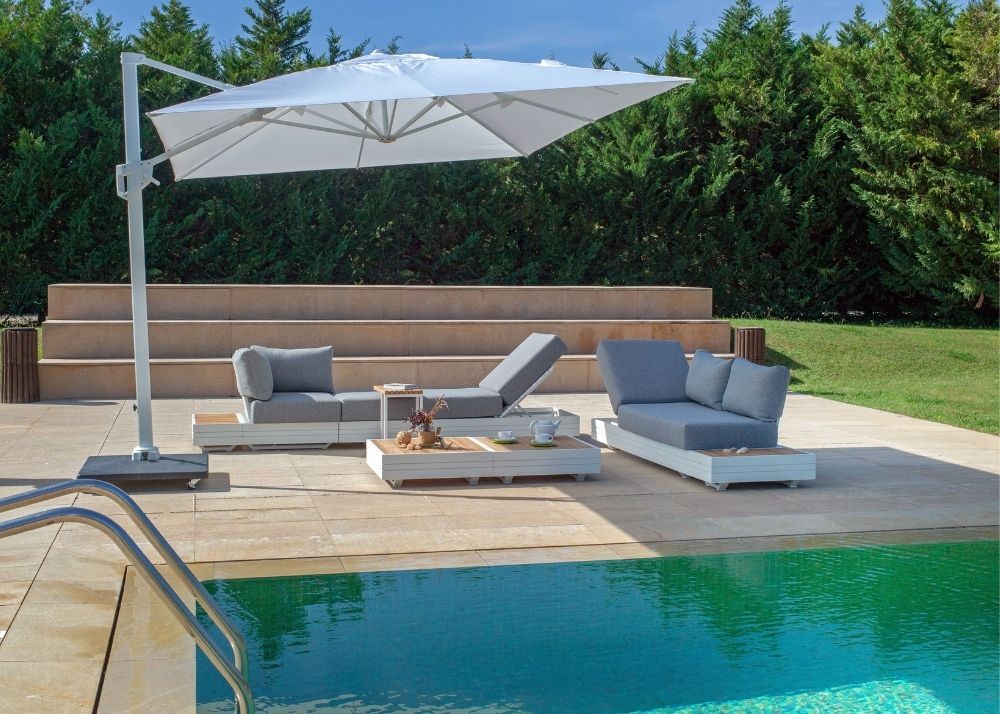 The benefits of cantilever parasols are endless. But, there is one key drawback that needs consideration. Let's look at the various pros and the dreaded con in more detail.
No Obstruction
Cantilever parasols are ideal if you want shade without obstruction from a pole. This is perfect if you like to entertain guests, eat outside on the regular, or if you own a restaurant or cafe and want your customers to benefit from a shady spot without an impeded view.
Easy Repositioning
The 360° rotation of cantilever parasols allows you to easily alter the umbrella's position. That means no shuffling that heavy base around your garden to keep yourself shielded from the sun. Talk about living the dream!
Added Strength
Cantilever parasols are solid and sturdy! They're composed of strong, durable materials that provide exceptional protection from the sun while giving you the flexibility to reposition them as you wish!
Of course, you can get cheap cantilever parasols which will likely have a weak design. You will pay a little more for the good ones, but you can be confident you're getting excellent quality! Check here for our cantilever parasol recommendations.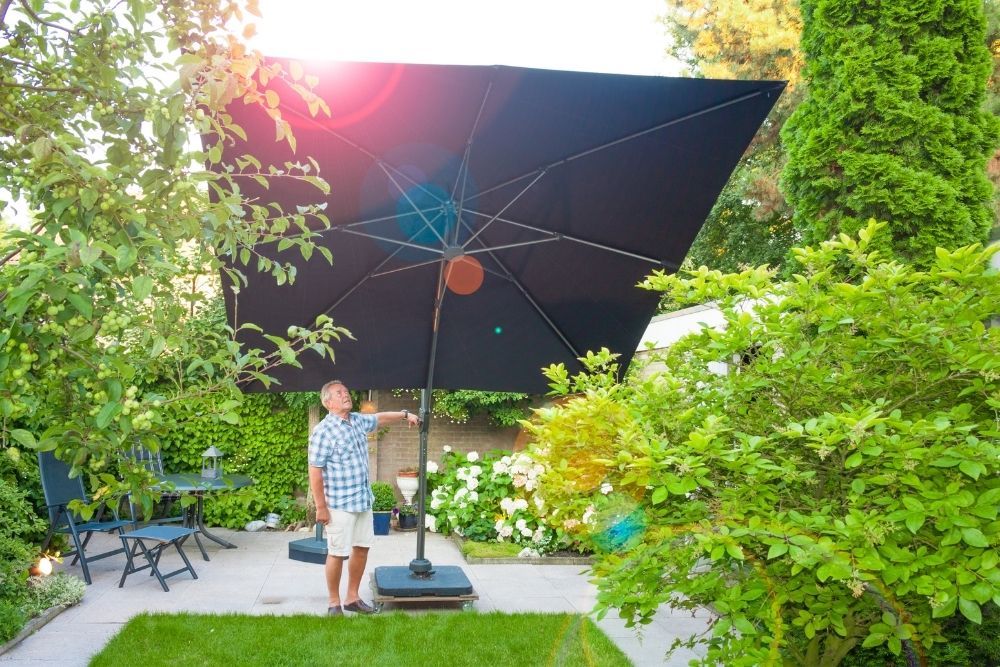 Many Design Options
Cantilever parasols benefit from a whole host of design tweaks. You can get a wall-mounted cantilever parasol, which doesn't need a base at all, or one that you secure to your decking. This increases the parasol's strength.
READ NEXT: Sorara Roma Cantilever Parasol Review
More Susceptible to Wind
Some, not all, cantilever parasols are susceptible to wind. This is because of the way they are built – they depend on balance to keep themselves upright.
The umbrella has to be meticulously balanced, and the weights of the components have to be carefully calculated. Otherwise, the cantilever parasol will tip and fall.
If this balance is thrown out of kilter by heavy rain or autumnal falling leaves, it could compromise your cantilever parasol's balance.
But, if you choose your cantilever parasol manufacturer wisely, they'll have already thought of these scenarios. And if you opt for the extra-secure options of attaching it to your house's external wall or your patio, you have nothing to worry about!
Are You Crazy About Cantilever Parasols?
So, have you made your mind up? Are you cantilever parasol crazy, or are you more of an advocate for the central pole variety? When it comes to cantilever parasols, the pros certainly outweigh the singular con.
With the cantilever parasol's added strength, flexibility, and design choice, it'd take a lot to talk me out of this purchase! And don't forget you'll benefit from unobstructed views!
Yes, the cantilever parasol can be susceptible to forceful gales, but it's easy to get around this by attaching it to a wall or the ground.
So, what's it to be?