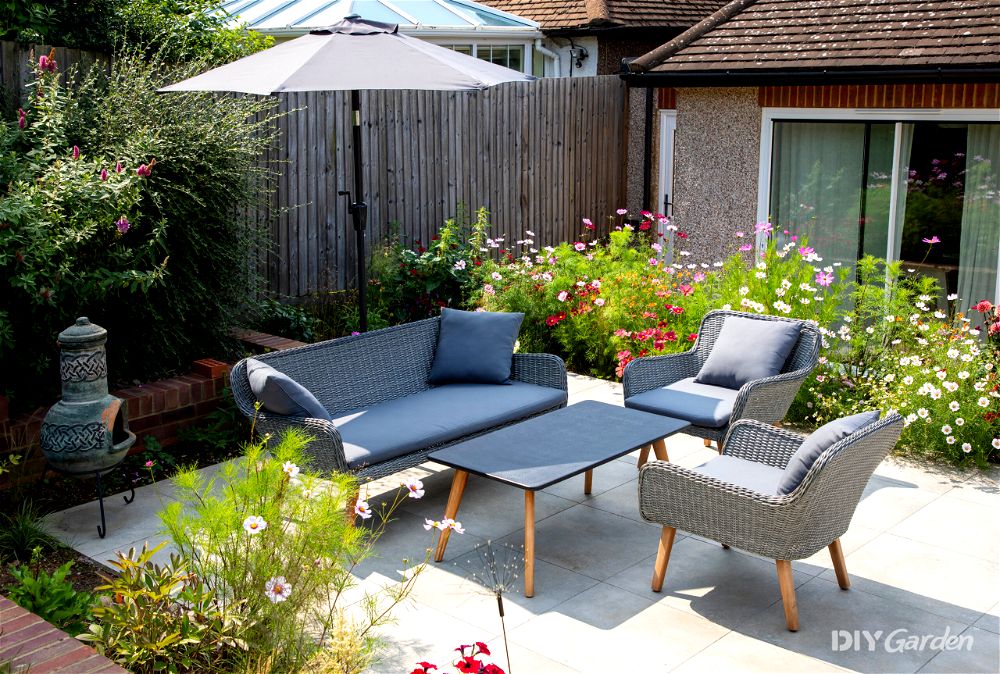 The UK's Best Porcelain Patio Ideas
When it comes to garden design, a boring and plain outdoor space isn't exactly awe-inspiring. In fact, a garden can become a real eyesore if left to its own devices for long enough.
But with the right patio design, you can transform your garden into a stylish and inviting outdoor oasis. One of the best ways to achieve this is using porcelain patio tiles.
Not only are porcelain tiles durable and low-maintenance, but they also come in a variety of styles and designs that can add visual interest and character to your garden. Whether you're looking for a modern and sleek look, a Mediterranean-inspired design, or something else entirely, porcelain patio tiles can help you achieve the look you want.
In this article, we will showcase 25 of the best UK porcelain patio ideas to help uplift your garden and create a space you'll love spending time in. From modern and minimalistic designs to rustic and cosy patios, we've got something for everyone.
1. Minimalist Grey Porcelain Patio Ideas
Minimalist grey porcelain patio tiles are sleek, modern, and low-maintenance, making them a prime choice for your outdoor space. They're perfect for a simple yet elegant patio design, providing a neutral and timeless look that complements any garden size or configuration. For a more eco-friendly option, choose grey porcelain patio tiles that are recyclable.

2. Modern Porcelain Paving Ideas
If you want to design a modern outdoor space, porcelain paving is the way to go. Why? For one, you have so many options to choose from! You could use large format tiles to create a clean, modern look or mix your porcelain tiles with other materials like gravel for a textured and layered look (as they've done below). What's more, you can create a seamless transition between indoor and outdoor spaces by using the same porcelain tiles inside and out.

3. Cheap Porcelain Garden Paving Ideas
Mixing porcelain garden paving with gravel is a winning option if you're on a tight budget, as larger tiles typically come with a lofty price tag. To keep your landscaping design cheap, you could also choose a more basic tile design or colour, buy in bulk for a discount, or use porcelain tiles with a matte finish, as the glossy finish often hikes up the price.

4. Cottage Porcelain Garden Paving Ideas
Cottage gardens won't often suit that sleek, minimalistic look. Instead, you're better off going for something quaint and charming, like porcelain tiles with a rustic, aged, or weathered finish. Alternatively, incorporating porcelain tiles with floral or botanical designs can add a touch of nature, perfect for a cottage wildflower garden. If you're feeling a little playful, create a whimsical winding pathway using irregularly shaped porcelain tiles.

5. Porcelain Patio Edging Ideas – Small Porcelain Tiles
Using a contrasting colour or patterned porcelain tile to create a border around the edge of your patio can really help bring it to life and give it a much more contemporary feel. Creating your deck edging out of a differently shaped tile, such as a slim rectangle or square, can also help to give your patio more visual appeal.

6. Porcelain Patio Design Ideas
When it comes to porcelain patio design ideas, you're spoilt for choice. You could create a "room" feel by using porcelain tiles to enclose a portion of the patio with a pergola or arbour or create a spa-like retreat by installing porcelain tiles with a non-slip finish alongside a hot tub or pool. If the perfect outdoor kitchen has always been your dream, tie in your porcelain patio tiles with tiles for the countertops and backsplash. Really, the options are endless!

7. Creating a Sleek and Stylish Porcelain Patio
Creating a sleek and stylish porcelain patio involves choosing the right types of tile, layout, and design elements. Modern rattan furniture and a contemporary heater can make a world of difference, as you can see in the design below. You could also throw recessed lights or LED strips into the mix to create ambience and highlight your chosen design elements.

8. Porcelain Wood-Look Patio Tiles for a Rustic Feel
When rustic is your style, there's nothing better than porcelain wood-look patio tiles. These tiles possess a desirable combination of attributes, as they're designed to mimic the look of natural wood but retain the durability and low-maintenance care requirements of porcelain. What's more, you can style wood-look patio tiles to suit your space – you could opt for tiles with a distressed or weathered finish to give an aged appearance or mix porcelain wood-look tiles with other natural materials like stone or concrete to create a cohesive and organic design.

9. Porcelain Patio Ideas for Small Spaces
If you've only got a small space to work with, don't fret. Porcelain patio tiles still work wonders in the smallest of gardens. Here are some tips to get the best out of porcelain patio tiles in a small space:
Opt for porcelain tiles in light colours, as these make the space appear larger and brighter
Incorporate porcelain tiles with a glossy finish to reflect light and add shine
Create a multi-level patio using porcelain tiles to add visual interest and make the most of the space
Add a small water feature, like a fountain or small pond, to draw the eyes and create a sense of tranquillity.
10. Porcelain Patio Tiles With a Pop of Colour
Colourful porcelain patio tiles add a playful touch to any outdoor space. One way to incorporate colourful porcelain patio tiles is by using them as a border or accent to create a striking contrast. You could also create a visually appealing pattern or design highlighting your porcelain patio tile's vibrant colours. If you want to add more muted colours, try using porcelain tiles with a coloured finish, such as blue or green. These will add a cool and refreshing touch to the patio.

11. Dark Grey Porcelain Patio Flooring Options for a Chic Look
Dark grey porcelain patio flooring can create a chic and sophisticated look for your outdoor space; you just have to know how to style it right. You could also argue that the right tiles make styling easy – just take these dark grey patio tiles with black grouting – this provides a simple yet incredibly stylish look and will go with practically any garden setup! Other ways to style dark grey porcelain tiles are to mix and match different shades of grey to create a subtle and refined look or use tiles with a textured finish to add depth and character to your patio.

12. Porcelain Patio Tiles With a Unique Pattern
The trouble with grey tiles is that our gardens can end up looking like cardboard cutouts of each other. If you're after something a little different, why not try a unique pattern in your porcelain patio tiles? In this design, they combine Moroccan-style porcelain tiles with splashes of red and yellow/orange to give the patio a unique appearance. You could also use porcelain tiles with a vintage or traditional pattern, such as a herringbone or basket weave, to create a distinctive garden specific to your taste.

13. Porcelain Patio Tiles for a Mediterranean-Inspired Outdoor Space
Porcelain patio tiles can be a great option for creating a Mediterranean-inspired outdoor space. The versatility of porcelain patio tiles comes in particularly handy here – you could use porcelain tiles with a terracotta or sandstone finish to add a warm and inviting feel or use tiles with a Moroccan or Spanish pattern or decorative finish. If these ideas stretch outside your budget, try incorporating plants, flowers, and other natural elements, such as a water feature, to complement a Mediterranean-inspired design.

14. Mixing and Matching Porcelain Patio Tile Designs
Mixing and matching porcelain patio tile designs can create a unique and dynamic look for any outdoor space, and you can do this in various ways. Either use porcelain tiles with different finishes, such as glossy and matte, to bring an element of variety or use tiles with different patterns and designs, as they've done below. Bringing in porcelain tiles with different textures, such as wood-look and stone-look, can also add another layer of aesthetic appeal.

15. Porcelain Patio Tiles for a Timeless Design
Porcelain patio tiles can be an excellent option for creating a timeless design. Using triangle-shaped tiles with contrasting light and dark grey shades can add a Great Gatsby-esque feel to your outdoor space, a style that will live on for many decades to come. To add extra flare to your garden, why not create a feature wall or focal point using triangle-shaped porcelain tiles in a light grey shade? This is sure to draw the eye and add depth to your patio.

16. Porcelain Patio Tiles With a Matte Finish
Porcelain patio tiles with a matte finish are subtle and sophisticated, setting the right tone for any garden style. Large format porcelain tiles in neutral colours such as white, grey, or black are the prime choice for a modern garden. Porcelain tiles in neutral shades are also excellent for creating a calm, serene atmosphere, characteristic of a spa or yoga retreat.

17. Porcelain Patio Pathway Ideas
Porcelain patio tiles make the perfect pathway, as they're durable, low-maintenance, and naturally draw the eye. There are several ways to create a path with porcelain patio tiles – you could use tiles with an interesting pattern, like in the design below, or create a pathway with different levels of elevation to utilise the verticality of your garden. Alternatively, why not create a cool, meandering walkway using porcelain tiles? That'll get people's attention!

18. Porcelain Patio Pavers With a Glossy Finish
Porcelain patio pavers with a glossy finish have several benefits over those with a matte finish. For one, they reflect light, making your outdoor space appear brighter and more open. For this reason, they're perfect for smaller gardens. Porcelain patio tiles with a glossy finish are also easy to match with other materials, such as natural stone, concrete or wood, providing a cohesive and polished garden design. Finally, they're typically resistant to fading and weathering, making them the ideal choice if you live in the UK!

19. Porcelain Patio Ideas With Planting
Add a touch of nature and greenery to your patio area by incorporating planting in your porcelain patio. Try leaving gaps in your porcelain decking for planting or incorporating built-in planters or raised beds into your porcelain patio design. If that sounds like too much work, adding potted plants or hanging baskets also complements porcelain tiles.

20. Raised Porcelain Patio Ideas
A raised porcelain patio can help you make the most of a sloped or uneven back garden. Even if your garden is level, a raised porcelain patio maximises your outdoor space and creates more visual appeal than a single level. You could add a raised porcelain patio to create a built-in seating or dining area, improving the functionality of your garden, or simply add different elevations with built-in planters so you have multiple layers of aesthetic appeal. Adding another level for a firepit or adding different levels to a winding, whimsical pathway are other ways to go.

21. Hexagonal Porcelain Patio Tiles Ideas
Hexagonal porcelain patio tiles can add a unique and exciting look to your outdoor space, filling it with personality. You could try hexagonal porcelain tiles in a neutral colour, such as grey or white, as they've done below, and pair it with rattan furniture to create a clean and modern look. Another option is to pair hexagonal porcelain tiles with a wood-look finish and rustic pallet wood furniture to add warmth and a natural feel to your patio space.

22. Add Stylish Gaps Between Your Porcelain Patio Slabs
There's no better way to bring an exciting element to your garden patio than by leaving little gaps between your porcelain patio slabs – just take a look at the design below! This steps away from the textbook porcelain patio slab design approach and helps to zone off different areas of the garden. Allowing grass or a grass alternative such as clover to grow between the slabs can give an overgrown, cottage-style appearance or a clean, contemporary look, depending on the patio tiles you choose.

23. Traditional Victorian Porcelain Patio Ideas
Traditional Victorian porcelain patio tiles bring a touch of elegance and history. The use of rich and bold colours, floral patterns, and natural finishes from the Victorian era can create a sophisticated look that perfectly complements a Victorian-style home and garden design. Pair this style of porcelain patio tile with ornate and traditional landscaping, such as urns and topiary hedging. The Victorian era was also renowned for its formal gardens, filled with geometric shapes, symmetrical beds and paths, greenhouses, and roses, so try to bring these into your garden design wherever you can!

24. Dark Black Porcelain Paving Slabs
Using dark black or grey porcelain paving slabs can create a strong and dramatic visual impact. One popular option for dark black porcelain paving slabs is slate-effect tiles (as in the image below). These tiles are designed to mimic the look of natural slate but offer porcelain's durability and easy-care benefits. They are the prime choice if you want that characteristic natural slate look without worrying about upkeep and maintenance.

25. Porcelain Patio With Built In Firepit
Building a firepit into your porcelain patio design can create a contemporary, cosy, inviting gathering spot. You could design it in various ways, using large format porcelain tiles for a more modern look, or adding porcelain tiles in a contrasting colour or pattern around your firepit. Combine your firepit with some rustic-looking wood-effect tiles, and you're in for a treat with a stylish garden design perfect for entertaining.

Final Word on Porcelain Patio Ideas
Porcelain patio tiles are an awesome option for those looking to uplift their garden and create a stylish outdoor space. They are durable, low-maintenance, and come in a variety of styles and designs, from modern and minimalistic to rustic and cosy. Whether you're looking for a minimalist grey porcelain patio, cheap patio options, or to create a quaint, cottage-style porcelain patio, there are multiple designs to suit your personal style and overall garden aesthetic. So, what will it be?